South County Community Tennis Association: Welcome
Welcome to the South County CTA !
We are here to help GROW the sport of TENNIS in Charlestown, East Greenwich, Exeter, Jamestown, Narragansett, North Kingstown, South Kingstown and Westerly. We are very proud to be a part of the
USTA New England
family.
2015 PROGRAMS
USTA Jr. Team Travel Tennis; RI & SE MA League
- 18 & Under and 14 & Under, and 10 & Under - commpetitive Intermediate & Advanced teams

Summer 18U or 14U
:
June thru August, matches are played on

League matches are scheduled on Fridays from 1-3 p.m,
(Click headline to register when BLUE)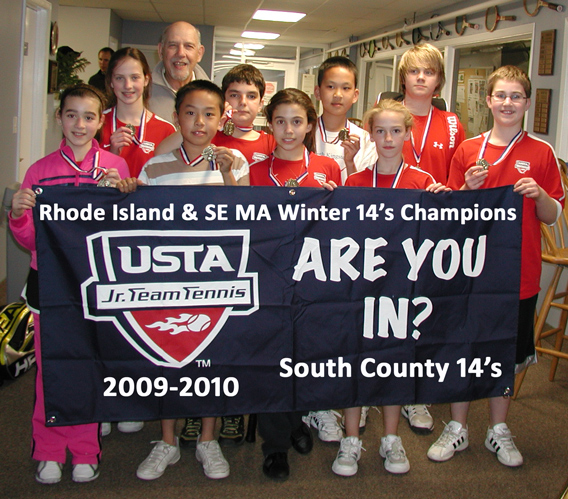 Jr. Team Tennis; Recreational League - Local team leagues for beginners thru advanced players. It is our belief that using scaled down equipment, courts and scoring methods will have a positive impact on children 16 and under, by providing a successful environment.

8 - 13 League (Now Registering for 2016)
Fri, July 1 Fri, July 8 Fri, July 15 Fri, July 22 Fri, Jul 29 Fri, Aug 5 Fri, Aug 12
Fall: September TBA thru October TBA (click to register when BLUE)
10 & under Program (will be QuickStart)
Summer 2016:
Fri, July 1 Fri, July 8 Fri, July 15 Fri, July 22 Fri, Jul 29 Fri, Aug 5 Fri, Aug 12

Recreational Coaches Workshop - is an interactive, on-court training program designed for Parents seeking the basics in coaching and organizing team tennis, Players seeking part-time teaching jobs, and anyone that wants to work with players at the recreational level. It is taught by a specially trained, certified teaching professional. Lunch and snacks will be provided! You must register online for these courses ahead of time at www.coachyouthtennis.com
TBA
Wakefield, RI
10:30 am - 2:00 pm
Rain Site: CLCF Gym - Cranston


TBA
Somerset, MA from
10:00 am - 1:30 pm
Rain Site: their Gym

This is a MANDATORY STAFF training for all South Kingstown, SCCTA, and CQ Tennis pros, coaches, assistants, and persons looking for summer employment across RI & SE MA.


2016 Ladies Doubles Travel Team (registering now) - ladies doubles summer travel team practices on Friday mornings at 8 am and plays matches at other clubs around Rhode Island on Wednesday mornings. Team members are ranked from 2.5 thru 4.5+. Clinics will be held at Curtis Corner Middle School, home matches will be played at Old Mountain Field and the Village Green


Tournaments 2016:

Mike Morisette Memorial Tournament: June 17-19
USTA Rhode Island 12 green ball, 14, 16, 18 Level 7: July 9th & 10th
South Kingstown Junior Championships: July TBA

USTA Rhode Island 12 green ball, 14, 16, 18 Level 7: August 6th & 7th

South Kingstown Racquets for Research: June 24 & 25th - Round robin doubles on Saturday, Junior Singles on Friday

16 JUNE 24 & 25; SOUTH KINGSTOWN RACQUETS FOR RESEARCH (Click here to register) soon!
Friday, September 2
726 Beach Tennis Tourament - 2016
Wednesday, July 16
South Kingstown Junior Championships: BOYS 12 GREEN
Wednesday, July 16
South Kingstown Junior Championships: BOYS 12 YELLOW
Wednesday, July 16
South Kingstown Junior Championships: GIRLS 16
Thursday, July 17
South Kingstown Junior Championships: BOYS 12 GREEN 2
Thursday, July 17
South Kingstown Junior Championships: BOYS 14
Thursday, July 17
South Kingstown Junior Championships: GIRLS 12