Rancho Buena Vista High School Baseball Alumni + Archives: Welcome
Tuesday, April 12
Tony Wolters Successful Major League Debut with the ROCKIES! (click on for article)
Tony Wolters

Tony Wolters
Tuesday, March 24
SDSU Marcus Reyes Earns MW Pitcher of the Week (click on for full article and picture)
Saturday, November 22
Tony Wolters added to Cleveland Indians 40-man roster (click here for article)

Tony Wolters, RBV '09 alumnus, baseball cards - USA 18U National Team
Monday, January 12
Jimmy Allen, RBV Alumnus, Playing Pro Ball for the LA Dodgers/Rookie League/Ogden Raptors (Click on for link)
Tuesday, October 28
Flash Mob at SDSU baseball Halloween game. RBV Alumnus, Marcus Reyes,SDSU pitcher, as ABE. Click on for link to video.
Tuesday, July 22
Reyes leads the Champion City Kings to 4-0 victory thanks to 12 K's (Click on for full-article)

Marcus Reyes pitching at RBV
Tuesday, July 15
Marcos Reyes, RBV Alumnus, pitching at San Diego State. (click on for full article) May 29, 2014
Marcus Reyes was doing his chores when he got the call that he would be San Diego State's starting pitcher against Nevada in the Mountain West Conference tournament this Saturday... (click on the link for the full article from San Diego Union Tribune, May 29, 2014)
Saturday, May 24
RBV '13 Alumnus, Kellen Sheppard, playing at PLNU voted NCAA All-Region Team (click here for full story)
Wednesday, March 26
Wyler Smith - Utah drops heartbreaker to 12th- ranked Oregon, 1-0 (click on for write-up)
Friday, June 14
Kellen Lee joins Jimmy Maxwell playing for the Santa Fe Fuego team
Kellen Lee, who was the 2006 Longhorn Defensive Player of the Year, and MVP, has recently joined Jimmy Maxwell, now playing for the Santa Fe Fuego team, in the Pecos Independent baseball League in New Mexico.
Kellen spent the last 2 years as the Assistant Director of Baseball Operations at Santa Clara University, after finishing his college career at UC San Diego. While at UC San Diego, he played a big part in their 3 consecutive CCAA titles, along with trips to the Division 2 College World Series in 2009 and 2010. He was the 2010 Rawlings Gold Glove winner for Division 2, and finished his career with a .996 fielding average, committing only 3 errors in 3 years, which statistically puts him as the best defensive player in UC San Diego history.
He is "tearing it up" in Santa Fe.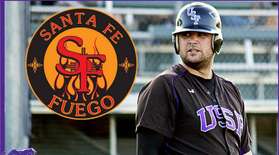 Jimmy Maxwell, RBV 2007 Alumnus, signs pro contract with Santa Fe
Friday, February 8
Jimmy Maxwell, RBV Alumnus '07, Signs Pro Contract (click on this link for the full article)
Jimmy Maxwell, 2007 RBV Alumnus and former Sioux Falls slugger, has signed a professional baseball contract with the independent Pecos League.
"Maxwell was the classic dual threat at Rancho Buena Vista, as he was the Longhorns' pitching ace and also batted cleanup."
(Click on the headline for the full-articel)
Thursday, October 11
Puente to play for Xavier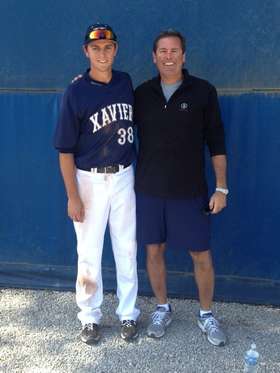 Chase and Mike Puente
Dylan De Meyer, RBV alumnus, 2011, is playing for AZ Mariners Rookie League (click on to see updated stats)

2012 RBV Alumni Game (photo by Isabel Apodaca)
2012 Rancho Buena Vista Alumni Game was held Jan. 8, 2012
Wednesday, September 7
ATTENTION: RBV Longhorns Baseball has a new website
(The old RBV website http://www.eteamz.com/rbvbaseball/ will still run alumni updates and other things. It will keep intact previous RBV seasons, 2009-2011.)
---Susan
If you have current news on any RBV baseball alumni or other things of interest,
please send links, photos, or other information to Susan at: scschag@yahoo.com