Montana District 2: Jim Scown Distinguished LL Graduate Award
Meg Murphy Chosen as First Jim Scown Distinguished Graduate
Little League Baseball lost an icon and a legend this spring with the passing of Jim Scown. Scown was a career Butte miner who was well known for his work at Northwest Little League in Butte. He served as the league president for 26 years from 1970 to 1995. In 1988, the Northwest Little League field on Copper Street was renovated and named "Scown Field" in his honor. In 2016, Montana Little League District 2 created the Jim Scown Distinguished Little League Graduate Award in his honor.
"We lost a great one," said Keith Miller, the Little League Baseball District 2 administrator in Montana. "It would be hard to grow up in in Butte, Montana, and not have been impacted by the work of Mr. Scown." Miller played, umpired and became an administrator under Scown's tutelage at Northwest Little League. "Personally, he has influenced me more than he knew," Miller said. "I'm very fortunate the have had him as my mentor, colleague and friend."
Scown helped begin girls' Little League softball in Montana in 1974. He was the first league president to provide girls' softball in the Pacific Northwest, and he is credited with being a pioneer of the sport. During his tenure as president, the girls' teams at Northwest won nine state titles. Scown served as an officer of District 2 Little League for 21 years. He served many years as a coach of all sports at the grade school level in Butte schools. Scown's tenure at the Northwest Little League began in 1954 as an umpire. He started coaching in 1965 with the Ossello's club. During his own playing days, Scown participated in fast pitch softball. In 2005, Scown was inducted into the Butte Sports Hall of Fame as a member of the Butte Buzzies football team. In addition to his work pioneering girls' fast pitch softball in Montana, Scown developed the venue known as "Scown Field" in Butte. Once a mine dump, under the shadows of the Anselmo Mine Headframe, Mr. Scown persevered throughout the years using volunteer labor, neighborhood improvement programs, and all of his heart, to create a "field of dreams" that youngsters in the State of Montana can play Little League Baseball and Softball. The facility is the host to the 2017 Little League Baseball Championship Tournament. "Whether it be in Little League, school sports, or in the community, Jim was a champion for improving the opportunities and lives of all children and our community no matter what your name was, where you lived, or how rich or poor your family was," Miller said. "His hard work, determination, and vision set the bar high for others to strive to live up to."
Many of Mr. Scown's former players have come back to the program to volunteer and help spread Little League's message of character, loyalty, and courage. The Jim Scown Distinguished Little League Graduate Award was created in order to recognize those individuals who have come back to the program to help the program continue to flourish. Additionally, the award honors those that live out the examples of character, loyalty, and courage in their everyday lives. Establishing this award is just a small down payment on all the thanks that the former and current participants in Montana Little League District 2 owes to this man. It was once said that "Heroes are remembered, Legends live forever!" Jim Scown is a legend we are fortunate to have benefitted from.
The inaugural Jim Scown Distinguished Little League Graduate Award was presented to Meg Murphy of Butte, this winter at the Montana District 2 Annual Dinner. In 1974, Meg was one of a group of young girls to approach Mr. Scown about playing Little League Baseball. Through Mr. Scown's leadership and the dedication of Meg and this committed group of girls, fast pitch softball has developed to be one of the most popular women's' sport in the country. Meg had a stellar Little League career. She played on teams that won five consecutive state championship teams. As Montana did not have high school softball at the time, Meg took her athletic talents to the hardwood, leading the Butte Central Maroons Girls Basketball program to a state championship. Meg went on to play college basketball at Creighton and Montana Tech. Meg returned to Little League as an adult to coach and mentor young athletes. During her tenure as a Little League coach she won state titles as well. Her coaching career saw her successful stints as the Head Basketball Coach at Butte Central High School and Montana Tech, as well as the Head Softball Coach at Butte Central High School. She has been recognized for her efforts as a member of the Butte Sports Hall of Fame. Meg has always remembered her roots in Little League. She comes back to help out whenever she is asked. She is a role model for young athletes and coaches alike. She is proof that hard work always pays off and sometimes, nice folks finish first. Montana Little League District 2 is honored to recognize the work and example of Meg Murphy as our Jim Scown Distinguished Little League Graduate of 2017.

2017 - Meg Murphy (Butte)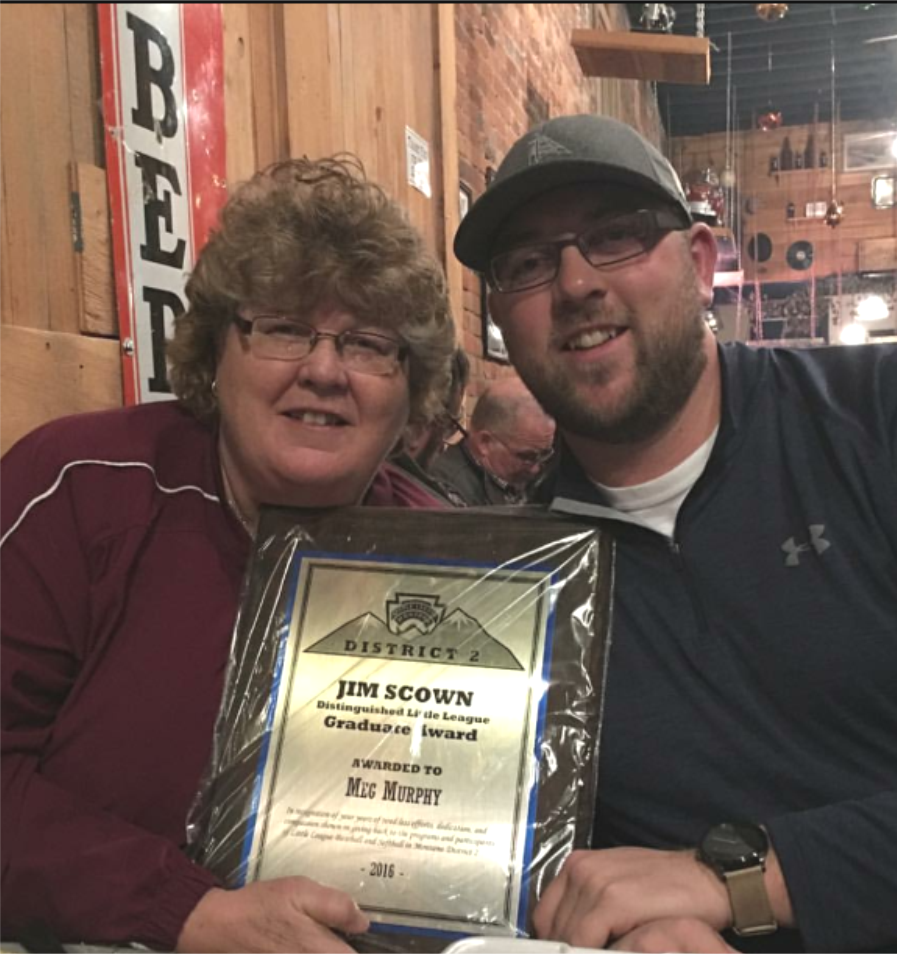 Meg and Alex Murphy