Welcome to St Patrick Soccer
Sunday, June 29
ST PATRICK SCHOOL SOCCER


Welcome to St. Patrick Soccer.

2008 Soccer at St Pats is getting BIGGER. St Pats is adding a 4th-5th grade Girls team to the school sports for this year.

Reserve 4-5th Grade Boys

Reserve 4-5th Grade Girls


Varsity 7-8th Grades Boys

Good Luck to all Teams.

Follow the link to the St Pat's Soccer Homepage.





St Pats 4th-5th grade Wins Tournament
Sunday, September 9
ST Patrick School 4th-5th Grade Team WINS Tournament
Great to all of the teams that played on Sunday 9/9/07. There was some good soccer played today by all of the teams. Thank You for coming out to St Patrick School for the tournament.
tab the picture to go to the Teams Photos.

Undefeated U8 Lightning Indoor Team, Winter 03. Who do you know?
Sunday, May 20
Local student & Soccer Player is on a WINNING TEAM!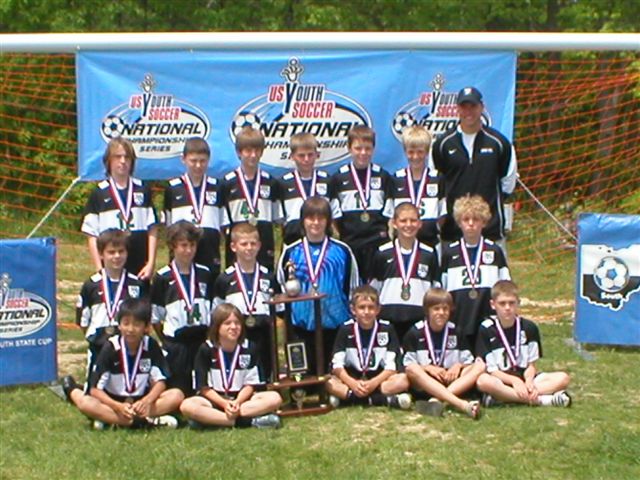 Local Soccer player is Winning. Logan is 3rd from the left, back row.

Logan Manning is a local resident of London and plays for the the St Patricks School Team. He also plays for a very high caliber select team out of Dublin Ohio.
Logan plays for the OFC JUVENTUS U13 competetive elite soccer team. They practice hard and they play hard. The end result is winning the Ohio State Cup for the 2nd time in a row.
Great Job Logan and Team Juventus, and to Coach Brian.

Wednesday, March 14
The Irish is on a Roll in Indoor Soccer.
The Irish is UNSTOPABLE so far SEASON.
Good Luck Irish in the next game.

Team Roster: U12 FIGHTING IRISH

CORY BECKER #11
SCOTT KNAPKE #20
ERIC KNAPKE #21
JOEY BROBST #23
JON LAFORGE #12
LOGAN MANNING #44
CHRIS WISER #1
RYAN PRESCOTT #15
JOHN SOTOS #13
DANIEL HUSS #4
ROSS BRENNEMAN #14
NATHAN DEVICTOR #5

They are now 8-1-0. GREAT JOB IRISH.


Thursday, August 4


Map to St Patrick School.


Here is a map to St Patrick school from I70.
St Patrick School in London Ohio.
Handout: St Patrick School in London Ohio Directions