FT Baseball: Welcome
We are having two in-person sign up dates. The first one will be January 20th and the second will be January 27th. Effective February 1st, prices will go up so do not delay! Scroll down to find the registration link!
Wabash College has announced that they will be hosting a Father-Son Baseball Camp on January 13th. If you know of any family or friends who may be interested, please feel free to share the link below. Also, if you have any contacts with other local little leagues or travel teams who could get this out that would be great. They always donate between 25 and 30 percent of the camp profit to the program's budget so this is a great way to support the program as well
http://www.totalcamps.com/WABASHBASEBALLCAMPS
Thank you and I hope you enjoyed the break!
***REGISTRATION IS OPEN FOR SPRING 2018! REGISTER BEFORE DECEMBER 31ST TO RECEIVE DISCOUNT!***
EARLY BIRD (November 17th-December 31st): $125 ($120 league fees, $20 concession stand worker fees, $5 website fees SUBTRACT $20 for early registration)
STANDARD REGISTRATION (January 1st-January 31st): $145 ($120 league fees, $20 concession stand worker fees, $5 website fees)
LATE REGISTRATION (February 1st to closing): $165 ($120 league fees, $20 concession stand worker fees, $5 website fees, $20 late fee)
Register early to get the best deal!
The Franklin Township Little League is looking for board members. If you would like to be a part of an organization that wants to make a difference in our community, please contact Don Lockhart at bradley1995@comcast.net!
***CHANGE TO FALL BALL*** There will only be doubleheaders on Sundays and NO weekday games. Majors (12U) will play at 11 am and 1 pm. Minors (10U) will play at 3 pm and 5 pm. THERE WILL BE NO WEEKDAY GAMES!
FALL BALL IS BACK!
If you have a child that would like to play Fall Ball at FTLL, please click on:
Cost is $85. Each player will receive a jersey and hat. Divisions are (as determined by the 2017 League Age):
Rookies (7 and under)-Coach Pitch
Minors (8-10)-Kid Pitch
Majors (11-12)-50/70
Juniors/Seniors (13-16)
Players are allowed to play up but please use good judgement.
Minors Division will play doubleheaders on Sundays and the remaining divisions will play one game on Thursday and one game on Saturday. Minors and Rookies rosters will be capped at 13 players and Juniors/Seniors and Majors rosters will be capped at 12 players. Once we hit those numbers, registration will be turned off and anybody else who is interested will be placed on a waiting list. You are allowed to bring a team but THERE WILL BE NO TRAVEL, SHOWCASE, OR ALL-STAR TEAMS. Teams must be approved by the Fall League Committee and each kid must register individually. If you are registering and you are on a team, please annotate in the remarks section who the coach is. Those registering who are not on a team will be placed on a team via the draft. Registration will end no later than July 31st and the first game will be on August 13th. If you have any questions, please contact Don Lockhart at
bradley1995@comcast.net
. We look forward to seeing everybody in the fall!
Congratulations to the 2017 Franklin Township Little League Tournament Champions and Runner Ups. Pictures can be found in Gallery tab on the left:
JUNIORS/SENIORS
Champion: Wildcats (Jason Monday)
Runner Up: Jayhawks (Eric Reidenbach
MAJORS
Champion: Reds (Manager-Chris Moore)
Runner Up: Cubs (Manager-Jeremy Thacker)
MINORS
Champion: Dodgers (Manager-Bill Toth)
Runner Up: A's (Manager-Brad Manning)
ROOKIES
Champion: Reds (Manager-Jeremy Thacker)
Runner Up: Yankees (Manager-Rich Creecy)
Congratulations to all the teams, players, and parents for making 2017 a highly successful season! Good luck to everyone at all stars!
All-Star managers have been announced for the Juniors and Seniors. Congratulations to Jason Monday (Seniors/16U) and to Nathan Keesee (Juniors/14U).
Tryouts will be this Sunday, June 18th, at 5 pm. The league encourages all players to attend. Please arrive 30 minutes early to warm up and sign in.
Good luck to all and we hope to see everyone out there on Sunday. GO FTLL!
FALL BALL!!!!!!! We are trying to organize Fall Baseball for FTLL. We will potentially have four divisions (based off of 2017 Little League Age Guidelines):
Rookies: Ages 7 and under
Minors: Ages 8 to 10
50/70: Ages 11 to 12
Seniors: Ages 13 to 16
Managers can bring entire teams but this is a REC LEAGUE ONLY! No travel or showcase teams will be allowed to enter. We will also allow individuals to register. The league will be goverened by 2017 Little League Rules with the exception of league boundaries. All will be welcome regardless of where you live.
The schedule will consist of six doubleheaders on Sundays. No games will be played during Labor Day weekend. There will be an end of season tournament, as well.
If you or somebody you know are interested, please contact Don Lockhart at bradley1995@comcast.net. All I need is name, email address, and age. Once we determine if we will be able to do this, official registration will open up. Thanks and I hope to hear from all of you!!!!!
One of our own, Corbin Napier, has been selected to represent the USSSA All-American team in Disney World! He was a Top 4 direct select in a tryout last Friday in Cincinnati, OH. Corbin has played here since Rookies and Ryan has been a board member for several years, playing key roles to ensure that each and every kid has an enjoyable experience while at FTLL. To help offset the family's expenses, Ryan is giving two $100 gift cards to Dick's. Recommended donations for the chance to receive the gift cards is $10. Also, FTLL will be having 50/50 drawing with a recommend donation of $1 per ticket or $5 for 7 tickets. There will also be a Collection Jar in the concessions. We highly encourage you to give generously to a family that has made our league a home for many years. Thank you and GOOD LUCK CORBIN!
Congratulations to the 2017 Franklin Township Little League Regular Season Champions:
Majors-Reds (Manager-Chris Moore)
Minors-Dodgers (Manager-Bill Toth)
Rookies-Indians (Manager-Jeff Thinnes)
Check out the gallery on the left to see pictures of the champs. Great job to all of the kids, coaches, and parents for making the regular season a HUGE success!
Final games for the Majors, Minors, and Rookies are tomorrow, June 3rd. LOTS of exciting baseball still left to play as teams go for the regular season championships and fight for important playoff positions. Trophies to the league champions will be presented at the end of the deciding games. Come on out for what promises to be a great end to a long (and wet) season!
Hello parents and teammates! Please don't forget to turn in your Land O'Frost UPC codes, as they are due at the end of the month. Collecting UPC codes is an additional way for our league to earn extra money! Please turn them into your league representative ASAP. If you have any questions please reach out to us directly, or visit
http://blog.knoxsports.com/land-o-frost/
Congratulations to Cubs (2nd place), Reds (3rd place), and Cardinals (4th place) during Championship Weekend of the President's Cup. Great baseball was played by all and all three teams had a great time and awesome experience. A special congratulations to Aaron Mahoney of the Cardinals. He won the Greatest Sportsman Award and there wasn't anybody who could have disagreed. If you see Aaron, may sure you tell him GREAT JOB! Overall, Franklin Township Little League was represented well!
UMPIRES NEEDED!
Due to recent rainouts, umpires are needed. If you are at least 13 years old and would like to earn some extra money, please email CHRIS MOORE at cjmoore07@att.net or text at (317) 690-2903. Umpires are needed immediately.
Franklin Township Little League
Located behind Wanamaker Elementary School

4008 S Bazil Avenue


Indianapolis, Indiana 46239

Want to receive our Newsletter???
Don't Settle for Non Little League Sports Programs

Franklin Township Little League (FTLL) is part of Little League International and we are the only baseball league in Franklin Township Indiana that can make this claim.
Little League Chartered leagues like FTLL provide more than just access to fields and games. To learn more about why to choose a Little League over a youth sports league please click here--> "Why Choose Little League"
Please help us make FTLL a better league!!! If you or your employer are looking for a way to advertise or just feel like helping out the league then click here for information about sponsorships for FTLL.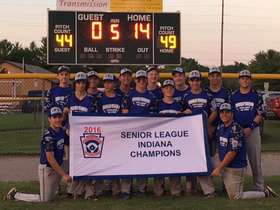 2016 Senior League Indiana Champions
Saturday, June 3
Gallery