Fastball USA Softball: Roster
Georgianna Crudele
Georgianna or G as she prefers to be called is another member of the original six and is a multisport athlete. G has always been athletic and strong but she did not start out at the top of the world in her softball career. Everyone who witnessed her play last summer assumes G was born a great softball player. The truth is G hit .220 in the summer of 2015 and then .167 in the fall of 2015. She never gave up or got discouraged and worked hard to become a better hitter and a better player. Her secret = she works hard and she works smart.
G is serious when she attends professional training and spends more time at the batting cages outside of training and practice than any other player on our team. Other teams have athletic, strong players but they don't hit like G because they don't work like G.
G has an unbelievable 60 mph overhand throwing speed, 75 mph bat speed and ball exit speeds in the high 60s.
When G is at 1st base it is fun to watch agressive teams try to score from 2nd base on groundballs to shortstop as they round 3rd base and watch in amazement as G slings a 50+ mph throw from 1st base to home. They are usually out and the coaches, players and opposing parents are left shaking their heads. At the plate, it translates into a .557 average with 62 hits, 9 triples, 7 home runs and .611 slugging percentage in 45 games as a 10U. A favorite moment last season came at the Park Ridge Ice Cream Classic when G hit a ball over a tree in center field that was supposed to be out of reach for a 10U. G followed up her strong 10U season hitting .438 with a .514 slugging percentage last fall in her 12U debut.
Livia Christopher
Livia joined Fastball USA Softball in the winter of 2016 and has been a fantastic addition to our team. She is a versatile athlete with good speed along with a great arm and she can play any position on the field.
Livia's numbers are impressive for being the youngest member of our team. Her overhand throwing speed is 56 mph, bat speed is 72 mph, ball exit speed is 63 mph and her home to first time is 3.22 seconds.
Livia batted leadoff for Fastball in her 10U campaign hitting .332 with a .462 on base percentage and scoring 45 runs. She continued her streak in the fall batting .352. Livia has found a home on defense splitting catching time and playing outfield. Livia caught 121 innings this past summer and fall throwing out 11 runners stealing. Her presence behind the plate is a game changer.
Sabrina DiVito
Sabrina joined Fastball in September of 2014 and tested at 30mph pitching when indoor training began in November of 2014. Sabrina now has a 46mph high moving up to the 12" ball. Sabrina is one of our best overall athletes playing multiple positions including shortstop. She also boasts a 45mph personal best overhand throwing speed, 67 mph bat speed and hits .337. She turned heads this summer throwing a runner out at first on her knees from shortstop.
Olivia Genthner
Olivia is one of the members of the original "six" who joined Fastball in the fall of 2014 and is one of the team's multisport athletes.
Olivia's softball numbers are impressive. She currently has a 70 mph bat speed, 62 mph ball exit speed, a home to 1st time of 3.29 seconds and a 50 mph overhand throwing speed. These numbers translate to hard hit balls and great defense.
On offense, Olivia hit .308 in the summer of 2016 and .320 in the fall of 2016. She has had many clutch hits and at bats during her time at Fastball. Her most memorable moment at the plate last fall was a 15 pitch at bat in which she fouled off countless pitches with a 3-2 count finally drawing a walk on a wild pitch that scored the close out run to end the game. The result was a win in the Vernon Hills Fall Brawl 8-3 over a tough Vernon Hills 12U team.
On defense, Olivia has always been one of our most versatile players. She has played 3rd base, shortstop, 2nd base and outfield over the last 2 1/2 years. Olivia knows each position and we are confident we can place her anywhere on the field. Olivia's defensive "web gem" came at her primary position of 3rd base last fall in the Bloomingdale 11U Round Robin. She made a diving stop and then threw the runner out at first base from her knees against the host, Bloomingdale Blast. The look of amazement on the first base coach's face was priceless.
Jenna Kosnoff
Jenna is a member of a few special groups on our team. First, Jenna is a member of the original 6, one of the original members of Fastball Softball who started an amazing journey in the fall of 2014. Second, Jenna is a member of what we refer to as our "Big Four", one of our 4 great pitchers all of whom have pitched in a tournament championship game. Third, she is the founding member of the milkshake club which is a reward given to players by their parents or coaches for attaining a new high. Jenna has earned numerous milkshakes over the last 2 1/2 years.
3-0 on the mound this fall with a 2.11 ERA and 10-2 this past summer with a 1.57 ERA, Jenna has become one of our top pitchers. Besides her pitching, Jenna plays great defense and can hit. She plays multiple infield positions including shortstop, excels in the outfield and hit an impressive .393 this past fall with a .463 on base percentage, scoring 10 runs in 13 games.
Her overhand throwing speed is 57 mph, underhand speed is 45 mph, bat speed is 68 mph and ball exit speed is 61 mph. Her testing speeds from November 2014 were 38 mph overhand and 32 mph underhand both with an 11" ball. Jenna personifies the "Fastball Principles" of persistence, hard work, never giving up and not being afraid to fail. She has come a long way as a player in the 2 1/2 years she has played for Fastball.
Maggie Khayyata
Maggie is pictured here hitting 39mph pitching for the first time. She tested at 33mph pitching in the fall of 2015 when she joined Fastball. Maggie no longer pitches but has an impressive personal best overhand throwing of 49mph with a 12' ball up from 38mph this fall of 2015 with an 11" ball and a 64 mph bat speed. Maggie had a .385 on percentage with zero strike outs this fall.
Kate Ryan
Kate is a member of the original "6" and Big Four. Kate joined Fastball Softball in the fall of 2014 along with a group of her postseason teammates who wanted a more competitive softball environment.
Kate has some impressive and unusual measurables. First, her fastest recorded underhand pitching time on run thrus is 59 mph which is actually faster than her fastest recorded overhand throwing time on turn and burns of 55 mph. She throws harder underhand than overhand. Her offensive metrics are just as impressive. Kate has a 69 mph bat speed, 65 mph ball exit speed and a 3.26 second home to first time. How do these numbers translate on the field? On the mound, it means a lot of strikeouts. Kate struck out 131 batters in 66 innings pitched in the summer of 2016 and 101 batters in 63 innings pitched in the summer of 2015. It is approximately 2 hitters per inning.
Kate was 10-3 on the mound with a 2.17 ERA in the summer of 2016 and followed that up going 4-1 with a 2.13 ERA in the fall. At the plate, her numbers translate to a .367 batting average, almost .500 slugging percentage and .569 on base percentage in the summer of 2016. She followed up with a .338 batting average, almost .438 on base percentage in the fall of 2016.
Kate spends a lot of time on pitching. She throws 4x per week along with Explosive Hitting training, Blackbelt Training for about 2 1/2 -3 hours and additional pitching and hitting practice along with team practice.
Brooke Scharlau
Brooke Scharlau is another member of the original six and is a multisport athlete. Brooke joined Fastball in the fall of 2014 and you could tell from the beginning she would be good. Brooke's arm strength, aggressiveness and toughness made her a natural for being one of our catchers. She has always had one of the strongest arms and fastest bats on the team. She tested in the fall of 2014 throwing 43mph overhand with an 11" ball and a 60mph bat speed both team highs at the time.
Brooke's measurables are a 56 mph overhand throwing speed, 72 mph bat speed and ball exit speeds in the high 60's. How do these numbers translate on to the field? On defense, when Brooke is behind the plate teams think twice about stealing or they are thrown out. At one point this past summer, Brooke threw out an incredible 8 runners in a row trying to steal 2nd base. Her total runners thrown out on the season was 14. In addition, she picked 3 runners off base. This was 10U and no one is supposed to get thrown out stealing or get picked off. At one point in Brooke's streak of throwing out runners, a group of opposing coaches and players stopped to "scout" Brooke out and see if she could throw another runner out. She threw 2 runners out that game. It was safe to say that if we played them in elimination they were going to be very careful about stealing. Brooke cannot only catch but she is also a great outfielder. When she is not behind the plate she can be found making diving catches in the outfield like she did in the Championship game of the Vernon Hills tournament. At the plate, Brooke's bat speed and ball exit speed make her one of our primary offensive threats. Hitting in the 2 slot last summer, Brooke usually got games off to a fast start with her .404 batting average and .606 slugging percentage. She was 2nd on the team in hits with 38 including 6 doubles, 2 triples and 3 home runs. She also scored 52 runs and had a team low 16 strikeouts.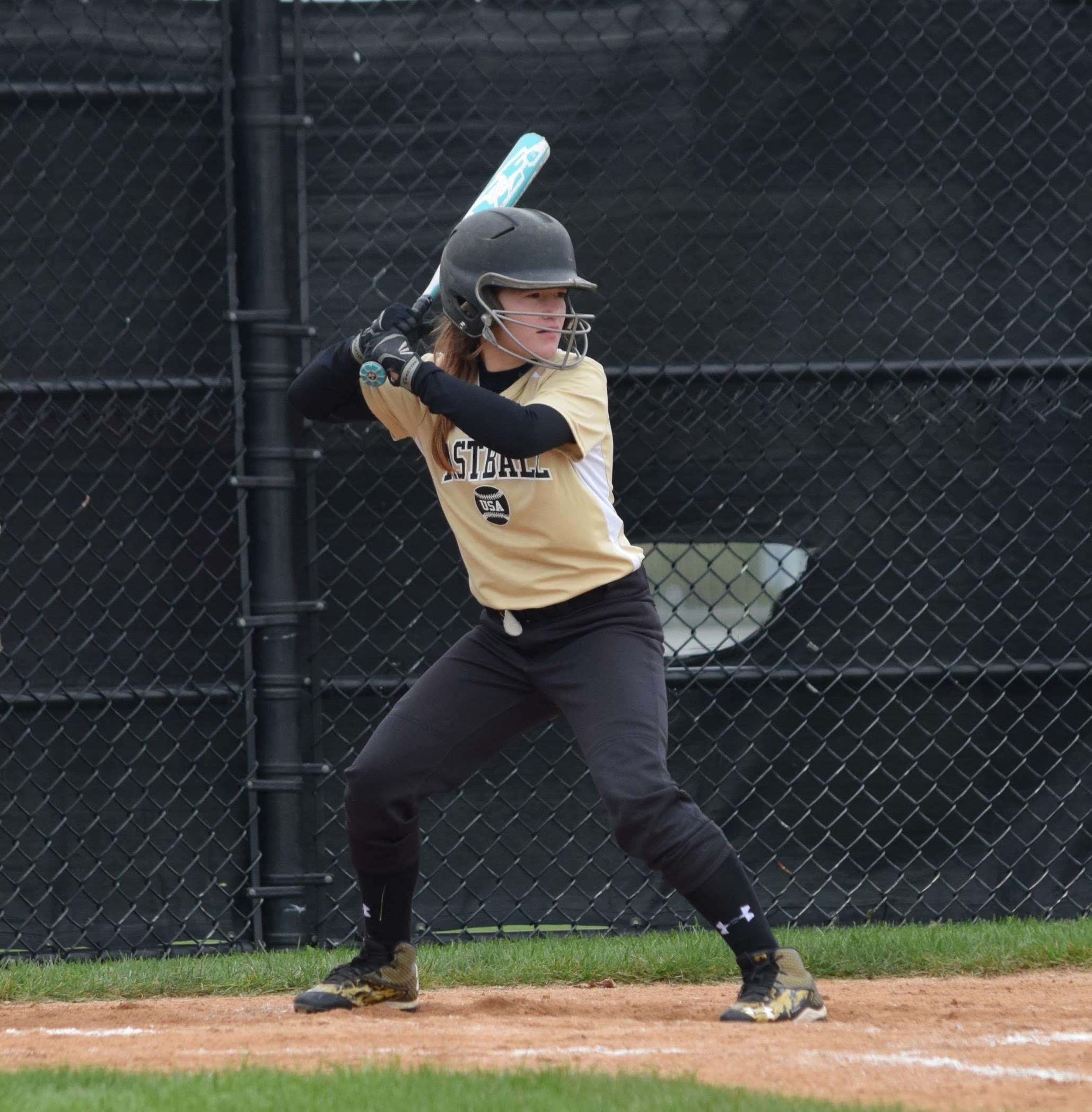 Ashley Simon
Ashley "Ice" Simon is another one of our Big Four pitchers. Ashley decided to join Fastball in the late summer/fall of 2015. She is a great athlete and we knew at tryouts that she had the potential to be a great player. The question at the time for us was how we get this talented player who wants to be a pitcher join a team that has 3 returning pitchers. We promised her the opportunity that she would be pushed to her limits and that she would need to work hard. Lot of kids would have run the other way but Ashley, like a lot of our girls, chose the hard path. As a coach, I knew the moment Ashley committed to play for us she would become a great player. By simply choosing our team, Ashley personified one of our basic principles which is "get comfortable being uncomfortable".
Ashley worked hard the winter of 2015/2016. The first few months she attended Friday night practice, Ashley kept reaching a new high after new high. The results of her offseason work: an 8-1 record, and 57 innings pitched with 81 strikeouts, 18 walks and a 1.369 ERA. That translates to approximately 1 walk every 3 innings as a 10U. More impressive are some of her nontraditional pitching stats such as a 65% strike percentage, 67% first pitch strike percentage and 81% of the time Ashley threw a first pitch strike the at bat resulted in an out.
Ashley is no slouch at the plate or in the field. Ashley hit .295 in the summer and .310 in the fall. She scored 45 total runs and had 35 hits with a .400 slugging percentage and a .421 on base percentage. In the field, she plays 3rd base, first base and outfield and is great in all 3 positions. Ashley's measurables back up her performance on the field. She has a 52 mph overhand throwing speed, 63 mph bat speed and 63 mph ball exit speed. On top of those, she has a personal best 48 mph pitching and 51 mph on run thrus underhand.
Libby Wirtz
Libby joined Fastball in the fall of 2015 and was a fantastic addition to our roster. She splits her playing time between 2nd base and outfield. Libby had 13 hits this summer scoring 21 runs and had some very key at bats including her taking a sign in the Wisconsin Dells tournament. This at bat resulted in tying the game and going on to win the tournament.
Libby's overhand throwing speed is 50 mph, her bat speed is 55 mph and ball exit speed is 53 mph.
Libby is a fantastic example of how hard our Fastball girls work at everything they do!
Sunday, January 1
Isabella Ales
Isa is one of the newest members of Fastball USA, joining the team starting in the fall of 2016. Isa fit into the group from the first day and has been a fantastic addition with her strong left handed bat, fine defense and great speed. Typically in softball, the fast left handed hitter is transitioned into the bunting, slapping, small ball player. Not Isa and not at Fastball. We saw how hard she could hit the ball and let her swing away. Her results this fall were a .424 batting average with a .636 slugging percentage, 14 RBIs and 18 runs scored.
As expected, Isa tests well on her softball measurables. She had a 2.97 home to first speed, 52 mph overhand throwing speed, 70 mph bat speed and 65 mph ball exit speed. All of these numbers are in the top 10% for her age group according to Stars and Stripes Sports Testing.
On defense, Isa's first position is center field but she will also see time at 3rd base. With Isa's speed and arm, we anticipate a few runners thrown out at the plate and more than a few slappers gunned out at first trying to slap the 5-6 hole.
Sunday, January 1
Erin Pinter
Erin Pinter joined Fastball in the fall of 2016 and has been fantastic addition to our team. She quickly fit into our group of returning players and really seems to have fun this offseason. Erin is a versatile athlete who can play anywhere on the field with a primary focus on shortstop and second base. She has a natural ability on defense that is really amazing. In the fall of 2016, she made some incredible plays at second base in the Vernon Hills Fall Brawl Championship game. She made very difficult hard hit grounders look easy and those plays were a huge difference maker in winning that tournament. One particular play involved a quick tag on a steal. After the inning, the umpire came and commented that was the best/quickest tag he ever seen at the 12U level.

Erin's measurables are as impressive as her defense. Erin ended the fall with a 48mph overhand throwing speed and has added 6mph this offseason to get her overhand throwing speed to 54mph. Her bat speed was measured at 63mph in the fall and is now 73mph. She also has a 63mph ball exit speed. The bat speed and exit speed numbers really translate well onto the field. As we like to say at Fastball, when she happens to run into the ball it goes. There are two great things about Erin's swing that make her a perfect fit for Fastball: one, she likes to swing as hard as she can and two, she has a fantastic launch angle. Teams usually play Erin medium to shallow depth based on her size. Erin is average size for her age. It is fun to watch surprised outfielders turn and chase down the ball when she launches one over their heads. At Vernon Hills in the fall, she hit one off the fence 200 feet away. Erin's stats this fall show how powerful she can be. She hit .308 with a .471 on base percentage and a whopping .654 slugging percentage. The .654 slugging percentage was second highest on the team.