Graphics by David Fischer-Lakeland, Florida
LAKELAND TABLE TENNIS CLUB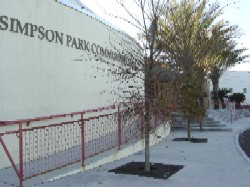 Lakeland Table Tennis Center

The Lakeland Table Tennis Club is located at the Simpson Park Community Center in Lakeland, Florida. Round Robin Table Tennis play is available on Sunday beginning at 1:00 p.m. till 4:30 p.m. Practice, drills and training is available each Wednesday and Friday beginning at 6:00 p.m. until 9:30 p.m. The center is located at the corner of W. Bella Vista St. and MLK Jr. Ave., just two blocks west of N. Florida Avenue, north of downtown Lakeland. Take Exit #32 off I-4 and travel SOUTH on US 98 (N.Florida Ave.) for 1.4 miles. Turn Right onto W. Bella Vista St and go 2 blocks. You will see the Simpson Park Community Center on the left beside the beautiful swimming pool and palm trees.

Simpson Park Community Center
1725 MLK Jr. Ave.
Lakeland, Florida 33805

CONTACT:
Ray Spann
TableTennis1@verizon.net
Phone: (863)965-0760



OCALA TABLE TENNIS CLUB
OCALA TABLE TENNIS
Located at the Silver Springs Presbyterian Church Gymnasium
674 Silver Road
Ocala, FL 34472
Meets every Thursday 6:00 PM - 10:00 PM
Normally 10 tables with $2.00 playing fee
and $1.00 equipment replacement charge.
Contact: Hank Tiedeberg (352)680-6872
for tournament info & Community Ctr play.

Click on the "Title"-OCALA TABLE TENNIS CLUB" to go to their website.
A detailed map is located there, along with other important information.



SUNRISE TABLE TENNIS CLUB

The Long Center--Clearwater, Florida
The Sunrise Table Tennis Club is located at the Long Center, a large recreation complex in Clearwater, FL. Table Tennis is played on Tuesday & Thursday from 9:00 AM to 12:00 Noon, Friday from 6:30 PM to 8:45 PM and Saturday from 1:00 PM to 4:45 PM. (Caution: The Long Center is frequently unavailable for table tennis, so it is best to phone or email the contacts listed below before you leave.)

Contacts:

Ray Look--- guido.tm@verizon.net

Margo Lindsay--- Blackbart500@aol.com

Al Palumbo---PacerAL500@aol.com

Web Site: http://www.sunrisetabletennis.com/

CLICK ON THE TITLE---"SUNRISE TABLE TENNIS CLUB" to visit their website.



1501 N Belcher Rd
Clearwater, Florida
33765

The Long Center
Blackbart500@aol.com
Phone: (727)724-3069






SILVER SPRINGS SHORES TABLE TENNIS CLUB


SILVER SPRINGS SHORES TABLE TENNIS CLUB

Table tennis is alive and growing in Central Florida and regardless of which direction you travel, take along your paddle. In fact, if you are headed up towards Ocala, Florida, stop by and see Hank Tiedeberg and the group of excellent table tennis players at the SILVER SPRINGS SHORES TABLE TENNIS CLUB. The club meets three times a week at the Silver Springs Shores Community Center on Silver Road. It is a little tricky to actually find the center, but when you do, be prepared for some fast table tennis action and a lot of fun. Check out the schedule below and the phone number contact for precise directions and then plan a nice trip to Silver Springs, just a little east of Ocala. It will be worth the trip.

SILVER SPRINGS SHORES TABLE TENNIS CLUB SCHEDULE

TUESDAY-------------1:00 PM TILL 3:00 PM
FRIDAY----------------1:00 PM TILL 3:00 PM
SATURDAY-----------1:00 PM TILL 3:00 PM

*FOR PRECISE DIRECTIONS AND TO BE SURE THAT THE CENTER IS OPEN FOR TABLE TENNIS, PLEASE CALL THIS PHONE NUMBER: (352) 680-6872

Silver Springs Shores Community Center
Silver Road
Silver Springs Shores, Florida







TAMPA TABLE TENNIS CLUB


Tampa Table Tennis Club
Port Tampa Recreation
4700 W. Lancaster Street
Tampa FL 33616
Ph. 813.832.1215

Please contact Wil Greer (813)962-4344 for specific information about the club, closings for holidays and any other club related information.

Play Days:
We play on Tuesdays and Thursdays 6-10pm. Closed on every 4th Tuesday of the month. Cost is $10 lump sum per year or $1.00 per week for 2 days.

Directions:

I-275 to Westshore Blvd.
Go south on Westshore Blvd. past Gandy Blvd.
Make Left on McCoy Street
Port Tampa Recreation Center on Right just past R/R Tracks.

Equipment:

Four (4) Stiga Expert Tables
New Facility - Flourescent Lighting
Players - Novice to Elite (> 2000)

Current attendance - 6 to 12 players each day. Much time to practice. Club Rules: 20 minute practice or win two matches sit out or lose one match and sit out.

Current Player List: Kit Jeerapet; Prakit Jeerapet; Malai Jeerapet; Greg Gingold; Wil Greer; Toby Hart; Curtis Quesnell; Tom Rao; Ron Chin; Carl; Phoung; Rudy B.; Randy Beardsley; Fred H., et. al.




MERRITT ISLAND TABLE TENNIS CLUB

Merritt Island Table Tennis Location
Meets at the Veterns Memorial Center behind the Merritt Island Mall 400 Sykes Creek ParkWay Phone(321)453-1776 Meets Monday from 7:30 p.m. to 10:30 p.m. Meets Wednesday from 7:00 p.m. to 10:00 p.m. Directions: Take I-95 or U.S. 1 till you hit the 520 exit. Turn east onto 520 and go over causeway. About one mile after causeway you will see a shopping center mall on the right hand side. At the red light after the mall, turn right. Go about 1/4 mile and the road will either turn right or you will be forced to go straight into a parking lot of a building. Go straight as that building is the Verterns Center. Go in via the front door and turn left into a large open assembly hall. Fee to play is $1.00 per night for members. $2.00 per night for non-members. Membership is $10.00 per year. Normal setup is 4 tables with attenance of around 10 to 14 players. Average ratings (800-1800). Point of contact is Randy Hess (321)452-8990

COCOA BEACH TABLE TENNIS CLUB

Melbourne Table Tennis Facility
The Cocoa Beach Table Tennis Club has moved to a great new location. It is a very active club with some great players who are dedicated to making the atmosphere there as productive as possible for the players.

Please visit the following website for all the information:

http://floridatt.com/cocoabeachtt

Point of contact is Ted Hackler (321)633-1645



PALM BAY TABLE TENNIS CLUB



Palm Bay Table Tennis Facility
Meets at the Palm Bay Community Center thursday night from 7:00 p.m. to 10:00 p.m.
Address: 1502 Port Malabar Blvd. NE, Palm Bay Florida, 32905 Phone: 321-952-3443

Directions: Take U.S. 1 towards Palm Bay. Look for a street called Port Malabar. At that red light turn west away from the river. Go about 3 to 4 miles. On the left side of the road will be the Palm Bay recreation center. Tables are located upstairs. Normal setup is two to three tables with about 4 to 6 players. Average ratings (800-1700). Point of contact is Dan Tran at (321)663-8556



ORLANDO TABLE TENNIS CLUB



Orlando Table Tennis Club Facility
Meets at the Loch Haven Neighborhood Center, 610 N. Lake Formosa Drive, Orlando 32803 Phone: (407)898-9288 Monday and Wednesday evenings from 6:00 to 10:00 Normal setup is five tables and about 20 people or MORE! Directions: Take I-4 to Princeton Exit (Exit 85). At bottom of Exit turn left if coming from north, right if coming from south.. turn right on Alden then take Immediate left. Fee to play is $2.00. Point of contact is Olga Soltesz at (407)658-7548 or (407)830-4009 - Work Phone



SARASOTA CLUB--USATT MEMBER
SARASOTA TABLE TENNIS ASSOCIATION


SARASOTA TABLE TENNIS ASSOCIATION

LOCATION:
Colonial Oaks Park
5300 Colonial Oaks Blvd.
Sarasota, FL

SCHEDULE:

Monday & Wednesday---7:00-10:00 pm
Saturday-------------2:00-6:00 pm

CONTACT:

Joe Cincotta: (941)322-1702


LAND O' LAKES TABLE TENNIS CLUB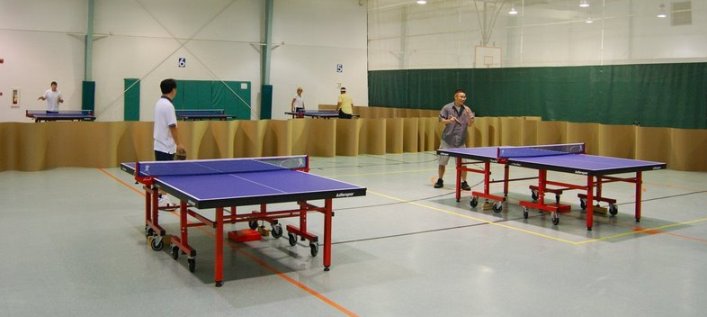 Land O' Lakes Club in Action
Land O Lakes Table Tennis Club
Location of The Land O Lakes Table Tennis Club
Gymnasium in the Land O Lakes Recreation Complex
3032 Collier Parkway
Land O Lakes, FL 34639
Phone: (813) 929-1220
Days we play
Tuesday: 2:30 to 5:30 PM Friday: 6:00 to 8:45 PM
Attendance at Tuesday sessions
is usually 6-8 members. Friday nights
usually draw between 10 and 15 members.
Please call the Land O Lakes Recreation Complex to check for
any cancelled sessions. (813) 929-1220.
How to reach us
Contact either Mike Coppola or Don Goff at: loltabletennis@hotmail.com
Who we are
The Land O' Lakes Table Tennis Club is a group of men
and women that enjoy the fun and
competition of a game of table tennis. We
work together to improve our skill level
and are serious about our table tennis,
and hope to expand the opportunity to other
competitive players. Future membership in the
USA Table Tennis Organization is a goal
of the club. Currently we have (25) members.
Players 16 years of age and older are welcome
to join us.There are currently no membership fees.
How we play
Matches are played using guidelines from
the USA Table Tennis Organization . We currently have 6 tables. Play is broken up into
three groups by level of play. Two tables are
designated for play by advanced skill players,
three for intermediate skill level, and one
for beginner level. Separate "waiting to play" list
are maintained during each session for each of the
groups. When members arrive they place themselves in
the group they feel is appropriate by writing their
name in the group level on the whiteboard in the
waiting area. A member's name can
only be placed in one group at any time.
Members are free to change groups, as they
deem necessary. When a member's turn to play
occurs, they remove their name from the list.
Upon completing play they again place
their name on a group waiting list. Players are expected to have their own
paddle and ball. Matches are
played best of five, 11-point games.
The loser leaves the table and is
replaced by the next player on the waiting
list. A maximum of two matches
won is permitted then a player must
give up the table. Warm up before a match
is limited to 3 minutes. Players may opt to practice for 10
minutes rather than play a match.
If both players have not been up at the
table from previous play, one of the players
must give up the table at
the end of the practice session.
The player that remains may either play a
match or practice with a new player from the waiting
list. If a player was at the table
from a previous match or practice session,
that player must give up the table to another player at
the conclusion of a practice
session. In all situations no player is
permitted to stay at a table for more than
two matches or two practice sessions.
If no one is waiting to play, members
are free to play as long as they wish.