Welcome to Zero Gravity Juniors, a Junior Olympic Volleyball Program. If you have any questions please contact Chuck Musselman at 330-685-2890.



Thursday, May 18


Tournament Info for the OVR Regional Championships on 5-21




Greater Columbus Convention Center
400 North High Street
Columbus, OH 43215

16 Red (Aluminum/Chromium Division) Regional Championships- Pool A (Sunday, May 21 - Court 1)
1. Zero Gravity Jrs. – 16 Red
2. Mountain RAGE Volleyball Club – Maniacs
3. Defiance Volleyball Club – 16 Gray
4. Borderline Jr Volleyball – 16 Surge

Please be there dressed and ready to play on your court by 8:00am. There will not be a coaches meeting prior to the start of the tournament. Coaches may pick up their tournament information packets in the morning before you play. Doors will open at 7:00am. Parking is free on the streets on Sunday only...please allow extra time to find parking. No outside food is allowed. Individual portions are allowed in a player's bag. Keep all coolers in cars. Coolers are prohibited in and outside facilities hosting OVR-sanctioned events. A Concession Stand with a variety of healthy foods is available at the tournament site. Seating is not provided, so please bring a chair. Good Luck Kids!!



Tuesday, May 2


2017 PRACTICE SCHEDULES




PLEASE CHECK HERE BEFORE YOU LEAVE FOR EVERY PRACTICE IN CASE OF CHANGES

Thursday, May 11

6:30-9:30 - COURT 1 - 16R

Thursday, May 18

6:30-9:30 - COURT 1 - 16R



Sunday, April 2


Zero Gravity 18 Black Finishes 5th in Gold at Spikefest to Move Up to 8th in the OVR


It was a good weekend at Spikefest for our 18's, even though they were missing 3 of their players. Our young ladies had easy 2 set wins over Aleta (25-7,25-10), Cincy Crush 2 (25-8,25-16), V5 (25-15,25-15), Cincy Crush 18-1 (25-16,25-16), and Zenith (25-17,25-15). After 3 days of play ZG gave it their best shot in the Gold Quarter-finals against 3rd seed and undefeated River City 18-1, but fell a little short (24-26,14-25) to finish 5th. Team members included Rylee Brown, Brooke Mazzocca, Hailey Hiner, Kylie Murphy, Brooke Laughlin, Alexcia Ailes, Evelyn Cramer, Paige Strobel, and Kiara Cleveland. Great job ladies!!


Sunday, January 17


Zero Gravity 16 Black Wins Gold at Spire!!




It was a great day at Spire for our 16 Black team. With only a few practices under their belt and playing in their first tournament together, our young ladies showed what they are capable of with wins over Pittsburgh Point 16-1 (21-25, 25-19, 21-25, 25-11, 20-18), Spire 16-1 (25-23, 25-14, 25-7), Impact Sports Academy 16-1 (25-15, 21-25, 15-9), Pittsburgh Elite Gold (19-25, 25-20, 15-11), and EPIC 16-1 (25-21, 22-25, 16-14) during their championship run. Team members included Jessie Galford, Paige Strobel, Krista Delatore, Kelly Daugherty, Brooke Laughlin, Lindsay Carr, Molly Triplett, Paige Rossiter, Lexi Buck, and Jillian Hammary. Congratulations Ladies!!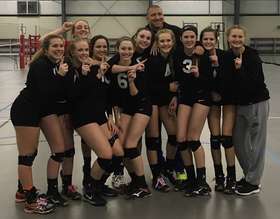 Gold Champions!!


Sunday, April 10


16 BLACK (with some help) WINS GOLD CHAMPIONSHIP AT SPIRIT!!!!


It was a great day in Elyria today as our young ladies went 5-0 to win the Gold at Spirit's 16U tournament. 16 Black was missing 4 of their normal players, so we pulled up a few kids from our 15's and they didn't miss a beat. Pool play went smoothly with wins over Lakeshore 16's (25-20, 25-11), Spirit 15's (25-11, 25-19), and Atlantis 16-2 (25-15, 25-20). In the Gold Semi-finals our ladies came up big against Atlantis 16-1 and advanced to the Gold Finals (25-16, 25-23). The Gold Finals were a heated battle with Spirit's top team...and our kids were more than ready for the challenge. After dropping a heated game one (23-25), 16 Black dug deep and took the next two games (26-24, 17-15) for their second Gold Championship of the year. Team members included Lindsay Carr, Brooke Laughlin, Jessie Galford, Kelly Daugherty, Paige Strobel, Lexi Buck, Olivia Moore, Megan Manson, and Angelyse Trammell. Congratulations Ladies!!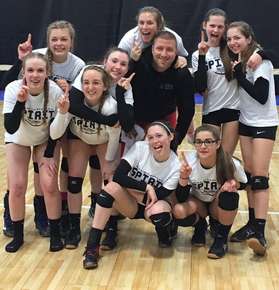 Gold Champions!!


Monday, April 18


16 RED WINS GOLD AT GIRARD!! 14 BLACK FINISHES 2nd IN GOLD!


...details to come.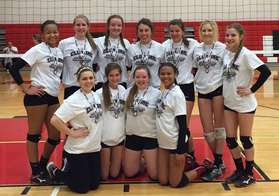 Gold Champions!!