Northern Colorado Xplosion: News
Monday, January 6
Uniform Fittings
Uniform Fittings
Saturday January 11, 2014
Garretson's Sports
3817 W 10th St, Greeley, CO 80634
Baseball
Corrales 8:30
Pebley 9:15
Reeser 10:00
Durham 10:45
McWilliams 11:30
Softball
McWilliams 12:15
Ramirez 1:00
Stoner 1:45
Meagher 2:30
Fosdick 3:15
Michalik 4:00
Thursday, July 18
14U (Ranz) Colorado Xplosion Fastpitch 2013 Season Summary
1st Place Silver Bracket at the Berthoud Blaze Invitational
(Lindsey Ranz named championship game MVP)
3rd place Gold Bracket at the Flowers for Mother's Day Tourney
4th place Gold Bracket at the Mountain Magic Tourney
Thursday, July 18
10U Colorado Xplosion Fastpitch 2013 Season Summary
Won over 70% of their games.
Placed in the top 3 in 7 of the tournaments they played in .
Won 2 tournaments!
Thursday, July 11
Congratulations U16 McWilliams - Triple Crown State 2nd Place!
Thursday, July 4
Check out some Xplosion girls getting to meet Jennie Finch & Michelle Smith this week!
Monday, June 17
Congratulations U16 McWilliams - ASA State Champions!
Sunday, June 9
Congatulations 16U (Morenz) & 10U (Fosdick) - 1st place Cheyenne Extreme Tournament
Sunday, June 9
Congatulations 12U (Ramirez) - 1st place Cheyenne Extreme Tournament
Tuesday, May 14
Congatulations 12U (Ramirez) - Takes 2nd in May Madness Tournament
Wednesday, May 1
Aubree Maul (former Xplosion player) - Fighting a different kind of fight
Aubree Maul was a former player for the Xplosion Organization and has gone onto play college softball at Metro State. She now has a battle that nobody wishes for, but she is such an inspiration. Click here to see her battle. Keep her in your prayers!
Wednesday, May 1
Rick T-Baumgartner - Our Thoughts and Prayers Are With You
Recently Coach Baumgartner was diagnosed with cancer and had to step down from his position to fight the battle off the field. As an Organization our thoughts and prayers are with him. If you would like to keep updated on his status here is a link you can go to
https://www.caringbridge.org/visit/rictollefsonbaumgartner/createorsignin
Wednesday, April 10
Congratulations 16U McWilliams -Third Place USSSA Chinook
Thursday, July 11
Congratulations 16U McWilliams - Third Place USSSA Spring Starter
Wednesday, April 10
Congratulations 12U Ramirez - 1st Place ASA Scholarship Tourney
Thursday, January 24
Sponsorships (Banner)
Banner Sponsorships due 2/15/2013
Great opportunity to raise funds for your player. 100% goes to player's account.
Handout:
Banner Sponsorship
Thursday, January 24
Sponsorships (T-Shirt)
T-Shirt Sponsorships
T-Shirt sponsors are an easy way to raise funds for your player. Get 10 sponsors and $300 goes to your player's account. Of course you can always get more than 10 sponsors.
Handout:
T-Shirt Sponsor
Thursday, January 17
Scrip - Gift Card Fundriaser
King Soopers - Scrip Gift Card Fundraiser
Get started today. This is a great way to fundraise for your player's account!!! If you want more information go the handouts section "Scrip". There are handouts explaining how to sign up so your player gets credit. Family members and friends can sign up all under your player's account.
Thursday, January 17
Batting Cages
Xplosion Organization has a new batting & pitching facility!!!! Facility is available for rental by individuals or teams.
Saturday, November 10
Congratulations 16U Morenz - 1st Place City of Heros Tournament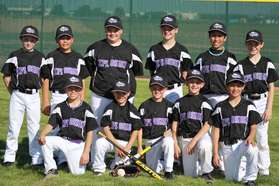 Congratulations to 10U Baseball on placing THIRD at USSSA State!
Wednesday, July 25
Congratulations to 10U Baseball on placing THIRD at USSSA State!
Wednesday, July 25
Congratulations to 12U on placing SECOND at USSSA State!
Tuesday, June 5
Congratulations 14U (McWilliams)
ASA Rocky Mountain Showdown Tournament Champions! June 3, 2012
USSSA Shooutout on the Plains Tournament 2nd Place! June 17, 2012
Tuesday, April 17
Congratulations 14U (Morenz)
1st Place - USSSA Chinook 4/1/2012
Wednesday, April 4
Congratulations 12U (Massey)
1st place - USSSA Diamond Breaker on 3/25/2012
1st place - USSSA Chinook on 4/1/2012
Sunday, March 4
Summers Memorial
The Summer's Memorial Tournament has been postponed indefinitley for 2012.
Correct Hitting Swing - Analysis of Albert Pujols
This is exactly what Coach Tonya is teaching at hitting lessons for our teams.! Even though it is "baseball" video all the mechanics are exactly the same.
Monday, October 20
AN INTERVIEW WITH THE COACH
COLLEGE RECRUITING ADVICE
The following information was graciously submitted to me by Joe Abraham, head softball coach at Whitworth University in Spokane Washington. Whitworth is a Division 3 school. Abraham comes to Whitworth from the Columbus, Ohio area, where he founded and coached the Buckeye Heat softball travel organization, the largest of its kind in the state of Ohio. He has also been the head coach at Thomas Worthington High School in Powell, Ohio.
First, most girls start the process too late. Communication with
college coaches needs to begin before girls start their summer season
after ninth grade. If a girl is a true Pac-10, SEC, Big 12 type of
recruit, then communication should start a year earlier, while they are
in eighth grade. Most of those schools are now watching 2011 and 2012
grads. If a girl is not one of the top few players in her state in her
class (unless she is in California or Texas or Arizona), then she isn't
likely to be headed to one of those conferences I mentioned above.

Second, girls need to do some research on schools. Getting form
letters, even at D3 for me, is mostly a waste of our time and often go
into the files, never to be seen again. I might follow up on a form
letter from a local girl, but that's about it. The D1 coaches might
send a general questionnaire after receiving a form letter, if that.
We want to know that you have some specific interest in our school.
For most D1 schools, they also need to be able to verify that a girl is
worth their time to watch, so they will ask for a skills video before
they agree to spend valuable recruiting time watching a girl. At my D3
school alone, I had a list of nearly 75 girls who had shown interest
and who I wanted to watch at Sparkler and Fireworks, so you can imagine
how many the D1 schools might get. They have no way to watch them all,
so specified interest, good grades and a strong skills video go a long
way. Also, the more tournaments that a team is in where college
coaches recruit, the more likely it is their girls will be seen.

Third, don't hesitate to call a coach. The call ideally will come from
the girl and not her parents. A simple phone call tells a coach there
is specific interest in their school. It doesn't matter too much what
the girl says, maybe be ready with a few questions, but just making the
call is important. If a coach doesn't call back, try one more time.
If the coach still doesn't call back, then it's probably not a school
and program worth pursuing.

Fourth, follow Cathy Aradi's advice! Her book is the bible.

Fifth, put together a list of schools from each division. The last
thing any girl should do is set her heart on one school. If it's a D1
school, there is a good chance it will end in disappointment. I had a
girl who was 1st-Team all-Ohio in the big-school division in her
sophomore, junior and senior years, one of the top players in the
state, a great athlete, etc., and she wouldn't market herself to any
school other than Ohio State. She was baffled when they showed no
interest. She had to scramble to find something as her senior year
started. It CAN'T HURT to market yourself to several schools at every
level. Most parents would be surprised at how good some of the
players are at Division III, let alone NAIA and Division II.

Sixth, most girls are nowhere near as good as their parents think. I
tell parents that 95% of the time if they think their daughter is a
Pac-10, SEC, Big 12 type of player, then the girl is probably a
mid-level Div. I player. If they think she is a mid-level Div. I
player, then she is probably a Div. II or Div. III player, and so on.

Seventh, most girls even at D1 are not going to get a full ride. Maybe
stud pitchers or catchers, but that's about all. If their academics
are really strong, that is where a great deal of their money will be
found. D1 schools, if they are "fully funded", have 12 scholarships to
divide among the team. D2 schools have 7.2 scholarships and many
aren't fully funded, meaning that they have something fewer than 7.2.
NAIA is different altogether and I'm not up to speed on their methods.
D3 of course has no athletic money and athletes are treated no
different financially than the general student population. Still, if a
girl wants to play D3, she needs to be in contact with the coach and
treat the recruiting process seriously, as we cut quite a few girls who
think that since they played high school and travel ball, that they
will be good enough. Pretty much all of my 2009 recruits have been
all-state or at least 1st team all-league. And they all play serious
travel ball and go to exposure tournaments.

As far as what we do to stay on top of academics, that varies by
division. At D3, we can't provide any help that isn't available to the
general student population, so we have no special tutors or anything
like that. I was going to have study tables, but my players all are
excellent students, so it wasn't necessary. I require them to submit an
Academic Progress Report once a week to me that keeps me on top of
things. The D1 and D2 schools can do things differently with special
help for athletes, which is good because softball takes up the bulk of
their time, unlike D3.
Thursday, October 23
AN INTERVIEW WITH THE COACH
"AN INTERVIEW WITH THE COACH" is a new feature on our site that offers advice on the recruiting process from different college coaches. Click on the title link and read more on the subject. The featured coach is Joe Abraham. Joe is the head coach at Whitworth University in Spokane, Washington.
Tuesday, November 4
CALCIUM AND OUR TEENAGED DAUGHTERS
Everyone knows how important it is to have a diet rich in calcium, right? I think it is probably a safe bet that most if not all of us have heard it mentioned a time or two in our lives. One thing that we may not all be aware of at this time is this; while our daughters are in their teenage years, it is more important than ever! What does that mean to us? It means that during our daughters teenage years they will reach their maximum bone density. So right now it is extremely important that we see to it that they are getting a sufficient intake of calcium in their diet to protect them now as well as later in their life. Please take a moment to read the attached handout that gives more details on the subject.
Handout:
Calcium & Our Teenage Daughters