SINGAPORE X MEN BASEBALL CLUB: Field Location
Kallang Ballpark
Located in the vicinity of National Stadium at Kallang Fields, the ballparks are right next door to the Singapore Cricket Association grounds. As you approach, A Field is to your right and B Field is to your left. These grounds are managed by the Singapore Baseball & Softball Association ("SBSA"). NBL 2008 will be using Field A. Please note there are no water/toilet facilities at the ballpark.


| | |
| --- | --- |
| | Click on the icon to the left to make use of an online map from www.streetdirectory.com.sg to get directions to reach the ballpark. Key in "Kallang Field" in the Landmark box on their homepage. You may need to zoom out to get a wider-area perspective of location. |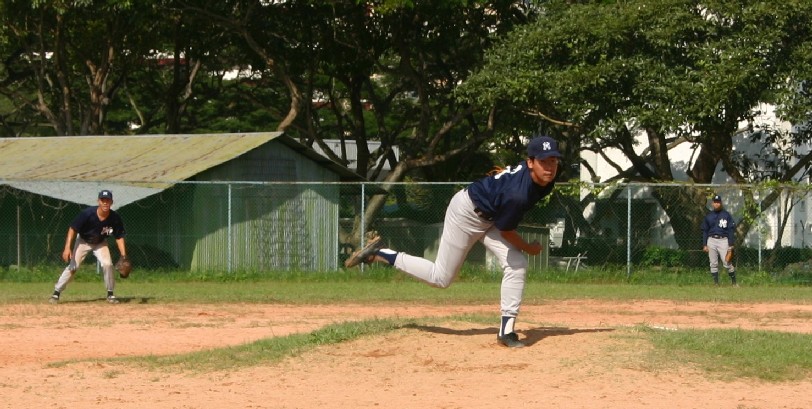 The X Men pitching in a game at Kallang A Field
Kallang Park, Stadium Walk
Singapore, EC
Singapore American School
Click
here
to find out how to get there.
40 Woodlands Street 41
Singapore, Woodlands 738547

AR-JAS Sports Center
The Sports Center is located at the very end of West Coast Highway past the junction with Pandan Loop. The 54,000 sq m facility is run by the Japanese Association of Singapore and comes complete with a baseball diamond (but no outfield enclosures), covered changing rooms with showers and toilets and a kiosk for drinks and snacks. Ground conditions are much better than Kallang and has a drainage system implanted. Only problem may be with the type of baseball to be allowed - could be rubber versions only.


| | |
| --- | --- |
| | Click on the icon to the left to make use of an online map from www.streetdirectory.com.sg to get directions to reach the ballpark. Key in "AR-JAS Sports Centre" in the Landmark box on their homepage. You may need to zoom out to get a wider-area perspective of location. |
600, West Coast Road, Singapore 127445
Ayer Rajah GRC, WC