Long Island Braves: Welcome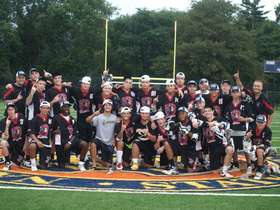 Poke Check Here
Long Island Braves 2012 Champs

See The Braves on Facebook
Braves Tryouts For the 2013 Season
FILL OUT OUR TRYOUT FORM COMPLETE
For The 2013 Summer Season
Now is the time to get it in early
Players, as we approach our the season we would like to gather everyone interested in trying out for the LONG ISLAND BRAVES for a talent showcase. We are ready to take everyone of your skills to the next level. Remember while summer lacrosse is intended to establish yourself as a possible college recruit, it is also about having fun. Therefore we strongly encourage everyone to get their friends and come down for the open field run around. Our program is dedicated to developing you the player with the team to have success in tournament competition. All players interested in playing for the LONG ISLAND BRAVES need to fill out the tryout form to be considered for the team.
LEAGUE FEE: $800
INCLUDES 4 TOURNAMENTS
12 TO 14 PRACTICES FOCUSING ON CONDITIONING SKILLS AND STICK SKILLS.
Age Group 9th, 10th and 11th Graders
March & April Tryouts
Stay Posted For Date & Time
631-661-4927
May Moore Elementary School
239 Central Ave.
Deer Park, NY 11729
TRYOUT FORMS MUST BE SUBMITTED POKE CHECK THE LINK BELOW TO COMPLETE FORM
Poke Check On The Links Below:

Twitter