NPHS Lady Wolfpack: Wolfpack Alumni
Monday, August 26
Article about 2013 NPHS Alumni Sydney David as a starter for GWU!
Boiling Springs, N.C. - Gardner-Webb's women's soccer team is set to hit the road for the first time this season for a non-conference match at Charlotte on Tuesday, August 27. GWU (0-0-1) is coming off a double overtime tie of North Florida on a humid night at Greene-Harbison Field, a match in which the Runnin' Bulldogs overcame a second-half deficit to earn a 1-1 draw in its first match of the season. Though injuries limited the Runnin' Bulldogs to 16 healthy players in the season opener, it was the squad's quality of depth that was noticeable. Timely substitutions called by head coach Kevin Mounce kept the squad as fresh as possible, and quality play from non-starters Whitley Bowman, Ele Margelos, Brandi Arey, and others kept Gardner-Webb right in it during what turned out to be a lengthy affair to kick off the 2013 season. Defensively, GWU saw strong play from its backline in staying connected as a unit throughout its season-opening contest. On the outside, Haley Ahrenholtz and Addison Abee not only stopped North Florida runs, but turned defense into offense, including one dispossession that set up the equalizer early in the second half. Center backs Brooke Kelly, Shaylyn Poppe, and Bowman were also effective in limiting the number of quality looks for UNF offensively and clearing threatening looks for the Ospreys. The Runnin' Bulldogs certainly got a boost in the opener from the return of Meagan Reynolds, who sat out last season with an injury. The veteran's return has already paid off in the form of an assist to Shelby Hooe that tied the match at 1-1 in the second period of play. Hooe picked up right where she left off last season, taking an assist from Meagan Reynolds and beating three UNF defenders inside the box for her first goal of the season. The sophomore from Mechanicsville, Va. was GWU's leading scorer last season after recording four goals in 2013
. GWU's unified effort between its defensive and offensive approaches was supplemented by solid play by Sydney David (Acworth, Ga.), the lone true freshman to start against the Ospreys. David played over 90 minutes during the Runnin' Bulldogs' double overtime affair against North Florida, a team that defeated GWU 3-0 in Jacksonville, Fla. early last season. The Runnin' Bulldogs will look to pick up their first win of the season on the road against the 49ers.
Tuesday's match is slated for a 7:00 p.m. start time.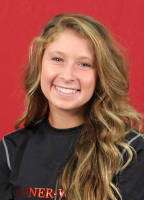 Sydney David
Wednesday, August 21
Sydney David - #22 at Gardner-Webb
Sydney David
2013 NPHS Wolfpack Alumni
#22
Mid-Fielder/Forward
For Gardner-Webb University
Boiling Springs, North Carolina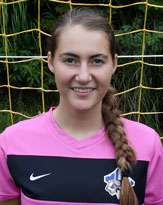 Maslyn Greene
Wednesday, August 21
Maslyn Greene #00 at Mars Hill College
Maslyn Greene
2013 NPHS Wolfpack Alumni
#00
Goal Keeper
For Mars Hill College
Mars Hill, North Carolina
Friday, September 7
Elana Newman #20 at Young Harris College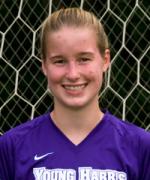 Elana Newman 2012 Alumni
Elana Newman
2012 NPHS Wolfpack Alumni
#20
Mid-Field
For Young Harris College
Young Harris, Georgia
Friday, September 7
Madi Easterwood #9 at Reinhardt University
Madi Easterwood
2012 NPHS Wolfpack Alumni
# 9
Forward
For Reinhardt University
Waleska, GA