NPHS Lady Wolfpack: Pack Gives Back
Friday, May 4
Score for a Cure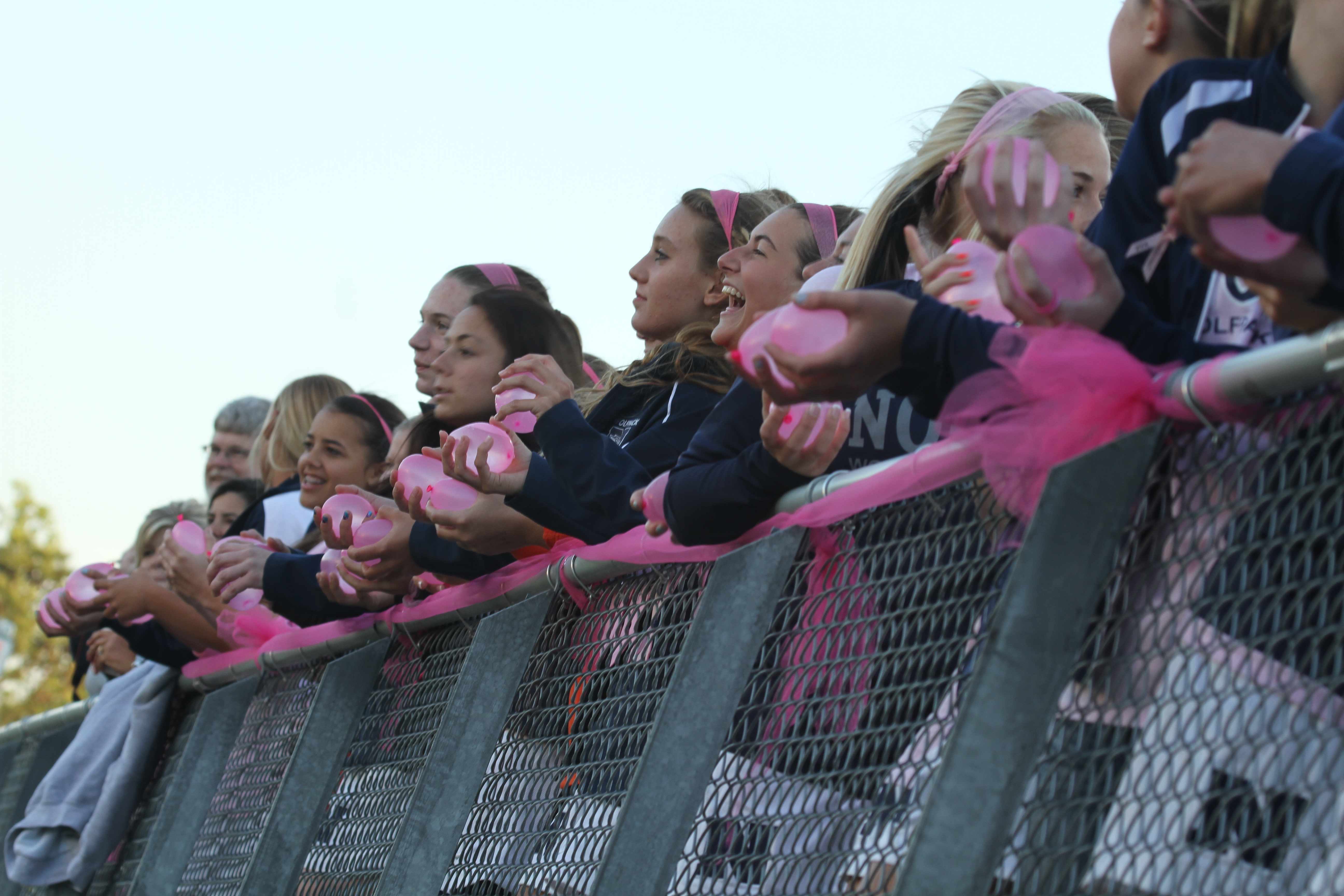 The Pack Gets Ready to Take Aim!
On Wednesday April 11th the Lady Wolfpack Soccer team hosted "Score for a Cure" to support, Susan G. Komen and Breast Cancer Awareness!. The Lady Wolfpack Soccer Team prides itself on being part of "The Pack that Gives Back"! The event was headed by players Natalie Helbling and Ashton Zaluski and assisted by Bailey Brown and Sydney David. It was a complete effort by the entire team who sold pink bracelets during lunch and collected spare change from students in voting jars. Students were asked which of the three coaches/administrators they would most like to see get pelted with pink water balloons between the NPHS vs New Manchester soccer games. Assistant Principal Brett Taylor, Women's Basket ball Coach Major and Men's Basketball Coach Dyer were the potential victims. The votes were tallied and it was a tie. Assistant Principal Brett Taylor and Coach Major were the winners! Actually the Susan G. Komen Fondation and the ZTA Foundation Survior Program were the real winners. The Lady Wolfpack was able to collect $318.92 for these great causes. We would also like to give a big thank you to Zeta Tau Alpha's sorority from Shorter College for coming to the event to hand out information and pink ribbons to all those who attended.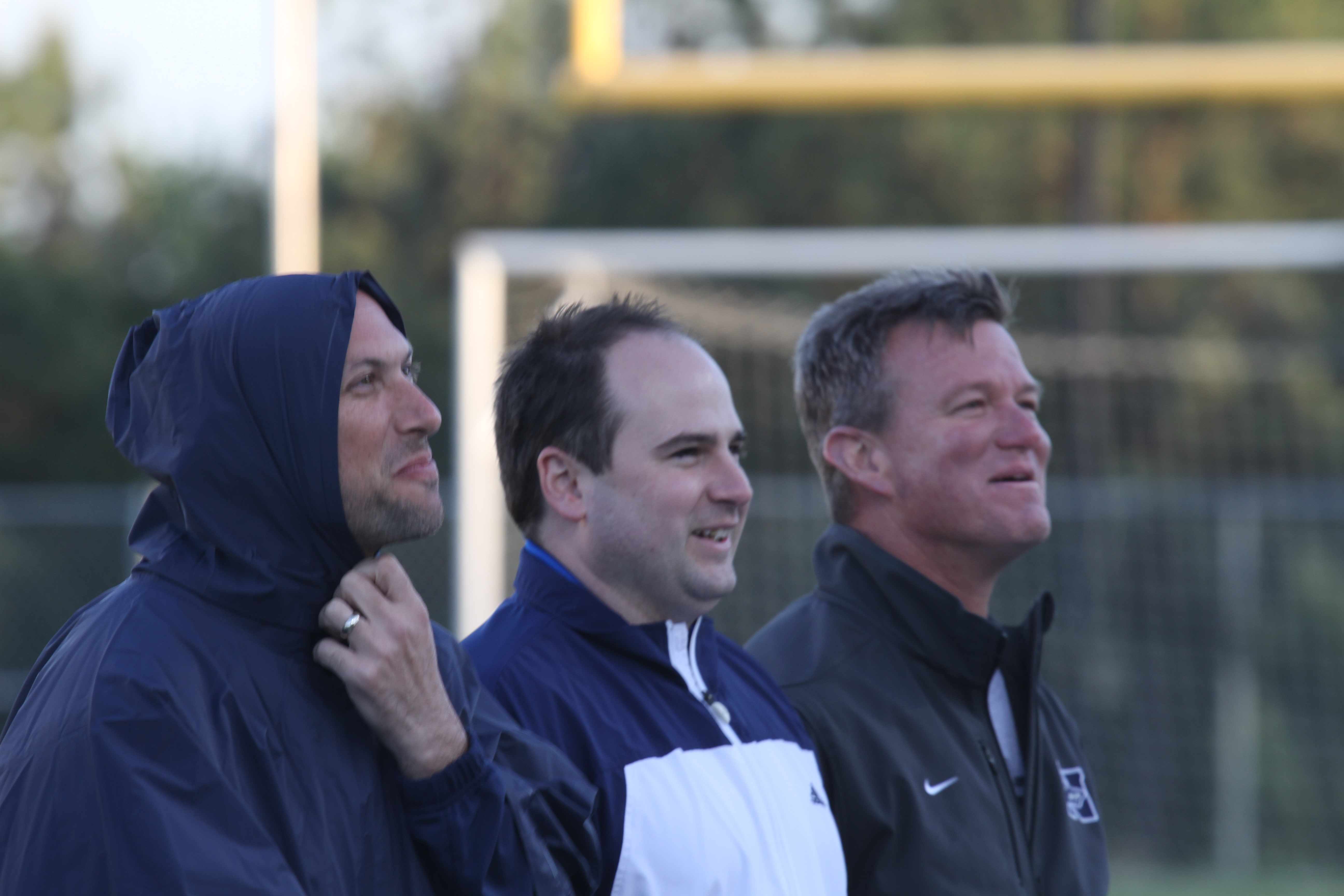 Get Ready to Get Wet!

Score For A Cure!
Wednesday, April 11
Score for a Cure
Score for a Cure Tonight!
Make sure you come out tonight to see who get's it!
(Pelted with pink water balloon's)
Will it be the ever smiling VP Brett Taylor
or
The soon to be living abroad Coach Major
or
The head coach of the cushy indoor sport Coach Dyer?
Be at the game tonight to find out!
Wednesday, January 12
Christmas In The Den
In this photo are Lady Wolfpack members, Brooke Szoch, Shelby Chumley, Natalie Helbling, Sydney David, Ashton Zaluski, Rachel Hybart and Ashton Struck.
Natalie Helbling did a fantastic job of organizing the team for the
Beta Club's Annual "Christmas In The Den"
This is a fun event for the young students of Burnt Hickory Elementary School.
The Lady Wolfpack's booth allowed participants to make snow globe bracelets using
glitter, tubing and water.
The kids had a great time making the bracelets! Some even asked if they could make a second.
County officials attending the event stated that they had poled several Burnt Hickory students who all
agreed that the Lady Wolfpack's Snow Globe Bracelet booth was their favorite!
Great Job Ladies!
Monday, August 23
Lady Wolves help with TopSoccer at West Metro
The following girls volunteer for the West Metro
TOPSoccer (The Outreach Program for Soccer) is a soccer program for young athletes with disabilities, organized by West Metro Soccer Club. The program is designed to bring the opportunity of learning and playing to any boy or girl, age 4 (Player must be 4 years old before August 1, 2010) through the age of 19, who has a mental or physical disability.
Thanks so much Courtnie Adams --- Courtnie also coaches a U10 girls team and assists with the U4 program at West Metro
Elana Newman --- Elana also coaches a U10 girls team at West Metro
Natalie Helbling
For further information about this great program please contact Mike Ferguson via e-mail:

soccerferg@comcast.net

or cell 678-910-3094.
Sunday, May 23
The Pack Gives Back
At the end of the season last year the girls worked additional hours at the Southland Nurseries plant stand sale to provide a much needed donation to the Osbourne High School Women's Soccer team. The girls were able to donate $500.00 to a program that does not have the wonderful support that our team does. The Osborne team was very appreciative and sent us a thank you card that was displayed at our year end banquet.
Wednesday, August 25
Wolfpack Helps on and off the Field at KFC Tournament
Kaylie Deaton a Freshman at NPHS and currently plays for the U15 Girls Select Team at WMSC. This weekend she volunteered in the concession stand for the KFC Tournament, she was instrumental in loading and unloading supplies, selling, cleaning and running errands for the venue. Because of her support on and off the field the stand was a huge success – the organizers from KFC were very thankful for her support this weekend on such a VERY short notice.
Monday, August 23
Lady Wolfpack Soccer Team Gives Back
The NPHS Lady Wolfpack Soccer team not only strives to be a quality team on the field, but off the field as well. Last week marked another great example of how this team sets itself apart from the competition. Through funds raised by Natalie Helbling and Rachel Hybart, through the help of players like Kari Sybrandt, Tara Ellington and Natalie Helbling, for time and resources provided by Mike Struck (Ashton Struck's Dad) and last but most importantly Lisa Helbling for finding the materials, coming up with this great idea and her husband Steve Helbling and Natalie's grandfather for putting in the time to assemble and set-up all the materials.
Thanks to all those involved the First Senior Class of NPHS has 8 beautiful benches for seating in their center courtyard. We know that all our girls will get the opportunity to use this area as they themselves become Seniors and should take pride in how they represent themselves to their fellow classmen, not only through their hard work but also their generosity.