WISCONSIN TWISTERS: 18U Dugout
Wisconsin TWISTERS 2015 18U
COACH ~ Steve Baumgartner COACH ~ DiAnna Johnson ~ COACH~ Cristina Aponte
REPRESENTATIVE ~ Ms. Chrissy Baumgartner 414-405-6203
2015 ~ "18U"
#17 Claire Baumgartner UW Platteville

#5 Alyson Masi Kenosha Indian Trails

#32 Alexus Oilar Kenosha Indian Trails

#21 Cailin Scanlon Union Grove UGHS

#12 Emily Neumann Ball State University

#31 Becca Moore Union Grove UGHS

#81 Jaclyn Syrett Waterford WUHS

#70 Samantha Peach Racine RCHS

#7 Lynnsey Courtier Kenosha KTHS

#66 Lauren Feirer St. Francis UW LaCrosse

#40 Elizabeth Frey UW River Falls

******

#27 Lauren Chars (o.c.) Butler University

#34 Emily DeCheck (o.c.) UW LaCrosse

******




Welcome to the 2015 Twisters!
"Accept all challenges so that you may feel the exhilaration of Victory and KNOW the difference between the impossible and possible lies in a player's determination and willingness to give 100%"
"Quiters Never Win ~ Winners Never Quit"
"No Matter The Outcome"
*********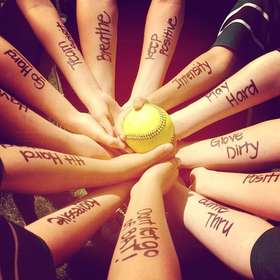 Wisconsin Twisters 18U 2015 Tournaments
*****************
---
6/19/2015 - 6/21/2015 ~ Rock River Fort "Summer Blaze" NAFA Qualifier Fort Atkinson WI
www.rockriverstix.com/stix-tournament/
6/26/2015 - 6/28/2015 ~ New Berlin "Bring on the Magic" ASA SCS Qualifier New Berlin WI
www.newberlinmagic.org
7/17/2015 - 7/19/2015 ~ Warren "Wave Wipeout" ASA SCS Qualifier Warren, ILL
www.warrengirlssoftball.com
7/24/2015-7/26/2015 ~ Xplozion "End of Summer" ASA Qualifier Fall River, WI
**Summer Scrimmage/s to be posted when available. Information will come from Coach.
** Fall Brawl Date October TBA 2015
October 2015 **18u Players on call ~ ~ "Twisters Fall Brawl" Raymond WI. Raymond
*****************************************************************************
All tournament schedules and play times will be sent out 1-2 weeks prior to EACH tournament from individual tournament directors. Your coach will send out e-mails with all information needed.
Please contact your parent representatives with any scheduling conflicts for ALL LEAGUE games and ALL TOURNAMENTS prior to event.
*****************************************************************************