WISCONSIN TWISTERS: Twister Tryouts / News / Events
2018 WISCONSIN TWISTERS TRYOUT SCHEDULE
Wisconsin Twisters Fastpitch Organization
Open Tryouts For: 10U, 12U, 14U, 16U, 18U 2018/19 season
*Additional Private Showings For: all levels will be available if needed per coach.
Tryouts Scheduled for:
Sunday AUGUST 5th 2018 Times to be announced
Location: Raymond Elementary Diamonds 4 Field Layout
Address: 2659-76th St. Raymond, WI
Diamond 1
Diamond 2


Tuesday AUGUST 7th 2018 Register 4:30 Start 5:00
Location: Raymond Elementary Diamond
Address: 2659-76th St. Raymond, WI
Diamond 1
Diamond 2
******
ALL PARTICIPANTS REGISTER AT CONCESSION STAND BEFORE TRYOUTS BEGIN.
*************************************
Make Up Date if will be posted below if needed due to weather...
Download the form below, complete, and email to:
TwisterTryouts@hotmail.com to preregister.
IMPORTANT INFORMATION-REGISTRATION FORM
*Pre-registration forms should be sent in 24 hours before each tryout date. It is important that you Please bring a copy of registration with you filled out to your tryout.
A 200.00 deposit/payment towards 2019 fees is due with your signed contract once a commttiment/offer is made by the Twisters for all players participating in 2019 season. (New and Returning players) This deposit/payment secures players roster spot with organization, insurance coverage and ability to practice/play with organization.(Important: there is no fee to tryout with the Twisters program. Deposit/paymnant is only made once an offer is given and/or received)
*****************************
witwisters12u@yahoo.com 262-909-7262 DiAnna Johnson
**********
AUGUST 2018 Rain Date tba
5pm-7:30pm (tentative) OPEN AGE GROUPS
THIS DATE (TBA) WILL BE USED FOR CALL BACKS IF NEEDED PER COACH, UNAVAILABLE PARTICIPATION DAY ONE AND/OR RAIN DATE.
OTHER MAKE UP DATES IF RAIN, WILL BE POSTED ABOVE.
____________________________________________________________________
We are a non-profit volunteer organization and Our Twister Families are number one. Without them we would not be who we are today.

We are proud to stand by our Mission Statement:
"The Wisconsin Twisters Fastpitch Organization was established
to give our athletes the ability to play softball at the highest level;
we offer skill-development, experiences and opportunities that facilitate
their growth into healthier, happier citizens. Our program focuses on family
values that collectively strengthen the moral character of all participants,
families and community."

Initial deposit for 2019 season is due once a player and parent sign official 2019 contract. This covers all initial insurance and begins your payments process. 2nd payment of 150.00 is due at Annual Parent Player Meeting in October. Final payments are due at Holiday party in January. All Payments for 2019 need to be paid in Full by Feb 1st.
Thursday, March 29
Wisconsin Twisters Picture Day
Picture Day is for ALL players and ALL coaches
DATE : SUNDAY MAY 6TH (please arrive 15 minutes prior to your time slot)
LOCATION: Raymond Elementary School Diamond 1
COACHES ~ DARK GREY COACHES SHIRTS, BLACK BOTTOMS
UNIFORM ~ WHITE PIN STRIPE UNI TOP, BLACK PANT, LIME BELT, LIME SOCK.
18U LEVEL TEAMS AND INDIVIDUAL ~ 9:45 AM TO, 18U SB 10:00 AM
12U LEVEL TEAMS AND INDIVIDUAL ~ 12U JP 10:15 AM, 12U EO 10:30 AM
14U LEVEL TEAMS AND INDIVIDUAL ~ 14UTG 10:45 AM, 14UBJ 11:00 AM,
16U LEVEL TEAM AND INDIVIDUAL ~ 16USC 11:15 AM
Please arrive 15 minutes prior to your team time slot and be ready in uniform. Order forms will be onsite at time of pictures and also available on our facebook page.
***DATE FOR 2018 PICTURE DAY IS SUNDAY MAY 6TH ~ TIMES AND DATE ARE SUBJECT TO CHANGE DUE TO WEATHER***
Picture Order Sheets will be available and sent out by parent reps and posted on our facebook page. Order sheet below is from 2017 season. This may change.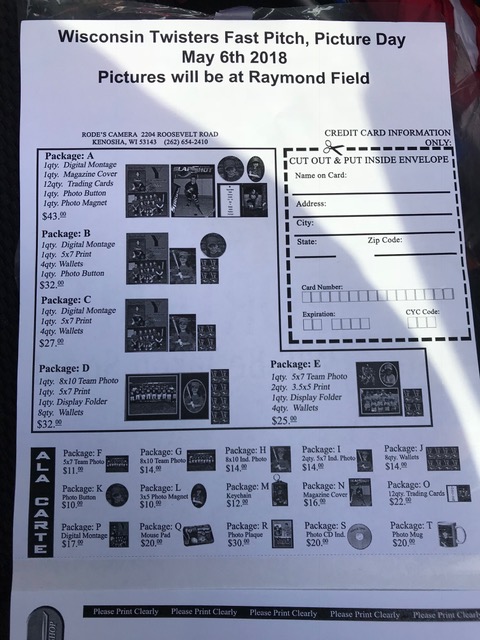 Picture Order Form 2018
Get your own custom Twisters Batting Helmet!
The price for a completely finished NEW helmet is $70.00 This helmet when purcahsed through TWISTERS includes the helmet, mask, Twister Logo, Name on Back, Number on both sides, tax and shipping. Helmet designs are determined by availability per year and are subject to change.
Send Order Information to : Your team parent rep. Team parent rep will need to get orders to TJ Pinkos with Player Name, Player Number and Player Team Name @ tjpinkos@yahoo.com OR send payments in mail along with information needed above for orders.
Make Checks Payable to Wisconsin Twisters. You may send payment in mail to our treasurer Rosie Olle @ 7408 Paul Bunyon Road Racine WI 53402
Please mark SIZE WANTED AS - Junior – (6 3/8-7 1/8) Senior – (6 7/8-7 5/8) Measure the circumference of your head. Put the measuring tape about 1cm above your eyebrows and go all the way round your head in an even loop.
Proceeds from sales will go towards the Leo T. Jackson Scholarship Fund.
ORDER DEADLINE: January 3rd. You may place orders at the Parent Player Meeting. Payments needed with order.
Final Day to order with TJ PINKOS is January 3rd, 2018
Helmet Orders For 2018 can be placed at our annual Player Parent Meeting. They will be handed out at Holiday Party.
---
Annual OTAC Spaghetti Dinner-Volunteer Hours Available
OTAC Spaghetti Dinner Volunteers Needed
10TH ANNIVERSARY and beyond!! We have been volunteering and partnering with the OTAC...Way to be Twister Nation!!
Saturday February 24th,2018



3:00pm-8:00pm Date: Saturday, February 24TH
Infusinos Banquet Hall 3201 Rapids Dr, Racine, WI 53404
Parents may purchase tickets at the door.
2 Dinners for 25.00, Twister Player Volunteers Eat FREE!
The Wisconsin Twisters are looking forward to giving back to one of our top sponsors: The OTAC. This is a fun opportunity for our players and parents to get together and support the sports community.
We will be asking the girls from all team levels to sign up for serving at this event. 2 time slots are available:
3pm-5:30pm, 5:30pm-8pm
12U ~ may sign up for bussing duties/waiting tables.
14U-18U ~ may sign up for serving duties and raffle tables.
You May Sign Up For As Many Shifts As You Like. Please connect with your parent rep or Kristy Boyle to log in your Volunteer Hours. Parents may volunteer or purchase dinner tickets to attend event. Volunteers will be able to enjoy spaghetti dinner when shift is completed.
Last year we had over 42 players participate and it was a great time for all involved. OTAC is looking for 8 players to help with each session. We hope to have a great turnout again this year! Please contact your teams representative to sign up for this event. This is a great way to get in your Wisconsin Twister Volunteer Hours and have fun!
Please sign up Updated Sign Up http://www.signupgenius.com/go/8050449a9ab2da75-2018
OR contact
Your team parent rep our Kristy Boyle @ boyles5@yahoo.com
**Online Registration at SignUpGenius and posted on media and Wisconsin Twisters Facebook Page!



*********************************************
---
Wednesday, February 2
Wisconsin Twisters Annual Community Awareness and Outreach
WISCONSIN TWISTERS FAMILIES
*
For our Annual Holiday Party the Wisconsin Twisters Organization together collected LARGE and overflowing boxes of much needed supplies for our local SOUTHEAST Wisconsin Veterans!!!
The Wisconsin Twisters, with your help continue to make a difference to help causes that make a difference in our community. Building a foundation of giving back and leadership that develops and goes onto the field of play.
We would like to thank each family with your great response, stepping up to the challenge and making a committment beyond the diamonds to our community. Our Holiday Party was a huge success and the participation from our members was abbundant. Let's keep the tradition going strong....
*
THANK YOU TO ALL OF OUR TEAMS, PARENTS AND FAMILIES! Way to go!
We look forward to be able to give in abundance every year and with your continued support we are making a difference!
Any questions regarding our food drive or commununity outreach and more ways to continually give back, please contact ~ Evie Aponte
eviecuqui@yahoo.com
ar Kristy Boyle.
***
Holiday Party Date: JANUARY 19th - 2019 5:00 Dinner at South Hills Country Club CLICK ON HOLIDAY PARTY FOR MORE INFORMATION
Thank you for your continued support~DiAnna Johnson
***********************************************************************************************
---
Thursday, March 29
From Your Twister Tournament Directors...Field Crews
From your Twister Tournament Directors: Todd and Rosie Olle...
Hello Twisters! We are taking volunteers for Wisconsin Twisters Tournaments Field Prep Crew. We encourage and appreciate the time our parents continue to give. Our tournaments are:
Annual Spring Fling
Wisconsin Twisters Fall Brawl
We will need parents and players from each age group. We will prep fields before, during and after all Wisconsin Twisters Hosted Tournaments. Lots of fun........
Please, call me if you have any questions at 262-994-0320
Rosie Olle
Contact your team parent rep to sign up for field crew or go to our sign up genius links posted on our media sites and facebook page !!
---
---
THANK YOU ALL FOR YOUR EFFORTS!

We'd like to thank EVERYONE for their work around the Twisters organization. Established 2004
We have amazing and truly memorable Wisconsin Twister families every year. We continue to provide outside opportunities to grow, learn and share. Alone we accomplish little...together we accomplish so much! Here's to you all for taking part..playing a role...standing as one...and enjoying the moments yet to come ~ 14th year 2018!
Way to be Twister Nation Many blessings to you all. Dianna
________________________________________________________________________________
Twisters Offer
Wisconsin Twister Offers:
"Field of Play": Insurance coverage, USA/ASA based organization, Competitive Tournaments, Winter and Summer, College Exposure, State Class A/B/C, MMFL League Play, scrimmages, indoor winter practices and summer practices.
We offer a Scholarship Program for all College bound graduates ~ Leo T. Jackson College Fund
"Twister Events": Annual Holiday Party, Twisters End of Season Picnic, Multiple Winter, Spring and Fall Twister clinics offered, Open Winter Hitting, Speed and Agility Camp, community outings, "Buddy Up Coach Craze" and much more. Many events for families and players to get involved on and off the field. We offer a knowledgeable coaching staff, Twister Board of Directors and Parent Representatives.
2017-18 Uniforms/Fees
Returning Player : $450.00, New Player: $500.00
Uniform Tops
Practice T-shirt/s
Uniform socks/Belt
Personal Bat Pack/Bag
Loyalty Gifts for returning players
*Black Pants with belt loop are required and responsibility of athlete. Contact your parent rep for more information on pant requirements and cost.
$200.00 deposit is due upon signed contract committment to Twister Organization.
The Wisconsin Twisters enjoy hosting TWO USA/ASA seasonal tournaments:
'USA/ASA SC Qualifier Annual Spring Fling' ~ 'USA/ASA SC Annual Fall Brawl '
**Fall Ball Play is separate fee. Dependent on tournament fall ball or activity. This is Decided per team and is optional.


We are a non-profit 501-3c volunteer organization and Our Twister Families are number one. Without them we would not be who we are today. We are proud to stand by our Mission Statement

Our organization, coaches and "Twister" family welcome our returning players back and we look forward to having our new players and new "Twister" families on board.
We look forward to another great season and we welcome you!

DiAnna Johnson

www.eteamz.com/wisconsintwisters

---

Initial deposit of 200.00 for 2018 season is due once a player and parent sign official 2018 contract. This covers all initial insurance and begins your payments process. 2nd payment of 150.00 is due at Annual Parent Player Meeting in October. Final payments are due at Holiday party in January. All Payments for 2018 need to be paid in Full by Feb 1st.
Monday, August 8
Wisconsin Twisters Players in the Spotlight!
---
Twisters News Clips and Highlights

(2016 Season High School Highlights)
7/25/16
Congrats to the following Twisters named to the 2016
All-Racine County Softball Team:


| | | | |
| --- | --- | --- | --- |
| First Team | Lydia Balke | Jr. | Racine Lutheran |
| Second Team | Jessica Olle | Jr. | Racine Horlick |
| Honorable Mention | Emma Dresen | Jr. | St. Catherine |
| Honorable Mention | Paige Michaelson | Sr. | Waterford |
| Honorable Mention | Korin Williams | Jr. | Racine Lutheran |
7/5/16
Congrats to all our Twister players who made their respective 2016
All-Conference Teams!
Player of the Year

Olivia Feirer
Sr.
Catcher
St. Francis
Midwest Classic

First Team

Lydia Balke
Jr.
Racine Lutheran
Metro Classic

Second Team

Mariah Eiben
Jr.
Racine Lutheran
Metro Classic
Jessica Olle
Jr..
First Base
Racine Horlick
Southeast
Korin Williams
Jr.
Racine Lutheran
Metro Classic

Honorable Mention

Anna Collins
Jr.
Racine Lutheran
Metro Classic
Emma Dresen
Jr.
St. Catherine
Metro Classic
Hannah Drummond
Fr.
Catcher
Cudahy
Woodland - East

4/27/16
Paige Michaelson (18U TO), will be playing this summer for the USA Softball Team sponsored by the ACIS/American Council for International Studies. This is an exciting opportunity for Paige who will be traveling with the American Team from July 5th- July 13th in the Netherlands.
4/12/16
Sara 'Franny' Jankowski (14U '01) took 2nd place at State wrestling competitions and is now team captain for team Wisconsin

12/13/15


Jess Olle (18U TO) was inducted into Racine Horlick's chapter of the National Honor Society. Congrats!
11/12/15

Sara 'Franny' Jankowski (14U '01)
was named captain of the Cudahy Middle School Bulldog wrestling team. Congrats.


10/31/15
Ashley Ristic (16U BLACK) qualified for powerlifting nationals in only her first event of the season at the Western Wisconsin Open competition in Hudson. Congrats Ashley, way to be strong!
10/27/15

McKenzie Sanchez (16U BLACK) was named the Racine Journal Times athlete of the week for being the first freshmen ever to win the Racine Invitational diving competition. Congrats Cheese!
* She has also qualified for state this year. Good luck McKenzie!
10/25/15


Brenna Lewandowski (18U TO) is an individual qualifier for the WIAA State high school cross country meet (Division 2). Great Job, and good luck in Wisconin Rapids!



10/18/15


Amanda Prodzinski (18U TO) and Miranda Kania (18U CS) along with their Oak Creek High School band mates are the 2015 Wisconsin School Music Association Class AAAA State Marching Band Champions. Congrats!



9/9/15


Brenna Lewandowski (18U TO) was named as a National Merit Scholarship semi-finalists for the class of 2016. Nice work, and good luck with the rest of the process Brenna!
---