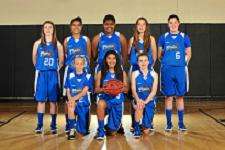 WRS 6th grade girls
Please visit our new site at www.winchesterrisingstars.org
Rising Stars Girls 6th Grade Win D2 AAU Nationals Championship!
34-32 Victory over the Indiana Hoosiers Elite Ladies on 7/6/12 in Memphis, TN
Co-sponsored by Frederick County Parks and Recreation
Congratulations to Millbrook High School senior Courtni Green as she announced that she has verbally committed to continue her education and play college basketball for the University of Delaware. Courtni has helpled lead her Millbrook High School team to 50 consecutive wins and back - to - back Virginia AA State Championships. She has been named the Virginia AA Player of the Year in 2010 & 2011. In her first three years, she has scored 1,750 points, averaging 26 points per game. She has received numerous awards during her career thus far including Region Player of the Year all three years, and many more. What the statistics will never tell is how skilled, knowledgeable, determined, and court savvy that Courtni is and how hard she works to make her team and teammates successful. She has grown her game to be an offensive threat from the perimiter, with the short range jumper, and off the dribble. She is a tenacious defender and a relentless rebounder who competes 100% of the time that she is on the court and works hard to continue to improve. During her AAU / Travel career with the Rising Stars, she has helped lead her teams to a D2 National Championship when she played on the 13U girls team a few years ago. She also lead that same team to a Div 2 National Runner up at 12U
Congratulations to Sara Mead who is a High School senior Millbrook High School as she announced that she has verbally committed to continue her education and play college basketball at Columbia University.
Congratulations to TALOR HENRY of Front Royal (Skyline High School) on her commitment to Georgetown University on a softball scholarship. Taylor Played many years with our 16u girls WRS and was part of the team when they won the National Championship Div II. We are happy for you and your continued success.
Congratulations to ALLIE Pieper of Shenandoah Valley Christian Academy for Winning States.
WHAT IS A RISING STAR?
BEING A RISING STAR YOU PLAY TO WIN. NOT TO SCORE,TO REBOUND OR TO EXCEL IN ONE PARTICULAR AREA, BUT TO WIN. THAT MEANS YOU ARE REBOUNDER, SCORER, PASSER AND EVEN A CHEERLEADER. IT MEANS YOU ARE GOING TO BE AN EXAMPLE OF WHAT HAVING A WINNING ATTITUDE IS ALL ABOUT. YOU'LL HAVE AN ATTITUDE OF UNSELFISHNESS THAT KEEPS YOU CRAVING MORE CHAMPIONSHIPS FOR THE TEAM, NOT GLORY FOR YOURSELF. IT MEANS YOU'LL SET AN EXAMPLE AT EVERY PRACTICE BY PRACTICING HARDER THAN ANYONE ELSE. IT MEANS YOU'LL CHALLENGE YOURELF, SET GOALS AND THINK OF YOUR TEAM BEFORE YOU THINK ABOUT YOURSELF... EVERY TIME YOU STEP ON THE COURT.
Co-Chairman of the Winchester Rising Stars, Erick Green has been appointed by the Virginia AAU Executive Committee to be the Representative for the Shenandoah Valley Region.
For the past three years the Rising Stars players and parents have provided Christmas gifts for needy children in the Winchester area.
The kids have performed community service work by picking up trash and trimming bushes along Abrahms Creek.


MISSION STATEMENT:
The purpose of the Winchester Athletic Association is to partner with local recreational organizations and academic institutions to provide children the opportunity to play on competitive travel teams in conjunction with the Amateur Athletic Union (AAU). We will promote physical fitness, academic achievement and social development. We will encourage participants to perform at a high level on and off the court, using the game of basketball as a vehicle for collegiate level opportunities.

VISION STATEMENT: To provide amateur sports competition in accordance with the rules and standards set forth by the Amateur Athletic Union. To become a club and build teams that will be a dominant force on a national level. Our coaches will strive for the development of the individual, teaching sportsmanship and team effort. It is our goal to play highly competitive basketball every single game. We will develop an academic enrichment program that will improve student athletes grades and SAT/ACT scores. We will develop a rapport with collegiate coaches so they can recruit our participants to attend their college.

The premiere AAU Girls & Boys Basketball Program in the Winchester Area. We are one of the very few AAU organizations in the STATE that have won District, State and NATIONAL Championships.
Over the past two years partipants in our organization have received over 1 million dollars in athletic scholarships awards to attend Div 1, II and III institutions.
Over 95% Rising Stars graduates are in or have been accepted to various colleges throughout the country.....The program is working!!
The Rising Stars is co-sponsored by Frederick County Parks & Recreation located in Winchester, VA.

NEWS & UPDATES: Coaches, please see the Coaches Corner for updates for AAU eligibility for the 2010-2011 Season.
BASKETBALL STRENGTH, CONDITIONING AND SKILLS TRAINING
FRISBY COMPETITIVE EDGE- Specialize in strength, speed, agility, conditioning, core, flexibility and plyometrics training. Contact JAMES FRISBY- 540-514-6905 or jfrisby24@yahoo.com
ERICK GREEN ATHLETICS "EGA"- Basketball Workshops focuses on improving shooting, offensive moves, dribbling and free-throw shooting thru the use of drills that will also improve conditioning and confidence. If your game needs work contact Erick Green 540-664-0361 or erick.green@vadoc.virginia.gov go to www.erickgreenathletics.net
Cash Party -
Wal-Mart Drive - TBA
Sports Fest- TBA
Tournaments- TBA
Sponsorship Opportunities!

Sponsorship opportunities are available! The Rising Stars is a 501(c)(3) tax-exempt, non-profit, all volunteer run organization affiliated with the Amateur Athletic Association (AAU). Each year, we raise funds to sponsor athletes whose families lacked the resources to participate and to assist teams with their tournament expenses. If you are interested in sponsoring a team or a player, or would like to nominate a player for a scholarship, please contact Tami Green at Tamara.Green@dss.virginia.gov.

Area Hotels:
Hampton Inn 540-678-4000
Red Roof Inn 540-667-5000
Travelodge 540-665=0685
Candlewood Suites 540-667-8323
Holiday Inn 540-667-3300
Winchester Rising Stars TEAMS