Williamsport Nationals: Welcome
Welcome To The Home Of The
Williamsport Nationals Baseball
***************
We are a 17U competitive youth travel baseball team affiliated with the national American Legion Baseball Program and the Potomac Jr. Legion Baseball League. The 2014 season will mark the start of our 13th consecutive year, making the Williamsport Nationals the longest standing and most successful Junior Legion Program in Washington County.
Our talent pool is derived from seven Washington County, Md public high schools and several local private schools. We will focus to combine the area's top baseball talent, and challenge them to elevate their skill and knowledge level to a new standard. This will be achieved through a very competitive and rigorous league and tournament schedule. We will also emphasize the basic fundamentals and principals of teamwork, sportsmanship, and academics. Our mission is to see our players master all of the skill sets necessary to prepare them to play at the collegiate level if they so desire.
***************
Coming To A Field Near You In 2014
18U Williamsport Nationals
Travel/Showcase Team

Plans and scheduling are underway to place an 18U team on the field for the Summer 2014 season. Our goal is to round out our program and provide additional opportunities for our players who age beyond our Junior Team eligibility requirements. This team will play an active home & away regular season schedule, and participate in several tournaments in an effort to showcase our players to college and pro scouts. We will be actively seeking the best baseball talent within Washington County to field each team. Our 17U (Junior) Team has enjoyed tremendous success during its rich 13 year history, and we intend to continue this winning tradition and to provide a competitive baseball environment with this expansion. If you are up to the challenge, consider trying out next Spring to be a part of a winning program. Stay tuned for more information and details as they become available.
***************
MORE NEWS!
Pre-Registration For Try-Outs
Sunday March 2nd @ Extra Innings
From 1pm - 4pm
You Can Also Pre-Register For Both The 17U & 18U Teams By Downloading And Completing The Player Application Form In The Handouts Section. Please Return The Completed Form To Coach Clugston Via Traditional Mail or Email. This Information Is On The Form.
We Will Be Holding Tryouts Mid to Late April For Both Teams. Please Check This Website Often For The Dates & Times. We Will Also Notify The High School Coaching Staffs And The Herald-Mail.
New Team Also Means New Uniforms For The Program In 2014. We Are Currently Reviewing Samples And Should Finalize Our Decision On The New Uniforms In The Next Several Weeks. We Will Unveil The New Look At Our April Tryouts.
This Is An Exciting Time To Be Part Of A Successful Program With A Rich History. Tryout, Participate, And Continue The Tradition.
***************
Thanks
I want to thank everyone; players, parents, and coaches, for another successful Summer baseball season. Our 32-14 record is only one way to measure our success, but there were many more small victories, improvements made, and challenges overcome that can't be measured by a simple win/loss record. No matter how large or small the contribution, it was all part of the larger team effort to make it another great year. To our players, I am sincerely proud of what you accomplished this season and I look forward to seeing you on the ball diamond in the Spring if not this Fall.
Thanks Again, Coach Clugston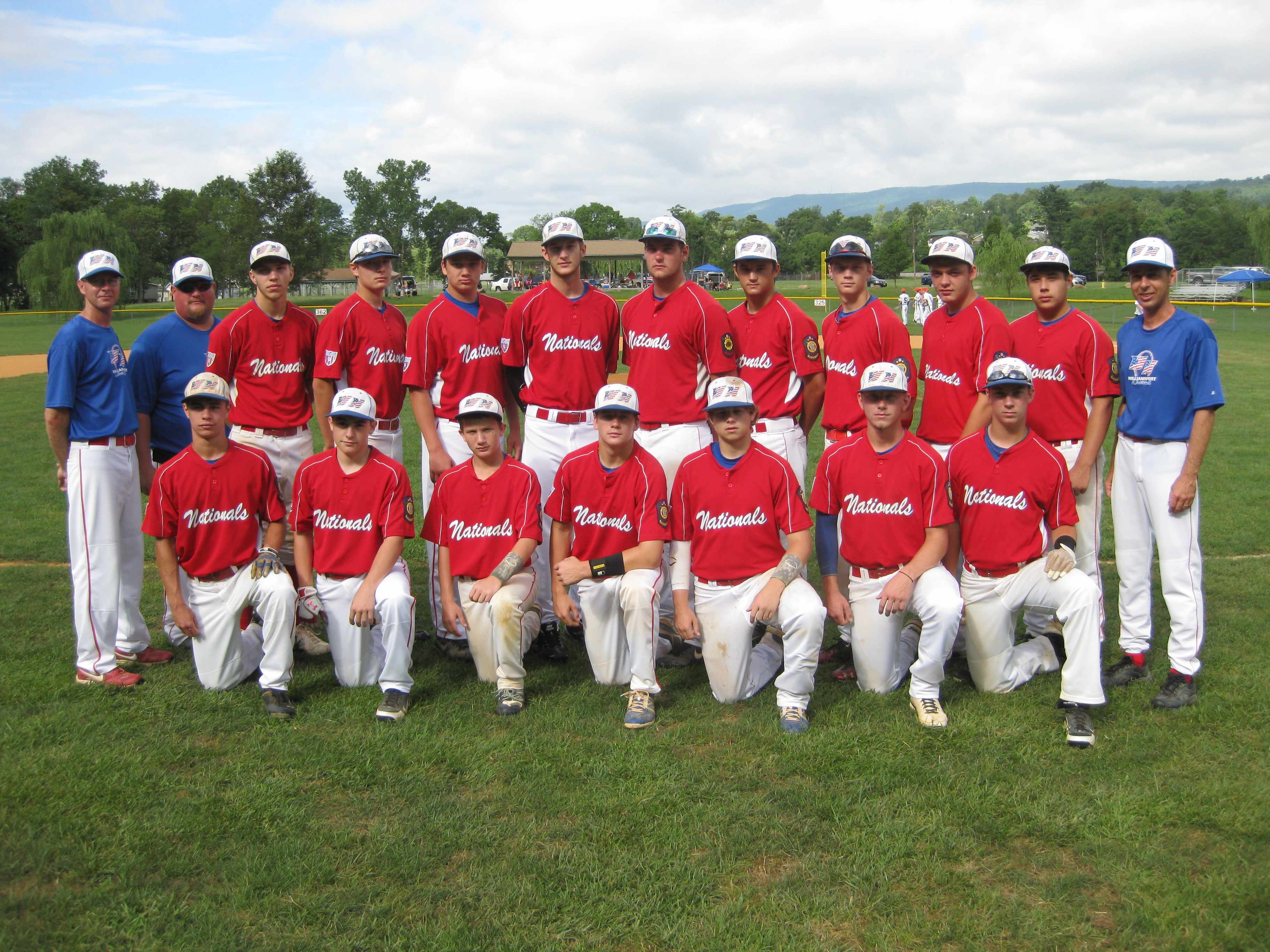 2013 Williamsport Nationals
***************
2013
1st Place
Potomac Jr. Legion Baseball League
2nd Post season trip to CABA World Series in Euclid, OH
4th Place
Mountain MD Summer Classic Tournament
2012
2nd Place
Potomac Jr. Legion Baseball League
Nationals earn way to their third consecutive post season experience with a trip to the
CABA World Series in Euclid, OH
2011
1st Place
Potomac Jr. Legion Baseball League
Advanced To NABF World Series in Knoxville, TN

1st Place
Mountain MD Summer Classic Tournament
***************
---------------------------------------------
In Memory of
Brendon E. Colliflower
The Williamsport Nationals extend their hearfelt thoughts and prayers to the family and friends of Brendon Colliflower whose young life was cut short in a tragic car accident on May 5, 2012. Brendon was a key member of the 2010 Nationals team that advanced to the NABF World Series in Knoxville, Tennesee. He was a trusted teammate, friend, and respected competitor whose passing leaves a large void in Washington County's baseball community. To honor Brendon, the Williamsport Nationals will dedicate their 2012 season in his memory and carry his spirit and love for the game onto the field with his initials embroidered on our hats. We can take comfort in the fact that Brendon is in God's great and caring hands and will forever be one of his All-Stars.
---------------------------------------------