Whittier Little League: WLL News
There was some confusion due to the website listing the visiting teams first and the printed schedule listing the home team first. The website has been changed to show the home team first. Both schedules now list the home team first, the home team takes the field first and uses the third base side dug-out.

Looking to make some extra cash?
Like being around the fields and watching the game? Why not put a little extra cash in your pocket while enjoying some baseball. Whittier Little League is looking for some Field Boys, Jr. Field Boys, and/or Snack Shack Fill Ins. To inquire about open positions please contact Dominic Martinez 562-447-6987.
All postions open to both male and female applicants.
Ralphs Community Contribution Program
Ralphs Community Contribution Program
If you have participated with Ralphs Community Contribution Program in the past, now is the time to renew ~ it must be done after September 1 of each year. If you have not, this is a great way to send a donation to Whittier Little League each time you shop at Ralphs. Last year, Ralphs donated $400 to Whittier Little League through the Community Contribution Program (based on what Whittier Little League Customers purchased) and another $1,000 through the Sponsorship Program.

The easiest way to create a link between your card and Whittier Little League would be to print out the attachment so the cashier can scan the bar code on the bottom ~ this only needs to be done once a year. If you use this method, the name of Whittier Little League will not appear on the receipt.

If you would rather sign up for the Community Contribution Program from a computer, please follow the steps below:


If you have NOT registered your rewards card online:
1. Log in to www.ralphs.com
2. Click on Sign In/Register
3. Most participants are new online customers, so they must click on SIGN UP TODAY in the 'New Customer?' box.
4. Sign up for a Ralphs Account by following these steps:
A. Select a preferred store by entering your Zip Code and clicking search.
B. Enter your e-mail address, confirm e-mail address.
C. Enter your password; confirm password.
D. Click on any email subscriptions you choose and click next.
E. Enter your REWARDS card number and complete your information.
F. Agree to the Terms & Conditions by clicking in the box.
G. Click on complete registration.
5. You will then get a message to check your email inbox and click on the link within the body of the email. You will now see 'Your Ralphs.com Account Has Been Activated.'
6. Click on 'Click here' to login to your account.
A. If your session has expired, you will be directed to the sign-in page.
B. Enter your email address and password to access your account.
7. Scroll down until you see the Edit Community Contribution link. Click on this link.
8. Enter NPO number (91475) or name of organization (Whittier Little League), select organization from list and click save changes.
9. To verify you are enrolled correctly, you will now see Whittier Little League on your account page.
10. You have now completed your Online rewards card registration AND your Community Contributions registration.
11. Click on 'Logout' at the top of the page.
If you have already registered your rewards card online (this means that you have already entered your email address and assigned yourself a password):
1. Log in to www.ralphs.com.
2. Click Sign In/Register.
3. Enter your email address and password.
4. Click on "My Account' (In the top right hand corner).
5. View all your information and edit as necessary.
A. To make a change to your organization selection:
B. Click on 'Edit Community Contribution Program Information.'
C. Type in your NPO number (91475) or the first 5 letters of your organizations name (Whitt) and click 'Search.'
D. In the 'Select Your Organization Section,' click next to your organizations' name (Whittier Little League).
E. Click on 'Save Changes.'
F. Review all information shown on your account.
G. You will now see all of the changes you made and your account is updated.
H. Click on 'Logout' at the top of the page.
Thank you for taking the time to sign up Whittier Little League with Ralphs Community Contribution Program.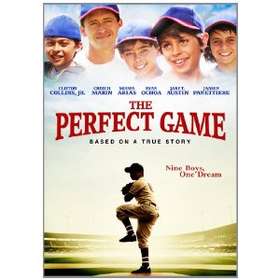 The Perfect Game Movie -- available to rent at Redbox
In the summer of 2007, approximately twenty players from Whittier Little League participated as background talent in the filming of "The Perfect Game." The movie was released in theaters in 2010. It is available to rent at Redbox. So if you haven't had a chance to see it yet, be sure to watch it and maybe you will spot one of our WLL boys in the scenes (photos from the film shooting is available under handouts).
Synopsis: Based on a true story. In 1957 a rag-tag, shoeless, poor group of kids from Monterrey, Mexico shocked the world by winning 13 games in a row and the Little League World Series in the only perfect game ever pitched in the Championship. These kids, led by their priest and a down-and-out former major leaguer embark on a journey through the southern US and up into Williamsport, PA for the Championship game. They encountered many adversities including nearly being deported and the bigotry that wouldn't allow them into certain restaurants or travel on certain buses. They never lost their faith and eventually captured the hearts of both nations. This is a heart-warming inspirational story in the tradition of "Rudy", "Hoosiers", "Coach Carter" or "Friday Night Lights". Written by John Bradly taken from: http://www.imdb.com/title/tt0473102/plotsummary. Visit http://www.theperfectgamemovie.com/ for more information.