Warwick Fire Fighters Soccer Club: WFFSC News
Friday, July 15
Keeper Training Information
Keeper training for U8-U14 will be 5:30-6:30 PM at Winslow on Wednesdays starting June 19 through Aug 14 except for July 3. Cost is $20.
Please let me know if you have questions.
Thanks
Doyle
Thursday, April 25
Thousand Touches Elite Footskills Clinic for U8/U10 Players
This is a clinic that focuses on individual footskills for the younger players. Training is every Tuesday, 5:30-7:00 PM, starting June 18 and running through August 13. Fee is $30 per player.
Player Registration Form
https://www.gotsport.com/asp/application/reg/?ProgramID=20208&Type=PLAYER

Preview Easy Register Form
https://www.gotsport.com/asp/application/easyreg/?ProgramID=20208

Saturday, March 30
Speed, Agility, and Strength Training - Spring 2013
Dear WFFSC Parent:
WFFSC is pleased to once again offer the Speed, Agility, and Strength training conducted by Greg Murphy of Higher Level Training (http://higherlevelri.com/). Greg has trained players at WFFSC for the past couple of years and the feedback is that the kids love the training.
The training will be held at Winslow on Monday evenings. There will be 10 sessions starting on April 8 and going until June 17 with no session on Memorial Day weekend. Depending on the number of participants, there may be one or more sessions each Monday. A session will be 60-75 minutes of hard training. Once we have the number of participants, then a more definitive schedule will be provided. In order to get more individual attention we would like to keep each session to around 15 participants.
Cost for the entire 10 sessions is $70. The suggested lower age for this training would be about 9 years old. There is no upper limit and many high school and college kids partake in the training.
To register go to one of the following website (Easy one is for existing club members):
Please let me know if you have any questions. Thanks
Doyle
"My daughter loves it and she is learning a lot. Greg is wonderful."
"It is a great program at a great price. My daughter is really enjoying it and would love to do it again."
My daughter "loved it and cannot wait to do it again!"
My kids "love this time with Greg. Their speed and their moves have improved tremendously on the field."
My son "has enjoyed it immensely. Greg is great working with the kids individually and in a group. His skills have already improved and he's enjoying soccer even more. He's become more competitive and more competent."
"I have 2 girls in the clinic, They LOVE IT, Greg is so good with the kids."
My daughter "has had a terrific experience in speed and agility. She was quickly made to feel welcomed and challenged by Greg."
My daughter "is in her second session doing speed, agility and strength training with Greg. She ABSOLUTELY loves it! She wants to do it for as long as its offered. Greg is amazing, patient..fun and has a great rapport with the kids. I would ABSOLUTELY sign her up again anytime its offered."
Thursday, April 12
2012 First Easter Game
2012 Easter game
These players are hard core.
Wednesday, November 16
2011 U14 GIRLS ANCHOR TEAM FALL SUPERLIGA SPORTSMANSHIP AWARD
2011 FALL SUPERLIGA SPORTSMANSHIP AWARD
U14 Girls Anchor team wins 2011 Superliga award. Coached by Bob Enright and Bill Johnston.
PLAYERS: Tylor Rossi, Molly Lynch, Heather Allsrtom, Erin Plowman, Jordon Wayne, Madison Bastan, Hannah Leahy, Kendra Howard, Hannah Johnston, Hannah Johnson, Emily Fluette, Audry Cryan, Victoria Barrette, Emily Gauthier, Michaela Giuttari, Jessica Kuncio, Mia Maggiacomo, Kit-Kat Raposo, Emma Reilly, and Emily Sheridan. PHOTO TO FOLLOW
---
Wednesday, November 9
2011 Fall Recreational Champions
2011 Fall Recreational Champions.
U12 Boys - Twins Florists ( Coach Bill Cocroft, Jammie Maccarone, Scott Corcoran)
U12 Girls - Dr Desktop (Coach Paul Bastia)
U15 Boys - Governoir Francis Inn (Coach Neil French)
U15 Girls - MG Commercial (Coach Robert Enright, Bill Johnston)
Friday, November 26
2nd Annual Turkey Trot Thanksgiving pickup games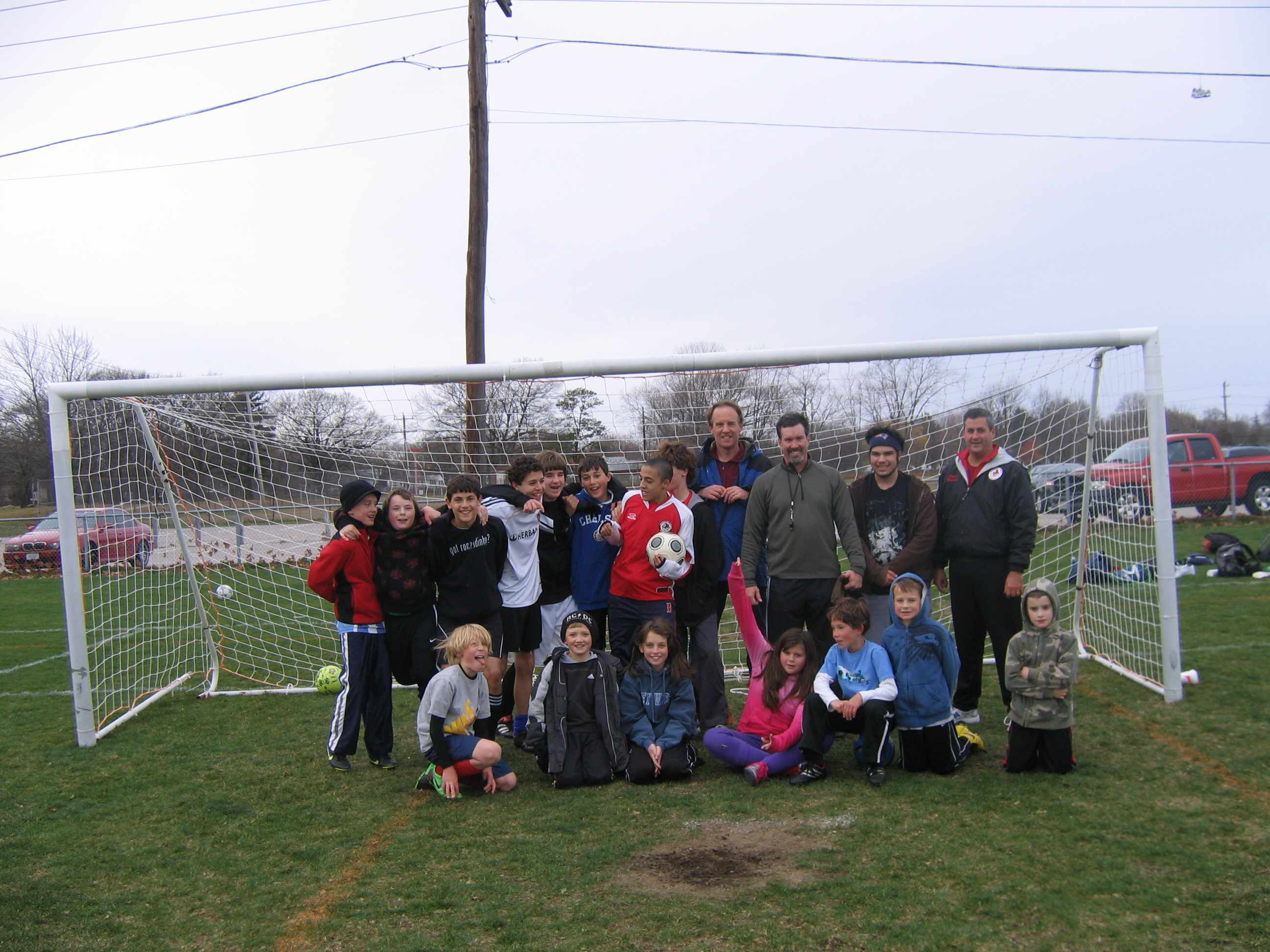 Thanksgiving Day Pickup Game
Several enjoyed a pickup game at Winslow on Thanksgiving morning before heading home to celebrate the holiday.
Sunday, January 24
U8 Girls Having Fun
The U8 Girls team coached by Joelle Beyer and Bob Therien are enjoying the season and their teammates.
Monday, October 18
WFFSC Awards College Scholarships - 2010
Here is a picture of a college scholarship award that we at WFFSC are very proud of. The success of the club has allowed WFFSC to present two $500 college scholarships to a couple of very worthy candidates who were selected from several who applied for the scholarships. The application basically required info about where they were going and an essay about what WFFSC has meant to them. The selections were extremely difficult due to the many highly qualified applicants.
The award recipients for 2010 are Casey Williams and Patrick Luiz. Casey is attending Salve Regina University and Patrick is attending the University of Rhode Island. Both Caeey and Patrick played soccer at WFFSC for many years and were also referees for many of those years.
WFFSC is very proud to be able to award these $500 scholarships to these two highly-qualified students. We wish them the best in their pursuits.
Pictured from left to right: Doyle Byrd, President WFFSC, Patrick Luiz, Casey Williams, Ed Maggiacomo, Treasury WFFSC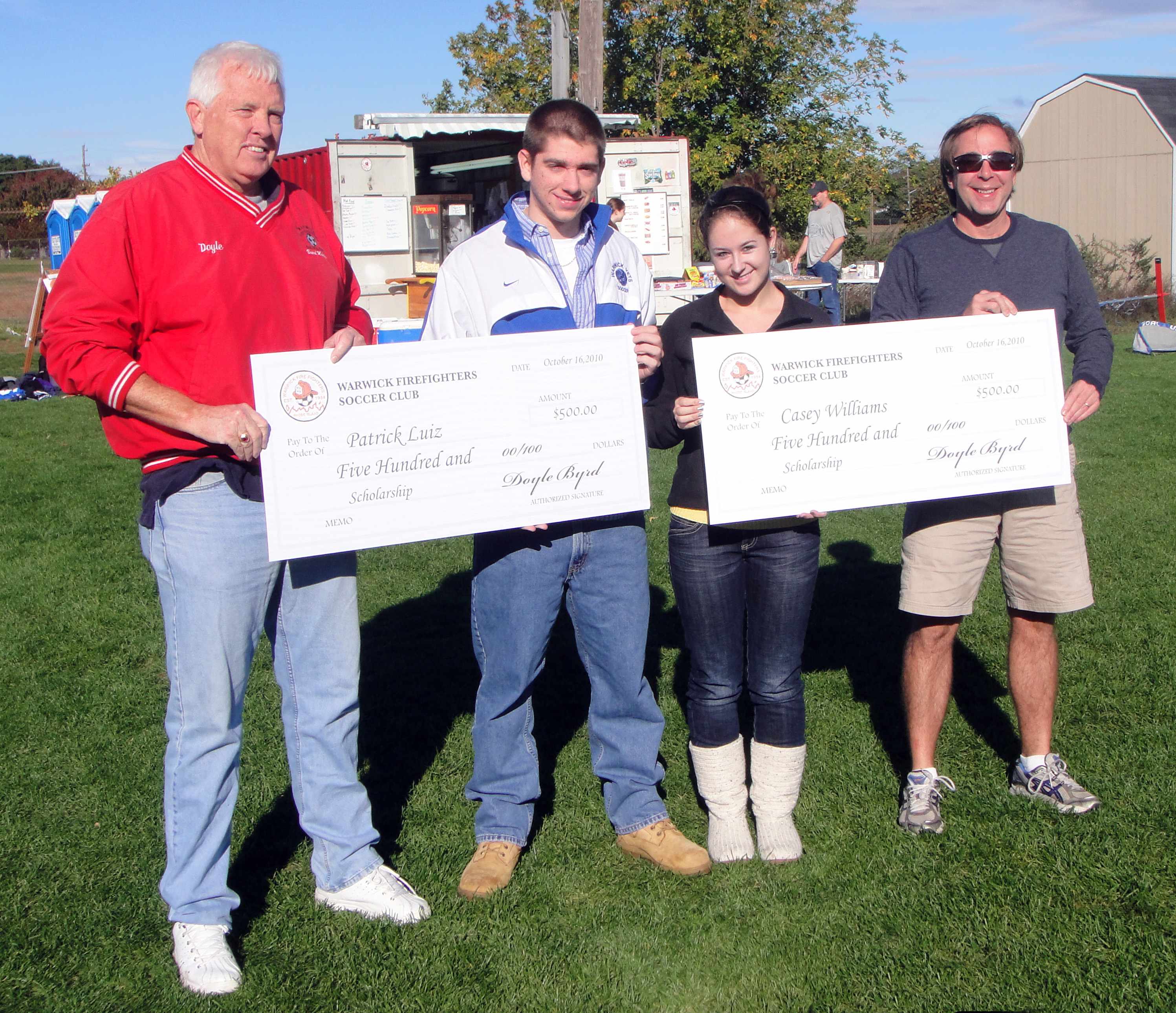 Check Presentation