Warwick Fire Fighters Soccer Club: WFFSC News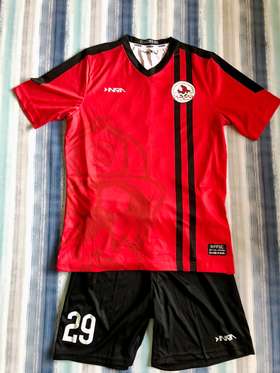 Front of Primary Jersey
Wednesday, June 13
New Competitive Uniforms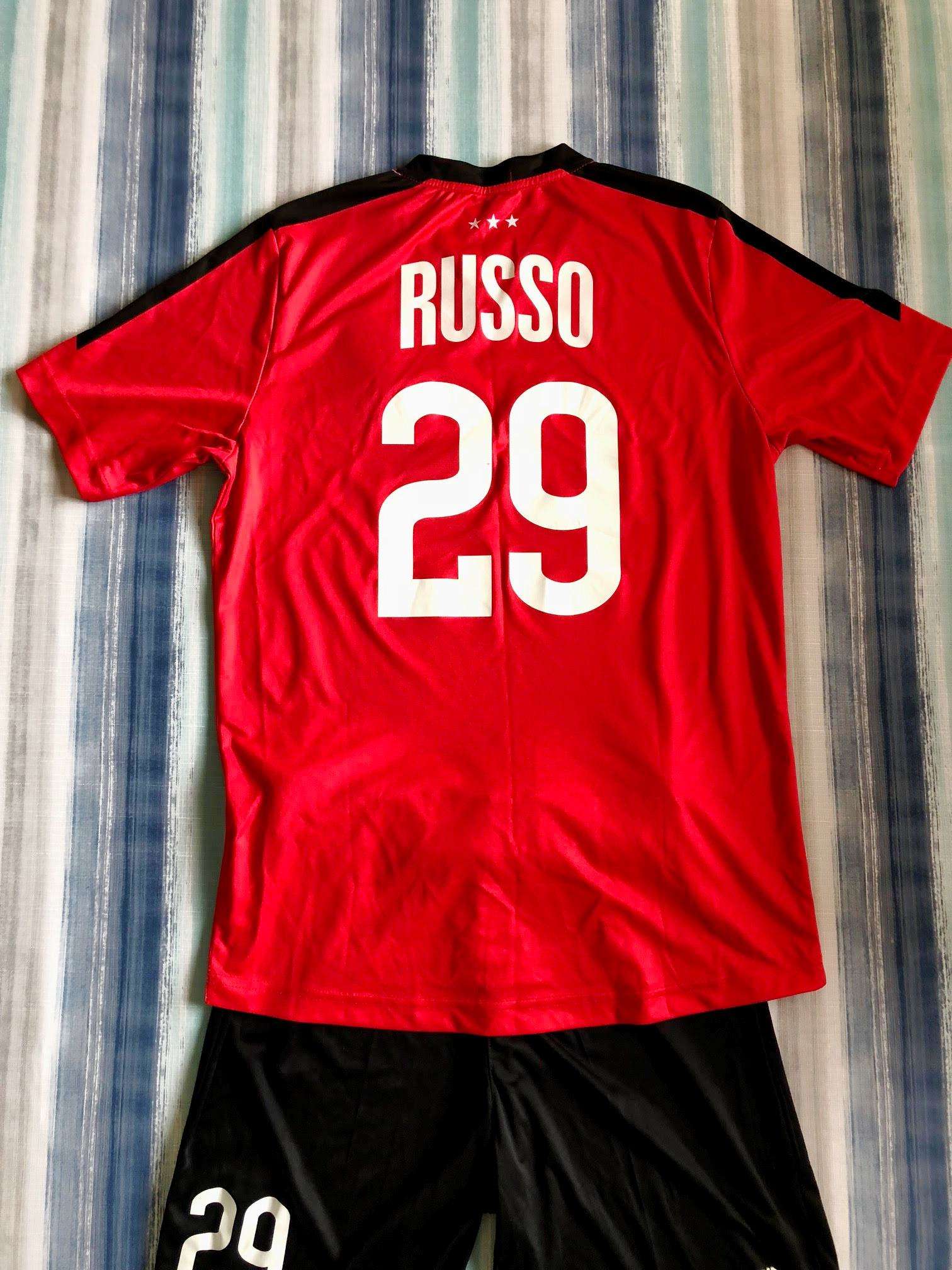 Back of Primary Jersey
New customized WFFSC Uniforms. Has the logo embossed on the side. Number on back and on shorts.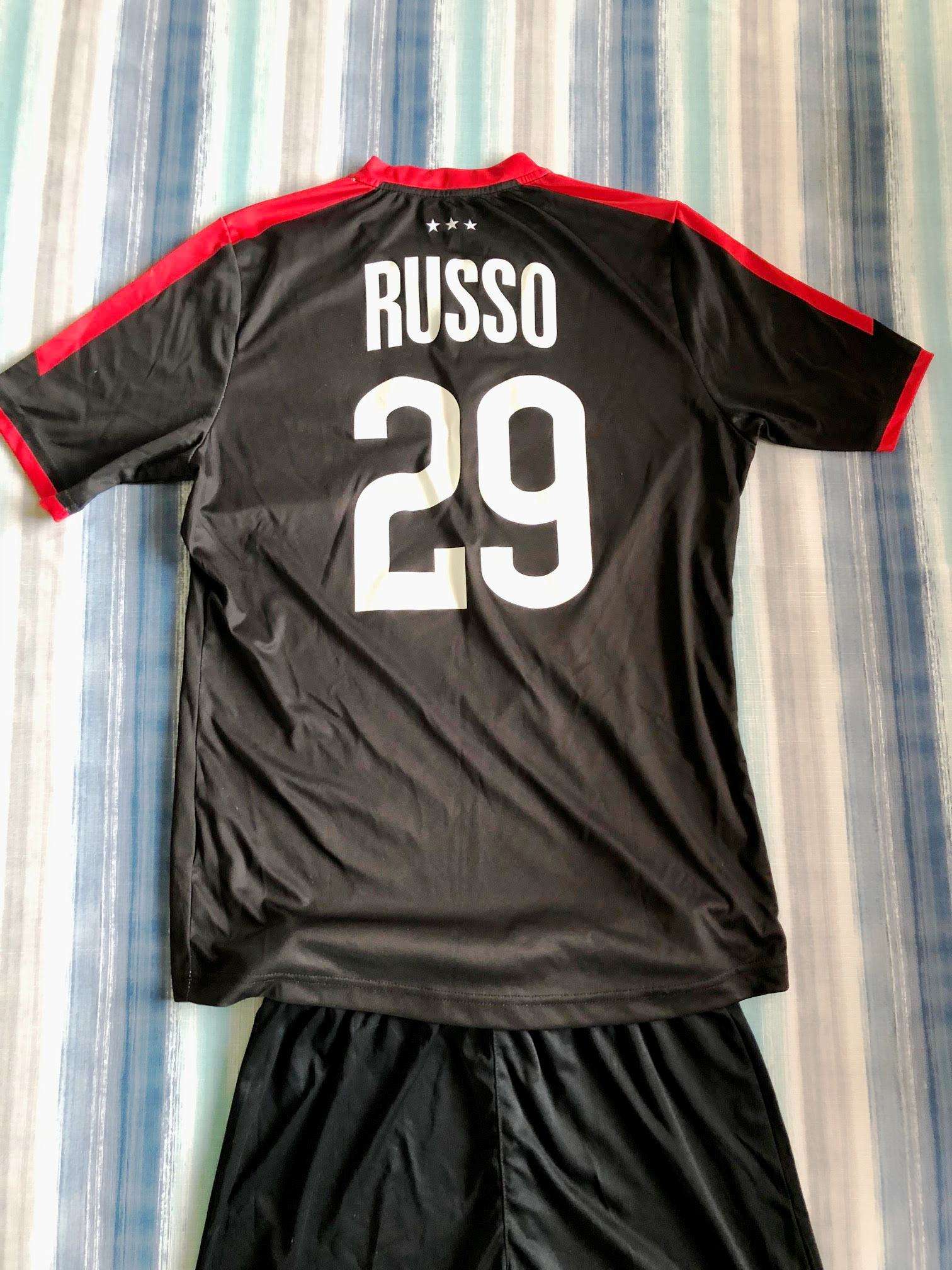 Back of Alternate Jersey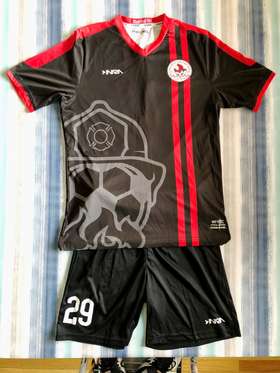 Front of Alternate Jersey
Wednesday, June 13
More photos of new competitive uniforms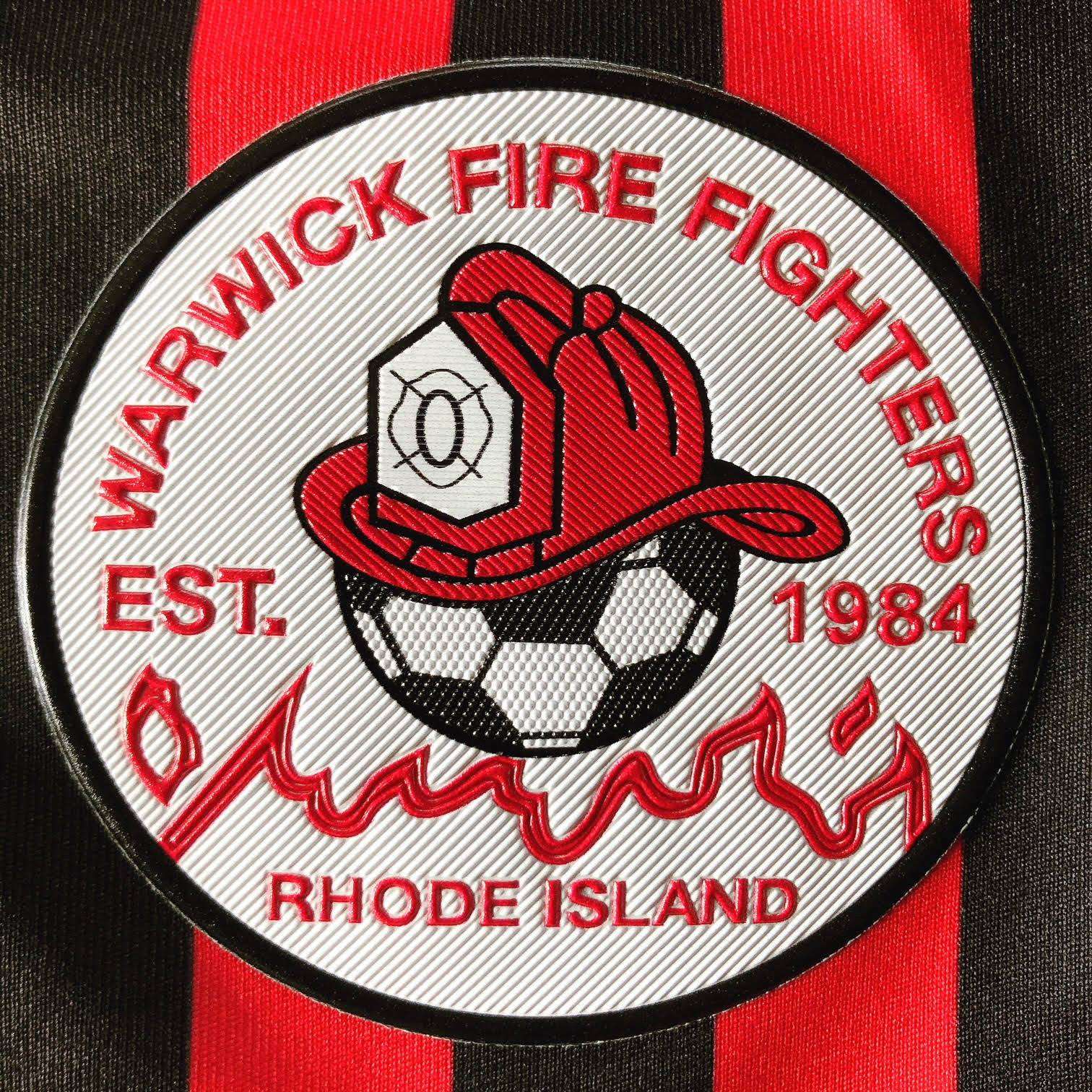 Logo
Sunday, June 3
B20U Team Wins Superliga Championship
Congratulations to the B20U team coached by Bill Cocroft and Bob Enright on winning the 2018 Superliga Championship. Well Done!!!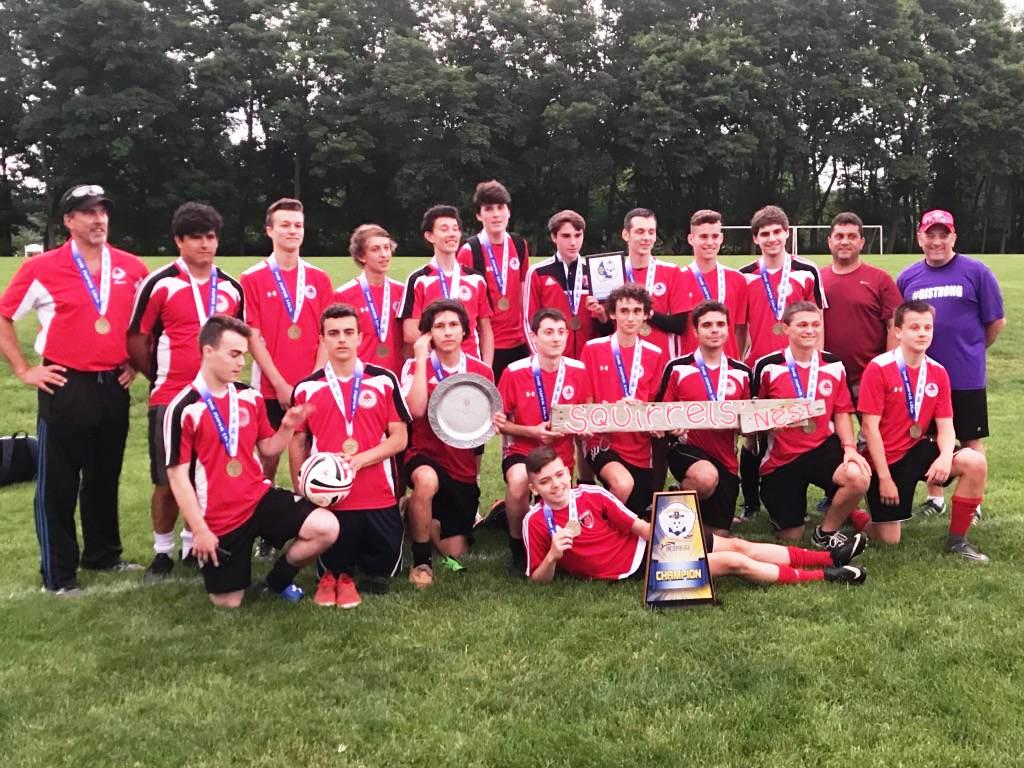 Champions!!!!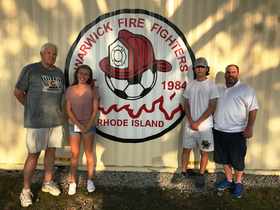 Scholarship Winners Julissa and Kevin with Doyle and Mike Zuller
Monday, August 28
2017 College Scholarships
WFFSC and the Elanna Zuller Memorial Sports Foundation are pleased to announce the winners of the college scholarships for 2017. They are: Lily Fortin who will be attending Springfield College, Julissa Van Renselaar who will be attending URI, and Kevin Teran who will also be attending URI. We wish these players the absolute best in their academic and college endeavors.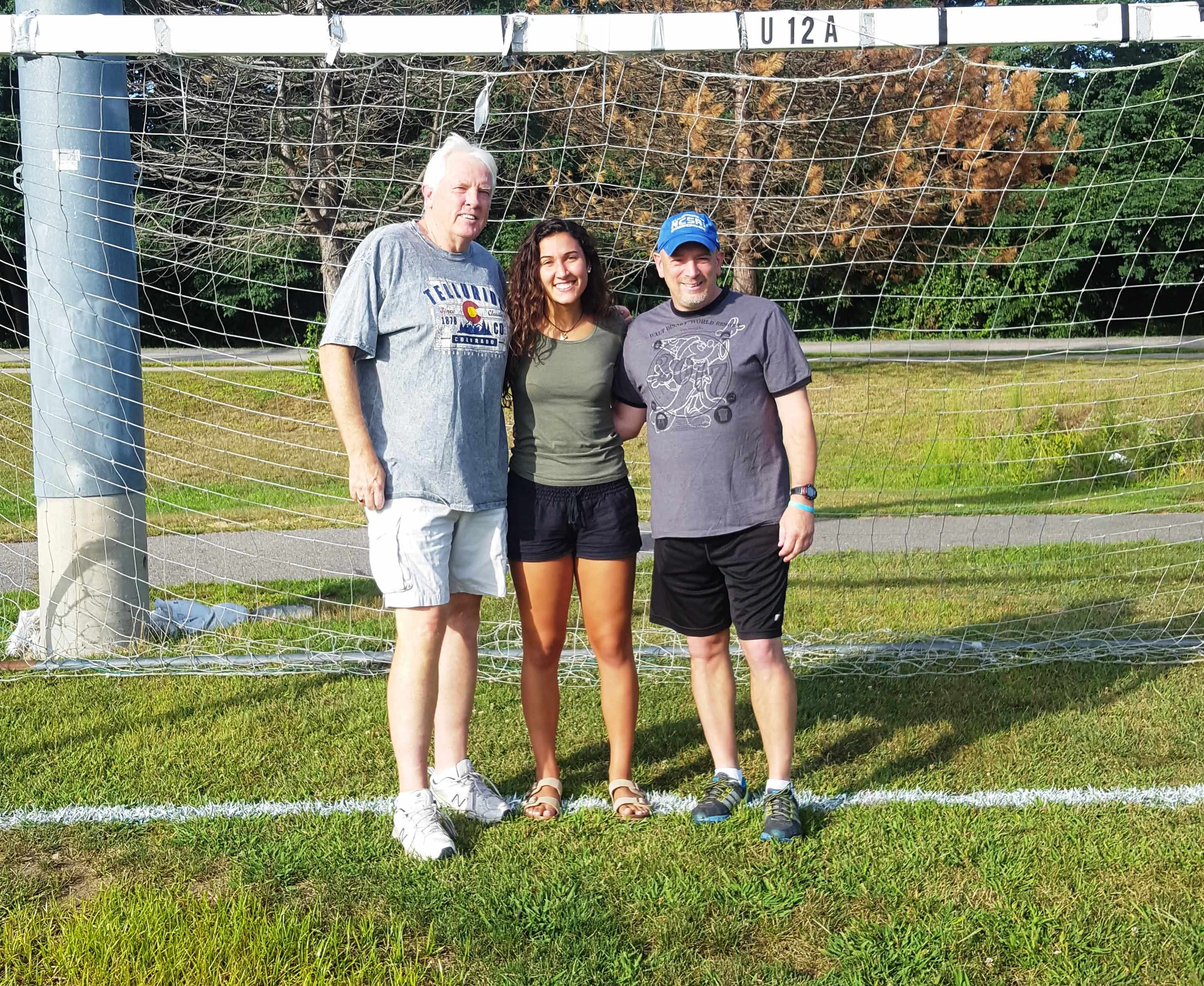 Scholarship Winner Lily with Doyle and Bob
Monday, June 20
U12 Boys Runnerups in SRI Cup
The U12 boys team coached by Doyle Byrd and Jon Wiening finished the SRI Cup in second place.
Pictured in front row: Liam Kenyon, Nathan DosRemedios, Devan Kipyego, Robert DeSantis, Jeremy Wiening, Cameron Adessi
Second row: Atul Thyvalappil, Caden Holtzman, Anthony Martinez, Zachariah Grande
Missing: Toby Pike
Coaches: Jon Wiening and Doyle Byrd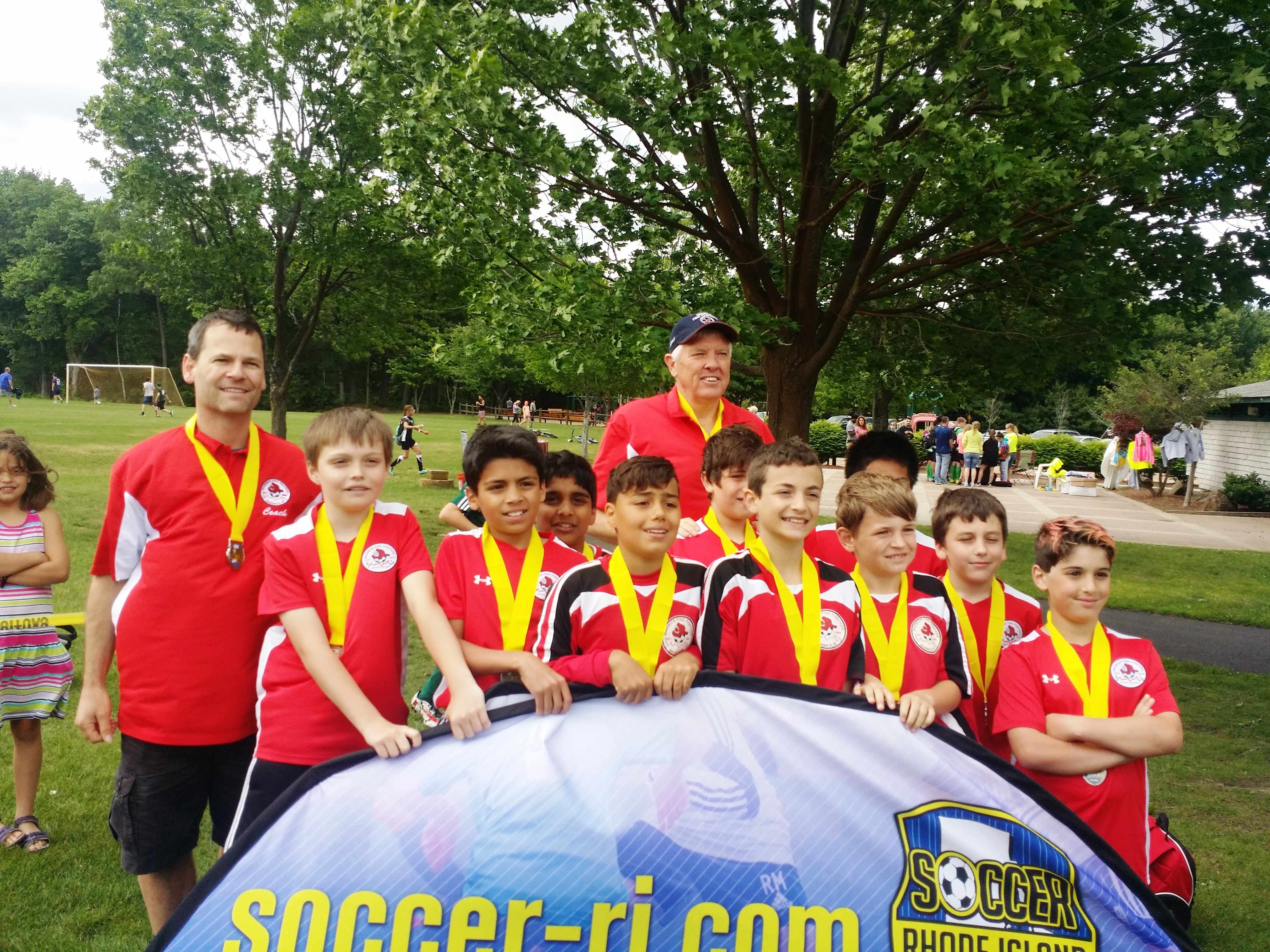 U12 Boys RunnerUps at SRI Cup
Monday, June 13
U12 Boys Win Division 1 Championship at SRI Cup
The U12 boys team coached by Carlos Andrade, Eddie Pereira, and Jeff Lockhart won the championship of the top division at the SRI Cup tournament. They were down 3-1 but fought back to tie the score in regulation. Then the two teams played overtime with no score so it came down to dramatic PK's. Jayden Pereira made a great save on the first attempt by Coventry and the WFFSC shooters started making their PK's to seal the victory. What a great and exciting game!!!! Congratulations to the boys for the well-deserved victory.
The two teams play again Friday in the Superliga Playoffs. Another round in The Battle of the Titans.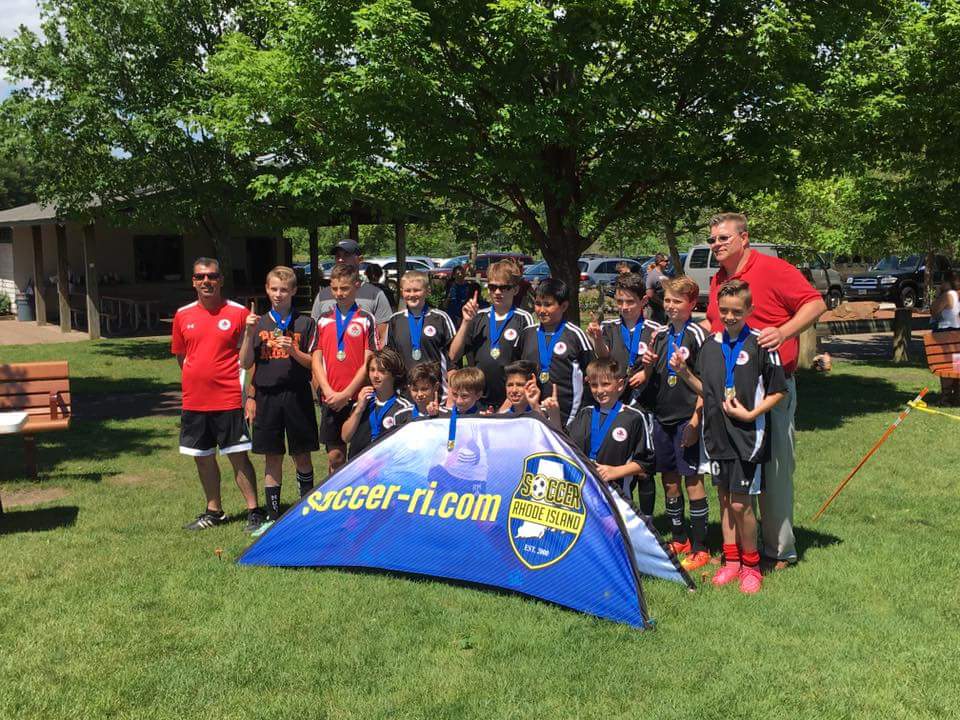 2016 SRI Champs Division 1
Tuesday, January 26
The WFFSC Over-30 Team Wins Championship at Wide World
It is not only the kids at WFFSC that win championships but the adults (many who are also coaches) that can also practice what they preach. They can walk the walk as well as talk the talk. :)
Congrats to the team!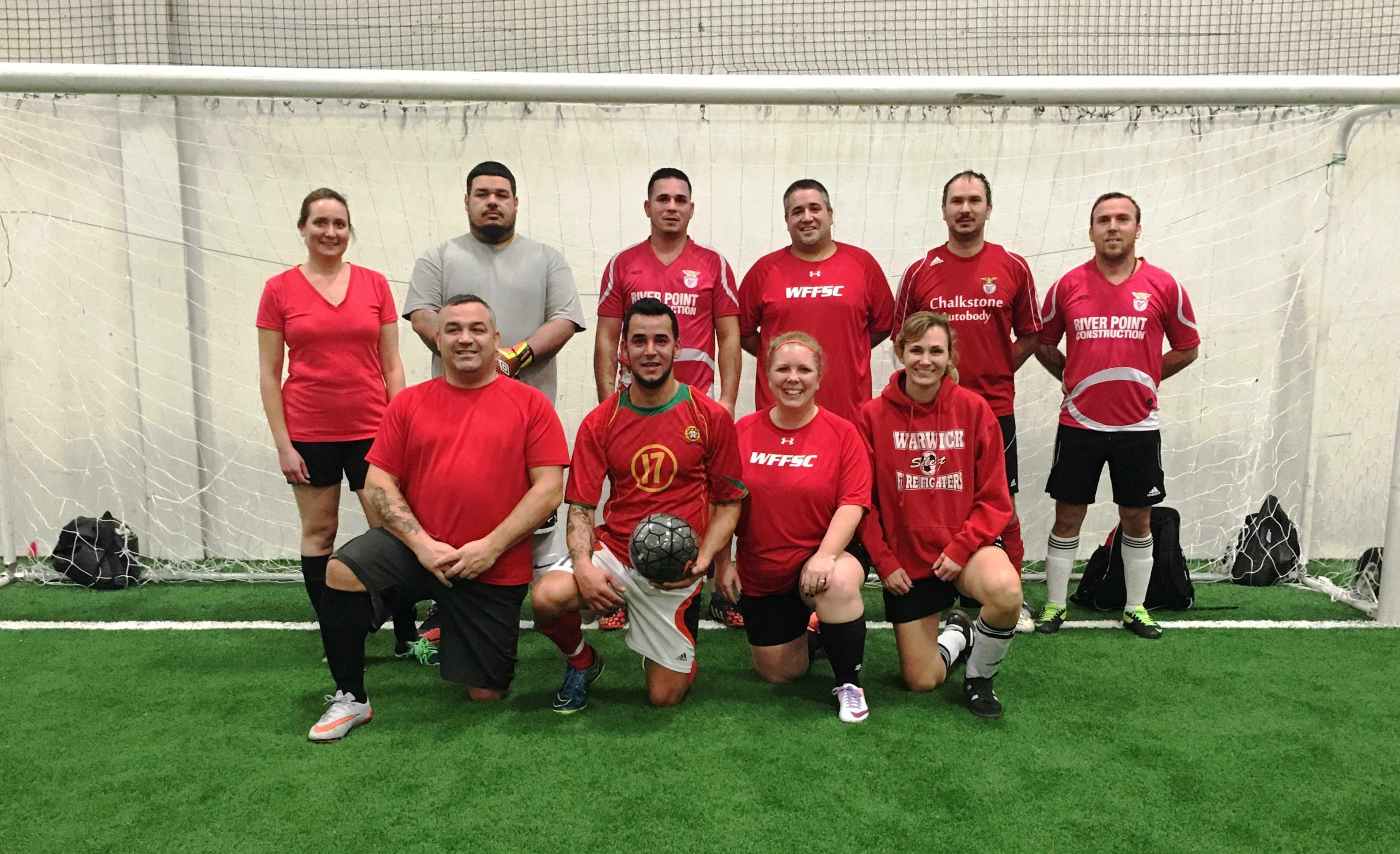 Over-30 Champs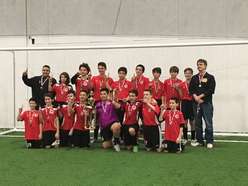 U14 Boys Champs
Monday, January 18
U14 Boys Are Session 1 Champs
The U14 Boys team coached by Ray Ciarlo and Paul Galamaga won the session 1 playoffs in dramatic fashion to be the champs of the first indoor session. Congrats!!!
Wednesday, January 6
U10 Boys Finish Runner-up in Holiday Tournament
Tuesday, December 1
U10 Boys Win Thanksgiving Tournament A Division at Wide World
Back row, from left to right J. Caldeira, Aiden Preuit, Cole Matthews, Edrees Heidari, Joshua Escamilla, Logan Matthews, Sean Matthews (Dad)
Bottom row, from left to right, Haiden Riess, Logan Caldeira, Braydon Fagundes, Domenic Silva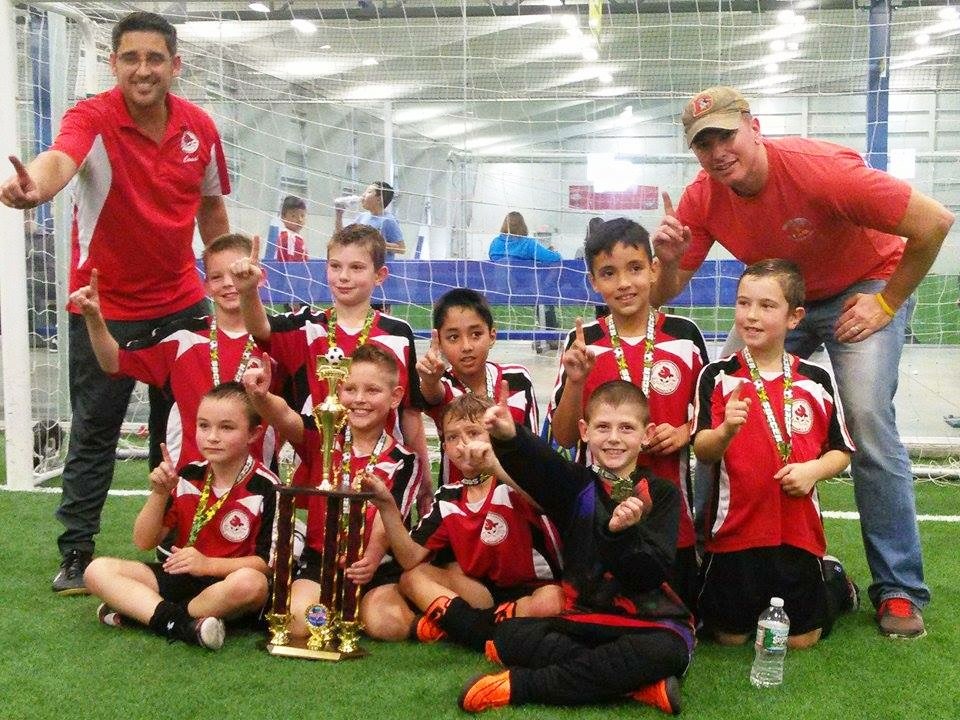 Champs
Tuesday, December 1
U12 Girls Win Thanksgiving Tournament
The WFFSC U12 Girls won the Wide World Thanksgiving Tournament with a 3-1 victory in the championship game.
Front row: Katie Shaheen, Kylie Whitney, Madison DiPetrillo, Leah Fung
Back row: Coach Doyle Byrd, Julia Caldeira, Hailey Perry, Samantha Laurent, Paige Johnson, Alexis Maloney, Coach Steve Laurent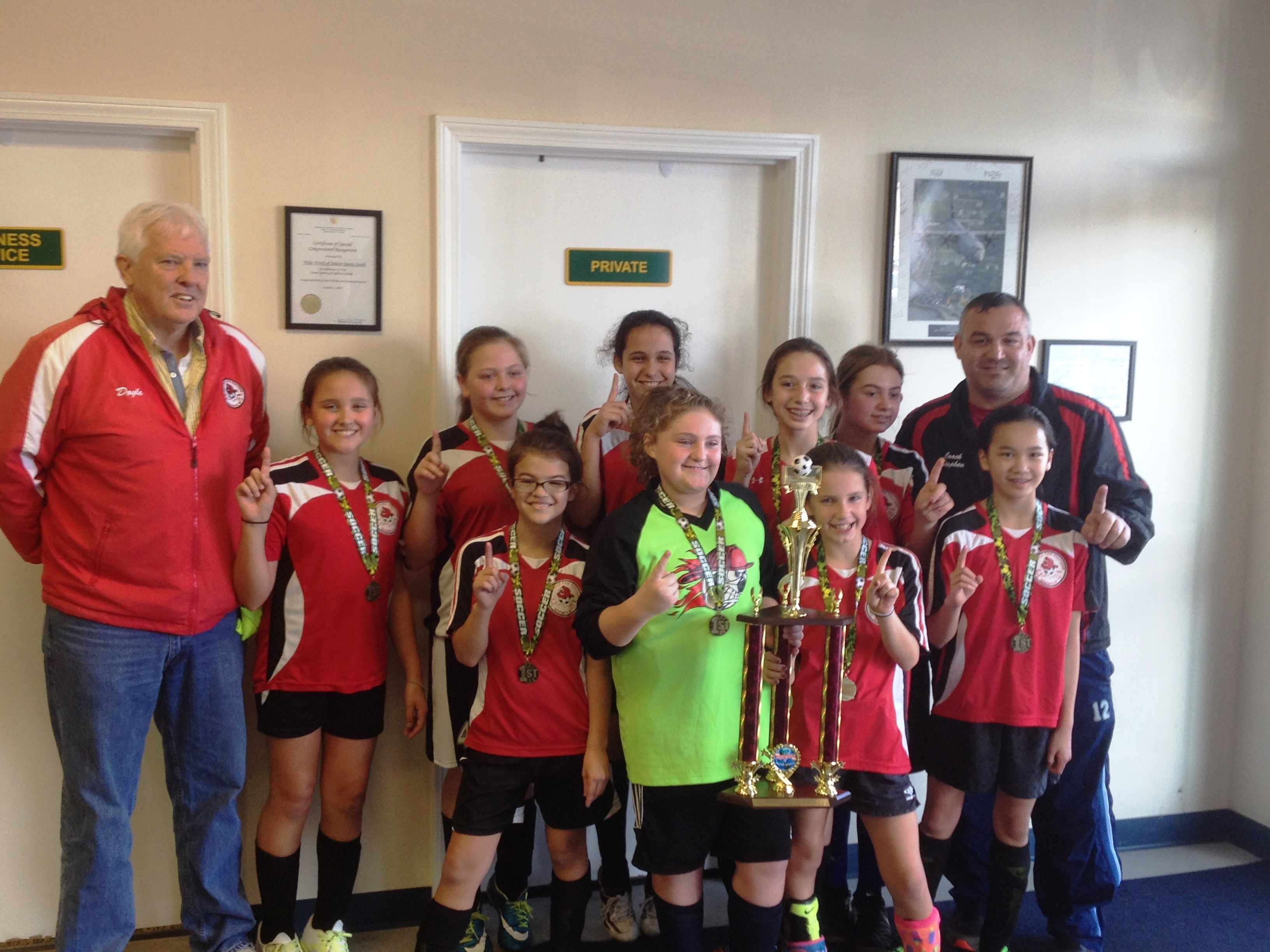 Champs
Wednesday, October 21
U6 Indoor Rec Program
Dear Parents of U6 Players,
WFFSC would like to offer indoor rec games for the U6 players. The final program format depends on the number of players/teams. Most play at Teamworks on Jefferson Blvd on Sat with games between 10 AM and 2 PM. The games are 5v5 similar to what is played outdoors. Also if we get enough interested to form one or more teams then there are games at Wide World in North Kingstown (behind the Lowes that closed in Quonset) on Sunday mornings.
Each venue offers two sessions over winter with first one going from Nov to mid-Jan and second from mid-Jan to end of March. A session is typically 9 games. The fees are more for indoor, but we only try to cover costs at the venues, the club just tries to not lose money. At Teamworks the cost per session is $75 and at Wide World it is $85. At Teamworks the surface is hard while at Wide World it is turf which is a bit nicer. Both venues provide tee shirts for the players.
There are not any practices for the indoor rec, just the games, but it keeps the kids involved and gives them something to do on the weekends. You can request to be on the same team as other players so kids from current teams could continue to play together over the winter.
We are looking for coaches, but for indoor rec it is more team management at the games, making sure everyone is subbed in and gets playing time. The coach is the contact person for the team, but overall it mainly is just showing up at the games and being on the sidelines.
We need to enter teams soon so please register ASAP, by the end of this weekend if possible. To register go to the following:
https://www.gotsport.com/asp/application/reg/Default.asp?ProgramID=44062&Type=PLAYER
Please let me know if you have any questions.
Thanks
Doyle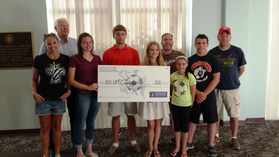 2015 Scholarship Presentation
Friday, August 21
2015 Scholarship Winners
WFFSC in conjunction with the Elanna Zuller Memorial Sports Foundation is extremely pleased to award five $300 scholarships to current and former WFFSC players. The recipients for 2015 are Erin Plowman, Courtney Crowley, Liam Strain, Josh Sandin, and Caitlin Galamaga.
Saturday, May 30
WFFSC 2015-2016 Competitive Program
WFFSC Competitive Program 2015-2016
As the end of the Competitive Program for 2014-2015 approaches, we want to provide information on next year's program.
There has been much discussion as to when to hold tryouts. With Rec being our primary program in the fall, if we held tryouts now then many players/parents would feel compelled to play Fall Superliga and this might cause conflicts with playing in Rec as several may not have the ability to play both. I have seen in some clubs where the Rec program has significantly deteriorated, especially in the older age divisions, due to many of the players just playing Fall Superliga. We want to keep our Rec program strong.
For Fall Superliga we will follow the same approach as last year where it will be treated similar to a tournament in that teams will be formed and entered by coaches. It is basically extra soccer for those that want to play more. We will try to get as many kids that want to play Fall Superliga on teams. So if you want to register your interest in playing extra soccer beyond the Rec program, you can do this at the following.
Interested in Fall Superliga Website Registration
So the Competitive Program will officially start with tryouts in September when everyone is back to school. Teams will be formed based on information gathered from tryouts along with knowledge that coaches/coordinators have of the players. These teams will play two sessions of indoor soccer at one of the local venues and then play Spring Superliga. Teams will most likely play in multiple indoor tournaments as well as one or two outdoor tournaments, especially in the Memorial Day Tournament where this year there were 23 teams participating.
The philosophy at WFFSC is to provide as fair of an evaluation/assessment as possible and form competitive teams that are balanced in player talent from top to bottom. This provides an environment where the team can practice together as a unit, develop skills along with their teammates, and play games where each player can contribute to the team's success. If the players have significantly different levels of ability, then practices and games become much more difficult to manage.
We also realize that there are existing relationships between players, coaches, parents where core groups of kids want to continue playing together. This is certainly possible as long as the resulting team roster conforms to the overall goal of a balanced team in respect to player's abilities. Each year players develop and progress at different rates and some players may have improved significantly during the past year and others may not have been quite as successful. Kids also grow at different times. Some kids move up an age division while others stay in their current age division. So while we are sensitive to relationships that have formed, typically some team roster changes are inevitable.
All players deserve the opportunity to be placed on teams where they belong and can grow and develop. The final team roster selections are not done by individual coaches, but are done by committee (coordinators, coaches, other interested board members, and usually me) to ensure overall fairness in the process. It is not perfect, but we do want to make it fair and also make as many members as happy as possible.
Please let me know if you have any questions.
Thanks
Doyle
Saturday, January 10
U8 Girls Have Fantastic and Exciting Playoff
The U8 girls team coached by Jason Dorrance had an incredibly exciting set of playoff games at Teamworks for the conclusion of the first session. In the semi-finals they rallied back from a deficit in the last 5 minutes to win 6-3 with a flurry of goals.
In the championship game it was back and forth for both halves with many exciting plays both on goal opportunities as well as the great play by the keeper to stop the other team. It was a nail-biter and in the end the team lost 4-3, but it was so exciting to watch and wonderful to see how well the team played.
Congratulations to the girls and coaches!!!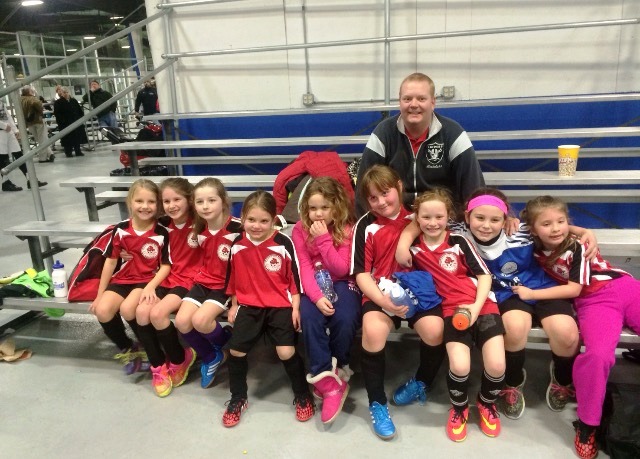 U8 Girls At Teamworks
Wednesday, September 17
Progress on New Winslow Fields
Construction is progressing on the New Winslow Fields. Sprinklers are expected in next week or so and then fill and sod. (Oct 4)
Sprinklers have been installed and sod laid on big field. (Oct 10)
Monday, October 13
More Photos of New Winslow Field
New Field Approved by Sydney. :)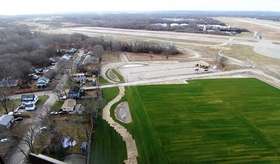 Overview of Fields
Monday, December 22
More Photos of New Winslow Field - 2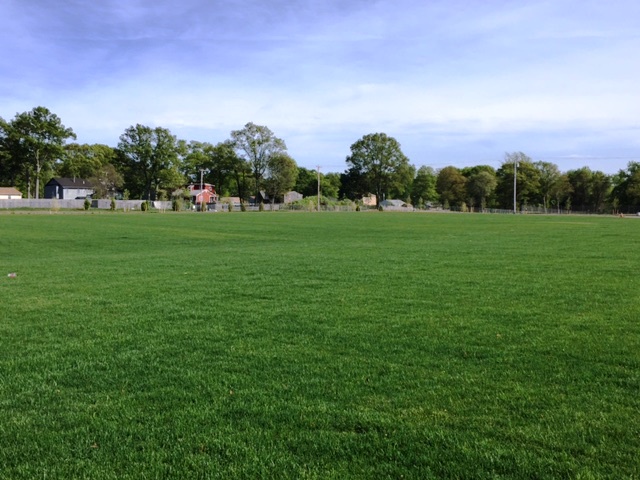 May 2015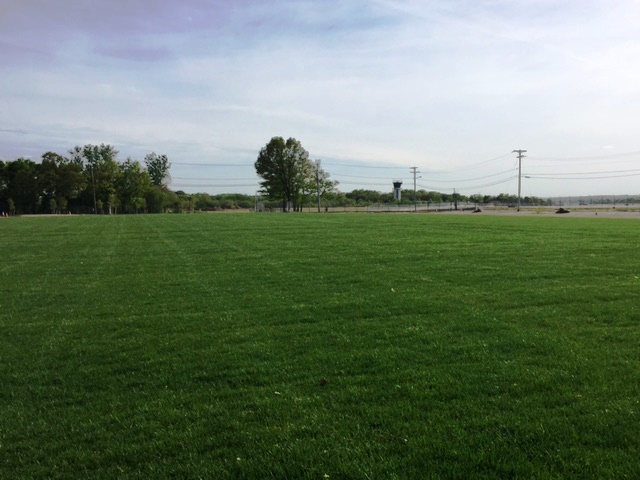 May 2015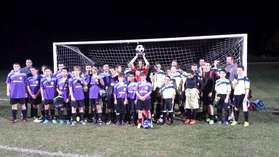 U15 Boys Champs Aurora Electric
Thursday, November 6
Kick or Treat Tournament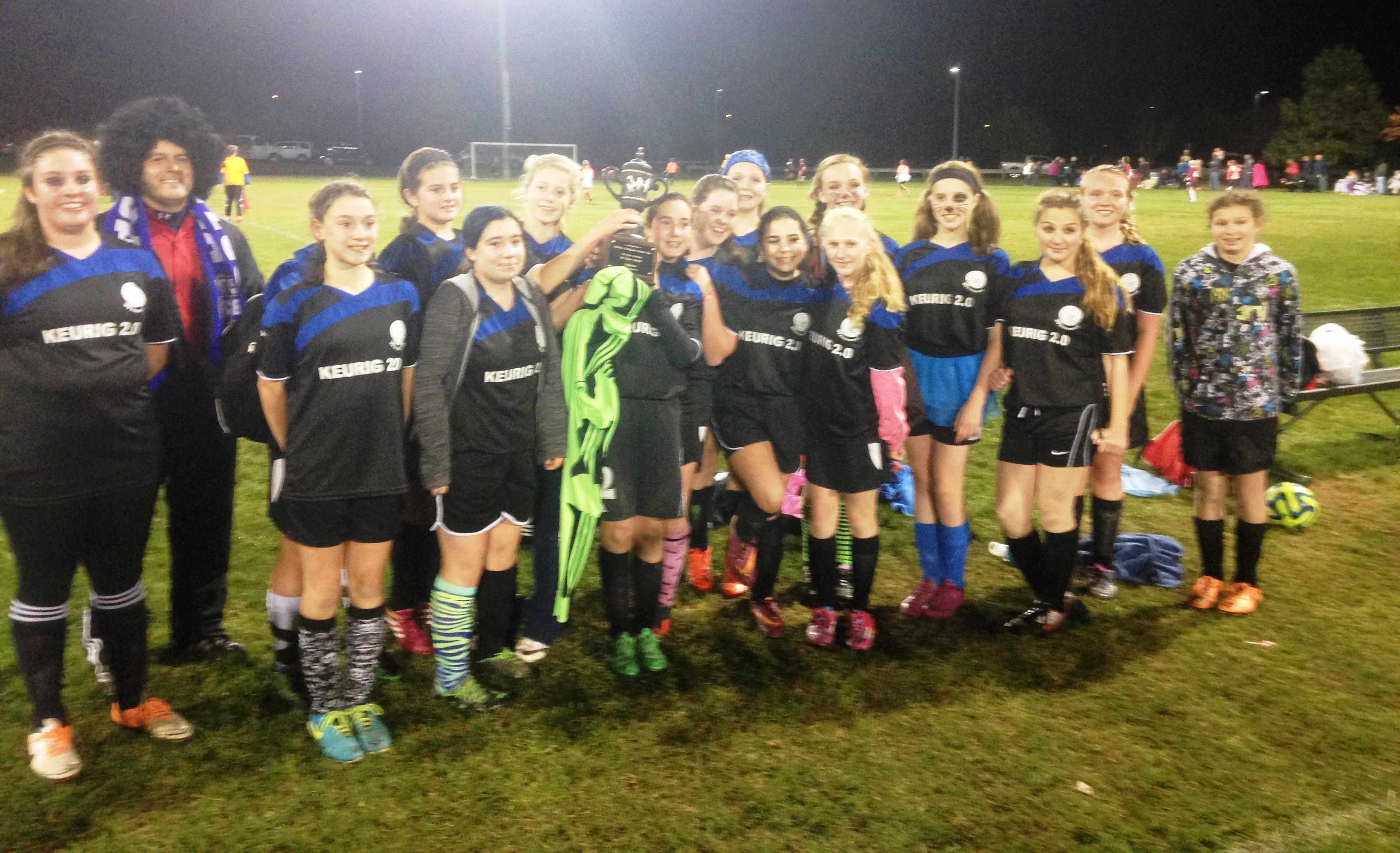 U15 Girls Champs Keurig
There was a season-ending tournament for U12 and U15 rec teams where the kids and coaches dressed up and played.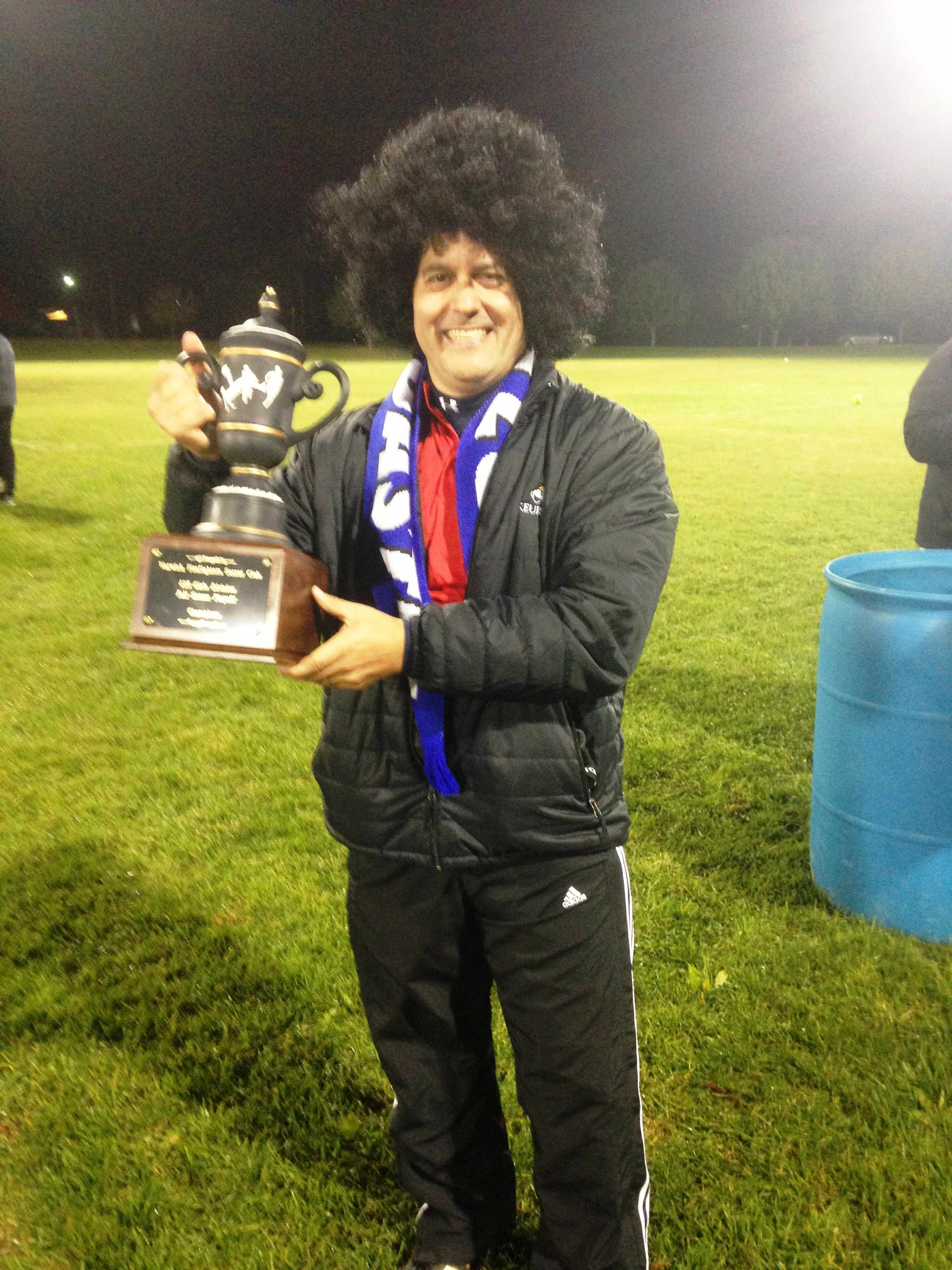 Coach Paul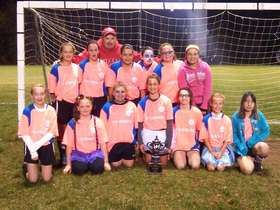 U12 Girls Champs RI Tile
Thursday, November 6
More Kick or Treat Tournament Photos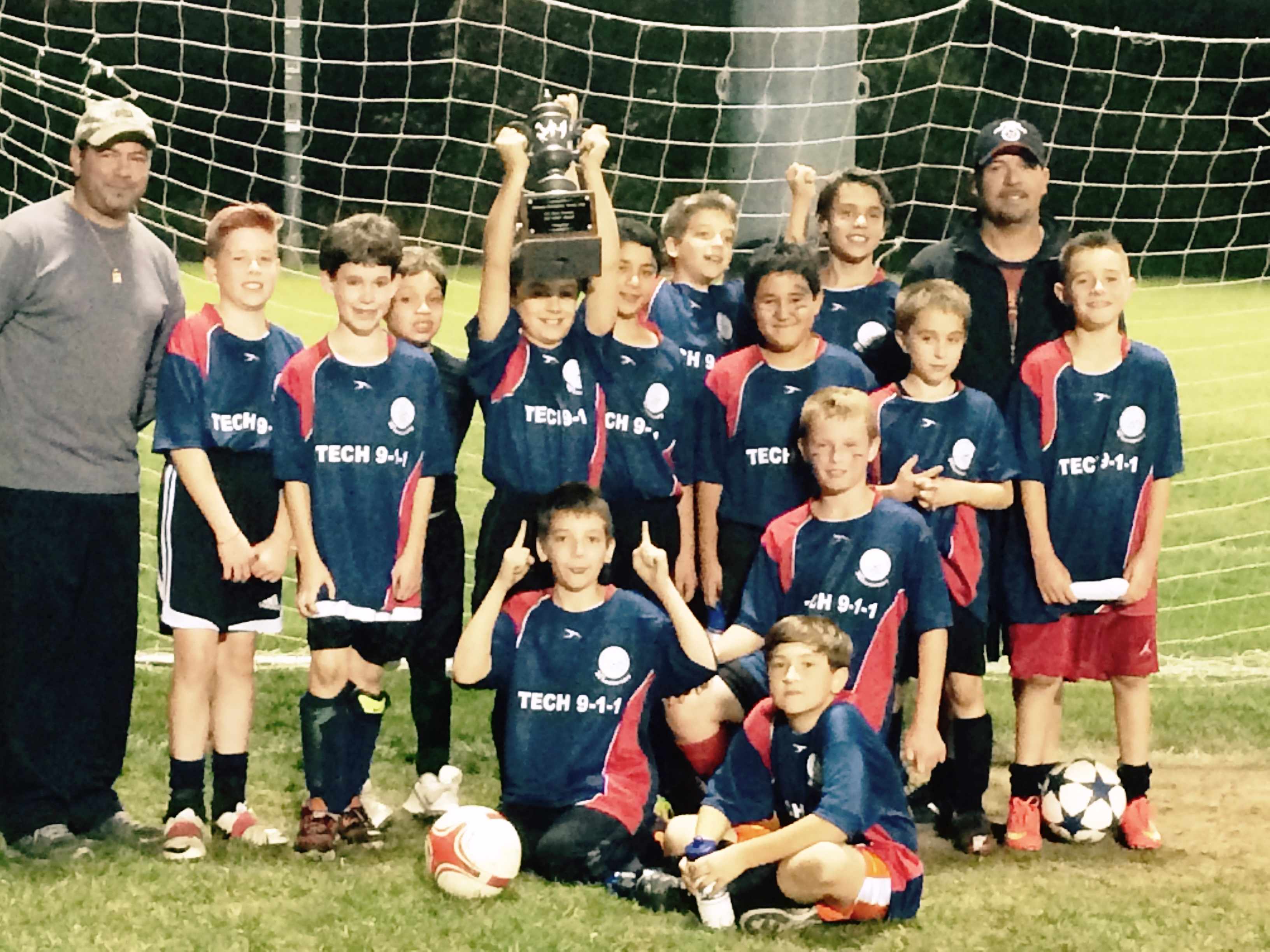 U12 Boys Champs Tech 9-1-1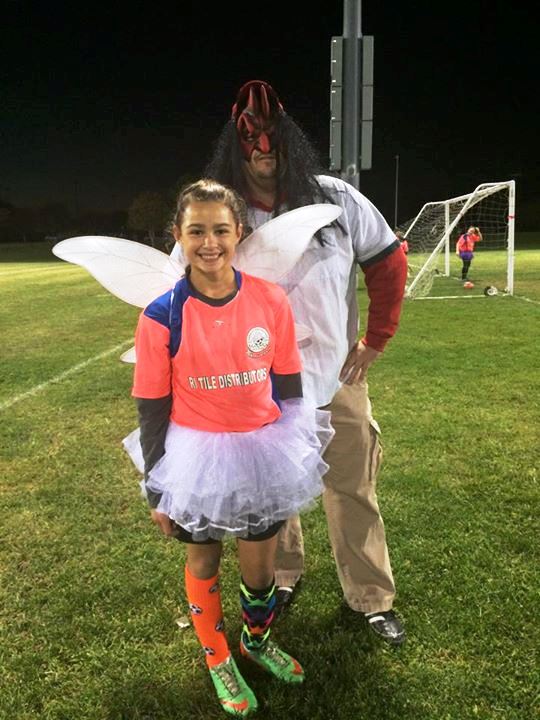 Coach Mike and Player Cassie
Wednesday, October 15
Indoor Training
I am pleased that WFFSC is able to offer some specialized training indoors.
There is limited space available at the venues so we are limited in times. The training is offered on Mondays 4-5 PM at Teamworks.
Keeper training will be run by Joe Burns.
Specialized skill training will be run by Bob Enright.
You can register for one or the other.
Cost for the training is $40 for 8 weeks.
Special Skills Training Registration
First session is Monday Jan 26 at 4 PM. Registration deadline is this Sunday, Jan 18.
No outdoor cleats at Teamworks. Wear indoor cleats or sneakers.
Let me know if you have questions.
Thanks
Doyle
Saturday, September 6
2014 College Scholarships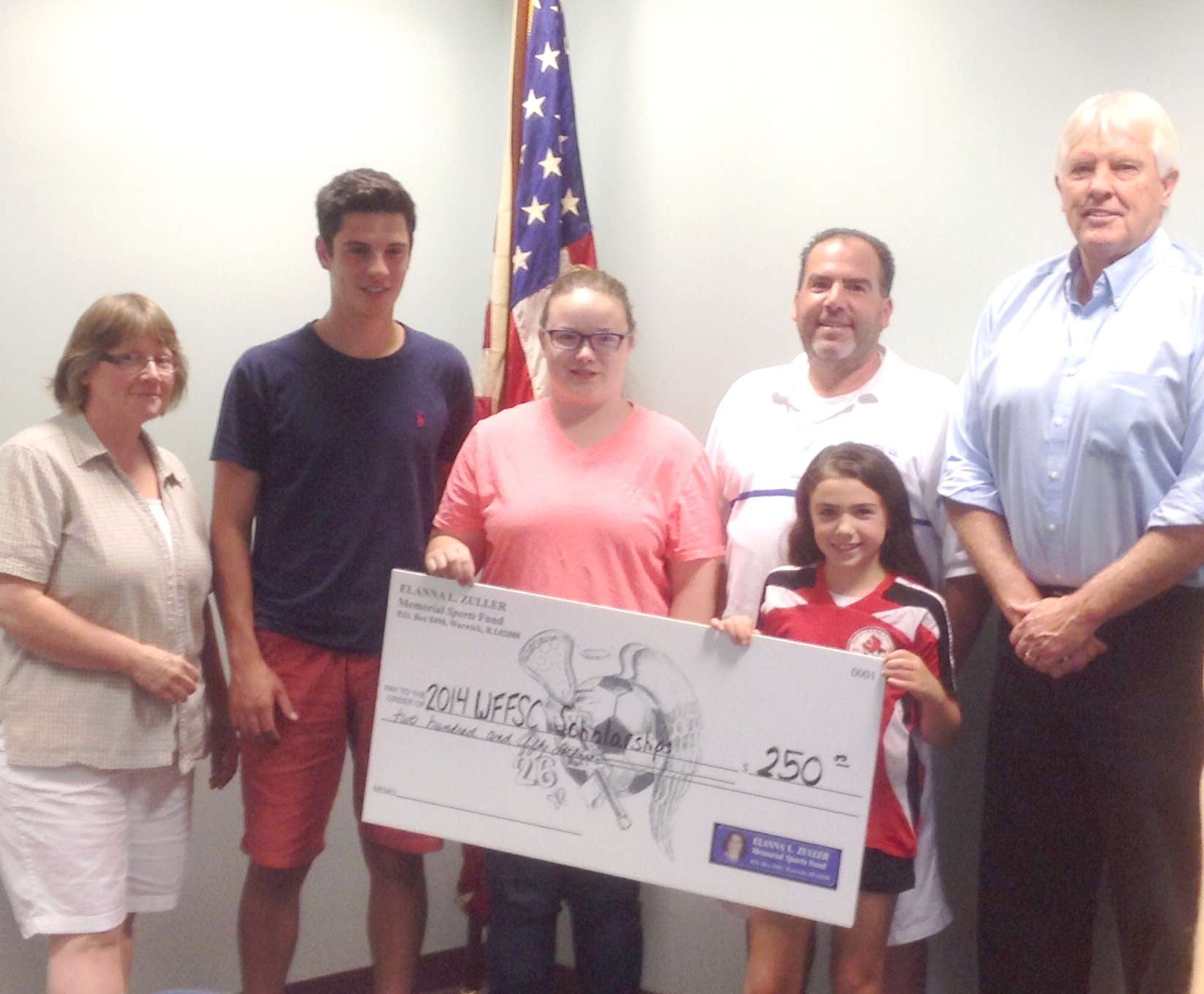 2014 College Scholarship Winners
WFFSC, in collaboration with the Elanna Zuller Memorial Sports Fund, is proud to award scholarships to current and former WFFSC players who are starting their first year of higher education. We are proud to offer this annual award to deserving student athletes who are chosen through an application process. Congratulations to the 2014 recipients!
Pictured: Christine Luiz accepting for Nicole Luiz - Worcester Polytechnic Institute, Christopher Cambio - Hobart and William Smith Colleges, Katelen Pick - Bridgewater State University, Mike Zuller (founder of the Elanna Zuller Memorial Sports Fund), Isabella Zuller, and Doyle Byrd (president of Warwick Fire Fighters Soccer Club). Not pictured: Brandon Iannelli - Community College of RI, Casey Iannelli - Community College of RI.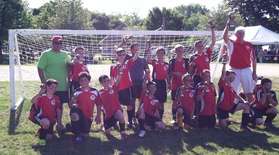 U12 Boys Champs
Friday, June 20
WFFSC does well at NK Father's Day Tournament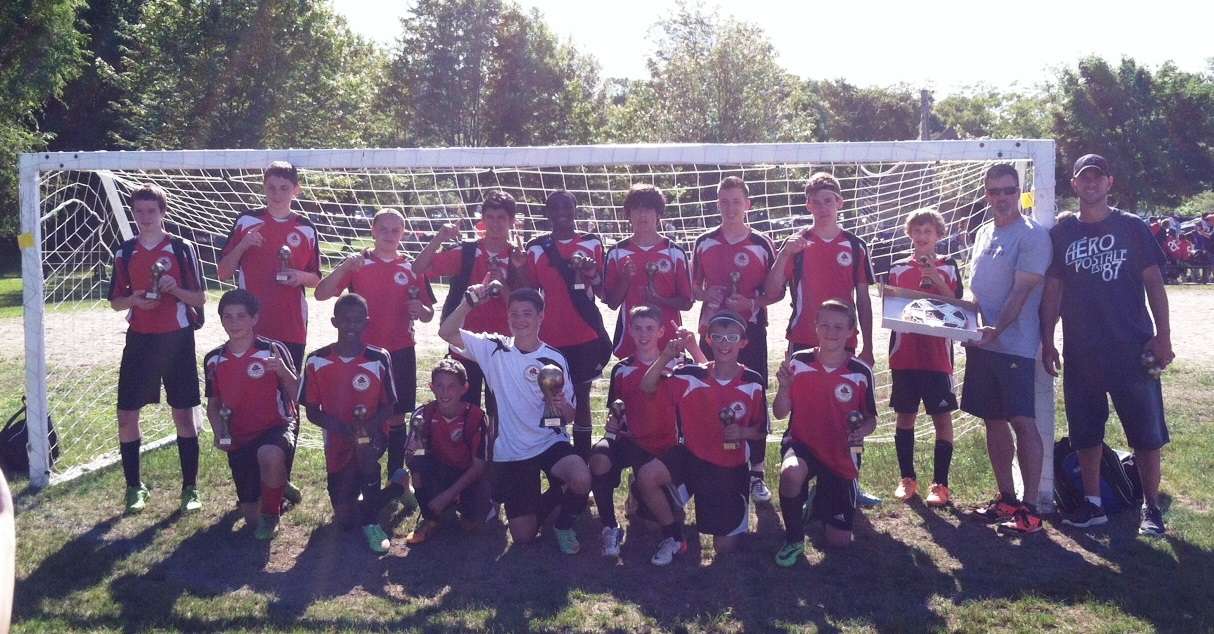 U14 Boys Champs
WFFSC had a dozen teams playing in the NK Father's Day Tournament. All the teams did very well with all five older teams making it through to the playoffs. Three teams won their respective division championships. There were the U12 boys team coached by Ray Ciarlo, the U14 boys team coached by Bill Cocroft, and the U16 boys team coached by Neil French.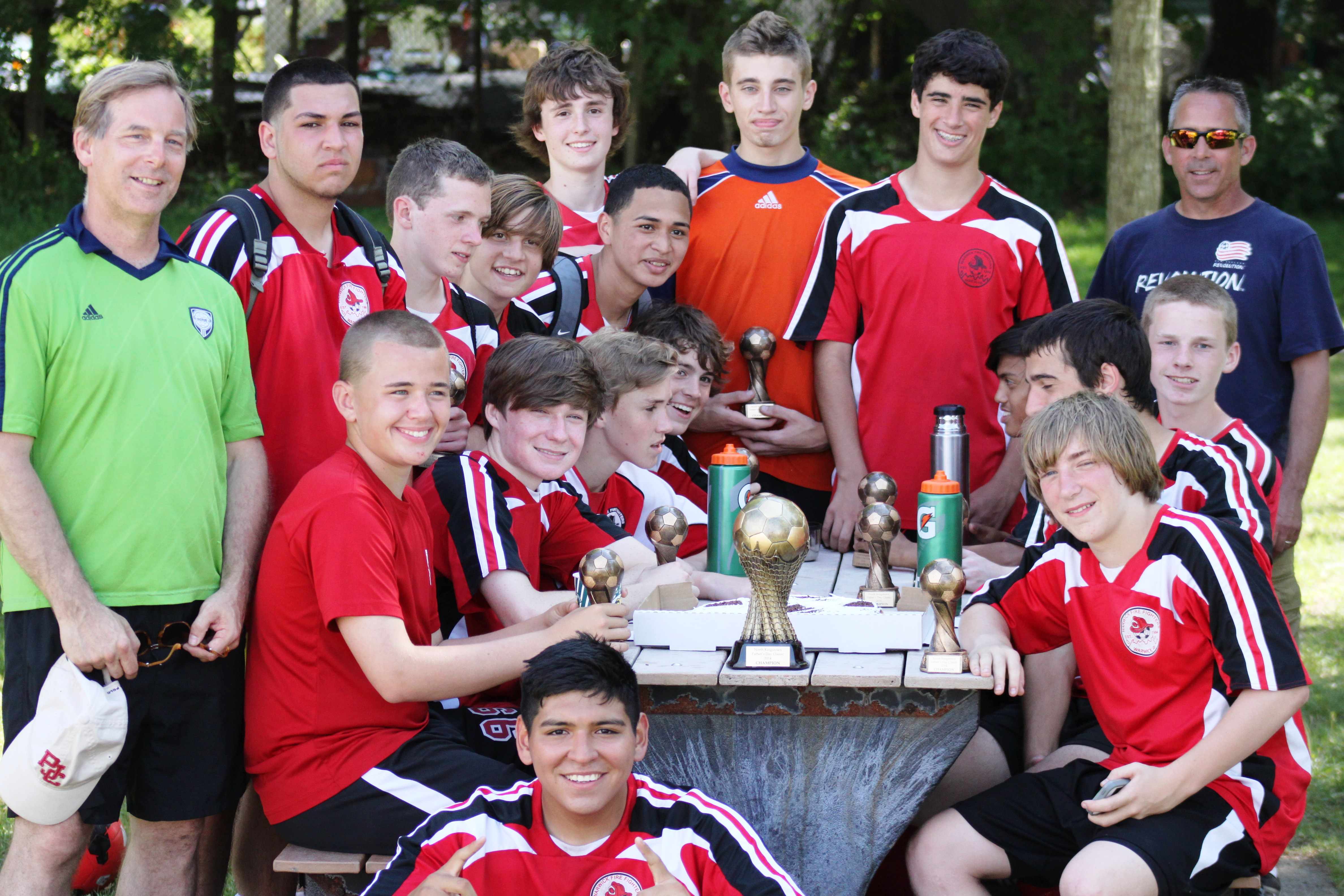 U16 Boys Champs
Sunday, January 24
U8 Girls Having Fun
The U8 Girls team coached by Joelle Beyer and Bob Therien are enjoying the season and their teammates.
Thursday, April 25
Thousand Touches Elite Footskills Clinic for U8/U10 Players
THE CLINIC REGISTRATION HAS BEEN CLOSED DUE TO LARGE NUMBER OF PARTICIPANTS.
This is a clinic that focuses on individual footskills for the younger players. Training is every Tuesday, 5:30-7:00 PM, starting June 18 and running through August 13. Fee is $30 per player.
Player Registration Form
https://www.gotsport.com/asp/application/reg/?ProgramID=20208&Type=PLAYER

Preview Easy Register Form
https://www.gotsport.com/asp/application/easyreg/?ProgramID=20208

Monday, October 18
WFFSC Awards College Scholarships - 2010
Here is a picture of a college scholarship award that we at WFFSC are very proud of. The success of the club has allowed WFFSC to present two $500 college scholarships to a couple of very worthy candidates who were selected from several who applied for the scholarships. The application basically required info about where they were going and an essay about what WFFSC has meant to them. The selections were extremely difficult due to the many highly qualified applicants.
The award recipients for 2010 are Casey Williams and Patrick Luiz. Casey is attending Salve Regina University and Patrick is attending the University of Rhode Island. Both Caeey and Patrick played soccer at WFFSC for many years and were also referees for many of those years.
WFFSC is very proud to be able to award these $500 scholarships to these two highly-qualified students. We wish them the best in their pursuits.
Pictured from left to right: Doyle Byrd, President WFFSC, Patrick Luiz, Casey Williams, Ed Maggiacomo, Treasury WFFSC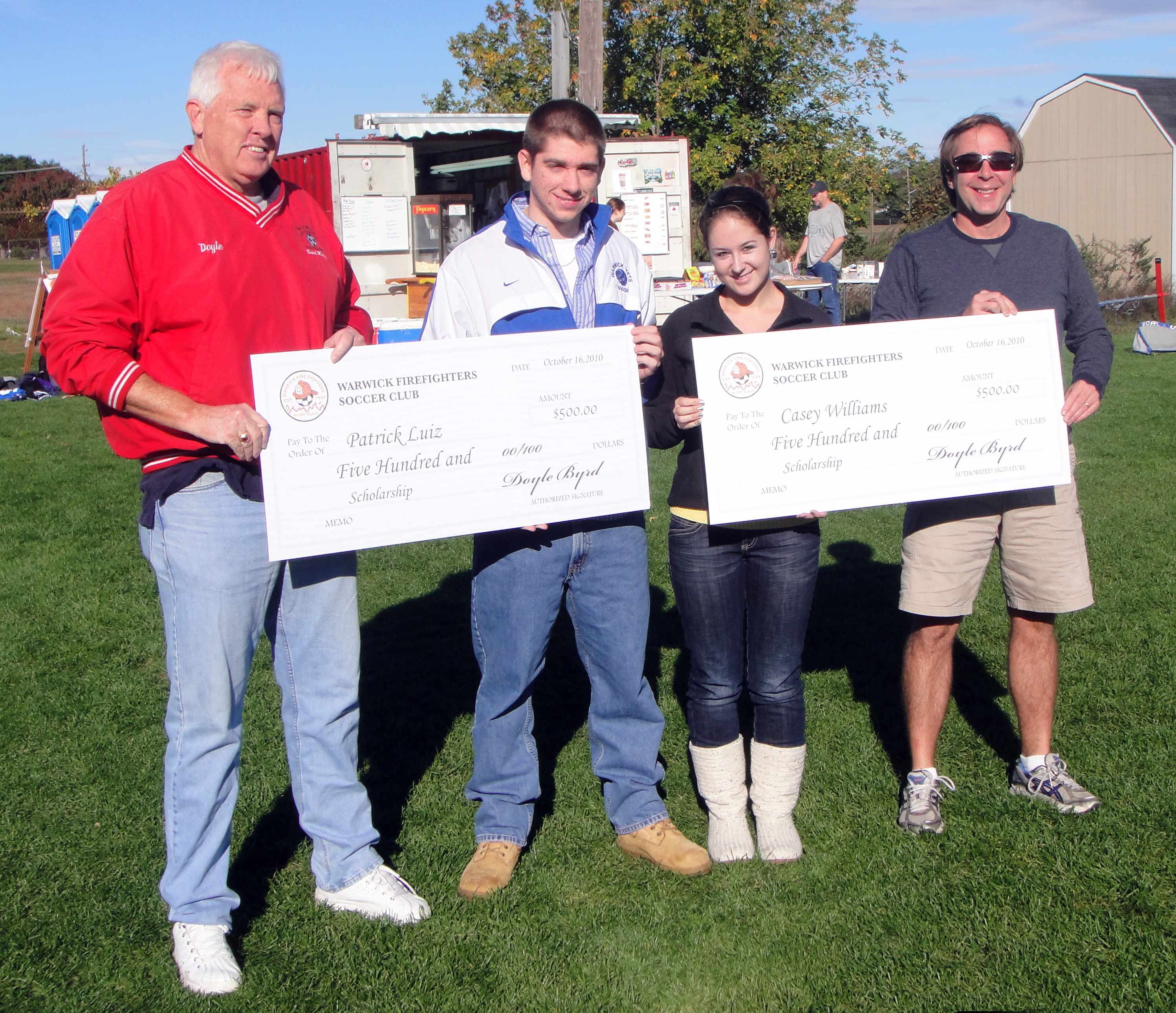 Check Presentation
Friday, November 26
2nd Annual Turkey Trot Thanksgiving pickup games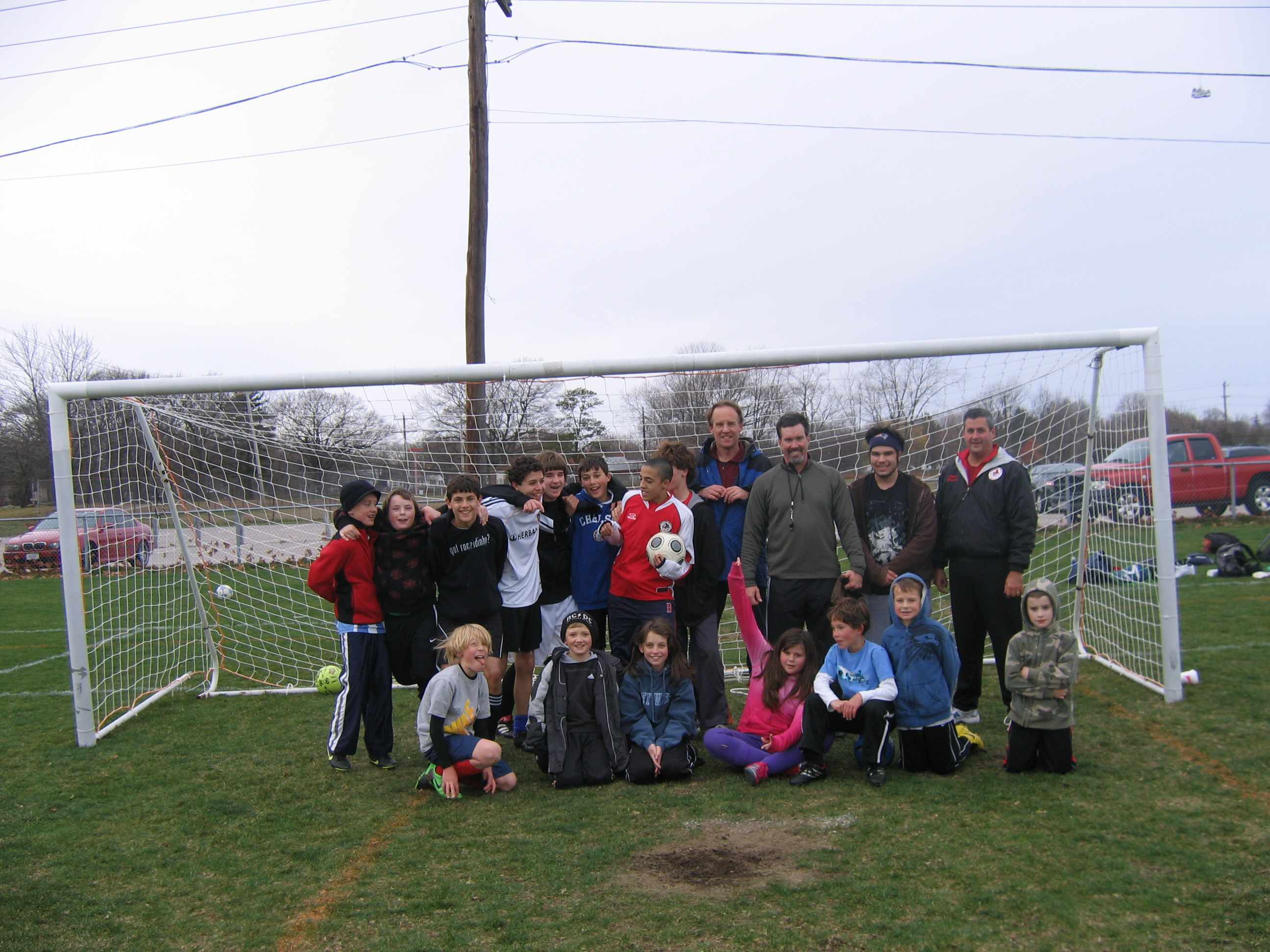 Thanksgiving Day Pickup Game
Several enjoyed a pickup game at Winslow on Thanksgiving morning before heading home to celebrate the holiday.
Friday, July 15
Keeper Training Information
Keeper training for U8-U14 will be 5:30-6:30 PM at Winslow on Wednesdays starting June 19 through Aug 14 except for July 3. Cost is $20.
Please let me know if you have questions.
Thanks
Doyle
Wednesday, November 9
2011 Fall Recreational Champions
2011 Fall Recreational Champions.
U12 Boys - Twins Florists ( Coach Bill Cocroft, Jammie Maccarone, Scott Corcoran)
U12 Girls - Dr Desktop (Coach Paul Bastia)
U15 Boys - Governoir Francis Inn (Coach Neil French)
U15 Girls - MG Commercial (Coach Robert Enright, Bill Johnston)
Wednesday, November 16
2011 U14 GIRLS ANCHOR TEAM FALL SUPERLIGA SPORTSMANSHIP AWARD
2011 FALL SUPERLIGA SPORTSMANSHIP AWARD
U14 Girls Anchor team wins 2011 Superliga award. Coached by Bob Enright and Bill Johnston.
PLAYERS: Tylor Rossi, Molly Lynch, Heather Allsrtom, Erin Plowman, Jordon Wayne, Madison Bastan, Hannah Leahy, Kendra Howard, Hannah Johnston, Hannah Johnson, Emily Fluette, Audry Cryan, Victoria Barrette, Emily Gauthier, Michaela Giuttari, Jessica Kuncio, Mia Maggiacomo, Kit-Kat Raposo, Emma Reilly, and Emily Sheridan. PHOTO TO FOLLOW
---
Thursday, April 12
2012 First Easter Game
2012 Easter game
These players are hard core.
Saturday, March 30
Speed, Agility, and Strength Training - Spring 2013
Dear WFFSC Parent:
WFFSC is pleased to once again offer the Speed, Agility, and Strength training conducted by Greg Murphy of Higher Level Training (http://higherlevelri.com/). Greg has trained players at WFFSC for the past couple of years and the feedback is that the kids love the training.
The training will be held at Winslow on Monday evenings. There will be 10 sessions starting on April 8 and going until June 17 with no session on Memorial Day weekend. Depending on the number of participants, there may be one or more sessions each Monday. A session will be 60-75 minutes of hard training. Once we have the number of participants, then a more definitive schedule will be provided. In order to get more individual attention we would like to keep each session to around 15 participants.
Cost for the entire 10 sessions is $70. The suggested lower age for this training would be about 9 years old. There is no upper limit and many high school and college kids partake in the training.
To register go to one of the following website (Easy one is for existing club members):
Please let me know if you have any questions. Thanks
Doyle
"My daughter loves it and she is learning a lot. Greg is wonderful."
"It is a great program at a great price. My daughter is really enjoying it and would love to do it again."
My daughter "loved it and cannot wait to do it again!"
My kids "love this time with Greg. Their speed and their moves have improved tremendously on the field."
My son "has enjoyed it immensely. Greg is great working with the kids individually and in a group. His skills have already improved and he's enjoying soccer even more. He's become more competitive and more competent."
"I have 2 girls in the clinic, They LOVE IT, Greg is so good with the kids."
My daughter "has had a terrific experience in speed and agility. She was quickly made to feel welcomed and challenged by Greg."
My daughter "is in her second session doing speed, agility and strength training with Greg. She ABSOLUTELY loves it! She wants to do it for as long as its offered. Greg is amazing, patient..fun and has a great rapport with the kids. I would ABSOLUTELY sign her up again anytime its offered."
Tuesday, June 11
High School Player Training
That first week of high school soccer team tryouts can be brutal for players if they are not prepared. First week focuses mainly on player's condition with lots of running. This training in intended to help the players prepare for that first week. Focus is on conditioning, stamina, and soccer skills. Every Monday night starting June 24 at Winslow from 6-8 PM. Cost is $40. Trainers are Bob Enright for the girls and Neil French for the boys.
Sunday, July 7
Info about Fall SuperLiga
Dear Parent of WFFSC Competitive Player,
Hope everyone had a great 4th of July. It is time to start making fall soccer plans.
The focus of WFFSC in the fall is the Rec program where we feel the club provides a strong opportunity for all players to have a fun and enjoyable experience. The younger kids play intra-club games with other WFFSC teams and the older kids (U12 and U15 and sometimes even U10) play both intra-club games as well as play teams from other surrounding clubs. We intend on having the season-ending tournaments for the older divisions as we did last year that seemed to be well-received. Season starts at the beginning of Sept and runs to the first weekend in November. Deadline for registration without incurring late fees is July 31. There is a walkin/informational session at library on July 24 at 7:00 where you can get information about programs or assistance with registration/payments.
The Competitive Program will begin in earnest with tryouts in September to form indoor teams that begin playing in late October for two winter indoor sessions before transitioning to the spring outdoor season. The board is currently in the process of selecting division coordinators who will direct the teams in their division from the execution of the tryouts through the end of the spring season.
WFFSC will also enter teams into the Fall SuperLiga (U10, U12, U14), but this is viewed somewhat like a tournament, which actually it is according to their applications to the state organization. Playing in this tournament is treated as additional soccer for those players (and parents willing to do the driving) that want more soccer above and beyond that provided within the Rec program. These teams typically do not practice since Rec takes up so much of the time. All games are scheduled for Sunday afternoons. Tryouts are not run for this; we just form teams based on who wants to play and what coaches are willing to coach, which in many ways is very similar to how tournament teams are formed. So if you want your child to be placed on a list of those interested in playing on a Fall SuperLiga team (remember Rec comes first), please go to one of the following to register for this. Please register for this even if you have already been in discussions with a coach so we have a good indication of interest. We will do our best to place all interested players, but there is no guarantee that we will be able to place everyone. Please express your interest in playing on a Fall SuperLiga team by July 21 so we can have time to form teams prior to the deadline in early August. If you are placed on a team, then a subsequent registration with payment will be needed.
Player Registration Form
https://www.gotsport.com/asp/application/reg/?ProgramID=21762&Type=PLAYER
Preview Easy Register Form
https://www.gotsport.com/asp/application/easyreg/?ProgramID=21762
So please register for Rec before July 31 so we have the numbers to form the teams. Also if you want to be considered for the extra soccer offered with Fall SuperLiga, please register for that by July 21.
Please let me know if you have any questions.
Thanks
Doyle
Thursday, August 29
U12/U15 Schedules for Bend St
Here is
LINK TO SCHEDULES
for the U12/U15 games that are played at Bend St. For field location look under Field Locations.
Saturday, November 2
U10 Player Training
I am pleased to announce that Bob Enright has volunteered his time to run a special training session at Teamworks for U10 players on Mondays from 4:00-5:00 PM. Focus will be on individual skills such as dribbling, passing, shooting. Bob is the person who ran the successful Footskills clinic the past two summers and is coaching many teams for WFFSC. Cost for 10 sessions is $100 and enrollment is limited to the first 20 players that register. First session is this Monday, Nov 4 at 4:00 at Teamworks. To register go to the following website.
https://www.gotsport.com/asp/application/reg/Default.asp?ProgramID=24096&Type=PLAYER
Please let me or Bob know if you have any questions. ThanksDoyle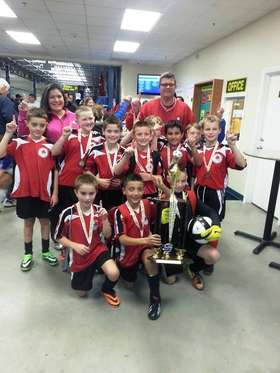 U10 Boys Champions
Monday, December 2
U10 Boys Win Championship at Wide World in Open Division
On Friday, November 29th, the U10 Boys soccer team from Warwick Fire Fighters Soccer Club won first place in the Thanksgiving Tournament "Premier/A Division" held at Wide World of Indoor Sports in North Kingstown. The team was victorious in the championship game after a 5 minute golden goal overtime period and a sudden death shootout.
Pictured front row from left to right, Travis Riess, Blake Santos, Jayden Pereira. Back row left to right, Carlos Andrade, Tyler Carpenter, Ethan Diffley, Austin Kilduff, Brady McGloin, Chris Vargas, J.P. Lockhart, and Connor Preuit. Coaches Margie Santos and Jeff Lockhart. Not pictured are Landon Picillo and Coach Heather Picillo.
Sunday, December 29
College Scholarships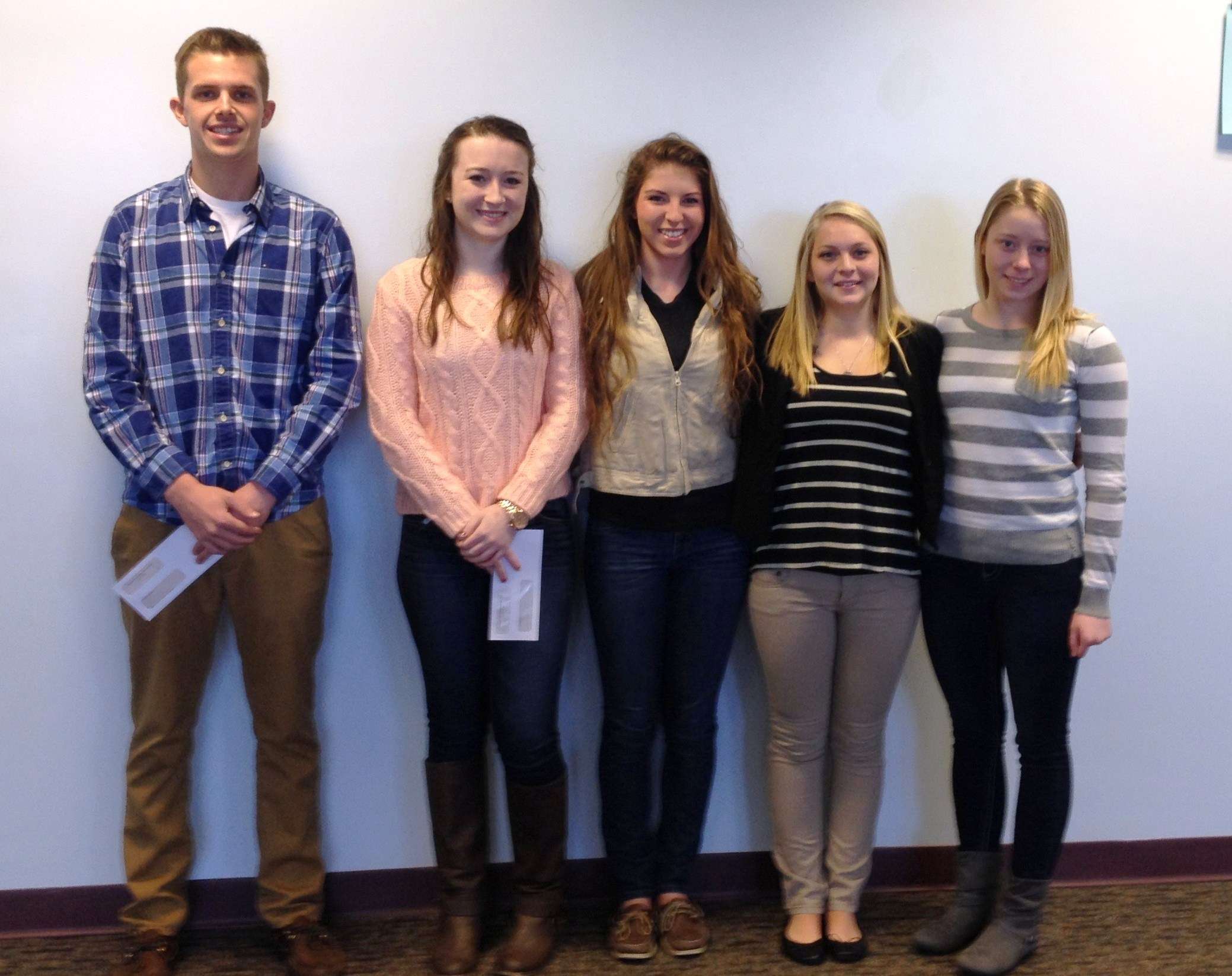 2013 WFFSC College Scholarship Winners
WFFSC in conjunction with the Elanna Zuller Memorial Sports Foundation is extremely pleased to award five $350 scholarships to current and former WFFSC players who are attending their first year of college. The recipients are Bobby Lineberger, Kara McCrudden, Heather Wolfenden, Kayleen Murphy, and Katie Evans.
Wednesday, February 5
Info on NH Memorial Day Tournament
If you have been told by coach to register for the NH tournament, please go to the following:
Thanks
Doyle
Thursday, March 6
Speed, Agility, and Strength Training - Spring 2014
Bob Enright will be running a speed, strength, and agility class on Monday evenings for 10 weeks starting on April 7. Cost is $80. Exact times will be determined based on participants. This will be a new program run by Bob who has been coaching youth sports for 25 years, is a former Shea High track coach, is the current Bishop Keough soccer coach, and was a Honorable Mention All-American track runner. You may register at the following or go to your gotSoccer account. https://www.gotsport.com/asp/application/reg/Default.asp?ProgramID=26203&Type=PLAYER
Saturday, June 14
U16 Boys Win Sportsmanship Award at NH Tournament
Warwick Fire Fighter Boys U16 team played some great soccer in the 22nd Annual Amherst Soccer Tournament over Memorial Day weekend. The team set an excellent example of teamwork and sportsmanship. The team was the proud recipients of the Tim Crisman Memorial Sportsmanship Award that is given by the tournament host and defined by the following.
"A few years ago, Amherst Soccer Club/Hampshire FC and the Town of Amherst lost a great player, son and friend. Tim Crisman was an asset not only to his family and friends but to his teammates and community. This year we will be honoring Tim again by awarding the Tim Crisman Memorial Sportsmanship award to 3 teams participating in the 22nd Annual Memorial Day Classic. A team from the 6v6, 8v8 and 11v11 format will be given awards for showing good sportsmanship. Not only are the players being evaluated but the coaches and parents of the team as well."
Back row: Gabe Diplan , Tyler Ross, Mason Cocroft, Nick Paolino, Liam Strain, Trent Johnson, Ethan White, Evan Marino, Zach White Front row: Bryant Reiss, Kamron Murphy, Cary Fields, Will Hindinger, Ian French, Jack Fitzgerald. Coaches Neil French, Eric Hindinger, and Joe Murphy Not pictured: Alexis Beltran and Sam Capobianco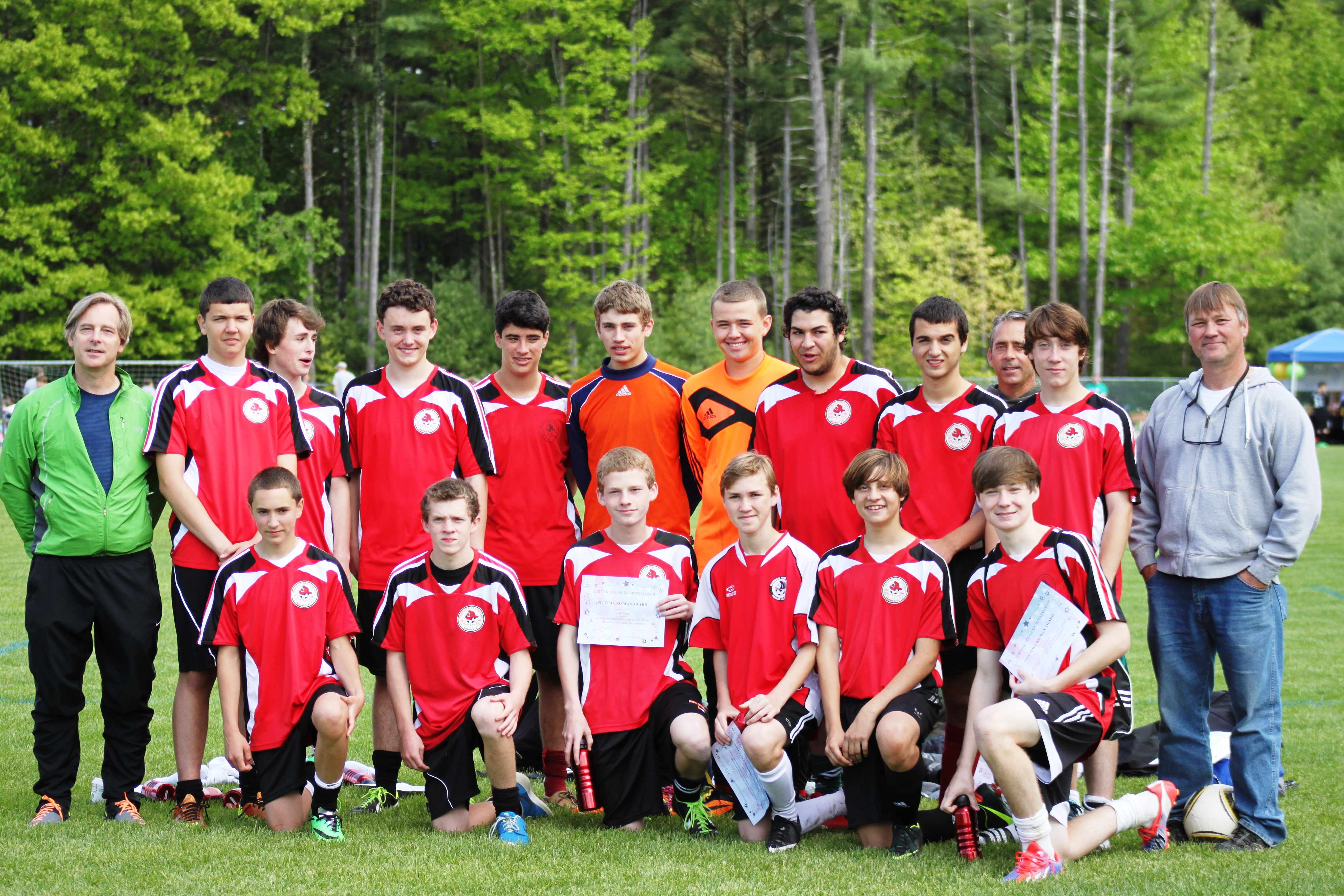 U16 Boys Win Sportsmanship Award