Warwick Fire Fighters Soccer Club: Welcome
Welcome to Warwick Fire Fighters Soccer Club
---
Warwick, RI Soccer Club With Recreational and Competitive Soccer Programs Since 1984. Promoting having fun while learning and playing soccer! We are an all-volunteer, non-profit organization and need YOUR help and support to serve the needs of local children.

Webpage Last Revised: 3:00 PM, 5/2/2016
Weather and Games

Games are on for Monday at Bend St and Winslow.

---

WFFSC Night at the NE Revs

The NE Revs will offer discounted tickets ($20) to WFFSC members for WFFSC Night at the Revs for the game on July 9. Great way for teams to wrap up the season. Teams can tailgate in a parking lot designated for WFFSC members. More info will be distributed as to how to order tickets.

---

Photo Schedule for Rec

The schedule for the team and individual photo shoots has been uploaded to under Handouts in the menu. You can order and prepay (see schedule for instructions) or place order at the field.

---

US Youth Soccer National Championship Tournament

Each year the US Youth Soccer Association has a national Championship Tournament to crown teams from U12-U19 as national Champs. The tournament begins with individual state tournaments (The USYSA RI Championship Tournament) to select Champs to send to the Tournament Regionals held this year in West Virginia.

WFFSC is pleased that 3 teams have entered into the RI State Championship Tournament. These teams are:

U12 Boys Coached By Carlos Andrade and Jeff Lockhart

U11 Girls Coached by Bob Enright and Sarah Lockhart (participating in the U12 division)

U14 Girls Coached by Bob Enright

Some games will be played at Winslow. U12 Boys May 6 6 PM; U11 Girls May 3 5:30 PM; U14 Girls Apr 28 6PM. Please come out and support our teams and watch some high-level soccer matches.

---

WFFSC Offering Spring Training Opportunities

WFFSC is pleased to offer two training classes this spring at Winslow.

First is a footskills, agility, and strength clinic run by Bob Enright on Friday nights 5:30-7:00 PM. Fee is $50 for 7 sessions starting April 29 and running to June 16 (no class on Friday May 27 due to holiday).

Second is a keeper clinic run by Joe Burns on Wednesday nights 6-7 PM. Fee is $50 for 8 sessions starting April 27 and running to June 15.

---

WFFSC Night At NE Revs

WFFSC is giving a free ticket to each Competitive Player (must be registered for spring in order to redeem) to go see a NE Revs Game. Voucher is under Handouts.

---

NH Tournament Registration/Payment

If your coach told you to pay via gotSoccer, use this registration link.

WFFSC has 25 teams (new record) going to NH Tournament over Memorial Day weekend. What a tremendous turnout that will be a great weekend.

---

WFFSC Volunteers Recognized

Three longtime volunteers at WFFSC have been recognized for their dedication by Soccer RI, the state governing organization.

Jack Groh enters the SRI Hall Of Fame. Jack has been on the WFFSC Board of Directors for about 20 years and has been the Director of Coaches for most of that time. Jack coached for many years and is also a qualified referee. He is very involved with WFFSC and responsible for much of the club's success. Jack also is the Director of Environment for the NFL and is just returning from 2 months in San Fran and Hawaii where he directs all the environmental programs for the Super Bowl and Pro Bowl. He also performs in a similar position for the NCAA Football Championship game recently held in Az.

Bob Enright was awarded Registrar of the Year by SRI. This award comes directly from SRI as they deem the best registrar in the state. Bob has been with WFFSC for many years, has been registar for a long time, is the Girls Competitive Director, directs all the training, and coaches many, many teams. Bob is one of the mainstays at WFFSC that makes the club the success it is today.

Finally Doyle Byrd was awarded Club President of the Year.

---

New Age Divisions From US Youth Soccer (for Fall 2016)

US Youth Soccer is making changes to the soccer programs. One significant change is that they are modifying the age division definition. Currently August 1 is used as the cutoff date to determine the age division for a player and team. Starting in Fall 2016 the date will move to Jan 1 so that teams and age divisions will be based on the year in which the player was born.

This will have an impact on team formations starting in the Fall 2016.

An age matrix form can be found under Handouts that provide info on how to determine the age division based on the year the player was born.

Again this goes into affect in the Fall of 2016 so for remainder of the 2015-2016 year (indoor and spring) the age divisions will remain as is.

---

2015 College Scholarships

WFFSC is extremely proud to once again team with the Elanna Zuller Memorial Sports Fund to give scholarships to high school graduates heading off to college this fall. Five $300 scholarships are awarded to this year's recipients:

Erin Plowman

Courtney Crowley

Liam Strain

Josh Sandin

Caitlin Galamaga

We wish them all great success!!!

---

Player Transfers Between Clubs

To transfer from one club to another club use this PLAYER TRANSFER webpage.

---

WFFSC Spring Rec Program

Rec Schedules are Posted under Handouts

Registrations have been closed.

WFFSC will have a full rec program for the spring season. This includes practices during the week with games on Saturday mornings. Players playing in Competitive Program are encouraged to play Rec as well to get more soccer. Games will begin in early April and go until mid-June. No games Memorial Day weekend.

---

WFFSC Competitive Uniforms

The primary uniform will be a red jersey with black shorts with numbers on them and black socks.The secondary shirt will be black.

Website for Ordering WFFSC Items

---

WFFSC Needs Sponsors!

In order to keep fees down, the club relies on sponsors to help reduce the costs for each team. See the item in the menu on the left for additional information on sponsorship packages.

---

WFFSC Spring Competitive Program Registrations

To Register for WFFSC's Spring Competitive Program please go to the following webpage. You should only register if you have been confirmed by a coach to have been placed on a team roster.

Superliga schedules, standings, and field directions are here.
Note: No pets or smoking allowed on Winslow fields.
WFFSC

PO Box 8605

Warwick, RI 02888
Are you ready for this
Sunday, March 27
Great season for U8 Girls
Girls U-8
Final record 6-2-1
Great Season!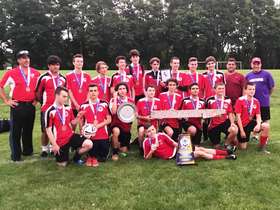 U8 Girls
Tuesday, January 26
The WFFSC Over-30 Team Wins Championship at Wide World
It is not only the kids at WFFSC that win championships but the adults (many who are also coaches) that can also practice what they preach. They can walk the walk as well as talk the talk. :)
Congrats to the team!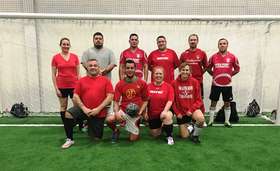 Over-30 Champs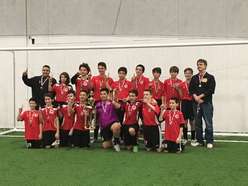 U14 Boys Champs
Monday, January 18
U14 Boys Are Session 1 Champs
The U14 Boys team coached by Ray Ciarlo and Paul Galamaga won the session 1 playoffs in dramatic fashion to be the champs of the first indoor session. Congrats!!!
Wednesday, January 6
U10 Boys Finish Runner-up in Holiday Tournament
Tuesday, December 1
U10 Boys Win Thanksgiving Tournament A Division at Wide World
Back row, from left to right J. Caldeira, Aiden Preuit, Cole Matthews, Edrees Heidari, Joshua Escamilla, Logan Matthews, Sean Matthews (Dad)
Bottom row, from left to right, Haiden Riess, Logan Caldeira, Braydon Fagundes, Domenic Silva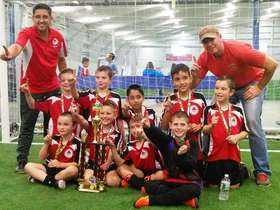 Champs
Tuesday, December 1
U12 Girls Win Thanksgiving Tournament
The WFFSC U12 Girls won the Wide World Thanksgiving Tournament with a 3-1 victory in the championship game.
Front row: Katie Shaheen, Kylie Whitney, Madison DiPetrillo, Leah Fung
Back row: Coach Doyle Byrd, Julia Caldeira, Hailey Perry, Samantha Laurent, Paige Johnson, Alexis Maloney, Coach Steve Laurent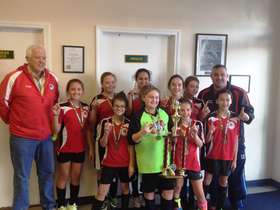 Champs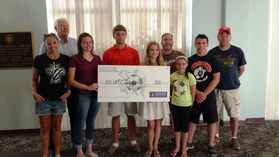 2015 Scholarship Presentation
Friday, August 21
2015 Scholarship Winners
WFFSC in conjunction with the Elanna Zuller Memorial Sports Foundation is extremely pleased to award five $300 scholarships to current and former WFFSC players. The recipients for 2015 are Erin Plowman, Courtney Crowley, Liam Strain, Josh Sandin, and Caitlin Galamaga.
Saturday, January 10
U8 Girls Have Fantastic and Exciting Playoff
The U8 girls team coached by Jason Dorrance had an incredibly exciting set of playoff games at Teamworks for the conclusion of the first session. In the semi-finals they rallied back from a deficit in the last 5 minutes to win 6-3 with a flurry of goals.
In the championship game it was back and forth for both halves with many exciting plays both on goal opportunities as well as the great play by the keeper to stop the other team. It was a nail-biter and in the end the team lost 4-3, but it was so exciting to watch and wonderful to see how well the team played.
Congratulations to the girls and coaches!!!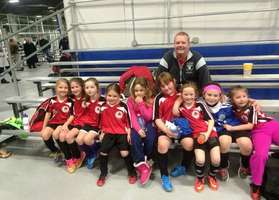 U8 Girls At Teamworks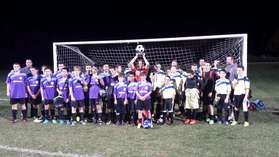 U15 Boys Champs Aurora Electric
Thursday, November 6
Kick or Treat Tournament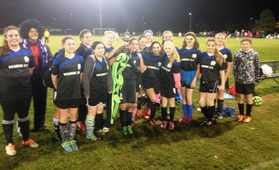 U15 Girls Champs Keurig
There was a season-ending tournament for U12 and U15 rec teams where the kids and coaches dressed up and played.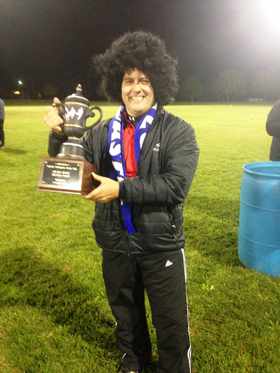 Coach Paul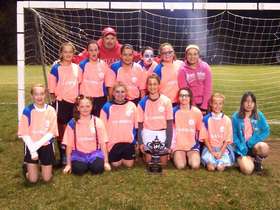 U12 Girls Champs RI Tile
Thursday, November 6
More Kick or Treat Tournament Photos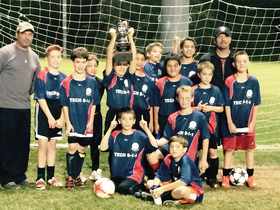 U12 Boys Champs Tech 9-1-1
Coach Mike and Player Cassie
Saturday, September 6
2014 College Scholarships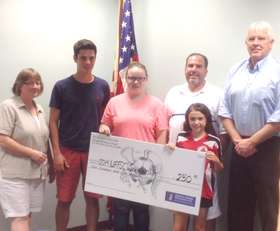 2014 College Scholarship Winners
WFFSC, in collaboration with the Elanna Zuller Memorial Sports Fund, is proud to award scholarships to current and former WFFSC players who are starting their first year of higher education. We are proud to offer this annual award to deserving student athletes who are chosen through an application process. Congratulations to the 2014 recipients!
Pictured: Christine Luiz accepting for Nicole Luiz - Worcester Polytechnic Institute, Christopher Cambio - Hobart and William Smith Colleges, Katelen Pick - Bridgewater State University, Mike Zuller (founder of the Elanna Zuller Memorial Sports Fund), Isabella Zuller, and Doyle Byrd (president of Warwick Fire Fighters Soccer Club). Not pictured: Brandon Iannelli - Community College of RI, Casey Iannelli - Community College of RI.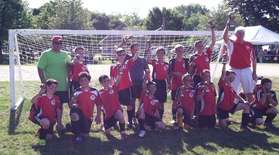 U12 Boys Champs
Friday, June 20
WFFSC does well at NK Father's Day Tournament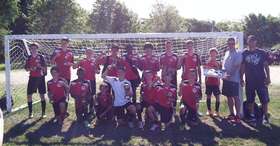 U14 Boys Champs
WFFSC had a dozen teams playing in the NK Father's Day Tournament. All the teams did very well with all five older teams making it through to the playoffs. Three teams won their respective division championships. There were the U12 boys team coached by Ray Ciarlo, the U14 boys team coached by Bill Cocroft, and the U16 boys team coached by Neil French.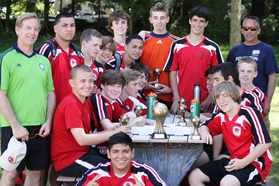 U16 Boys Champs
Sunday, December 29
College Scholarships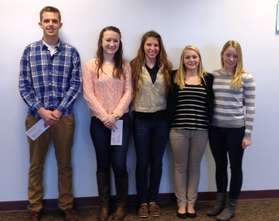 2013 WFFSC College Scholarship Winners
WFFSC in conjunction with the Elanna Zuller Memorial Sports Foundation is extremely pleased to award five $350 scholarships to current and former WFFSC players who are attending their first year of college. The recipients are Bobby Lineberger, Kara McCrudden, Heather Wolfenden, Kayleen Murphy, and Katie Evans.
Saturday, June 14
U16 Boys Win Sportsmanship Award at NH Tournament
Warwick Fire Fighter Boys U16 team played some great soccer in the 22nd Annual Amherst Soccer Tournament over Memorial Day weekend. The team set an excellent example of teamwork and sportsmanship. The team was the proud recipients of the Tim Crisman Memorial Sportsmanship Award that is given by the tournament host and defined by the following.
"A few years ago, Amherst Soccer Club/Hampshire FC and the Town of Amherst lost a great player, son and friend. Tim Crisman was an asset not only to his family and friends but to his teammates and community. This year we will be honoring Tim again by awarding the Tim Crisman Memorial Sportsmanship award to 3 teams participating in the 22nd Annual Memorial Day Classic. A team from the 6v6, 8v8 and 11v11 format will be given awards for showing good sportsmanship. Not only are the players being evaluated but the coaches and parents of the team as well."
Back row: Gabe Diplan , Tyler Ross, Mason Cocroft, Nick Paolino, Liam Strain, Trent Johnson, Ethan White, Evan Marino, Zach White Front row: Bryant Reiss, Kamron Murphy, Cary Fields, Will Hindinger, Ian French, Jack Fitzgerald. Coaches Neil French, Eric Hindinger, and Joe Murphy Not pictured: Alexis Beltran and Sam Capobianco
U16 Boys Win Sportsmanship Award