Warwick Fire Fighters Soccer Club: Welcome
Welcome to Warwick Fire Fighters Soccer Club
---
Warwick, RI Soccer Club With Recreational and Competitive Soccer Programs Since 1984. Promoting having fun while learning and playing soccer! We are an all-volunteer, non-profit organization and need YOUR help and support to serve the needs of local children.

Webpage Last Revised: 10:00 AM, 1/12/2015
Indoor Training Sessions

There are a couple of training sessions being offered the second session of indoor with one on goalie keeping and one on soccer skills. See WFFSC News for info.

Spring Soccer Programs

WFFSC will have both a Rec and Competitive Programs again this spring. Both start in early April and run until mid-June or so.

The Rec Program provides an environment where kids can learn and develop their soccer skills in a non-competitive environment. All players that register by deadline (Mar 1) are guaranteed to be placed on a team. Teams practice once a week and play a game against other club teams on Saturday mornings. Age divisions are U6, U8, U10, U12, and U15. Players should be 4 years old before April 1 and cannot have turned 15 before August 1, 2014. To register go to the following or to one of the walkin registration/informational sessions.

Spring Rec Player Registration

Thurs, Jan 22 6;30-8:30 PM

Wed, Feb 25 630-8:30 PM

Both at Warwick Public Library on Sandy Lane

The Competitive Program offers players a higher level of soccer with games played against teams from other clubs in RI. These teams are 'select' in that players have to tryout and selected for teams. Most of the current indoor teams will play in spring Competitive. Only register if you have been told to do so by a coach.

Spring Competitive Player Registration

Coaches also must register and undergo a BCI check. To register as a coach, go to the following:

---

Competitive Soccer

The indoor competitive soccer teams are midway through the first session. Second session will follow. The outdoor teams will be determined and submitted to the league towards mid-to-late January with final rosters due by mid-February. Stay tuned for more info.

---

---

2014 College Scholarships Awarded

WFFSC along with the Elanna Zuller Memorial Sports Foundatation is extremely pleased and proud to be able to present scholarships to present and former WFFSC players. The recipients are Nicole Luiz, Katelyn Pick, Chris Cambio, Casey Iannelli, and Brandon Iannelli.

---

Player Transfers Between Clubs

To transfer from one club to another club use this PLAYER TRANSFER webpage.

---

Fundraiser

Moe's Southwest Grill just recently opened on RT 2 in Warwick and is giving a WFFSC night where 15% of all purchases will be donated to the club to be used for a new concession stand at New Winslow. The date is Thursday, Jan 29 5-8 PM. They are located in the StopNShop plaza at Cowesett Road (Christmas Tree Shop, Lowe's, Applebee's, etc). Please print the flyer under handouts and come out to support WFFSC.

---

Fall SuperLiga Sportsmanship Awards

It is an honor to report that two WFFSC team won the SuperLiga Sportsmanship Awards. The teams are the U9 girls team coached by Sarah Lockhart and the U14 girls team coached by Bob Enright. This is the fifth award for Coach Bob which is certainly a tribute to him. Having players and coaches being recognized for their sportsmanship is truly an honor for the club. Congratulations to all the players on this team and their coaches.

---

WFFSC Needs Sponsors!

In order to keep fees down, the club relies on sponsors to help reduce the costs for each team. See the item in the menu on the left for additional information on sponsorship packages.

---

WFFSC Soccer Items Including Competitive Uniforms

There are several items such as jackets and bags that you can personalize for your WFFSC player. To see the options, visit the following website for Elite Embroidery. For competitive unforms, select 'online stores' and find the game jersey (link to WFFSC store). You should order the uniform set that includes both a red and white jersey and shorts.

---

New Coaching Activities

Ten weeks worth of training games and activities for U6 and U8 coaches (some can be used for younger U10 players as well) Go to "handouts" or click this link to Ten Practice sessions.

---

Please check both COACH HANDOUTS and LINKS sections for lots of new soccer coaching materials.

---

Looking for some awesome soccer skills videos? Go to YouTube's Soccer Video Main Page for the latest soccer learning videos.

---

The Offside Rule: Explained

We had a very lively debate at the field recently between coaches, players, referees and board members about the infamous Offside Rule. Click the link here to see an animated explanation of the rule.
Click Here for Animated Offside Rule Explanation.

---

2013 College Scholarships Awarded

WFFSC along with the Elanna Zuller Memorial Sports Foundation is extremely pleased and proud to be able to present scholarships to present and former WFFSC players. The recipients are Bobby Lineberger, Kara McCrudden, Heather Wolfenden, Kayleen Murphy, and Katie Evans all who played many years with WFFSC. See photo at the bottom of this page.
Note: No pets or smoking allowed on Winslow fields.
PO Box 8605

Warwick, RI 02888

401-736-4340
Are you ready for this
Saturday, January 10
U8 Girls Have Fantastic and Exciting Playoff
The U8 girls team coached by Jason Dorrance had an incredibly exciting set of playoff games at Teamworks for the conclusion of the first session. In the semi-finals they rallied back from a deficit in the last 5 minutes to win 6-3 with a flurry of goals.
In the championship game it was back and forth for both halves with many exciting plays both on goal opportunities as well as the great play by the keeper to stop the other team. It was a nail-biter and in the end the team lost 4-3, but it was so exciting to watch and wonderful to see how well the team played.
Congratulations to the girls and coaches!!!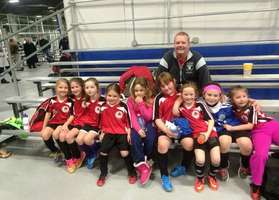 U8 Girls At Teamworks
Wednesday, September 17
Progress on New Winslow Fields
Construction is progressing on the New Winslow Fields. Sprinklers are expected in next week or so and then fill and sod. (Oct 4)
Sprinklers have been installed and sod laid on big field. (Oct 10)
Monday, October 13
More Photos of New Winslow Field
New Field Approved by Sydney. :)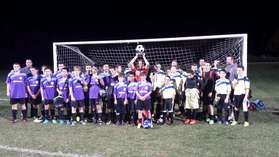 U15 Boys Champs Aurora Electric
Thursday, November 6
Kick or Treat Tournament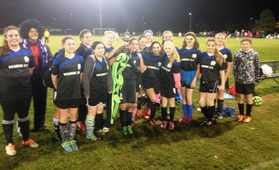 U15 Girls Champs Keurig
There was a season-ending tournament for U12 and U15 rec teams where the kids and coaches dressed up and played.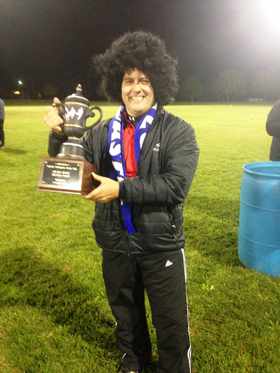 Coach Paul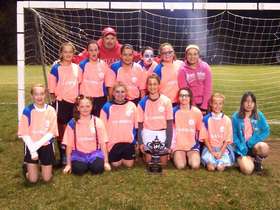 U12 Girls Champs RI Tile
Thursday, November 6
More Kick or Treat Tournament Photos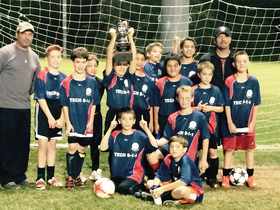 U12 Boys Champs Tech 9-1-1
Coach Mike and Player Cassie
Saturday, September 6
2014 College Scholarships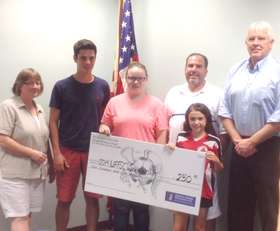 2014 College Scholarship Winners
WFFSC, in collaboration with the Elanna Zuller Memorial Sports Fund, is proud to award scholarships to current and former WFFSC players who are starting their first year of higher education. We are proud to offer this annual award to deserving student athletes who are chosen through an application process. Congratulations to the 2014 recipients!
Pictured: Christine Luiz accepting for Nicole Luiz - Worcester Polytechnic Institute, Christopher Cambio - Hobart and William Smith Colleges, Katelen Pick - Bridgewater State University, Mike Zuller (founder of the Elanna Zuller Memorial Sports Fund), Isabella Zuller, and Doyle Byrd (president of Warwick Fire Fighters Soccer Club). Not pictured: Brandon Iannelli - Community College of RI, Casey Iannelli - Community College of RI.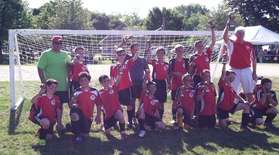 U12 Boys Champs
Friday, June 20
WFFSC does well at NK Father's Day Tournament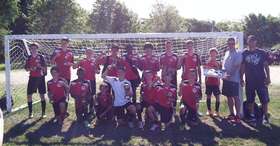 U14 Boys Champs
WFFSC had a dozen teams playing in the NK Father's Day Tournament. All the teams did very well with all five older teams making it through to the playoffs. Three teams won their respective division championships. There were the U12 boys team coached by Ray Ciarlo, the U14 boys team coached by Bill Cocroft, and the U16 boys team coached by Neil French.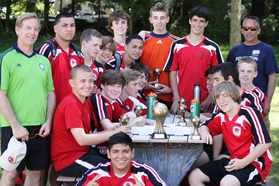 U16 Boys Champs
Sunday, December 29
College Scholarships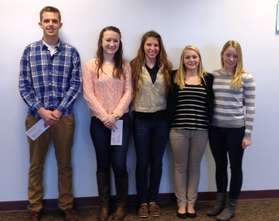 2013 WFFSC College Scholarship Winners
WFFSC in conjunction with the Elanna Zuller Memorial Sports Foundation is extremely pleased to award five $350 scholarships to current and former WFFSC players who are attending their first year of college. The recipients are Bobby Lineberger, Kara McCrudden, Heather Wolfenden, Kayleen Murphy, and Katie Evans.
Saturday, June 14
U16 Boys Win Sportsmanship Award at NH Tournament
Warwick Fire Fighter Boys U16 team played some great soccer in the 22nd Annual Amherst Soccer Tournament over Memorial Day weekend. The team set an excellent example of teamwork and sportsmanship. The team was the proud recipients of the Tim Crisman Memorial Sportsmanship Award that is given by the tournament host and defined by the following.
"A few years ago, Amherst Soccer Club/Hampshire FC and the Town of Amherst lost a great player, son and friend. Tim Crisman was an asset not only to his family and friends but to his teammates and community. This year we will be honoring Tim again by awarding the Tim Crisman Memorial Sportsmanship award to 3 teams participating in the 22nd Annual Memorial Day Classic. A team from the 6v6, 8v8 and 11v11 format will be given awards for showing good sportsmanship. Not only are the players being evaluated but the coaches and parents of the team as well."
Back row: Gabe Diplan , Tyler Ross, Mason Cocroft, Nick Paolino, Liam Strain, Trent Johnson, Ethan White, Evan Marino, Zach White Front row: Bryant Reiss, Kamron Murphy, Cary Fields, Will Hindinger, Ian French, Jack Fitzgerald. Coaches Neil French, Eric Hindinger, and Joe Murphy Not pictured: Alexis Beltran and Sam Capobianco
U16 Boys Win Sportsmanship Award