Warwick Fire Fighters Soccer Club: Welcome
Welcome to Warwick Fire Fighters Soccer Club
---
Warwick, RI Soccer Club With Recreational and Competitive Soccer Programs Since 1984. Promoting having fun while learning and playing soccer! We are an all-volunteer, non-profit organization and need YOUR help and support to serve the needs of local children.

Webpage Last Revised: 8:00 AM, 4/18/2014
Games Saturday

It will be chilly to start the day so be sure to bundle up both kids and parents. Stay warm.

---

Spring Rec Schedule

Rec schedule is posted under Handouts. The schedule gives the teams, coaches, and game schedule.

Team and Individual Photo Schedule also given under Handouts.

---

Spring Competitive Program

WFFSC set another record on the number of Competitive teams this spring with 34 teams participating in SuperLiga. Teams will be competing at all levels and the club is proud to be able to enter a team at the topmost competitive level in most divisions.

---

Speed, Strength, Agility Training

Training will be provided by Bob Enright for 10 weeks this spring. See WFFSC News for info and registration.

---

Amherst NH Memorial Day Tournament

Each year many teams from WFFSC go to NH for tournament over Memorial Day weekend. This year there are 20 teams participating in the tournament, which is a record number. About 200 players will be playing with many families staying in the same hotels (had to block rooms at two hotels to accommodate all the families). It should be a great weekend.

---

Summer Camps

There are three camps this summer.

The Kent County Soccer Camp held at Hendricken will be July 7-11.

The Brian Young Soccer Camp will be at Winslow July 21-25.

British Challenger Camp will be at Winslow August 18-23.

---

2013 College Scholarships Awarded

WFFSC along with the Elanna Zuller Memorial Sports Foundation is extremely pleased and proud to be able to present scholarships to present and former WFFSC players. The recipients are Bobby Lineberger, Kara McCrudden, Heather Wolfenden, Kayleen Murphy, and Katie Evans all who played many years with WFFSC. See photo at the bottom of this page.

---

Team Sportsmanship Award

Congratulations to the U14 Boys team coached by Bill Cocroft for winning the Team Sportsmanship Award in 2013 Fall SuperLiga. These types of awards should make everyone at WFFSC proud since it is a shining example of what makes this club special. Each player and every coach should be immensely proud of this award.

---

Player Transfers Between Clubs

To transfer from one club to another club use this PLAYER TRANSFER webpage.

---

New Sponsor

WFFSC is pleased to have 2nd Time Around Sports as a sponsor.

Special package offer of cleats, soccer ball, and shinguards.

---

Special Recognition for Bob Enright

It is a pleasure to announce that Soccer RI has given a Special Adult Recognition award to Bob Enright to recognize all the time and effort he gives volunteering for the kids in RI. As many of you know (since he coaches so many teams), Bob is always willing to do whatever is necessary to allow kids to play. He coaches many teams in both Competitive and Rec. He is both the Competitive Director and Registrar for WFFSC and both of these are very demanding positions, both in time and ability. He runs special clinics such as the 1000 Touches Footskills Clinic last summer, the Footskills and Keeper clinics this winter, and the upcoming Speed and Agility clinics planned for this spring.

WFFSC is extremely fortunate to have Bob who gives so much of his time volunteering for the kids. Please congratulate Bob next time you see him and tell him thanks for all he does. Without Bob the club would not be what it is today.

---

SuperLiga Sportsmanship Awards

It is an honor to report that two WFFSC teams won SuperLiga Sportsmanship Awards. The teams are the U14 Rhody and U19 Classic teams with both coached by Bob Enright. Having players and coaches being recognized for their sportsmanship is truly an honor for the club. Congratulations to Bob and all the players on this award.

---

WFFSC Needs Sponsors!

In order to keep fees down, the club relies on sponsors to help reduce the costs for each team. See the item in the menu on the left for additional information on sponsorship packages.

---

WFFSC Soccer Items Including Competitive Uniforms

There are several items such as jackets and bags that you can personalize for your WFFSC player. To see the options, visit the following website for Elite Embroidery. For competitive unforms, select 'online stores' and find the game jersey (link to WFFSC store). You should order the uniform set that includes both a red and white jersey and shorts.

---

New Coaching Activities

Ten weeks worth of training games and activities for U6 and U8 coaches (some can be used for younger U10 players as well) Go to "handouts" or click this link to Ten Practice sessions.

---

Please check both COACH HANDOUTS and LINKS sections for lots of new soccer coaching materials.

---

Looking for some awesome soccer skills videos? Go to YouTube's Soccer Video Main Page for the latest soccer learning videos.

---

The Offside Rule: Explained

We had a very lively debate at the field recently between coaches, players, referees and board members about the infamous Offside Rule. Click the link here to see an animated explanation of the rule.
Click Here for Animated Offside Rule Explanation.

---

Special Recognition for Mark Laurie

It is a great honor to announce that a Special Recognition Award has been given by Soccer RI to Mark Laurie for his many years of volunteering for the kids of the club. Mark has given countless time and effort to WFFSC for many years.

Mark as many of us started at WFFSC as a coach for his kids. He started coaching over 20 years ago and now his kids are grown and they have started coaching. Mark joined the board of WFFSC about 15 years ago and has been an anchor of the board ever since.

Mark wears many hats for WFFSC. While he is the VP of the club, his biggest contributions come from being the Field Director and Referee Coordinator, both of which take significant time and effort.

When you go to Winslow and the fields look great with freshly cut grass and newly painted lines, then Mark is the one to thank. Winslow has some of the best fields in the state and all of this is attributable to Mark's dauntless commitment to the fields.

I have often heard that the position of Referee Coordinator is the most time-consuming and thankless position for a volunteer. Luckily WFFSC has had a great one in Mark for many, many years. Mark takes special pride in his refs and gives them the training and attention needed to make them the best refs possible. In addition to the training and mentoring and constant evaluating, Mark also does all the ref assignments each week for both Rec and Competitive teams. With the number of games played by WFFSC teams, this is a very time-consuming process that requires significant attention. I think we all have gotten into the mode of thinking that refs just show up ready to ref a game and sometimes forget the incredible amount of time and dedication it takes to ensure that this happens.

So it is especially pleasing to see Mark get some recognition for all that he does.

If you are at Winslow for a game and you see Mark, be sure to congratulate him and say Thanks for all the work he does to make the club the success it is.

---

College Scholarship Awards for 2012

WFFSC is extremely proud to present the recipients of the WFFSC 2012 College Scholarships. This year, thanks to a generous donation from the ELANNA L. ZULLER Memorial Sports Fund, our club was able to award Scholarships to four excellent applicants who have represented WFFSC with the highest standards of sportsmanship and conduct.

The recipients of the $500 scholarships are:

Meghan Hart

Amanda Ruggieri

Alessandra Widmann

Brent Parker

Congratulations on this award and WFFSC wishes you all the best as you enter college.

---

2011 College Scholarships Announced

WFFSC is extremely proud to be able to once again offer two $500 scholarships to graduating high school students seeking a higher education. Being able to do this is a testament to the success of this club and I hope each and every member is thrilled that we are able to do this. Congratulations to 2011 winners Jessica Sandin and Meghan Carter.
Note: No pets or smoking allowed on Winslow fields.
PO Box 8605

Warwick, RI 02888

401-736-4340
Are you ready for this
Sunday, December 29
College Scholarships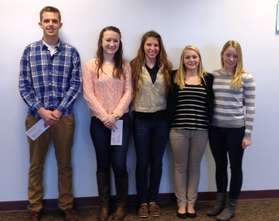 2013 WFFSC College Scholarship Winners
WFFSC in conjunction with the Elanna Zuller Memorial Sports Foundation is extremely pleased to award five $350 scholarships to current and former WFFSC players who are attending their first year of college. The recipients are Bobby Lineberger, Kara McCrudden, Heather Wolfenden, Kayleen Murphy, and Katie Evans.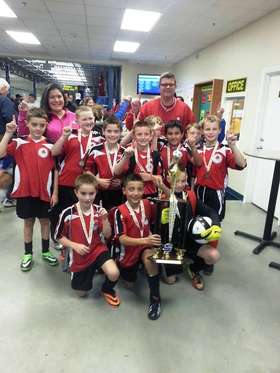 U10 Boys Champions
Monday, December 2
U10 Boys Win Championship at Wide World in Open Division
On Friday, November 29th, the U10 Boys soccer team from Warwick Fire Fighters Soccer Club won first place in the Thanksgiving Tournament "Premier/A Division" held at Wide World of Indoor Sports in North Kingstown. The team was victorious in the championship game after a 5 minute golden goal overtime period and a sudden death shootout.
Pictured front row from left to right, Travis Riess, Blake Santos, Jayden Pereira. Back row left to right, Carlos Andrade, Tyler Carpenter, Ethan Diffley, Austin Kilduff, Brady McGloin, Chris Vargas, J.P. Lockhart, and Connor Preuit. Coaches Margie Santos and Jeff Lockhart. Not pictured are Landon Picillo and Coach Heather Picillo.