Weymouth Panthers: Welcome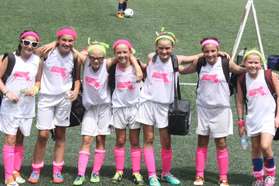 Futbolito 2013 Gillette Stadium
Weymouth Panthers u10 Girls Soccer
Jessica, Alyssa, Jocelyn, Grace, Abby, Rachel
June 25th 2013 UPDATE: WE QUALIFIED FOR NATIONALS! This past weekend we placed 2nd in New Hampshire for the U10 girls division. The girls played well in all three games only falling to the U11girls in our second game. We matched up against two teams from New Hampshire, and one team from Maine.
2012 Summary
Six local 10 year old girls from Weymouth are practicing and preparing to compete at the Challenge 3 v. 3 National Championships at the ESPN Wide World of Sports in Orlando, Florida; August 1st – 5th 2013.
Last year these girls competed in the Challenge 3 v. 3 Regional Tournament on July 17th 2012 in Lancaster, MA and won all games in the U9 division. They were Regional Champions! See Regional 3 v 3 Page for a summary of their trek to become the champions.
In addition, the girls and few other friends competed in the u10 division at the Futbolito Tournament at Gillette Stadium on July 8th, 2012 and won the u10 Championship. For a summary of the games and statistics, please see the Futboiito Page. This year Allie will be competing with our team at the Futbolitio Tournament on July 6th at Gilette Stadium.
Taking a team of six girls to compete in Florida is challenging and an economic strain. Unfortunately, we didn't have enough time to coordinate and fundraise last year. This year though, the girls are working hard to attain all their goals... including traveling to Orlando, Florida in August to compete at the ESPN Wide World of Sports Challenge 3 v. 3 National Championships! The girls are look forward to representing Weymouth, Massachusetts at the National Competition!
To read more about Challenge 3 v 3 click the links page.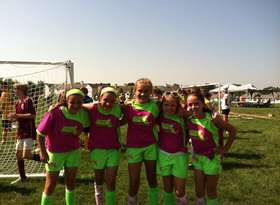 Weymouth Panthers at Wildcat Training
Rocky
Tuesday, June 25
2013 NHPSA 3 v 3