West Valley Warriors: Welcome
Tuesday, November 13
West Valley Warrior Basketball 2012-13
WELCOME TO THE HOME OF
THE WEST VALLEY WARRIORS BASKETBALL CLUB
Welcome to the website for the West Valley Warriors out of the San Fernando Valley in Southern California. Here you will find information on our program, and the latest on tournaments, league play, and much more.
The West Valley Warriors basketball club is ran by Tommy and Whitney Mitchell under their basketball development program, King Of D Court. Coaches Tommy and Whitney Mitchell have 20 years+ of combine experience in working with student-athletes and have played and competed at the highest levels (Division-I College & Professional [NBA & Overseas]). Our goal is to help your student-athlete obtain and exceed their goals, whether it be acheiving a collegiate scholarship, preparing for high school basketball, or just growing as a player and student. We have already aided 7 student-athletes receiving FULL athetic scholarships to Division-I schools.
Warriors Basketball is a unique club that prides it self on breeding tomorrows leaders both on and off the court. The student-athletes in this program are held to a higher standard on the court and in the classroom, therefore better preparing them for high school and beyond. We currently have teams and spots for 13u (7th grade) & 14u (8th grade).
Our official season began November 1st and runs year-round, so your student-athlete can continue to develop. We practice twice a week on Mondays and Wednesdays. Mondays are held at Woodland Hills Academy from 6-8pm and Wednesdays are held at Columbus Middle School from 6-8pm. We do a mix of tournament and league play throughout the year.
Our first three tournaments of this year will be:
Nov. 17-18--Dominators Elite Team Tournament- San Bernadino- WCE Ranking tournament
Dec. 1-2- CAVS Holiday Classic- Garden Grove ,CA
Dec. 15-16- Swoosh Holiday Classic- Next Level Sports Complex, Garden Grove, CA
Future Tournaments TBA
We will begin league play with the ARC Winter League beginning Dec. 1 and running through March 3rd.
Please continue to check back to the Warriors website for updated tournament and league information and results.
If you are interested in your student-athlete becoming a Warrior, please contact us at info@kingofdcourt.com or call 281-773-7091.
God Bless,
Whitney Mitchell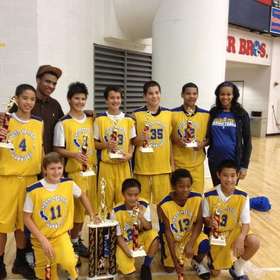 13U Warriors Win WCE25 Dominators Tourney 11/18/2012
Sunday, November 18
13U Warriors Win West Coast Elite 25 Dominators Tourney!
Congrats to our 13U West Valley Warriors on winning our first tournament of the new season. For 4 straight games the Warriors came out and dominated, holding every opponent to under 19 points. Next the Warriors are looking to build on this momentum as they enter the Cavs Holiday Classic in 2 weeks, Dec. 1st & 2nd. Congrats again Warriors. Keep up the hard work.
Follow the Warriors action on Facebook, Twitter @KINGOFDCOURT and Instagram @kodcinc
Saturday, November 17
WV Warriors Start 2-0 In Great Wins in WCE25 Dominators Tourney
The 13U West Valley Warriors came out to an awesome 2-0 start for the new season at the West Coast Elite 25 Dominators Tourney today versus Team Nikos and Monrovia Mountaineers.
The Warriors defeated Team Nikos, 46-10 and the Monrovia Mountaineers, 46-12. The Warriors are in position to receive a top seed heading into tomorrow's finals. Let's go Warriors!
Follow updates on the WV Warriors on Twitter @KINGOFDCOURT and Instagram @kodcinc
Saturday, November 17
King of D Court Inc. Basketball & Sports Development