Westside Little League, Santa Rosa,CA: Sponsors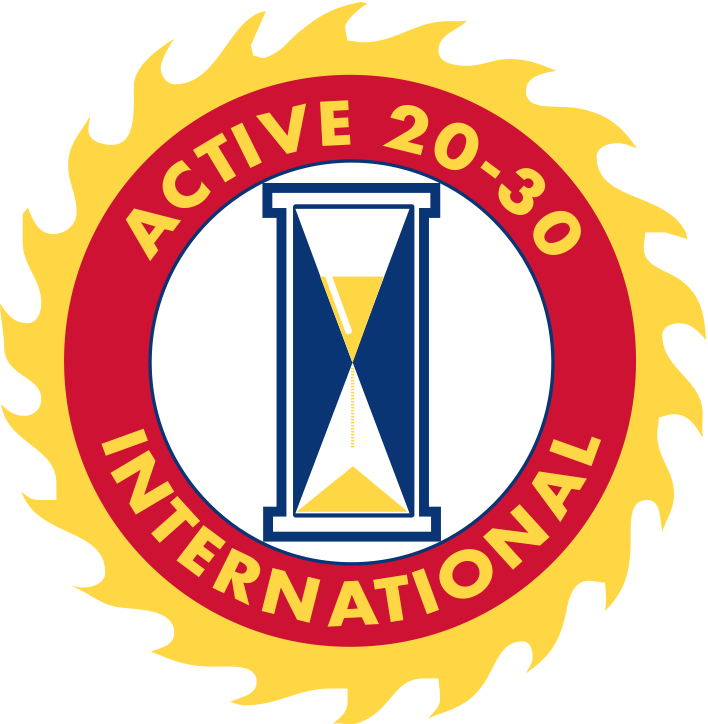 Active 20-30 Santa Rosa #50
PO BOX 391
Santa Rosa, California
95402


Active 20/30 United States and Canada provides young adults with an opportunity for personal growth, friendships, and leadership development while improving the quality of life for the special needs of children in its community. Over the past 15 years, The Santa Rosa Active 20-30 club has raised close to $1.0 million dollars, every penny of which has been donated to help change the lives of children.
info@active2030sr.com
Phone: 707-518-0050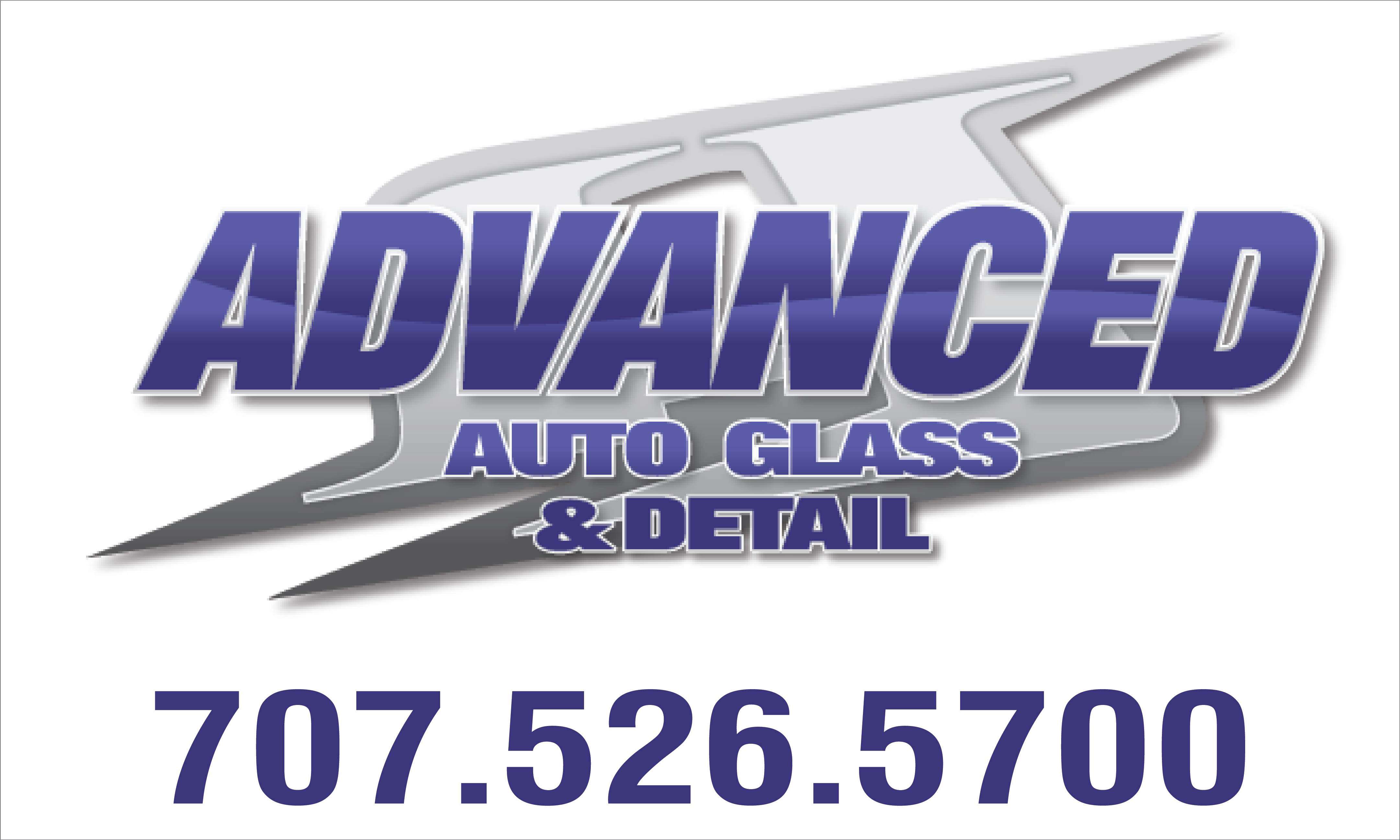 Advanced Auto Glass & Detail
2460 Santa Rosa Ave.
Santa Rosa, California
95407


At Advanced Auto Glass we are committed to providing you with only the highest quality premium glass products and a professional installation.
Phone: (707) 526-5700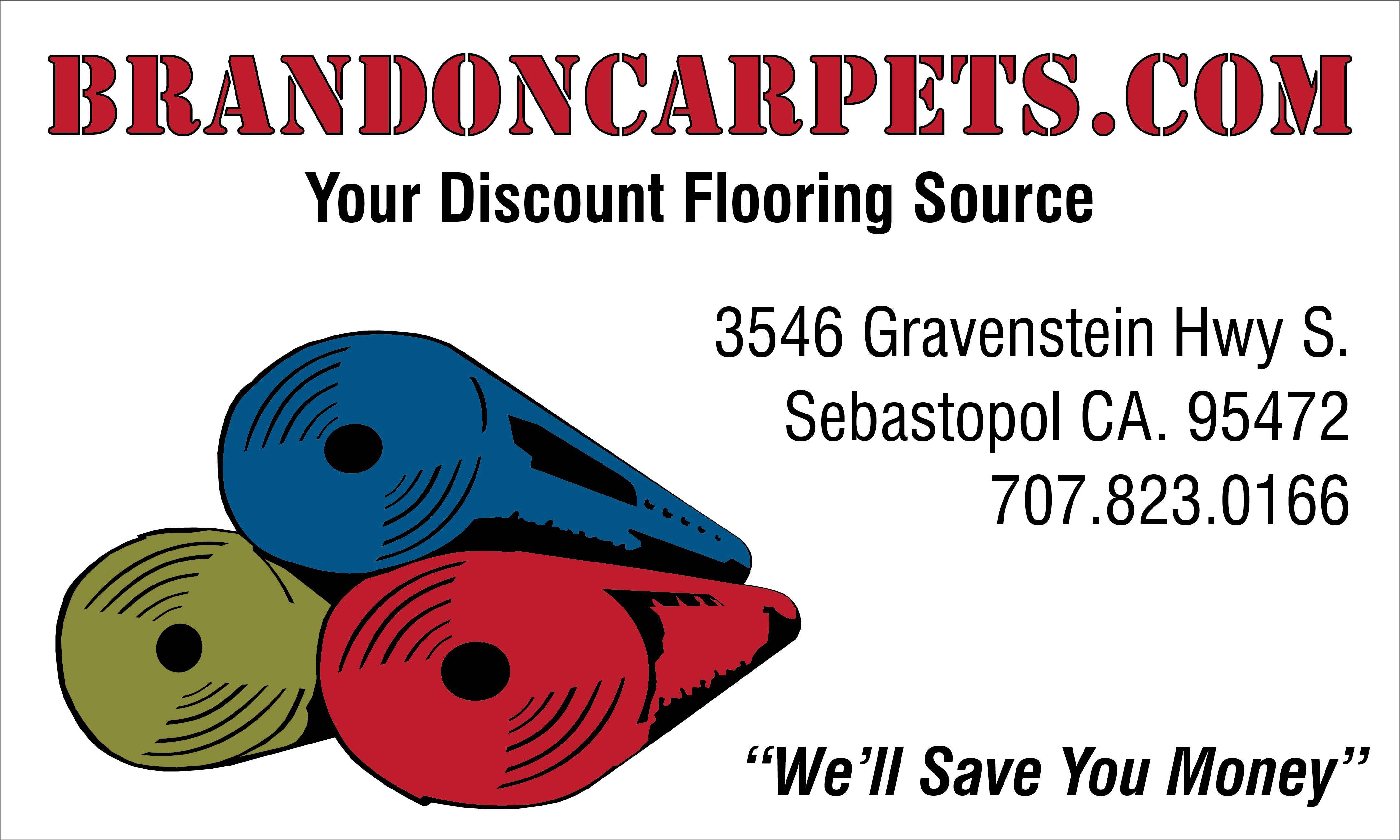 Brandon Carpets
3546 Gravenstein Hwy.
South Sebastopol, California
95472


We are a family owned and operated Full service flooring store for over 3 Generations.

Have a Full showroom, and a wide selection.

Low warehouse prices, professional installations, and guaranteed workmanship

Large assortment of carpet and vinyl rolls and remnants in stock!

Offer both Full Installation of any product we sell, or just material only for the "do it yourself" type.
Phone: (707) 823-0166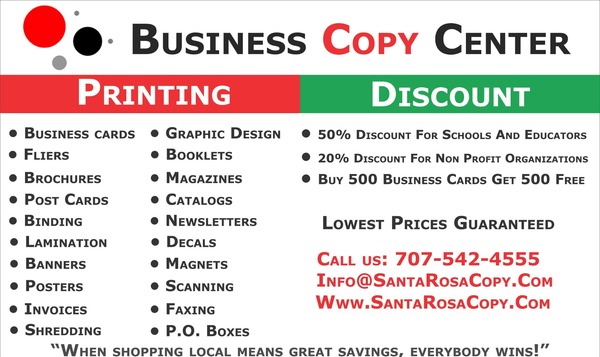 Business Copy Center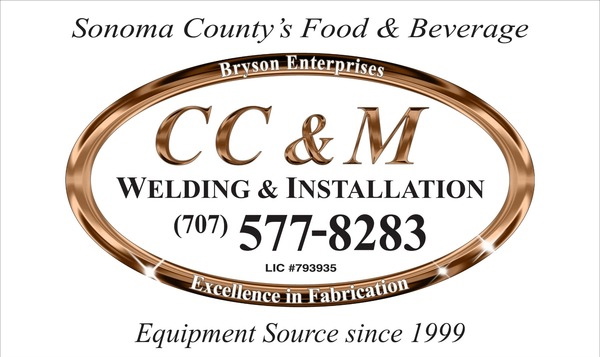 C C & M Welding & Installation
1388 B Copperhill Pkwy
Santa Rosa, California
95403



Phone: 707-577-8283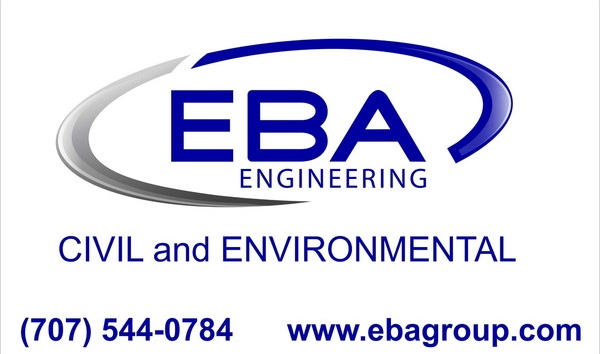 EBA Engineering
825 Sonoma Avenue
Santa Rosa, California
95404


At EBA we take a comprehensive approach to solving your project issues. Our Civil Engineering and Environmental Engineering departments work closely together on many projects. This approach provides you with an efficient, knowledgeable, and effective partner.
info@ebagroup.com
Phone: (707) 544-0784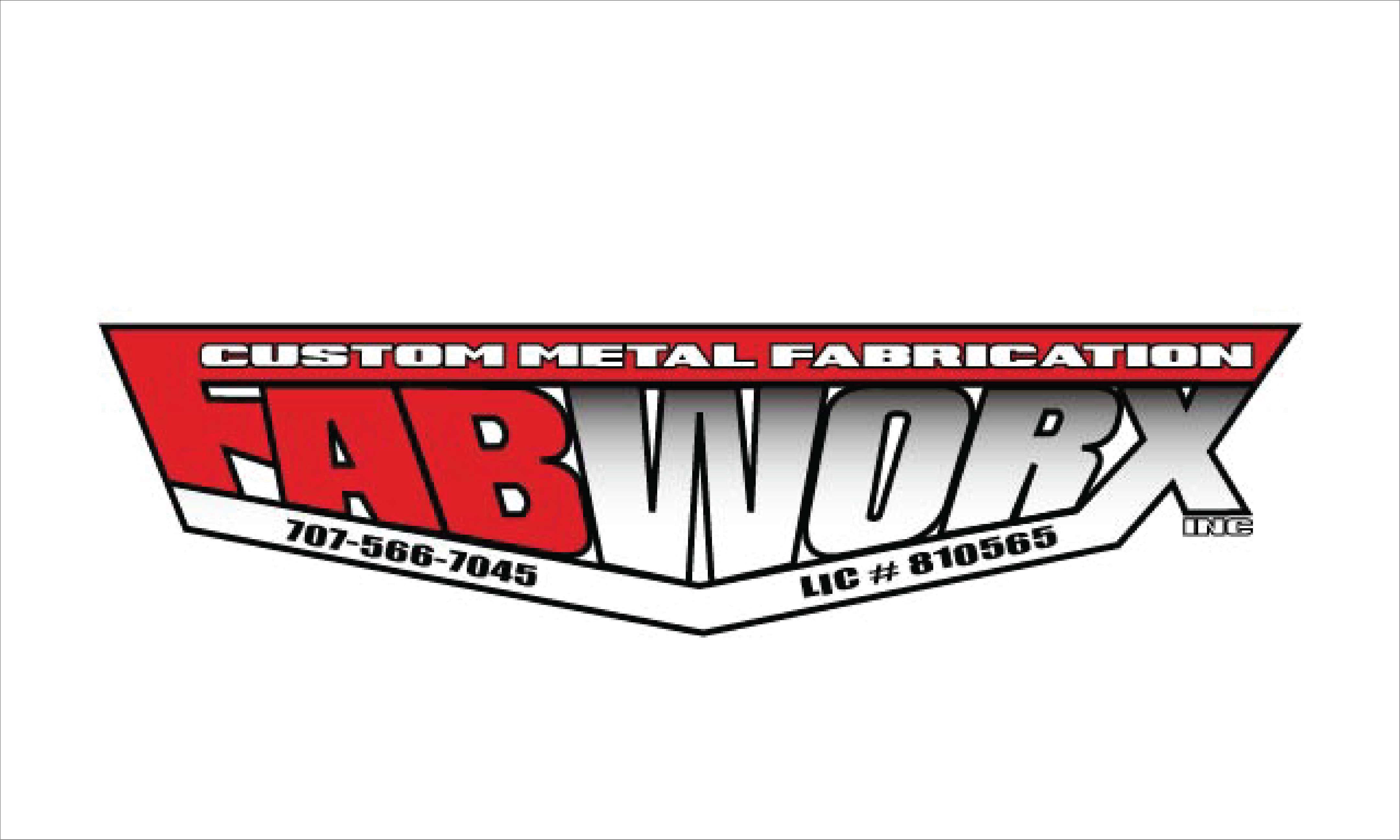 Fabworx
3100 Dutton Ave. #152 F
Santa Rosa, California
95407


Established in 2001, FabWorx, Inc. is a full service welding and fabrication shop located in Santa Rosa, Ca. Serving the North Bay, Sonoma, Marin, Napa and Lake counties. We offer structural steel, decorative and ornamental driveway gates, ornamental railings, pedestrian gates, and architectural metals. We are a diverse welding shop located just West of the Napa Valley and north of Marin County. Being an owner operated welding shop we have a vested interest in upholding the highest standards and customer satisfaction.
Phone: (707) 566-7045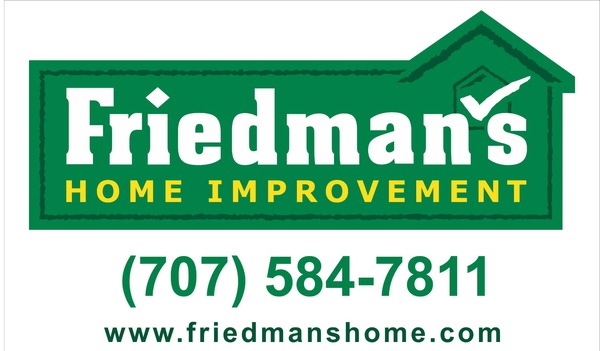 Friedman's Home Improvement
4055 Santa Rosa Ave.
Santa Rosa, California
95407


Shop Local!

Friedman's Home Improvement proudly services all of the North Bay with convenient locations in Santa Rosa, Sonoma, and Ukiah.

Mon. thru Fri. 7am - 8pm
Sat. 7am - 7pm
Sun. 8am - 7pm
Phone: 707-584-7811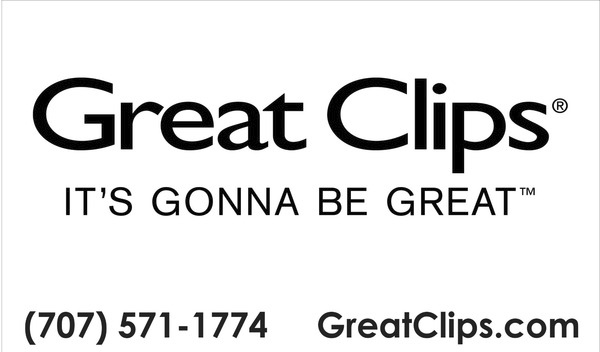 Great Clips
750 Stony Point Rd.
Santa Rosa, California
95407


Great Clips understands that with today's fast-paced lifestyle, you need a salon that fits your schedule. That's why we're open evenings and weekends; no appointments necessary. At Great Clips, you can relax, because you know you will get an affordable, quality haircut in a comfortable, friendly salon.

Hours: M-F 9a-8p, Sat 9a-6p, Sun 10a-5p
Phone: 707-571-1774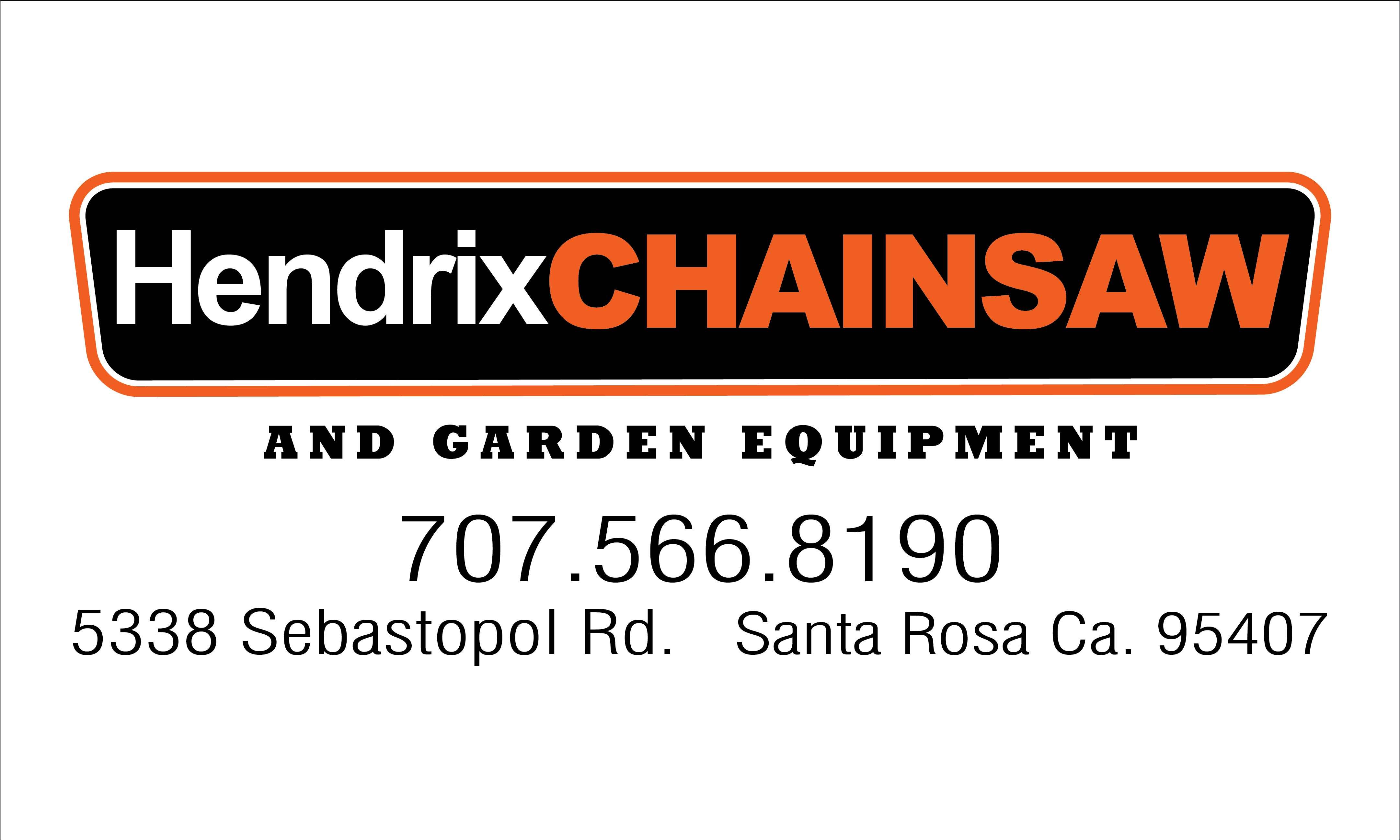 Hendrix Chainsaw
5338 Sebastopol Rd (HWY 12)
Santa Rosa, California
95407


From our roots in the logging industry, t our commitment to serve you, the Hendrix Family has a long history in the outdoor power equipment industry. We are Sonoma County's place to go for quality lawn mower, riding mower and chainsaw sales and repairs. Hendrix is a family business with a long tradition of quality service and products.
Phone: 707-566-8190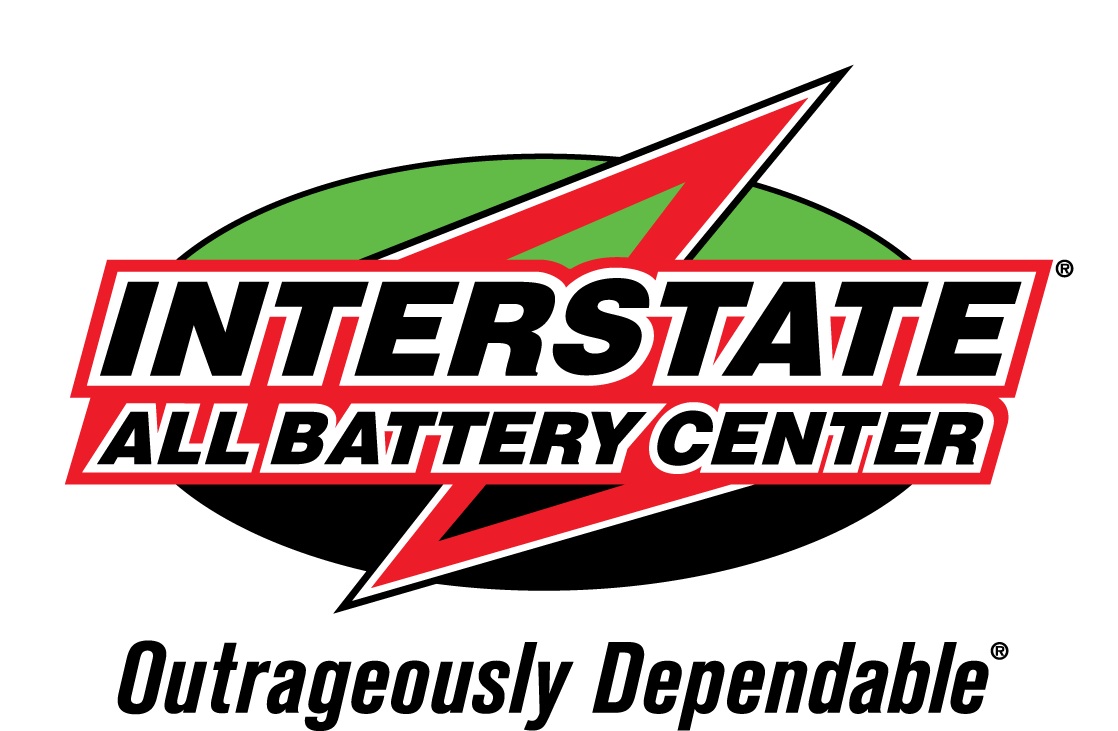 Interstate All Battery Center
3315 Industrial Drive
Santa Rosa, California
95403


Whether you need a battery for your car, your remote control car or your remote control, you'll find them all at your neighborhood Interstate All Battery Center. And if the battery you're looking for no longer exists (Perhaps your power drill is older than you are?) our experts will build one for you.
Hours:
* Weekdays: 8:00 AM - 7:00 PM
* Saturday& Sunday : 9:00 AM - 4:00 PM



john.Osterkamp@ibsa.com
Phone: (707) 546-9907

Les Schwab of Santa Rosa
1600 Santa Rosa Ave.
Santa Rosa, California
95404


At Les Schwab, we know how valuable YOUR time is. That's why when you drive into a Les Schwab Tire Center, we come running. Pride in Performance is the value that drives us at Les Schwab. We take pride in our customer service. We are proud to feature neat clean Stores, supermarket selection, sudden service, convenient credit and warranties in writing. Come see us today!
Phone: (707) 578-5334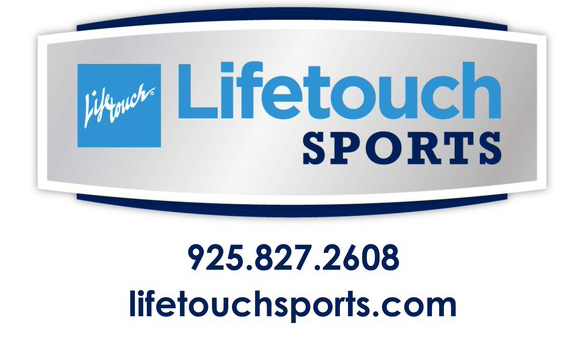 Lifetouch Sports Photography
Lifetouch Sports photography showcases your athletes and their teams in many popular products.
Phone: 925-827-2608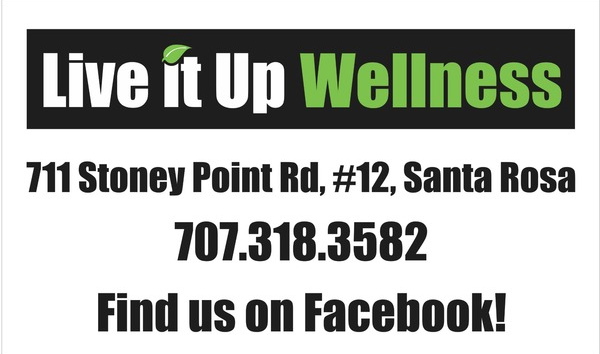 Live It Up Wellness
711 Stony Point Rd, #12
Santa Rosa, California
95407


New to Santa Rosa, Live It Up Wellness is a nutrition club where members can learn about nutrition and a healthy lifestyle.
liveitupwell@gmail.com
Phone: 707-318-3582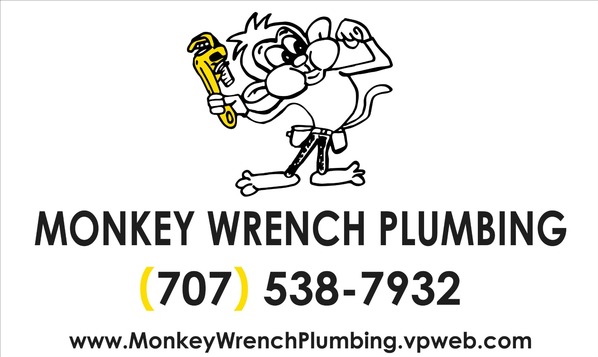 Monkey Wrench Plumbing
472 Umland Dr.
Santa Rosa, California
95401


Monkey Wrench Plumbing is a small family owned and operated company; ensuring that you will receive the finest customer service that is available! Here at Monkey Wrench Plumbing we take great pride in our work to ensure that the job is completed correctly and on time the first time!

Hours:
Mon - Fri: 7AM - 6PM After hours service available
Sat: 10AM - 6PM After hours service available
Sun: On Call
Phone: (707) 538-7932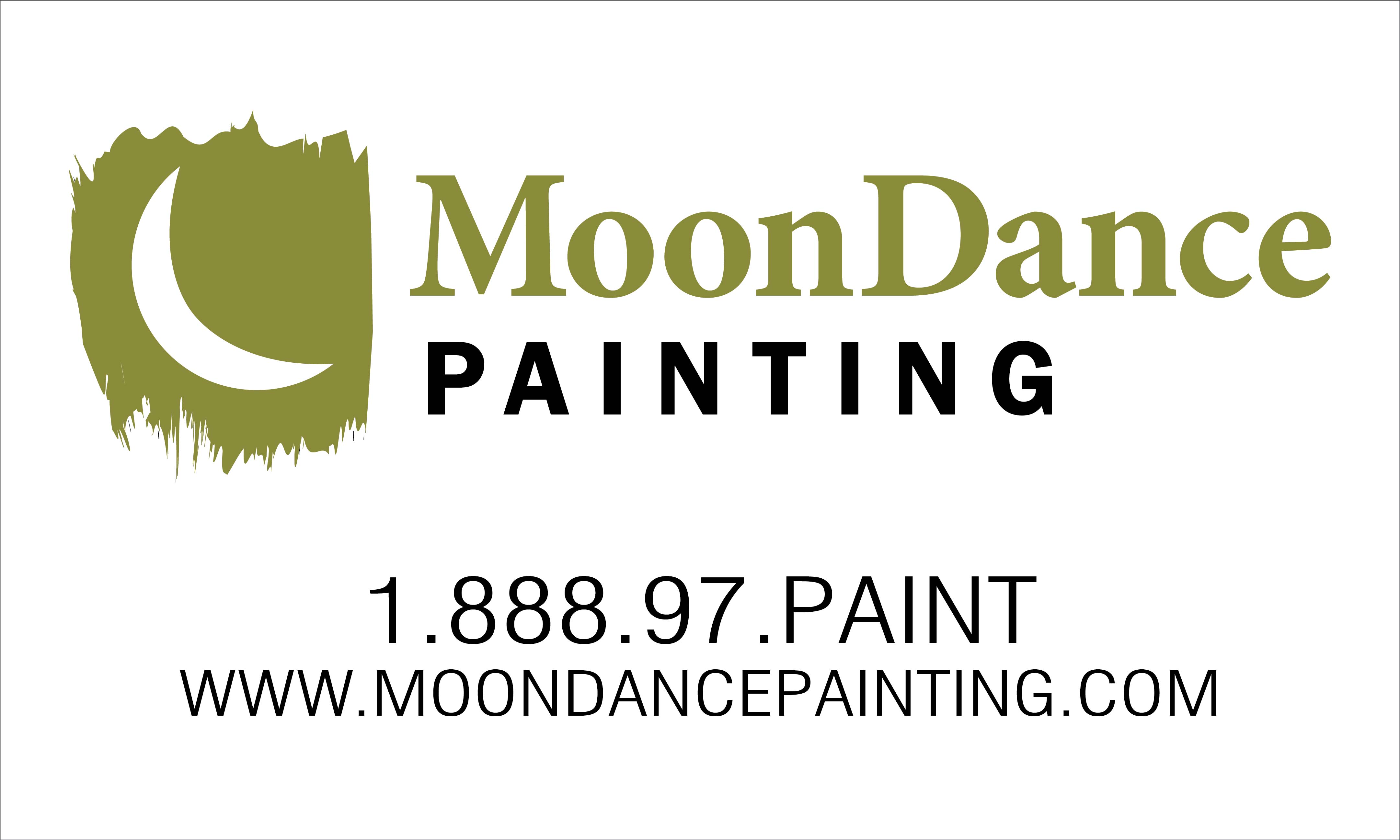 Moondance Painting
MoonDance Painting is your source for superior quality painting services, and unmatched customer service. We specialize in using low and no VOC-paints as well as environmentally friendly painting practices - minimizing waste, using non-toxic cleaners, and materials, and disposing of wastes properly. Contact us today to learn what we can do for your home.
Phone: 888.977.2468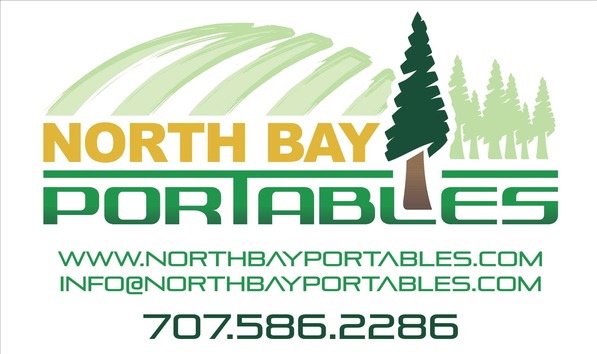 North Bay Portables
4119 Sebastopol Rd.
Santa Rosa, California
95407


North Bay Portables provides state-of-the-art restrooms and equipment. Restrooms will be clean and completely sanitized when delivered. We will deliver them on time, where and when you need them.
info@northbayportables.com
Phone: 707-586-2286

Oliver's Markets
461 Stony Point Rd.
Santa Rosa, California
95401


Now Serving you in three Sonoma county locations:

461 Stony Point Rd. Santa Rosa, CA 95401
560 Montecito Center, Santa Rosa, CA 95409
546 East Cotati Ave. Cotati CA 94931

Phone: (707) 284-3530

RG Plumbing Group, Inc.

Round Table Pizza
2065 Occidental Road
Santa Rosa, California
95407


Round Table Pizza has always been known for quality ingredients. Our dough is rolled fresh each day. Our zesty red sauce is made from scratch with eleven herbs and spices and our three cheese blend is made with the best whole milk mozzarella, provolone and cheddar cheeses. Add juicy premium meats and fresh gourmet veggies on top our world famous crust and you have the best pizza in all the land.
Hours:
Sun - Thur: 12:00 pm - 10:00 pm
Fri - Sat: 11:00 am - 11:00 pm

Phone: (707) 526-6565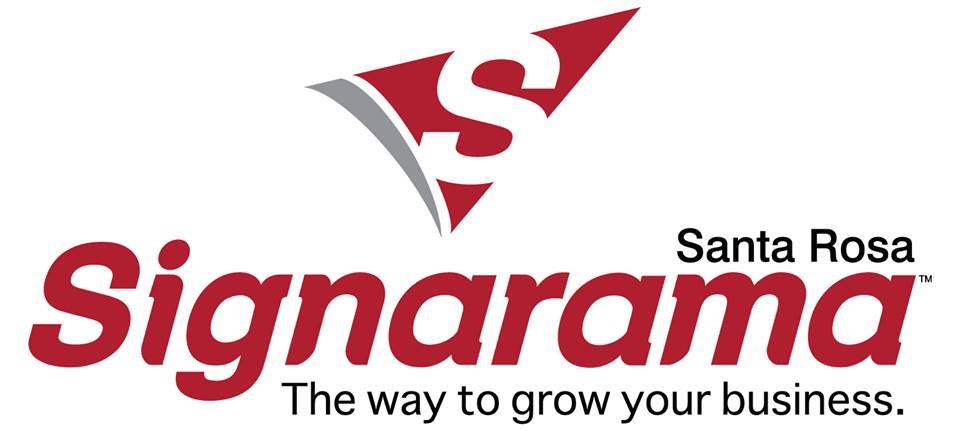 Signarama
1430 Guerneville Road
Suite 2
Santa Rosa, California
95403


Signarama Santa Rosa is your full service sign center. We use the latest technology and highest quality products to produce custom signs for your business. We can make the perfect signs to advertise your products or to inform your customers, while keeping the image of your company in mind.
Phone: 707-387-0807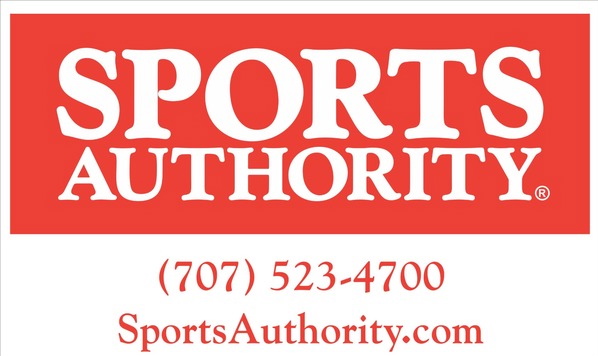 Sports Authority
1970 Santa Rosa Ave
Santa Rosa, California
95407


Your Santa Rosa Sports Authority has everything you need to maintain a healthy and active lifestyle. Come visit us in the Santa Rosa Marketplace, near the intersection of Santa Rosa and Colgan Avenue. At … (more details)Sports Authority, sporting goods are what we do—but that's not all we do. Your Santa Rosa store is staffed with associates who are customer-service oriented and are experts in their designated areas, giving every customer an exceptional shopping experience.
Phone: (707) 523-4700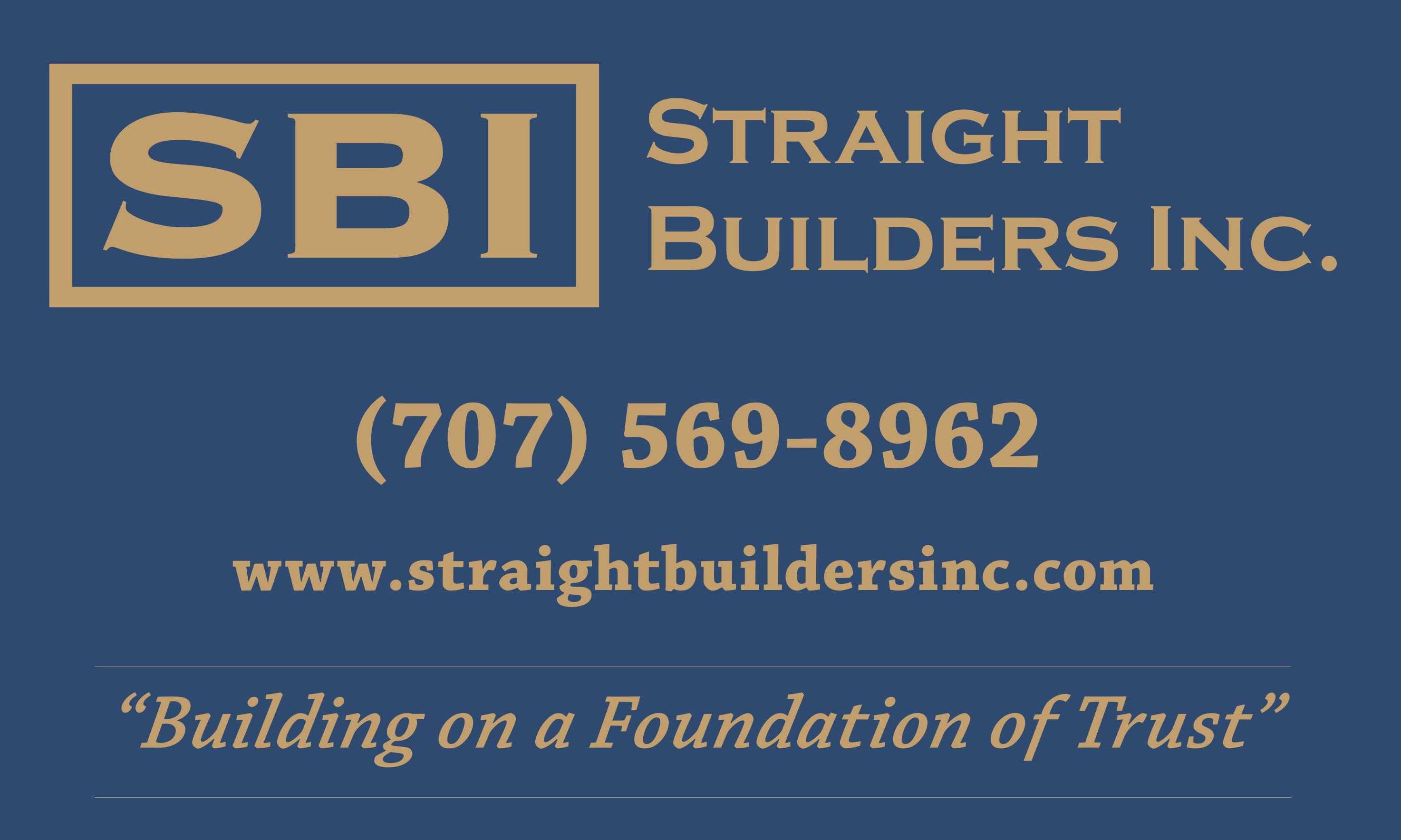 Straight Builders Inc.
P.O. Box 6696
Santa Rosa, California
95406


Straight Builders Incorporated's old world craftsmanship and 21st century technology culminate in a uniquely beautiful and efficient result for every project. SBI is passionate about providing an exceptional experience that enhances the design, value, and health of your home.
Phone: 707-569-8962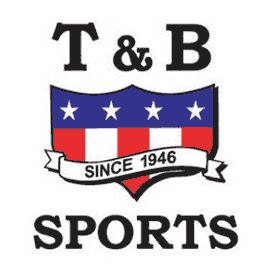 T & B Sports
2049 West Steele Lane
Santa Rosa, California
95403


T&B Sports has been outfitting sport enthusiasts since 1946. Wherever you may be located our friendly, knowledgeable staff can guide you to the right gear and provide expert advice for all kinds of sporting activities — from T- ball to Football to Institutional Sales.

Our store hours are:

Monday - Saturday 9:00 - 5:30
Closed Sunday
Phone: 707-544-2433
Top Jump Party Jumps
Your 1-stop shop for all your inflatable party jump needs! Family owned & operated, fully insured, free delivery & set up.

Serving Santa Rosa, Sebastopol, Rohnert Park,
Petaluma, & Windsor
Phone: 707-571-8671
Trex
Where form beautifully meets function

Your deck is more than just boards. It's also railing. And deck framing. Possibly a pergola. Deck lighting. And definitely some patio furniture. Every Trex® piece can stand on its own with our signature blend of style and strength, or come together as one weather-shrugging, long-lasting, easy-to-care-for outdoor oasis.
TRUEFORM Design & Mfg.
Wolfe Communications
849 North Street
Santa Rosa, California
95404


Wolfe Communications specializes in the installations of Business Phone Systems, Data cabling, and Video Surveillance Systems. Our experienced staff offers expert advice followed with service to meet all of our customer's needs.
Phone: (707) 387-1140