Westside Warriors: Welcome
Thursday, May 9
Fall Tackle - Click Below to Register Online Now!
OPENING SOON!!!!!
Friday, May 17
2013 SFU All-Star Camp
Thursday, December 27
Spring 2013 Flag Football
SPRING FLAG FOOTBALL - WHAT IS IT?
This is one of the fastest growing games in Canada and the Westside Warriors have been a leader since the first season of play in BC. 5 on 5 Flag Football is a non-contact sport that runs in the Lower Mainland during April, May & early June.
Each team comprises of around 8-12 players and games are played over five weekend jamborees with each jamboree consisting of multiple games during the day.
AGE DIVISIONS
U10 – 2005,2004
U12 – 2003, 2002
U14 – 2001, 2000
U16 – 1999, 1998
U19 – 1997, 1996, 1995
WHO CAN PLAY?
Anyone can play. The program is designed to develop core skills for Running, Passing, Catching, and Footwork. All players will benefit from the additional field time and ball touches but faster athletes will excel in this fast paced open field atmosphere. If you are unsure – we encourage all potential players to join us for a practice and try it out.
WHEN DOES IT PLAY?
Warriors' Football has opened online registration. Follow the link to register. http://www.active.com/fitness-membership/vancouver-bc/westside-warriors-spring-flag-2013. We begin practicing on Tuesday and Thursdays. April 2nd is our first practice from 6:00 to around 7:30 depending on day light. Practices will go until 8:00PM as the days get longer.
The season consists of five weekend (either a Saturday or Sunday) sets of games at various parks starting at the end of April and running through May (except the Victoria Day long weekend).
Preliminary / Tentative 2013 schedule
Week 1 - Coquitlam - Sat., April 27th Coquitlam Town Centre - Percy Perry Stadium
Week 2 - North Delta - Sunday, May 5th - John Oliver Park
Week 3 - Royal City - Saturday, May 11th - Mercer Stadium
"Victoria Day" long weekend - OFF
Week 4 - Burnaby - Saturday, May 25th - Burnaby Lakes athletic complex
Week 5 - Chilliwack - Saturday, June 1st - Townsend Park & Stadium
U19 BCCFA Provincials - Richmond - Sunday, June 2nd West Richmond Park
U10/U12/U14/U16 BCCFA Provincials - Kelowna - Sat./Sun. June 8/9 Capital News Centre.
Each weekend, each team will participate in playing four or more games during the day. After the five weekends, U 10 to U 16 teams head to Kelowna for provincial championships which take place over a full weekend in early June. U 19 teams play a one day Championship during the first weekend of June.
Monday, May 6
Week 3 Royal City - Sat., May 11th Spring Flag football Jamboree
Mercer Stadium at New Westminster Senior Secondary High School (site map attached)
701 Eighth Avenue, New Westminster
U14 DB clinic - Marc Beswick - Hamilton Tiger-Cats - noon to 1:15 pm East End Zone Mercer Stadium (1 player & 1 coach per team)
U12 & U14 age divisions have been split into 2 separate groups because of the reduced # of fields available. All other age divisions remain at their previous time slots.
Monday, April 29
April 29 Update: VMFL/VCFL week 1 Coquitlam Flag Football Jamboree
A massive congratulations & thank you to Coquitlam Minor Football Association & their many amazing volunteers led by jamboree coordinator - Kevin Parks, Paul & Kristen Lancaster, Rose Peters, Bruce Cusker, Brandon Hestdalen, Heith Eddleston & so many more for hosting a 1000+ athletes, coaches, referees & league administrators. In spite of the rain, 230 games of flag football were played at Coquitlam Town Centre Park. The U14 Receivers clinic by BC Lions' Marco Iannuzzi was a huge success. The jamboree was a great kick-off event for the 2013 VMFL/VCFL Spring Flag football season. See link below for results.
Sunday, May 5th - wk 2 North Delta Jamboree at John Oliver Park (11499 Ladner Trunk Rd, Delta - site map attached; https://maps.google.ca/maps?q=11499+Ladner+Trunk+Rd,+Surrey,+Delta,+BC&hl=en&sll=49.108211,-122.890415&sspn=0.009777,0.017724&oq=11499+Ladner+Trunk+Rd,+Delta&hnear=Ladner+Trunk+Rd,+Surrey,+Greater+Vancouver,+British+Columbia&t=m&z=16)
An updated schedule (& wk 1 standings) are attached. NOTE- U16 will have a BYE in schedule - all other age division are the same as wk 1.
Reminders - John Oliver park has limited parking - car pooling is recommended. Two small parking lots are available on site.
U14 QB skills clinic w Jay Prepchuk - noon to 1:15 pm; each player to bring their own football
wk 3 Royal City jamboree schedule will be released soon & announcing - U14 Defensive Back skills clinic w Hamilton Tiger - Cats, Marc Beswick (http://www.ticats.ca/roster/show/id/4649)
Click Here to View Schedule and Results
Wednesday, April 24
Coach Doug Pauls named 2013 Community Coach of the Year
Congratulations to Coach Doug Pauls
Westside Warriors' Coach Doug Pauls was named the 2013 - Community Coach of the Year last weekend at the 2013 Orange Helmet Awards.
From the Vancouver Mainland Football League's (VMFL) website...
Flag football's tremendous growth in the province of British Columbia over the past several years can be directly attributed to the tireless work of Doug Pauls. While Doug wears many hats within football, his greatest impact can be seen in his role as the VMFL's Flag Coordinator. He is directly responsible for organizing the Spring flag season for five separate age divisions and coordinating the provincial championships for every single club that competes in the Spring flag season each year. This past June he coordinated over 1000 individuals, volunteers, coaches and referees – as part of the Flag Provincial Championships in Kelowna. Doug's passion for football extends beyond his work with Spring flag football.
At a local level, he is heavily involved with the Westside Warriors' program serving in a multitude of capacities including coach. For the past seven years he has also been part of the coaching staff for high school football's Vancouver College Fighting Irish.
Doug's love and passion for the game knows no bounds and the entire football landscape in the province is all the better thanks to his involvement.
Have questions about the Westside Warriors football programs? Please see the Football Program Information on menu to the left. Still have questions? Please contact one of our Board members and they'll be happy to help.
Westside Minor Football League acknowledges the financial assistance of the Province of British Columbia.
Thursday, November 15
Playoff Football and Warriors in the News
Come join us on Sunday at Carnarvon for Warrior's Playoff football. The VMFL PeeWee team will be taking on the Coquitlam Wildcats in this Semifinal matchup. The games starts at 10:00.
Here is a terrific photo of Arthur Blouin from our game last Sunday that showed up on the front page of the Courier. There is a short write up on page 25 as well.
Go Warriors Go!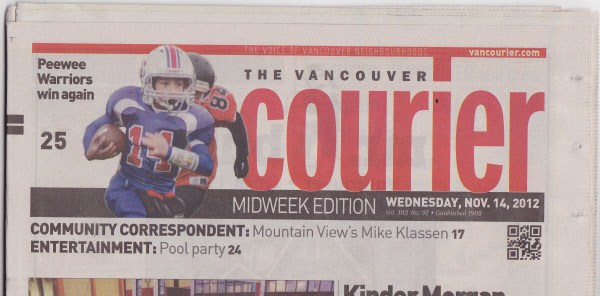 Saturday, September 22
BC Lions in the House.
Some exciting news!
Two or Three players from the BC Lions will be attending our practice on Tuesday, Oct 2nd.
The VFML Pee Wee has also been invited by the BC Lions to play in a scrimmage against the Richmond Raiders prior the Lion's game on Saturday, October 6th.
Come out and enjoy some great football.
Saturday, August 25
Free Tickets to UBC Thunderbird Home Opener and Atom's Half-time Scrimmage Game
Hello Warriors Families,
This is a great opportunity to catch the UBC Thunderbird's Home Opener against the Manitoba Bisons and pick up some free tickets. As an added bonus our Westside Warriors Atom team will be having a half-time scrimmage game!
For information on picking up tickets see the message from UBC Thunderbird Football below..
Free Tickets to UBC Thunderbirds Football!
We would like to extend a special invitation to all Warriors Football families to join us at Thunderbird Stadium on Saturday September 1st at 2pm as the UBC Thunderbirds kick off their season against the Manitoba Bisons. Players: We would like to offer a complimentary ticket to the game for all players that attend wearing their team jersey. Tickets can be picked up at Will Call by players in their jerseys. Coaches: We would also like to extend an offer of a complimentary ticket to coaches as well. We will ask that coaches RSVP to tickets@gothunderbirds.ca or call 604.822.3094 to confirm the number of tickets needed for their coaching staff. Tickets for all others can be purchased at the box office starting at 1pm on game day. Ticket prices are only $10 for adults and $5 for youth/seniors/students. Children under 7 are FREE! We hope to see many of your athletes, coaches and families on Saturday September 1st – 2PM at Thunderbird Stadium!
Wednesday, August 1
Warriors 2012 Spirit Gear
New 2012 Warriors Spirit Gear is now available to order. Orders will be taken until Aug 15th, 2012 11:59 PM .
To order go to http://www.northernathletic.ca/ and click on the "ordermygear" button.
Next scroll down the page and look for the Westside Warriors and then click on "Click here to order".
You can also go directly to the sale by going to https://westsidewarriorsjuly2012.itemorder.com/sale or clicking on the "Warriors 2012 Spirit Gear" headline above.
Tuesday, July 17
Thursday Pizza Night after Football Practice
Warriors! Come one, come all! This Thursday the Westside Warriors will be having our first Pizza Night!

Following our regular Thursday practice, Fresh Slice Pizza will be sold at the Carnarvon Park concession:

Hawaiian, Pepperoni, Cheese
$2.50 / slice
$1.00 pop
$1.50 Gatorade

Let's begin a new tradition!
Saturday, June 16
Announcing Westside Warriors First Summer Speed/Agility/Quickness Camp
This July the Warriors Club is excited to be sponsoring all registered football players to take advantage of the conditioning program developed by Core Concepts Wellness

Enjoy the very best in football-specific conditioning that is guaranteed to take young athletes to the next level. Sessions will focus on strength, speed (lateral, linear, angular - acceleration/deceleration), agility, quickness, mobility and coordination.

Players will come away with a quicker first step, better cutting ability, better force production, reduced injury risk and better overall athleticism that will translate to on-field performance.

The camp will be held at Carnarvon Park, 6:00 – 7:30 pm, 4 Wednesdays in July. The club is subsidizing the cost of the program and families are asked to pay $20 per player, regardless of how many sessions attended.

Please register and pay via Paypal through Core Concepts Wellness
Thursday, June 14
It's all over - till next year! Spring Flag Football Provincial Championship - Results & Thank you
The 2012 BCCFA Provincial Flag Football Championships in Kelowna saw over 700 players on 80 teams competing in 4 age divisions this past weekend. From the rain on Saturday to the beautiful sunshine of Sunday, teams played 338 games. Age division champions were -
U10 - Kelowna Chargers
U12 - Burnaby Lions
U14 - Richmond Broncos
U16 - Coquitlam Falcons
U18 - Coquitlam Spider Monkeys (championship tournament - June 3rd in Vancouver)

Congratulations to the winning players and coaches who have seen their hard work in preparing to compete in the 2012 BCCFA Flag Football Provincials pay off in a championship.

But the big winners were all the boys & girls who came out and played their best, supported their teammates & had fun with a smile on their faces as they competed. It was an exciting weekend seeing so many talented and skilled young athletes from across BC competing in flag football.

On behalf of all the executive of the BCCFA, a big thank you to the executive & volunteers of Kelowna Minor Football particularly Gerry Dirksen, Tanya Cochrane, Kip Kyle & KMFA president, Chuck Liebrock for doing such an outstanding job hosting again.
(a complete list of results can be found on the VMFL website: www.vmfl.ca)
Doug Pauls
BCCFA - Spring Flag Football coordinator
Thursday, September 22
Do you have an extra computer?
The club needs a gently used desktop computer to run our equipment inventory software. It needs to have at least Windows XP and would be nice if it had Microsoft office. If you have an old computer that you no longer need, please contact Gord McPhail
jmcph92112@aol.com
.
Friday, July 23
Westside Minor Football adopts Concussion Policy
Westside has adopted the new Football BC Concussion Policy as is required by all Football BC member associations. This policy clearly identifies the steps and procedures that will be used by the players, trainers, coaches, parents and medical professionals in treating players suspected of sustaining a concussion type injury and outlines the path that must be taken to get "back into the game". Please click on the handouts below and read it through so that we keep all our athletes safe. All players and their parents will be required to fill out and sign the Athlete-Parent consent form and return to their coach.
Handout:
Football BC Concussion Policy
Tuesday, January 5
TAX RECEIPTS AVAILABLE
If you require a tax receipt for 2010 to take advantage of the Children's Fitness Tax Credit, please email Sarah Titcomb at busfare@telus.net with the player's name and division and an electronic receipt will be sent.
Wednesday, June 13
Vancouver Westside Warriors Football