: Welcome
Westminster Soccer Association - (WSA)
Post Office Box 874
Westminster, Maryland 21158
Phone: 410-848-6377 Email: info@westminstersoccer.org Web:
www.westminstersoccer.com
Like us on Facebook
10/4/2014 - GAMES Starting BEFORE 9:00 CANCELLED. Games scheduled for 9:00 OR LATER will be played as scheduled! Welcome to the Westminster Soccer Association Home Page !
Thank you for visiting the Westminster Soccer Association web site. WSA provides the opportunity for players of all skill levels to develop their soccer, social and sportsmanship skills. We offer the WSA Soccer Academy for ages 4 thru 7, Co-ed In-house leagues for 3rd grade thru 9th grade, and travel teams for age groups U-9 thru High School.
Use the links on the left hand side of this page for information about travel tryouts, Challenger camp registration, open volunteer positions, and other WSA news and matters.
Check this website regularly for updates, meeting notices, weather cancellations, game schedules and more. Should you have any questions or concerns, contact information is listed above and on the board member page.
REGISTRATION CLOSED
Email Jen Wolfe at wolfe154@verizon.net for possible late registration
Contact Coordinators with questions:
Academy U5/U6: - Mike Johnson
wsacoachmike@gmail.com
Academy U7/U8: - Jan Rhine
JRhnie331@gmail.com
In-house U-10: - Mike Johnson
wsacoachmike@gmail.com
In-house U-12: John Beakes
jbeakes@hormail.com
In-house Grade 7-9: Wally Casey
Wally_C2002@yahoo.com
High School Co-Ed: Scott Demetrakis
sdemetrakis@comcast.net
Travel: Go to travel page to contact coaches
---
Sunday, September 7
2014 WSA Spiritwear Now On Sale Thru September 14, 2014!!!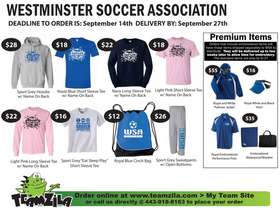 2014 WSA Spiritwear Now On Sale!!!