West Hills Little League: Sponsors
We thank the following businesses for sponsoring WHLL in '18
Access Professional Systems
1955 Cordell Court
Suite 104
El Cajon, California
92020


CLICK THE ABOVE LINK FOR DIRECT ACCESS TO THEIR WEBSITE.

Starting his own company at the age of 17, Scheppmann's ingenuity and attention to detail has wielded a trustworthy industry leading company, combining the operational capability and strength of a large corporation with a small company's commitment to quality service. APS treats all clients with the same level of professionalism and dedication no matter how large or small the request.

Because producing a quality product and service are top priorities, APS only partners with reputable companies that are leaders in their respective fields. APS employs only factory-trained technicians, who are specialists in the areas of gate automation, access control, video surveillance and parking control solutions. All APS projects are assigned an experienced project manager who oversees our installation team and follows through with the project from start to finish.

APS is an active and proud member of the following groups: Better Business Bureau, San Diego Chamber of Commerce, Building Owners & Managers Association, Southern California Builders Association, California Mobile home Park Managers Association and National Parking Association the Association of General Contractors.


jay@accessprofessionals.com
Phone: 858-571-4444
AJR Sports
CLICK THE ABOVE LINK FOR DIRECT ACCESS TO THEIR WEBSITE.

AJR sports mission is to incorporate cool and unique products that everyone can use everyday. You won't find a more interesting array of products in any other brand. We carry products that are created using actual sports ball materials. Our Titanium Necklace are popular with athletes of many sports, we carry them in 2 and 3 ropes. The Titanium necklace comes with a number pendant of your choice. We love helping teams, we will sell our Titanium necklace and arm sleeves at wholesale price for teams to be able to do a fundraising. All of our sport graphic are printed in top quality t-shirts.
ajrsports@yahoo.com
Phone: 619-606-8412
Al's Sport Shop
9250 Mission Gorge Road
Santee, California
92071


CLICK THE ABOVE LINK FOR DIRECT ACCESS TO THEIR WEBSITE.

Al's would be classified as your nuts and bolts athletic store. We carry everything from jock straps to football helmets. Our specialty is youth sports: Baseball, softball, soccer, football, field hockey, lacrosse, volleyball, waterpolo, and everything in between. We also feature embroidery, silkscreening, banners, signs, trophies , and other promotional items.

alssportshop@yahoo.com
Phone: 619-562-4263
Fax: 619-562-0445
BOS Coachworks
2129 Auto Park Way
Escondido, California
92029


CLICK THE ABOVE LINK FOR DIRECT ACCESS TO THEIR WEBSITE.

Best of Show Coachworks is a full service automotive restoration and hot rod shop. We offer, paint and body, custom fabrication, engine swaps, suspension, mechanical. We work closely with our industry contacts to offer additional parts, concept design and interior work.
Russ@bestofshowcoachworks.com
Phone: 760-480-0227
Bowman Pools
Chick-fil-A
9418 Mission Gorge Road
Santee, California
92071


CLICK THE ABOVE LINK FOR DIRECT ACCESS TO THEIR WEBSITE.

At Chick-fil-A at Santee, we believe in providing our guests the best Restaurant experience we can. Our team prides itself on providing great tasting food and a comfortable environment in which to enjoy it.

We're committed to providing Second Mile Service and we strive to exceed your expectations. Whether it's the friendly greeting as you walk in, the hot food or the comfortable dining environment, we hope you will have a great experience at our Restaurant.

Community is important to us and it is our hope that we can enrich the lives of all of our customers. We enjoy getting to know our guests and look forward to any opportunity to give back to this community who has so graciously supported us. The next time you're in our Restaurant, please introduce yourself. It would be our pleasure to meet you.

Thank you for your loyalty to Chick-fil-A. We look forward to continuing to serve this great community!
Phone: 619-562-0774
Fax: 619-562-0778
Chuze Fitness
215 Town Center Parkway
Santee, California
92071


CLICK THE ABOVE LINK FOR DIRECT ACCESS TO THEIR WEBSITE.

Less Attitude. More Fitness

Whether you've been hitting the gym for years or have just now made a promise to become more active, Chuze supports you. Readers can turn to our blog to get helpful wellness tips, healthy recipes, workouts, and more! We know some days it takes a little extra motivation to stay on track, and that's exactly why we're here!
chrissy@chuzefitness.com
Phone: 619-722-3295
CNL Executive Transportation
CLICK THE ABOVE LINK FOR DIRECT ACCESS TO THEIR WEBSITE.

OUR EXECUTIVE SERVICES
Airport Transfers
Weddings
Wine & Brewery Tours
Concerts
Private Parties

OUR PROMISE TO YOU
To provide a safe and professional ride experience.
cnlexecutive@gmail.com
Phone: (619) 938-4576
Comfort Mechanical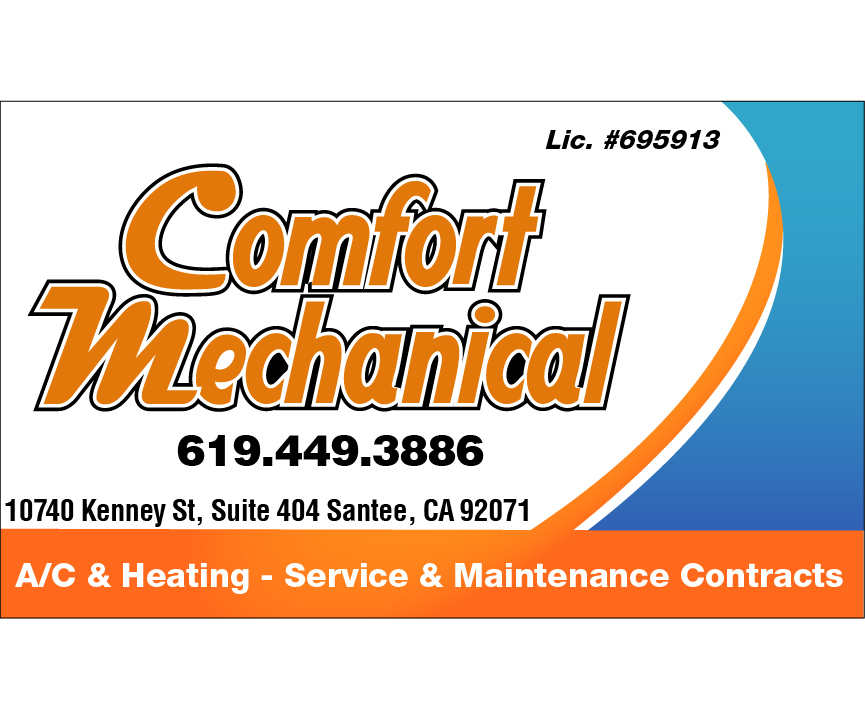 Eliminator Transmissions
11418 N. Woodside Ave.
Santee, California
92071


CLICK THE ABOVE LINK FOR DIRECT ACCESS TO THEIR WEBSITE.

Eliminator Transmissions are your performance and transmission specialists in Santee, CA. You can put your trust in us to get your vehicle back on the road.

HOME TRANSMISSIONS CLUTCHES TRANSFER CASES REAR-END DIFFERENTIALS CLIENT TESTIMONIALS CONTACT US
619-596-2628
Eliminator Transmissions Transmission Services Santee, CA
11418 N. Woodside Ave.
Santee, CA 92071
shadow

Business Hours:
Monday - Friday: 8:00 AM - 5:00 PM

sdeliminator2003@yahoo.com
Phone: 619-596-2628
Filippi's Pizza Grotto
10767 Woodside Avenue
Santee, California
92071


CLICK THE ABOVE LINK FOR DIRECT ACCESS TO THEIR WEBSITE.

The DePhilippis family would like to welcome you and your family to visit our restaurants to enjoy our traditional old Italian family recipes that our family has been serving for 67 years!
Phone: 619-562-7878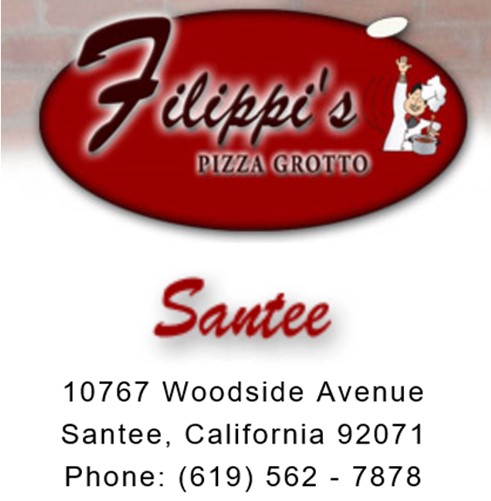 GTM Stores
8967 Carlton Hills Blvd
Santee, California
92071


CLICK THE ABOVE LINK FOR DIRECT ACCESS TO THEIR WEBSITE.

GTM has been voted San Diego's Number One Discount Store and continues to offer thousands of values to customers by selling quality items at a discount. GTM buys overstocks, closeouts and discontinued national brand merchandise from large chain retailers and wholesalers and resells them at huge savings to you. GTM has well-staffed stores, where employees are trained to offer a pleasant, rewarding and exciting shopping experience. With truck loads arriving daily, GTM stocks thousands of items with new bargains available every time you shop.Store Hours:
Monday thru Friday: 10am - 8pm
Saturday: 9am - 7pm
Sunday: 10am - 6pm

Phone: 619-449-4953

Hone Maxwell LLP
2221 Camino Del Rio South
Suite 304
San Diego, California
92108


CLICK THE ABOVE LINK FOR DIRECT ACCESS TO THEIR WEBSITE.

Hone Maxwell LLP helps taxpayers and small businesses with all tax issues including audits, tax debts, and consulting with the IRS and all CA tax agencies. Also, the firm specializes in advising clients on all aspects of international taxes. Josh Maxwell is both a licensed attorney and CPA in the state of CA, which allows the firm to provide more comprehensive service than most tax law firms. If you have any questions regarding taxes and are not sure if you need an attorney, please call us for a free assessment of your situation.

Josh Maxwell, CPA, JD, LLM
Tax Attorney
josh@honemaxwell.com
Phone: 619-980-4476
Fax: 619-810-2865
Jenniffer Taylor Realtor
CLICK THE ABOVE LINK FOR DIRECT ACCESS TO THEIR WEBSITE.

Realtor with Pacific Sotheby's Int'l Realty
jentaylor1993@gmail.com
Phone: 619-892-6773
KCM Bat Co.
CLICK THE ABOVE LINK FOR DIRECT ACCESS TO THEIR WEBSITE.

Maple is the species preferred by most pro players. It features the ultimate surface hardness and provides an unmatched sound and feel at contact. Naturally harder, maple offers added strength at impact. Closed grains eliminate flaking, commonly seen with ash, allowing superior durability against delamination. The balanced swing weight of the C271 – among the top three turning models ordered by the pros – maximizes bat control and a player's ability to get the barrel where it needs to be, when it needs to be there.
The maple KCM bats come in the popular model #'s C271, C243 and I13 models.
271 Turn
Barrel Diameter: 2 ½"
Taper: Long
Handle Thickness: 15/16"
The 271 turn feels very similar to the 110 turn, but it has a quicker taper between the barrel and handle. This turn model can comfortably be used by contact or power hitters and has a slightly end loaded swing weight.

I-13 Turn
Barrel Diameter: 2 ½"
Taper: Medium
Handle Thickness: 15/16"
The I-13 features very similar dimensions to the 271. The big difference between the I-13 and 271 models is that the taper of an I-13 turn bat is more extreme, so it will have more of an end loaded swing feel than the 271 turn. The I-13 is a popular choice among power hitters who are looking for more mass in the barrel.

243 Turn
Barrel Diameter: 2 ?"
Taper: Medium
Handle Thickness: 15/16"
The 243 turn model features the largest barrel diameter and thinnest handle of the common turn models. It's a great model for a power hitter who's looking for that end loaded swing feel. This turn model may also be a little harder to control for someone new to wood bats, or a contact hitter.

Weight Drop: A weight drop is a figure you'll often see describing a bat's size. It refers to the difference between the length of the bat (in inches) and the weight of the bat (in ounces). ... For example, a baseball bat with a -11 weight drop would be a 29" bat that weighed 18 ounces.
Available sizes: 25" drop -8 or -9 26" drop -8 or -9 27" drop -7 or -8
28" drop -6 or -8 29" drop -6 or -8 30" drop -5 or -7 31" 32" 33" 34" drop -3

bonnyfigueroa@hotmail.com
Phone: 619-558-9151
Kona Ice
CLICK THE ABOVE LINK FOR DIRECT ACCESS TO THEIR WEBSITE.

The Kona Ice truck can serve up to 500 people in an hour! Keep us in mind for that quick, fun and delicious treat.


rwitek@kona-ice.com
Phone: 619-455-5336
Mauzy Heating, Air & Solar
9411 Bond Ave.
San Diego, California
92021


CLICK THE ABOVE LINK FOR DIRECT ACCESS TO THEIR WEBSITE.

At Mauzy, we adhere to philosophies and values that differentiate us from all others. Our customers always come first. Excellence in craftsmanship and service are our top priorities. Our goal is to deliver QUALITY products and service at the most competitive prices. Our customers drive our business to be the best we can be and we strive to achieve our best with every product and service that we offer. We work hard to make sure your home will always be comfortable throughout all the seasons of the year.

Mauzy Heating, Air & Solar provides top-notch heating and cooling services to the greater San Diego, CA region. When your home needs service, repair, or a whole new system, our team at Mauzy will provide you with the best quality service available. No job is too big or too small for us here at Mauzy. We offer services from basic upkeep on your residential system to full system installation. Our family and our team is here to work for you, our customers, every step of the way.

This business is our family and our family values show in our quality and our work. We have three generations of the Mauzy family that abide by a strong commitment to our customers, our business and our craft. We believe that you deserve the best when it comes to your home, and our team will work to make sure that you never receive less.
Phone: 619-448-9545
Mechanical System Contractors
9474 Chesapeake Drive
# 902
San Diego, California
92123


Mechanical System Contractors is a full service commercial HVAC contractor that has served the San Diego area for 10 years. MSC specializes in installing and servicing a wide-variety of HVAC systems for commercial offices, restaurants, hotels, laboratories & schools. No project is too small!

jessica@mschvac.com
Phone: 858-967-3015
My KIDS Dentist
246 Town Center Pkwy
Santee, California
92071


Little mouths are a big deal™!
Your children are special and that calls for exceptional care. Many children's first experience with a dentist happens at an office focused on adult care. Dental care in this environment is often intimidating and frightening for kids. This first impression can create anxiety and avoidance of the dentist that will last a lifetime.
We designed "My Kid's Dentist" to make your child feel safe, calm and carefree. The "My Kid's" office has been created with your child in mind. From watching their favorite movie during treatment, to toys in the waiting room, we have strived to create an atmosphere that leaves a lasting, positive memory. We have handpicked a staff that is passionate about your child's comfort and care. Our supported dentists have been educated at premier pediatric dental establishments and have committed their careers to the treatment of children.

My Kid's offices treat your child from infancy through late adolescence, as well as those with special needs. For the comfort of your child the offices offer sedation dentistry, as well as General Anesthesia delivered by a Board Certified Anesthesiologist. This allows all treatment to be completed at one time with less stress on you and your child.

Phone: 619-448-5437
NXT LVL Athletics
1224 Broadway
El Cajon, California
92021


CLICK THE ABOVE LINK FOR DIRECT ACCESS TO THEIR WEBSITE.

Our mission is to have a positive impact on our members lives through functional fitness. We will deliver the best possible fitness and nutrition solutions to our members' needs through challenging, appropriate and effective programs. We will recognized as one of the best by creating a respected fitness community

Looking to improve your physical, mental and pitching skills Nxt Lvl Pitching Academy is the place for you! Check out the Nxt Lvl Pitching Academy Page for more details.

Phone: 619-734-7117
Pardee Homes
13400 Sabre Springs Parkway
Suite 200
San Diego, California
92128


CLICK THE ABOVE LINK FOR DIRECT ACCESS TO THEIR WEBSITE.

Since 1921, Pardee Homes has been providing smart solutions to homebuyers and civic leaders, with great locations, quality construction, community partnerships and industry–leading green and safe building practices.
Phone: 858-794-2500
Plug N Switch
1333 Thomas Ave #9
San Diego, California
92109


CLICK THE ABOVE LINK FOR DIRECT ACCESS TO THEIR WEBSITE.

Plug N Switch specializing in Title 24 and Title 20 Design, consulting, inspecting and installations. Call now to receive your quote.

We at Plug N Switch care about our customers. Our highly trained electricians can handle any of your projects home or office.

Services Offered


Same Day Acceptance Test
Lighting Controls Design
Lighting Design
Title 24 Calculations
Photometric Studies
Consulting
Installation training
commissioning
plug-n-switch@att.net
Phone: 619-277-8551
SpiFoto
PO Box 711106
Santee, California
92072-1106


CLICK THE ABOVE LINK FOR DIRECT ACCESS TO THEIR WEBSITE.

SPIFOTO: Experience the best, forget the rest!
sales@spifoto.com
Phone: 619-933-2155
Fax: 619-596-2604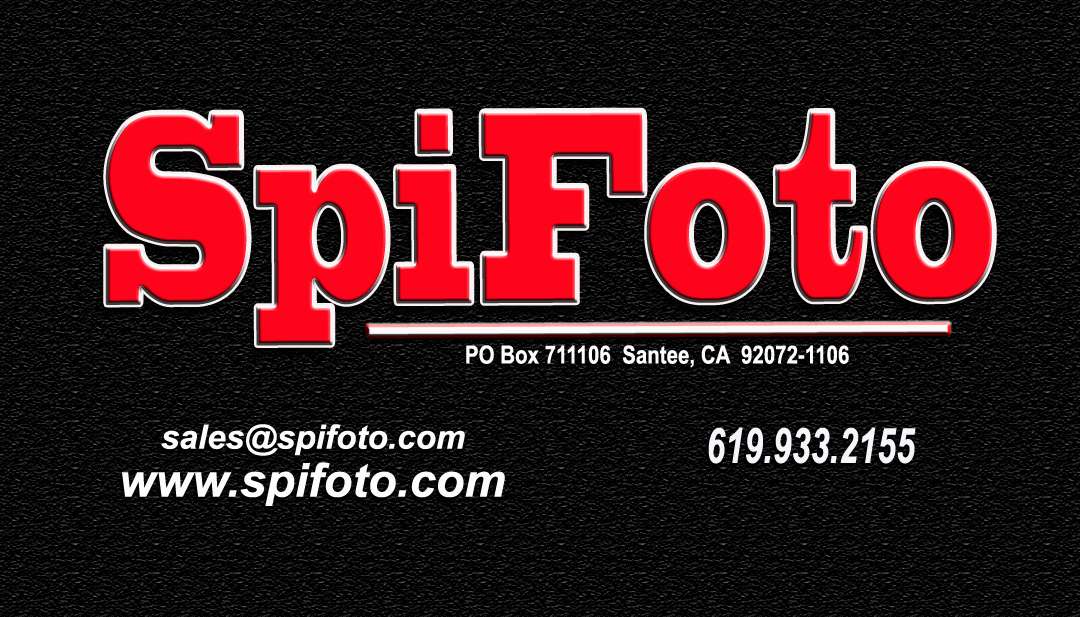 Ram Jack Pacific
CLICK THE ABOVE LINK FOR DIRECT ACCESS TO THEIR WEBSITE.

Ram Jack is dedicated to providing outstanding foundation services for a wide range of customers throughout North America. Our mission is to be recognized for lasting foundation solutions and exceeding customer expectations-- nothing more, nothing less. Providing quality first, safety always, complete integrity, and delivery that is on time, is a part of our core values. For more than 40 years, Ram Jack has restored stability to many homes and equipped engineers with custom solutions

Lifetime warranties available at participating locations

More than 50 locations and 400 foundation repair specialists

Over 20 patents filed and 12 patents currently owned

Over 50,000 piles installed throughout the country in 2016

License #1003878

Phone: 619.726.0052
Round Table Pizza
9824 Magnolia Avenue
Santee, California
92071


CLICK THE ABOVE LINK FOR DIRECT ACCESS TO THEIR WEBSITE.

At Round Table, we've enjoyed a heritage of creating high quality, innovative pizzas for over 57 years. From our founder Bill Larson's first little Round Table Pizza Parlor in Menlo Park, California in 1959 to 450 thriving restaurants today, Round Table has always stood for freshness, innovation and craveable flavors in everything we serve.


Phone: 619-449-0521
San Diego Design & Remodeling Inc
CLICK THE ABOVE LINK FOR DIRECT ACCESS TO THEIR WEBSITE.

Lic:990755

At San Diego Design & Remodeling, our focus is to help our customers discover what's at the heart of their remodeling dreams. We understand that we're not just designing spaces, we're helping to build & design lifestyles.
From complete kitchen & bathroom remodeling to entire home renovations, SDD&R is your answer to all of your remodeling needs.
eric@sddesignandremodeling.com
Phone: 619-306-6066
Santee Family Dental Practice
9225 Carlton Hills Blvd Suite 9
Santee, California
92071


CLICK THE ABOVE LINK FOR DIRECT ACCESS TO THEIR WEBSITE.

We would like to take this opportunity to introduce ourselves and offer our services for your dental care needs. We are a family owned, husband and wife team located nest to the library in beautiful Santee. Dr. Michael Brown received his Doctor of Dental Surgery (D.D.S.) from the University of Southern California in Los Angeles. We have been providing dental care since 2002 As dentists, we feel very fortunate to have the opportunity to help our patients stay healthy. At our office you will experience all the hospitality expected of a small town practice along with the expertise that comes from years of experience and continuing education. Your comfort and care are our top priority. Our philosophy of care governs the treatment we offer. It consists of the following key elements:
We focus on providing a comfortable environment and gentle services at each visit.
We work with one patient at a time and do not double book. Your time is important to us and you will have our focused attention at each visit.
We will be there for your family in a dental emergency and provide access to our doctors when you need them.
We provide convenient weekday and weekend appointment options.
We make it our goal to help you retain your teeth in comfort, function, and beauty for a lifetime.
During your visit, we take the time to listen and give you the opportunity to tell us your goals and expectations. In addition to a complete assessment of your dental health, we preform an oral cancer check at each exam. At the conclusion of your visit, you will have a comprehensive treatment and maintenance plan based on your individual needs. We offer several payment options including acceptance of most insurances. Care Credit, and Major credit cards. Our insurance specialist will be happy to determine your coverage for services. It is our goal for your family to have healthy, beautiful smiles. We welcome the opportunity to care for you!
Sincerely,
Drs. Michael & Devani Brown
Phone: 619-448-6396
Santee Lakes Recreation Preserve
9310 Fanita Pkwy.
Santee, California
92071


CLICK THE ABOVE LINK FOR DIRECT ACCESS TO THEIR WEBSITE.

Santee Lakes Recreation Preserve hosts over 660,000 visitors a year. The 190-acre Park with 7 beautiful recycled water lakes that are stocked with sport fish year-round. The Park provides amenities including camping, cabin rentals, fishing, boating, special events, playgrounds, walking trails, and approximately 230 bird species. Santee Lakes Recreation Preserve is owned and operated by Padre Dam Municipal Water District. It is self-sustaining, receiving no funds from water/sewer ratepayers or taxpayer subsidies. The Park operates from user fees, grants and awards and collaborations with community groups and organization partnerships.
Phone: 619-596-3141
Santee Orthodontics
8840 N. Magnolia Ave #260
Santee, California
92071


CLICK THE ABOVE LINK FOR DIRECT ACCESS TO THEIR WEBSITE.

Thank you for surfing the website of Santee Orthodontics, the office of Dr. Brock Goodman, DDS. We specialize in orthodontics, providing individualized, comprehensive treatment for patients of all ages. We want to give you a smile that you will love, and get you there with the most modern and efficient techniques. Our office is committed to providing you with the highest quality of care in a fun and efficient environment.

There has never been a better time to be an orthodontic patient. Things are improving in the field of orthodontics, and we are embracing those improvements. Orthodontics goes far beyond straightening teeth. We personalized your smile to be in balance with your face, lips, jaws, and other supporting structures. We take into consideration opening airways, reducing temporomandibular joint (TMJ) issues, assisting with speech therapy, and more.

A smile makes a big difference and our goal is to provide that smile that enhances the overall quality of the life for all of our patients.
info@santeeorthodontics.com
Phone: 619-749-4033
Schwartz Masonry
PO Box 710790
Santee, California
92072


Brick / Stone / Block / Fireplaces
Phone: 619-668-0887
Fax: 619-668-0838
Southwest Strategies
401 B Street
Suite 150
San Diego, California
92101


CLICK THE ABOVE LINK FOR DIRECT ACCESS TO THEIR WEBSITE.

Our diverse team of experts have backgrounds in a variety of industries – public relations, marketing, journalism, politics, nonprofits, government, law and infrastructure development, to name a few – that help inform our approach to each project. We dedicate a specialized team to each client – including an executive-level team lead – to ensure every project receives our full attention. We match the right practitioners with the right project based on skills, background and client needs.
tmetti@swspr.com
Phone: 858-541-7800
Fax: 858-541-7863
Strang Heating & A/C
1365 N. Johnson Ave. Ste #115
El Cajon, California
92020


CLICK THE ABOVE LINK FOR DIRECT ACCESS TO THEIR WEBSITE

License # 845046

Strang Heating and Air Conditioning, Inc. does business all over the state of California, as well as projects throughout the country. In the past few years, Strang Heating and Air Conditioning, Inc. has completed projects in Hawaii, Oklahoma, Missouri, Montana, and Arizona.

I would like you to consider Strang Heating and Air, Inc. for future projects, both public bidding and negotiated work. I believe this Company can demonstrate to you its competitive pricing, along with its quality performance, innovation, customer satisfaction, and common sense approaches to the client's needs.
r.strang@sbcglobal.net
Phone: 619) 596-2665
TC Construction
10540 Prospect Ave.
Santee, California
92071


CLICK THE ABOVE LINK FOR DIRECT ACCESS TO THEIR WEBSITE

TC Construction Company, Inc., is a General Engineering Contractor based in San Diego, California. Since the inception of our Company, we have specialized in the conveyance and storage of water, waste water, sewage, and other by-products. Over the years, our strong foundation in underground work has allowed us to diversify into many new areas, making us a premier contractor for turnkey managed projects.
info@tcincsd.com
Phone: 619-448-4560
Fax: 619-258-9751
The American Legion - El Cajon Post 303
Bostonia Recreation Center
1049 Bostonia Street
El Cajon, California
92021


CLICK THE ABOVE LINK FOR DIRECT ACCESS TO THEIR WEBSITE

he American Legion was chartered by Congress in 1919 as a patriotic veterans organization. Focusing on service to veterans, servicemembers and communities, the Legion evolved from a group of war-weary veterans of World War I into one of the most influential nonprofit groups in the United States. Membership swiftly grew to over 1 million, and local posts sprang up across the country. Today, membership stands at over 2 million in more than 13,000 posts worldwide. The posts are organized into 55 departments: one each for the 50 states, along with the District of Columbia, Puerto Rico, France, Mexico and the Philippines.
tader@alpost303.sdcoxmail.com
Phone: 619-443-1778

The San Diego Madres, Inc.
PO Box 600113
San Diego, California
92160-0113


CLICK THE ABOVE LINK FOR DIRECT ACCESS TO THEIR WEBSITE.

Volunteers are the lifeblood of the Madres. During the 2017 season, Madres not only volunteered for Madre projects such as Craft Nights, Luncheons, and our annual Christmas Bazaar; Padre events such as the Annual Pre-season Fan Fest and "Shirts Off Their Backs"; but also Community events including KUSI's "Songs of the Holiday Season." Madres volunteered over 2000 hours in 2017!

Supporting Youth Baseball and the Padres
Phone: 619-286-3216
Tonys Landscaping