West Hanover Baseball & Softball: Welcome
West Hanover Baseball/Softball Association - "Providing Quality Recreation for Today's Youth
Follow us on Facebook: www.facebook.com/WestHanoverBaseballSoftballAssociation
Thursday, July 17
Just 2 weeks left to register for West Hanover Fall Baseball!!! Please mail your registration forms in soon.
Boys ages 7-14 (as of 4/30/2014) can register to play Fall baseball at West Hanover for the upcoming season. Registrations will be accepted through July 31st. Please complete the attached form and mail the completed form along with the registration fee to either Brian Shafer (7-11 year olds) or Brett Stehr (12-14 year olds). This is a great opportunity for the boys who will be moving up to the next level of baseball next spring as well as those who just didn't get enough baseball this past Spring! Practices will probably start towards the end of August with games beginning in early September. Last year all of the games for the 7-12 year old teams were scheduled on Saturdays in the late morning or early afternoon.

Please note that boys who are going into 7th grade and will not be 13 by 4/30/2015 (next year) have the option to move up to Teeners in the Spring instead of playing another season of majors. If your son meets this criteria and you are considering making this move next Spring then I highly recommend that your son play Fall baseball on the 12-year old Teener team this Fall. This will give him the opportunity to get use to the larger field with 75 foot bases (15 feet farther than in Midgets) and a 54 foot pitching mound (8 feet farther than in Midgets). Leading off and stealing are key elements at the Teener level that will be taught during the Fall season. If you have any questions about Teeners, please contact Brett Stehr (

bnbbstehr@verizon.net

or 651-9362).
Handout:
Baseball & Softball Sign Up forms
Monday, July 14
West Hanover Fall Softball Signups
We are accepting fall softball registrations for all age groups and to email or call me for information?




Thank you,

Mike Smith

Phone Number 635-5495
Handout:
Fall Softball
Tuesday, July 8
2nd Annual CD Baseball Diamondbackers Golf Tournament
April 10, 2014
Dear Central Dauphin Rams Baseball Supporter:
Without the support that the Rams Baseball Diamondbackers Club receives from the community, our Baseball Program would not be able to continue to grow, so "THANK YOU" for your continued support.
We would like to announce the 2nd Annual Diamondbackers Golf Tournament. We would like to build on the success that we had last year with our first outing. This will be a great opportunity to celebrate the 2014 baseball season and start the building for the 2015 teams at Central Dauphin.
The 2014 Central Dauphin Baseball Diamondbackers Golf Tournament will be held on Friday, July 25th, 2014, at Manada Hill Golf Course outside of Grantville. We would like to personally invite you to be a sponsor, play golf or donate a prize.
We have two levels of sponsorship; Green and White. As a Green sponsor, your business ad (1/2 page) will appear in the Rams' home game program, and you will receive a hole sponsorship placard for the tournament. White sponsors will receive a hole sponsorship placard for the tournament. Prize donations will also be appreciated. All sponsors and prize donations will be acknowledged in a special section of the baseball program.
The tournament will begin with registration starting at 7:00 am and an 8:00 am Shotgun Start. An awards ceremony and luncheon will take place immediately following play.
The enclosed information provides details for sponsorship, donation of prizes, and golfing in the tournament. We hope you will consider supporting the Central Dauphin Rams Baseball program this year by participating in the 2014 Diamondbackers Golf Tournament.
Your participation helps us to continue to build a winning and successful baseball program at Central Dauphin High School. With your continued support, we are certain great things are in store for the 2014 season and in the years to come.
Sincerely,
Golf Tournament Committee
Central Dauphin Rams Diamondbackers Baseball Club
Handout:
Misc
Monday, June 30
2014 LPHW MAJOR CHAMPIONS - WEST HANOVER RED !!!!
West Hanover's Red Major team defeated PHR Green 14-2 in a 4 inning mercy rule to become the 2014 LPWH Major Champions! Congratulations to the players, coaches, and parents!
Thanks to everyone who came out to support the team!
LPWH 2014 Champions
Monday, June 23
West Hanover 11U All-Star Team
West Hanover's 11U All-Star team finished 4th in the Halifax Tournament (June 21-22) with a record of 3 wins and 2 losses, ending the first day of the tournament with a 12-0, fourth inning, mercy rule win! The team was comprised of the following 13 players; Christopher Daley, Jonathan Green, Alex Hoyt, Liam Kennedy, Cole Lentz, Josh Love, Max Ludwig, Nathan Pazuchanics, Andrew Renaldi, Reilly Shafer, Daniel Wood, Gavin Yutesler, and Justin Yutesler. The team was coached by Todd Love (not pictured), Mike Yutesler, Neil Renaldi, and Todd Green. Way to go boys!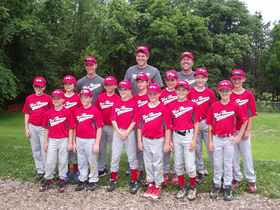 Finished in 4th Place
Friday, June 20
WEST HANOVER U14 Softball Championship !!!!!!
WEST HANOVER U14 Softball Championship !!!!!!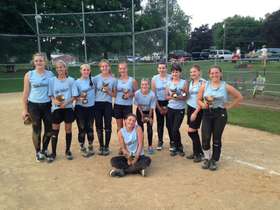 14U Champions !!!
Tuesday, June 17
Student volunteer hours available through West Hanover Baseball
Does your teenage son or daughter need to complete volunteer hours for a club, association, or sports team (National Honor Society, Scouts, Youth Group, Lacrosse, etc.)? The West Hanover Baseball & Softball Association has been asked to host games in several travel/all-star baseball tournaments this Summer and we need volunteers to work in the concession stand. Most of the games will be held on weekends but there will potentially be a few games on weeknights as well. At this point, we know that we will need volunteers for the following dates;
Friday, July 4th - Sunday, July 6th

Saturday, July 19th - Sunday, July 20th

Saturday, Aug 2nd - Sunday, Aug 3rd
We will be looking for 2 volunteers for every 2 hour shift.
shifts will begin at

8:00
,10:00
,12:00,
and

2:00
shifts will just be at

8:00 & 10:00.
We will just have one 3 hour shift on

Friday July 4th
beginning at 5:30
. Students can work more than one shift if they like.
If your son or daughter is interested in completing some of their volunteer hours by working in our concession stand, then please email Shelli San Martin, Concession Stand Manager, at
ssanmartin@comcast.net
as soon as possible.
Thanks,
Brian Shafer
Midget Commissioner
Wednesday, June 18
Lower Dauphin Travel Baseball Clinic
Please see the below message from Mike VanGavree, President of Lower Dauphin Travel & All-Star Baseball.
Lower Dauphin Travel & All-Star Baseball Association is excited to sponsor a youth baseball clinic Powered by the coaching staff of Millersville University. We would like to invite your players to participate in this unique developmental opportunity lead by a dynamic coaching staff that has won four PSAC Eastern Division Championships, a NCAA Atlantic Regional title, two 40-win seasons and three No. 1 seeds in NCAA regional play over the past seven seasons.

Please distribute the attached flyer so that your players are able to take advantage of this unique opportunity.

For additional information visit the following website link:
http://www.millersvillebaseballcamps.com/youth-baseball-clinic.cfm
Best Regards,
Mike VanGavree
President, Lower Dauphin Travel & All-Star Baseball Association
Handout:
Camps