West Hanover Baseball & Softball: Welcome
West Hanover Baseball/Softball Association - "Providing Quality Recreation for Today's Youth
Follow us on Facebook: www.facebook.com/WestHanoverBaseballSoftballAssociation
Wednesday, July 1
2015 Fall Registration for Baseball & Softball Season
Wednesday, July 1
West Hanover Fall Baseball
West Hanover Fall Baseball
Ponies:Boys ages 7 - 9, date of birth between 5/1/2005 and 4/30/2008
Midgets:Boys ages 10 - 11, date of birth between 5/1/2003 and 4/30/2005
Teeners: Boys ages 12 - 15, date of birth between 5/1/1999 and 4/30/2003
Teener: Boys ages 7-15 (as of 4/30/2015) can register to play Fall baseball at West Hanover for the upcoming season. Registrations will be accepted through July 31st.
Please complete the attached form and mail the completed form along with the registration fee to either Brian Shafer (for Ponies/Midgets) or Brett Stehr (for Teeners). Online registration through our website will be available soon (http://whbaseballsoftball.com/). Please note that if you do register online you will be charged a processing fee of $4.63 for Ponies/Midgets and $5.98 for Teeners. This is a great opportunity for the boys who will be moving up to the next level of baseball next spring as well as those who just didn't get enough baseball this past Spring! Practices should start towards the end of August with games beginning in early September. Last year all of the games for the Pony and Midget teams were scheduled on Saturdays in the late morning or early afternoon. Please note that boys who are going into 7th grade and will not be 13 by 4/30/2016 (next year) have the option to move up to Teeners in the Spring instead of playing another season of majors. If your son meets this criteria and you are considering making this move next Spring then I highly recommend that your son play on the Teener team this Fall. This will give him the opportunity to get use to the larger field with 75 foot bases (15 feet farther than in Midgets) and a 54 foot pitching mound (8 feet farther than in Midgets). Leading off and stealing are key elements at the Teener level that will be taught during the Fall season.
If you have any questions about Teeners, please contact Brett Stehr (bnbbstehr@verizon.net or 651-9362).
Handout:
Baseball & Softball Sign Up forms
Monday, June 29
The West Hanover Boys 10U All-Star
The West Hanover Boys 10U All-Star team participated in the Hershey Summer Slam baseball tournament this past weekend. The 3-day tournament was reduced to 2 days because of the weather on Saturday. The team was comprised of Aidan Bilder, Tyler Blask, Benjamin Burke, Caleb Castanon, Brendan Glass (not pictured), Kyle Hoyt, Dominic Iozza, Grant Novinger, Sean Roadcap Jr, Joseph Sembrot, Gavin Yutesler, and Brendan Zeppuhar. The head coach was Bryan Hoyt who was assisted by Mike Yutesler, Ben Novinger, and Jason Zeppuhar. Congratulations to the boys who were selected for the team! A special thank you goes out to the coaches for the additional post-season work they provided for this team.
Wednesday, June 24
LPWH All-Star Team
Congratulations to Max Ludwig and Cole Lentz for being selected for the 2015 LPWH All-Star teams. Good luck and represent West Hanover well!
Wednesday, June 17
Undefeated Season for 10U Blue Bombers softball team
Congrats to our 10U softball team for completing the regular season 12-0 and then finishing second in the championship. Good job Blue Bombers for a great winning season.
Friday, June 5
Senators ticket buyout.
We sorry to have to bring this subject up but as some of you know, people who paid online received a 25.00 bill for the Senators ticket buyout. This is separate from the registration whether you registered online or not. The individuals that registered in person paid that at the time of registration. Since this was our first year handling online applications, we were inexperienced at handling this process. It was not included in the registration process which is why a separate bill was sent. The process WILL be improved for next year. This brings up my point, if everyone who signed up online (over 100 kids) doesn't send in their $25.00 fee, that is a $2,500.00 short fall in our budget. This is a major blow for our organization and it will affect our future. PLEASE PLEASE PLEASE send in your payment if you received a bill ASAP.
Thank you! We would like to continue to help girls and boys of our community.
Please send your check to the following address
WHBSA
PO Box 6044
Harrisburg, PA 17112
Friday, June 5
West Hanover Parks & Rec department
The West Hanover Parks & Rec department recently approved a tow away zone on Minute Road (back road by the guard rails and minor field). The signs should be going up within the next 2 weeks. Once the signs are up they will tow cars that are parked there. This is a result of neighbors complaining about their mail boxes and drive ways being blocked and cars being parked on their grass. So, if you typically park on Minute Street for practices or games, please start parking at the school or in the gravel parking lot by the senior teener field. I apologize for the inconvenience but there is nothing we can do about this at this point.
If you have any questions or concerns about this please contact West Hanover Township
Thanks, West Hanover Baseball & Softball
Monday, June 1
Central Dauphin Baseball Camp 2015
Central Dauphin Baseball Camp
Baseball season is now in full swing! Improve your skills, learn fundamentals of the game, and have some fun at the fifth annual Central Dauphin Baseball Youth baseball camp Instruction will be given by Central Dauphin High School coaches and players. These coaches include former college coaches and college baseball players. Where: Central Dauphin High School Baseball Fields When: June 22nd to June 24th, 2015 from 9am-12 pm (Sign-ins start at 8:30 am) Ages: 6-14 Instruction will focus on: hitting, fielding (for catchers and pitchers too), baserunning, and conditioning Cost: $60 Payment is due the day of the camp when you sign in. Registration: Please complete the form on the back of this sheet prior to the camp and mail to Coach Zellers, 7748 Manada Creek Drive, Harrisburg, PA 17112 OR bring with you the day of camp. Call 350-6819 with any questions. Come out and have some fun with the coaches and players from the Central Dauphin High School Baseball Team!
See Attachment for form:
Handout:
CD Baseball Camp
Friday, June 5
Message from one of our sponsors regarding training
Dear West Hanover Baseball & Softball
My name is Dave Brixius owner of Explosive Sports Performance. Imagine having an unstoppable team that dominates in strength and speed. Imagine decreasing their injury and keeping all your players on the field playing. This is where Explosive Sports Performance comes into play. We are a company that is geared at helping athletes improve their physical performance on the field such as their speed, strength, power, explosion, quickness, and overall athletic performance. We have worked with individuals and teams over the past 14 years to help them succeed. Let us help your players by having them come into EXSP this Saturday June 6th anytime between 9-12pm for a FREE workout. We also have other activities going on this day such as a Speed/Acceleration class at 11am, there will also be speakers Mike Cox (Former Atlanta Falcon Fullback), Matt Lehman (Former Penn State Tight End) and an incredbile presentation on Knee care by Physical Therapist, Theresa Speziale. The times are on the flyer attached. If a player can not make this day, they can contact us to set up a time to come in for a FREE workout. If you would not mind passing along these other programs we are running this summer for athletes such as our Cuff/Core program for baseball/softball players, Soccer Dominance, Dot-Mat-Nation program for wrestlers and our Summer special individualized program. Let Explosive Sports Performance be your resource in helping your players reach their full athletic potential. Checkout out some teams and individuals we have trained in the past by clicking here http://exsp.biz/exsp-nation-2/. P.S. We also have programs for adults so while the kids are working hard the parents can set a good example by doing the same. Check out the adult programs here http://exsp.biz/female-training/. I thank you for your time and your commitment in helping the youth of America understand the importance of teamwork, dedication, desire, hard work and enjoying themselves.
Thank You, David Brixius Explosive Sports Performance www.exsp.biz
Handout:
Misc
Friday, June 20
WEST HANOVER U14 Softball Championship !!!!!!
WEST HANOVER U14 Softball Championship !!!!!!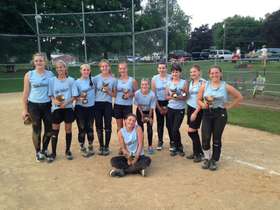 14U Champions !!!
Monday, June 23
West Hanover 11U All-Star Team
West Hanover's 11U All-Star team finished 4th in the Halifax Tournament (June 21-22) with a record of 3 wins and 2 losses, ending the first day of the tournament with a 12-0, fourth inning, mercy rule win! The team was comprised of the following 13 players; Christopher Daley, Jonathan Green, Alex Hoyt, Liam Kennedy, Cole Lentz, Josh Love, Max Ludwig, Nathan Pazuchanics, Andrew Renaldi, Reilly Shafer, Daniel Wood, Gavin Yutesler, and Justin Yutesler. The team was coached by Todd Love (not pictured), Mike Yutesler, Neil Renaldi, and Todd Green. Way to go boys!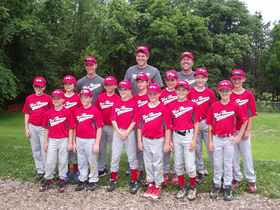 Finished in 4th Place
Monday, June 30
2014 LPHW MAJOR CHAMPIONS - WEST HANOVER RED !!!!
West Hanover's Red Major team defeated PHR Green 14-2 in a 4 inning mercy rule to become the 2014 LPWH Major Champions! Congratulations to the players, coaches, and parents!
Thanks to everyone who came out to support the team!
LPWH 2014 Champions
Monday, January 19
Registration Question