West Hanover Baseball & Softball: Welcome
West Hanover Baseball/Softball Association - "Providing Quality Recreation for Today's Youth
Follow us on Facebook: www.facebook.com/WestHanoverBaseballSoftballAssociation
Monday, June 30
2014 LPHW MAJOR CHAMPIONS - WEST HANOVER RED !!!!
West Hanover's Red Major team defeated PHR Green 14-2 in a 4 inning mercy rule to become the 2014 LPWH Major Champions! Congratulations to the players, coaches, and parents!
Thanks to everyone who came out to support the team!
LPWH 2014 Champions
Monday, June 23
West Hanover 11U All-Star Team
West Hanover's 11U All-Star team finished 4th in the Halifax Tournament (June 21-22) with a record of 3 wins and 2 losses, ending the first day of the tournament with a 12-0, fourth inning, mercy rule win! The team was comprised of the following 13 players; Christopher Daley, Jonathan Green, Alex Hoyt, Liam Kennedy, Cole Lentz, Josh Love, Max Ludwig, Nathan Pazuchanics, Andrew Renaldi, Reilly Shafer, Daniel Wood, Gavin Yutesler, and Justin Yutesler. The team was coached by Todd Love (not pictured), Mike Yutesler, Neil Renaldi, and Todd Green. Way to go boys!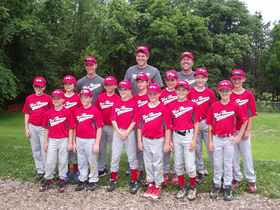 Finished in 4th Place
Friday, June 20
WEST HANOVER U14 Softball Championship !!!!!!
WEST HANOVER U14 Softball Championship !!!!!!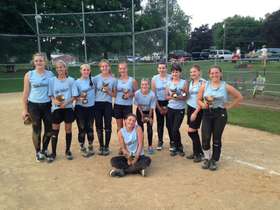 14U Champions !!!
Wednesday, August 20
Explosive Sports Performance Program
Explosive Sports Performance
Baseball/Softball Power Program
Get involved with a training program that will improve your:
Ø Arm Strength & Velocity
Ø Core Strength & Stability
Ø Speed
Ø Quickness
Ø Explosiveness
Ø Overall body strength
Class is a 6 week program that will run Sept 22nd-October 30th meeting twice a week.
Two Options to choose From.
Option 1: Sign up for the class Monday and Wednesday 7-8pm
Option 2: You pick a time and day during our business hours that fits into your schedule for your workout.
.
Program is only $99 if you sign up by Sept 20th or
$109 after
Space is Limited
NO REFUNDS
To Register contact Dave at exsp@verizon.net or dave@exsp.biz or call 571-4776