Welcome to the Westford Over 30 Slow-Pitch Softball League!
Welcome to the Westford Over 30 Slow-Pitch Softball League's web site. As this site is always a work in progress, all comments and suggestions are welcome and appreciated.
Westford Over-30 Softball is now accepting applications for the 2019 Player Dispersal draft. The application can be found by clicking on the Handouts link to the left.
If you haven't already done so, please take a moment to visit our sponsor page- thank you to the local business's that help keep our league going.

Both new comers and returning visitors are invited to visit the League Overview Page for details regarding our league. Also, please sign the Guestbook with any feedback that could prove helpful in this ongoing project.



Tuesday, February 5
2019 Season on the Horizon
With the warm weather and another duck boat parade today, whose thoughts would not be looking forward to the softball season that is fast approaching.
The 2019 application has been posted- any potential new players are encouraged to submit an application. These can be found in the Handouts section in the left margin window.
Tuesday, September 18
2018 Champion!
With a 19-5 win on Tuesday night, Floral Arts captured the league title for the first time since their back-to-back titles in 2011 and 2012. They defeated the Nashoba Valley Veterinary Hospital Mustangs 3 games to 1.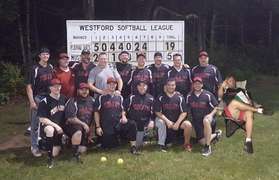 2018 Champions
Friday, February 24
Got Old Photos?
If anyone has old photos of League teams, games, or events, please feel free to forward to the League so that we can continue to improve the site.
Check out the Hall of Champions link to the left for recently added photos of past championship teams from 2001 and 2002.