Welcome to the Westford Over 30 Slow-Pitch Softball League!
Welcome to the Westford Over 30 Slow-Pitch Softball League's web site. As this site is always a work in progress, all comments and suggestions are welcome and appreciated.
Westford Over-30 Softball is now accepting applications for the 2015 season. The application can be found by clicking on the Handouts link to the left.
If you haven't already done so, please take a moment to visit our sponsor page- thank you to the local business's that help keep our league going.

Both new comers and returning visitors are invited to visit the League Overview Page for details regarding our league. Also, please sign the Guestbook with any feedback that could prove helpful in this ongoing project.



Tuesday, March 3
2015 Season
Despite the drifts of snow, the 2015 softball season is upon us. The Westford Over-30 Softball League is planning to hold its annual player dispersal draft the first week of April. Applications are now available (check the Handouts section in the left margin) and are due Friday, April 3rd.
For all returning players, a new waiver must be signed before playing this year. Please go to the Handouts section for a copy.
Expectations are high as the Mustangs look to reload and defend their title and Floral Arts looks to return to the throne after a two year hiatus. The Big Bats of Short Cut Landscaping are once again the wild card, looking to break the stranglehold of the Mustangs-Floral Arts stranglehold on the title. Drew Farms, Healy Oil, Mario's Restaurant, PST, and Willis Tent are all looking to add that one or two players that will bring them back to the elite level that once had them at the top of the league. And league new comer GutCheck looks to make the leap from "any given night" to contender. The season is scheduled to open on Tuesday, April 28th.
Wednesday, September 17
2014 Champions
After 24 Regular Season games, a bye in the first round, and two very different trips through the semi-final series, the Mustangs and Floral Arts played a game five to determine the Westford Over-30 Softball championship for the fourth year in a row.
Floral Arts showed great resiliency to force a game five, winning two in a row after being forced to the brink of elimination with two early losses. This one, however, turned out to be anti-climatic. The Mustangs, much like they did during the regular season when they went 23-1, steamrolled their way to their fourth title in six years, defeating Floral Arts 14-1. And once again, the Mustangs did it with pitching and defense, holding the prolific Floral Arts offense to one run behind the pitching of Don Cusano and stellar defense all around the diamond.
| | | | | | | | | |
| --- | --- | --- | --- | --- | --- | --- | --- | --- |
| | 1 | 2 | 3 | 4 | 5 | 6 | 7 | FINAL |
| Floral Arts | 0 | 0 | 0 | 0 | 0 | 1 | 0 | 1 |
| Mustangs | 3 | 0 | 2 | 2 | 3 | 4 | X | 14 |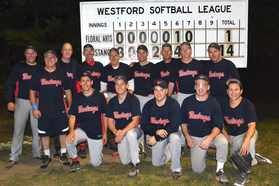 2014 League Champions
Friday, February 24
Got Old Photos?
If anyone has old photos of League teams, games, or events, please feel free to forward to the League so that we can continue to improve the site.
Check out the Hall of Champions link to the left for recently added photos of past championship teams from 2001 and 2002.
Sunday, September 21
Championshiop Round Summary
The Nashoba Valley Veterinarian Mustangs raised the league trophy again on Wednesday night after soundly beating Floral Arts in the fifth and final game of the championship series. The league trophy, a brass chalice, the provenance of which is anybody's guess, will now have the Mustangs' name engraved on it for the fourth time, along with three previous championship seasons in 2009, 2010, and 2013. The victory on Wednesday night was the Mustangs' 29th win of the season against only three losses. It was a truly remarkable season in the history of a team that has been a perennial contender over the last eight years.
Game Four: Floral Arts 16- Nashoba Valley Veterinarian Mustangs 14
On Tuesday night, Floral Arts staved off elimination and forced a Game Five of the championship series. Floral pitcher Larry Mardany was masterful, keeping the powerful Mustangs from scoring in four innings. Floral retired the top of the order in the first inning and then put up three runs in the bottom of the inning on Jim Peloquin's three-run homer. After six innings and a barrage of hits, Floral had built a 16-10 lead, but the Mustangs appeared poised for one of their trademark comebacks. The Mustangs scored four runs in the top of the seventh inning before finally making the third out on a fly ball to left-center field. Don Cusano hit three home runs in the contest and knocked in eight of the 10 Mustangs runs. Bill Knute, Mark Cusano, and Cormas Bordes each hit home runs for the Mustangs.
Game 5: Mustangs 14 - Floral Arts 1
The Mustangs capped off a record-setting regular season (23-1) by making their 8th finals appearance in the last 9 years. Outstanding all-around team defense and great pitching by Don Cusano held the powerful Floral Arts lineup to just five hits, four walks, and one run in the clinching win. Mustangs leadoff batter Paul Selfrige set the tone, as he did throughout the series, by going 3-for-3, hitting a home run, scoring two runs, and knocking in a pair. Don Cusano added two hits, including his seventh home run of the finals, to go along with a walk, two RBI and two runs scored. Jack Erickson continued his torrid hitting with three hits, including a home run, an RBI, and two runs scored. Mike Kennedy chipped in with a homer and outstanding defense at third base. Mark Cusano went 3-for-3, while Jay Dolan added two hits and 3 RBI. Jack McGrath contributed two big hits and two runs scored. Jim Ward made several tremendous running catches in left-centerfield, while second baseman Dan Crogan made the play of the night, a diving grab on rocket line-drive up the middle in the last inning.
Monday, September 15
Weekly Summary: Semi-Final and Finals Playoff Rounds
It took all five games of the semifinal round before Floral Arts defeated Shortcut Landscaping. Now, with the finals sitting at two wins to one in favor of the Nashoba Valley Veterinarian Mustangs, Floral Arts finds itself in a similar scenario to the semifinals when it went down two games to one. This is the sixth straight year in a row that the Mustangs and Floral Arts have met in the finals. The Mustangs have won three championships in that time.
SEMIFINALS
Floral Arts 17 - Shortcut Landscaping 4
On Tuesday, Floral Arts advanced to the final for the sixth year in a row with a 17-4 win over the powerful Shortcut Landscaping team. Larry Mardany pitched a gem of a game and the Floral defense was nearly perfect all night. Mardany helped his cause in the fourth when he hit a two-run homer. Roger Whittlesey hit an opposite-field three run homer in an inning when Floral scored eight runs. Ken Delaney homered twice and Jim Peloquin and Simon Tripp each homered once. Dave Janowsky continued his hot hitting, getting on base in every at-bat.
FINALS
Nashoba Valley Veterinarian Mustangs 20 - Floral Arts 15
On Wednesday, the Mustangs scored six runs in the first and then kept adding on incrementally all night to stay just ahead of Floral Arts. Ken Delaney hit a three-run homer in the second inning for Floral during a seven-run inning that brought the score to 11-7 Mustangs. Jack McGrath's three-run homer in bottom of sixth provided the insurance runs necessary to hold on for the win. The following Mustangs had productive nights at the plate: Jack Erickson 3-for-3, 2 RS, 2 RBI, Jay Dolan 3-for-3, 2 RS, 1 RBI, Don Cusano 2 hits, 3RBI, Cormac Bordes 2 hits, 3 RS, 2 RBI. Bill Knute was solid defensively in left.
Nashoba Valley Veterinarian Mustang 23 - Floral Arts 16
On Friday, the Mustangs were an offensive machine, knocking the ball to all fields and several over the fence. Their success against Floral's starting pitcher in the first two innings prompted a rare pitching change as Floral shortstop Jim Peloquin came in to stop the bleeding. But the Mustangs did not relax; they continued to pound the ball. Mark Chamber hit a three-run homer for Floral and Jim Peloquin hit a two-run shot to the opposite field. Mustangs' pitcher Don Cusano and left fielder Bill Knute each scored four runs, had two homers and knocked in four. Mike Kennedy and Paul Selfrige were both 4-for-4 with 4 runs scored and two RBI. Selfrige also hit a home run. Jim Ward, Mark Cusano and Craig Smith had three hits each. Dan Crogan and Paul Liguori played great infield defense.
Floral Arts 3 - Nashoba Valley Veterinarian Mustangs 8
On Sunday, Floral Arts needed a win to force a fourth game in the best-of-three series finals, and they came out swinging. Mike Alonardo, Jim Peloquin, and Simon Tripp hit homers in the first inning to go up 3-0. Floral pitcher Larry Mardany shut down the Mustangs in the bottom of the inning, and then Floral tacked on more runs, including a home run by Rob Beaudette. Frank Lancelotta was 2-for-3 and hit an opposite-field songle that scored a runner from second. Floral Arts' strong defense kept the Mustangs from scoring in four of the seven innings. Mustangs' Mike Kennedy hit a home run and knocked in three, while playing excellent defense at third. Bill Knute collected three hits. Paul Selfrige, Dan Crogan, and Jack Erickson had two hits apiece. Jim Ward played well in the outfield.