Welcome to the Westford Over 30 Slow-Pitch Softball League!
Welcome to the Westford Over 30 Slow-Pitch Softball League's web site. As this site is always a work in progress, all comments and suggestions are welcome and appreciated.
Westford Over-30 Softball is now accepting applications for the 2014 season. The application can be found by clicking on the Handouts link to the left.
If you haven't already done so, please take a moment to visit our sponsor page- thank you to the local business's that help keep our league going.

Both new comers and returning visitors are invited to visit the League Overview Page for details regarding our league. Also, please sign the Guestbook with any feedback that could prove helpful in this ongoing project.



Friday, September 13
Mustangs Win 2013 Title
With a 12-9 win on Friday night, the Mustangs completed a three game comeback against Floral Arts to win the 2013 title 3 Games to 2.
Game 3: Mustangs 22 - Floral 10 Mustangs avoided elimination with a 22-10 victory behind numerous offensive contributions. Paul Selfrige set the tone from the top of the order going 4-5 with 4 runs scored. Don Cusano added 3 hits, including 2 monstrous homers and 4 RBIs. Bill Knute and Jack Erickson also homered for the winners.
Game 4 Mustangs 5 - Floral 4 Great pitcher's duel finally came to an end in the bottom of the 8th inning on a walkoff homerun by Mustang Jack Erickson. Paul Selfrige and Dan Crogan combined to turn 4 infield double plays in the well played game.
Game 5 Mustangs 12 - Floral 9 Bill Knute and Jim Ward played outstanding outfield defense in LF and LC all series long for the Mustangs and it continued in game 5. Offensively, the Mustangs were led by Don Cusano's two tape measure homeruns. Bill Knute and Mike Kennedy also homered to help the Mustangs wrestle the championship back from Floral Arts in a hard fought series.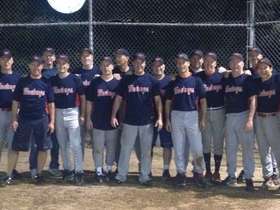 2013 Champs
Friday, February 24
Got Old Photos?
If anyone has old photos of League teams, games, or events, please feel free to forward to the League so that we can continue to improve the site.
Check out the Hall of Champions link to the left for recently added photos of past championship teams from 2001 and 2002.