Welcome to the Westford Over 30 Slow-Pitch Softball League!
Welcome to the Westford Over 30 Slow-Pitch Softball League's web site. As this site is always a work in progress, all comments and suggestions are welcome and appreciated.
Westford Over-30 Softball is now accepting applications for the 2018 Player Dispersal draft. The application can be found by clicking on the Handouts link to the left.
If you haven't already done so, please take a moment to visit our sponsor page- thank you to the local business's that help keep our league going.

Both new comers and returning visitors are invited to visit the League Overview Page for details regarding our league. Also, please sign the Guestbook with any feedback that could prove helpful in this ongoing project.



Monday, September 25
Mustangs reign continues...
With another Mustangs championship win, the menu will be set for next year's opening day cookout. The Mustangs outlasted a bunch of tough competition along the way and yet again proved how good they are. Winning in a five-game series, the Mustangs beat a very good Floral Arts team that certainly proved they deserved to be in the final series.
Nashoba Valley Veterinary Mustangs 22 - Floral Arts 14
The Mustangs won an important game three with offensive contributions by Cormac Bordes with two home runs, Paul Selfrige, Mark Cusano, Don Cusano, Billy Knute and Jack Erickson all with a home run as well. Mike Kennedy and Keith Reynolds added four hits apiece. Kennedy helped turn a double play in the infield and Jim Ward played great in the outfield for winners.
Floral Arts 29 - Nashoba Valley Veterinary Mustangs 20
Floral Arts roared back for the win and to force a game five. Paul Selfrige, Mike Kennedy (seven RBI), and Cormac Bordes (five RBI) all had to home runs apiece in the losing effort. Mark Cusano added another home run blast. Jim Ward had four hits and Dan Crogan had three knocks and outstanding defense at second base. Bill Knute made several great running catches in left.
Nashoba Valley Veterinary Mustangs 14 - Floral Arts 2
The Mustangs dedicated their season to their late former teammate and skipper, Nat Arena.
They had to overcome their toughest test yet to capture their fifth straight championship and seventh in nine years. The champs had to win their last two regular season games against second seeded Floral Arts and third seeded Shortcuts to secure the only first round playoff bye. Then, they faced two separate series deficits against a very talented upstart Burton's squad to squeak out a five game victory in the semifinals. Lastly, they lost the finals opener to a powerful Floral Arts team and had to overcome that deficit along with power outages, shaky weather and numerous injuries to pull out the tight game five victory.
In the final game Cormac Bordes led the offensive charge with two more bombs to make it six for the series, same as his total in the semi final round. Don Cusano pitched outstanding and caught a bullet line drive to end the game and the series in the last inning. He helped himself with two home runs. Baby brother Mark Cusano added a long homerun, as well. Bill Knute added three hits and a bomb of his own. Paul Ligouri had two big hits. Craig Smith had a clutch double. Paul Selfrige played great defense at short and added a double to lead off the game.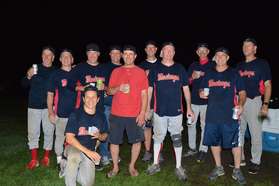 2017 League Champions
Friday, February 24
Got Old Photos?
If anyone has old photos of League teams, games, or events, please feel free to forward to the League so that we can continue to improve the site.
Check out the Hall of Champions link to the left for recently added photos of past championship teams from 2001 and 2002.