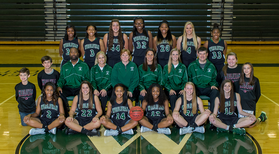 2014-2015 Wesleyan Lady Wolves
.



"Though an army besiege me, my heart will not fear; though war break out against me, even then I will be confident."

- Psalm 27:3



Monday, December 15


Lady Wolves gradually emerge from funk, dismantle Gainesville 49-23


Clearly still in a funk from the previous night's unlikely loss to Buford, Wesleyan finally awoke in the fourth quarter to defeat Class AAAAA Gainesville 49-23 Saturday night at Gainesville. Things started well enough for the Lady Wolves as they took a 14-6 lead at the end of one. Gainesville chipped away at the lead in the second quarter as Wesleyan had trouble finding the basket. The Lady Elephants outscored Wesleyan 12-6 in the period to pull within two trailing 20-18 at the half. The third quarter was rather forgettable as neither team was sharp. A total of seven points were scored by both teams. Due to Wesleyan upping its defensive pressure, Gainesville scored only one of those points. Wesleyan led 26-19 heading into the fourth. In the fourth quarter, the collective funk that had fallen over the team disintegrated. The Lady Wolves began to click on all cylinders and outscored Gainesville 23-4, scoring almost as many points in the fourth quarter as in the previous three combined. Wesleyan won going away. Nikki McDonald led the scoring effort with 17 points to go with five rebounds. Cairo Booker added 13 points, five assists, four rebounds and four steals, while Lauren Frerking scored nine points to with two boards and two steals. Natalie Armstrong scored six points while pulling down a team high seven rebounds. Wesleyan improves to 5-3 on the season with the win and will next face Class AAAA Woodward on Friday at Woodward. Tipoff is 7:00 PM.

Monday, December 15


Buford squeaks past Wesleyan on layup at buzzer



Cario Booker goes for a steal vs. Buford
This one stung. After holding a lead for the entire game, Wesleyan had to endure a heartbreaking 54-53 loss to Buford on a layup with three seconds remaining Friday night at Buford. Wesleyan looked good in the first half taking a 19-11 lead at the end of the first quarter and increasing it to 34-20 at halftime. Defensively, Wesleyan held Buford's leading scorer and North Carolina State commit Camille Anderson in check allowing her no points scored in the half. Things changed in the second half as Wesleyan's junior point guard Cairo Booker was quickly whistled with her fourth foul less than a minute into the third quarter and relegated to the bench until late in the fourth. Sophomore Natalie Armstrong was joined her a few seconds later and the dynamics of the game changed. Anderson was able to get free and led her team to within seven points at the end of the third quarter. Turnovers cost Wesleyan dearly in the fourth. Buford took its first lead of the game with 13 seconds remaining in the game. Wesleyan senior Lauren Frerking was fouled after the inbounds and calmly sank both free throws to give Wesleyan a 53-52 lead with 10 seconds left in the game. Anderson took the ball the length of the floor and hit a layup with 3.2 seconds left which wasn't enough time for Wesleyan to get a look at a game winning basket. The win was Buford's first over Wesleyan in nearly five years, their last win being in January of 2010. Wesleyan had won the previous five meetings and seemed to be on its way to a sixth in a row prior to Fridays tough loss. This Wesleyan team is finding itself however and is on the brink of getting where it needs to be...the first half of the Buford game was evidence of that.
Photos by Gwinnett Daily Post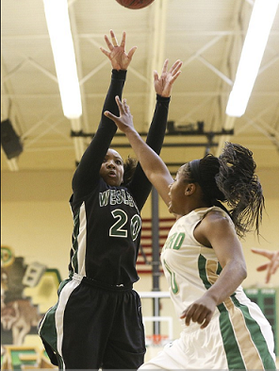 Nikki McDonald shoots over Buford defender


Friday, December 12


Edwards/Armstrong both post double doubles in win over KIPP Atlanta


The Lady Wolves won a region game Tuesday night with a 79-17 rout oof KIPP Atlanta in the first ever meeting between the schools. KIPP, new to region 6-AA, was unable to handle the Wesleyan defense in the first quarter as the Lady Wolves opened a 36-2 lead. Wesleyan cruised from there as every player saw action and scored in the win. Nikki McDonald led all scorers with 19 points to go with her seven rebounds and two steals. Sophomore Bailey Edwards had the first double double of her career with 14 points and 13 rebounds while fellow sophomore Natalie Armstrong had 12 points and 14 boards. Freshman Sutton West added 11 points and five rebounds for the Lady Wolves. Wesleyan improves to 4-2, 2-0 in region on the season. Next up is the annual clash with Buford, last season's Class AAA runner up. Buford has since moved to Class AAAA and is still a state power. Tipoff is Friday at 6:00 PM at Buford.

Monday, December 8


Wesleyan opens region play with 75-28 win over Hapeville


Wesleyan faced Hapeville Charter in its first region contest of the season and posted a resounding 75-28 road win Friday night at Hapeville. The Lady Wolves started off hot leading 18-5 after one period. Hapeville had it's most productive offensive quarter of the game in the second period scoring 10 points. Wesleyan put up 22 however and took a 40-15 lead into halftime. The second half mirrored the first as Wesleyan outscored Hapeville 35-13 in the half. Nikki McDonald posted another double double as she had 15 points, 15 rebounds, five steals, two blocked shots and two assists in a fine all around performance. Natalie Armstrong also had a double double as she scored 14 points and had 10 rebounds to go with a pair of assists. Seniors Danielle Summers and Lauren Frerking each scored 10 points. Summers also had four steals and two boards while Frerking chipped in three assists. Sophomores Jameson Kavel and Katie Stipe scored nine points each. Kavel also had four assists, two rebounds and two steals. With the win Wesleyan improves to 3-2 overall, 1-0 in region. The Lady Wolves continue region action against KIPP Atlanta in their first ever meeting on Tuesday night at Wesleyan in the Lady Wolves' home opener. Tipoff is 6:00 PM.

Monday, December 1


Lady Wolves drop first two but save face with win in third game of Parkview round robin


Wesleyan played three games in the Parkview Holiday Classic before the Thanksgiving break with mixed results. The format was a round robin meaning three games against three opponents on a neutral court but not in the traditional "tournament" sense....no winners bracket or champion etc. In Wesleyan's first game against Class AAAAAA Hillgrove, the Lady Wolves got down early. Down by as much as 16 in the first half, Wesleyan battled back to cut the lead to three late in the second half but couldn't make it all the way back as they fell 59-53. Wesleyan also suffered its second knee injury to a player in as many games as freshman point guard Amaya Register went down in the first half...just one game after sophomore guard Mikayla Coombs was lost for the season with a torn ACL. Hopefully Amaya will return to action soon. In game two, Wesleyan faced another Class AAAAAA team in Mays. The Lady Wolves kept it close in the first half trailing only 26-23 at the break but Mays was able to extend their lead in the second half as Wesleyan's shooting went cold. Mays won 57-43. The Lady Wolves salvaged the Parkview event by winning game three another Class AAAAAA school Forest Park. Wesleyan broke a 20-20 tie at halftime outscoring Forest Park 21-14 in the third quarter and held on in the fourth to win 53-46. Senior Elon signee Nikki McDonald had a monster game posting a double double scoring 26 points and pulling down 17 rebounds. After taking a break from games for the Thanksgiving holidays, the Lady Wolves will return to action this Friday, December 5. It will be the first region game of the season for Wesleyan as they will travel to Hapeville to take on the Lady Hornets of Hapeville Charter. Tipoff is 6:00 PM.

Thursday, November 20


Wesleyan opnes season with win over South Gwinnett but could come at a cost


Wesleyan opened its 2014-2015 campaign with a 44-27 win over Class AAAAAA South Gwinnett on Wednesday afternoon in the Hilton Tipoff Classic at Norcross High School. The win however was dampened by an injury to sophomore Mikayla Coombs who went down early in the first quarter with a knee injury. In the first meeting between Wesleyan and South Gwinnett in four years, the Lady Wolves led 11-9 at the end of the first. The team settled in during the second quarter as South Gwinnett had trouble handling Wesleyan's defense. The Lady Wolves outscored the Comets 15-3 in the period to take a 26-13 lead into halftime. The teams played evenly in the third quarter with Wesleyan holding onto a 37-25 lead heading into the fourth. Nikki McDonald and Cairo Booker led the Lady Wolves' scoring effort with nine points apiece. McDonald also had six rebounds and four steals while Booker had three assists, three rebounds and two steals. Sophomore Natalie Armstrong contributed eight points, six boards and two blocks while fellow sophomore Bailey Edwards had seven points, two rebounds and two steals. Coombs scored five points and pulled down two boards in her brief appearance. Wesleyan is now 1-0 on the season and 4-0 all time vs. South Gwinnett. The Lady Wolves will next face Class AAAAA Mays in the Parkview Tipoff Classic on Saturday at Parkview. Tipoff is scheduled for 7:00 PM.

Monday, July 14


McDonald accepts scholarship offer from Elon



McDonald from action during 2013-2014 season
Rising Wesleyan senior Nikki McDonald has made a verbal commitment to attend and play basketball for Elon University. Elon, an NCAA Division I university located in Elon, North Carolina, recently moved from the Southern Conference to the Colonial Athletic Association whose members are College of Charleston, Delaware, Drexel, Hofstra, James Madison, North Carolina-Wilmington, Northeastern, Towson and William & Mary. McDonald was an integral member of Wesleyan's 2012 and 2013 state championship teams and the 2014 state runner up team. She earned first team All State honors as a junior this past season as she led the Lady Wolves in scoring averaging 14.2 points per game. She also led the team in rebounds per game (7.3), charges taken (19) and 3-point percentage (36.0). McDonald becomes the 25th player in Wesleyan's girls basketball program to earn a full Division I basketball scholarship and 27th player overall to earn a basketball scholarship. Congratulations to Nikki on her decision.