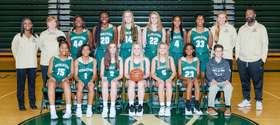 2018-2019 Wesleyan Lady Wolves

Tuesday, November 13


Lady Wolves win season opener with 64-21 road win over Pace


Wesleyan travelled to Buckhead tonight to take on Pace Academy in the season opener and emerged a 64-21 victor. The Lady Wolves built a double digit lead in the first quarter which carried over to a 37-14 advantage at halftime. The lead balooned to 57-18 heading into the shortened 6-minute fourth period. Junior AC Carter led the Lady Wolves' scoring effort as she put up 17 points along with eight rebounds, three assists and three steals. Sophomore Paige Lyons had 11 points, a game high seven assists and five steals while junior Izzy Larsen had 12 points, a game high eight rebounds and four steals while senior Callie Weaver had 10 points and four boards. Sophomore Nicole Azar and freshman Jessie Parish chipped in five points apeice. Wesleyan is 1-0 on the season. Pace drops to 0-2. Wesleyan will take the court again on Saturday when they take on Class AAAAAAA Sequoyah. The game is at Johns Creek High School. Tipoff is 3:30 PM.

Saturday, November 10


Wesleyan routs perennial AAAAA power Southwest Dekalb 69-47 in pre-season game


Wesleyan travelled to Southwest Dekalb Wednesday night and posted an impressive 69-47 win over the traditional powerhouse from Class AAAAA. The first quarter was tight with Wesleyan leading 11-8 at the end of the period. The Lady Wolves open it up in the secord quarter outscoring SW Dekalb 20-4 in the period taking a 31-12 lead into halftime. The third quarter saw more offense from both squads as Wesleyan increased its lead to 54-30 heading into the fourth period. SW Dekalb outscorded the Lady Wolves 17-15 in the fourth but Wesleyan had built a large enough cushion where that was inconsequential. Sophomore Nicole Azar led the Wesleyan scoring effort with a game-high 21 points including going 5-for-7 from the three point line. She also had three rebounds, two steals and finished the game shooting 78% from the field. Junior AC Carter had 14 points, five assists, four rebounds and four steals. Paige Lyons added 10 points, a game-high seven assists and three rebounds. Alyssa Phillip added eight points and two boards while Izzy Larsen put up seven points and three boards. Senior Callie Weaver chipped in six points, had two steals and took a pair of charges. The 2018-2019 season officially begins this coming Tuesday, November 13 when Wesleyan heads to Buckhead to take on Pace Academy. Tipoff is 5:30 PM.