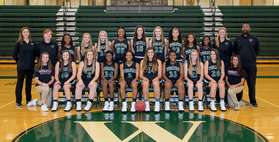 2016-2017 Wesleyan Lady Wolves
"Do nothing out of selfish ambition or vain conceit. Rather, in humility value others above yourselves."
- Philippians 2:3
Friday, December 9
Wesleyan destroys AAA No. 5 ranked Morgan County 81-46
Jameson Kavel looks to pass around Morgan County's Autumn Woodard
Wesleyan rolled to its seventh straight win with a convincing 81-46 win over Class AAA No. 5 ranked, and defending AAA state champion Morgan County Friday night at Wesleyan. The Lady Wolves started fast racing to 24-6 lead at the end of the first quarter mostly behind a suffocating defense for which Morgan had no answer. The lead grew to 41-16 at the half and 60-34 end the end of the third. Twelve Wesleyan players hit the scoring column in this one led by a double-double performance by Mikayla Coombs. Coombs scored a season high 27 points and pulled down 12 rebounds to go with three assists, three steals and a blocked shot. Natalie Armstrong also turned in a double double with 12 points and 10 rebounds. Sutton West added nine points, three blocks and two rebounds while Bailey Edwards put up six points and six rebounds. Jameson Kavel chipped in five points, six rebounds and four assists. With the win Wesleyan improves to 7-0 on the season. The Lady Wolves hit the road tomorrow night as they travel inside I-285 to face Coach Azar's alma mater, St. Pius. Tipoff is 6:00 PM.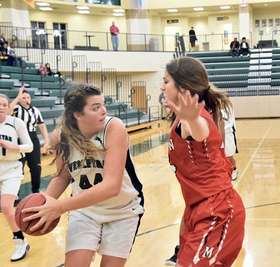 Natalie Armstrong defended by Morgan County's Taylor Wilson
Tuesday, December 6
Lady Wolves win region opener over WD Mohammed
Maya Timberlake shoots over WD Mohammed defender
Wesleyan won its region opener 75-8 over WD Mohammed Tuesday night at Yancey Gymnasium on the Wesleyan campus. Jameson Kavel and Katie Stipe led Wesleyan's scoring effort with 11 points apiece. Sydney Milliken and Bailey Edwards each added nine points for the Lady Wolves who upped their record to 6-0 on the season, 1-0 in region. Wesleyan will next face Morgan County, the No. 1 ranked team in Class AAA, on Friday at home. Tipoff is 5:30 PM.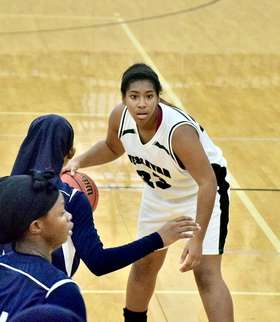 Capri Frazier is back after season ending injury last year
Saturday, December 3
Pace no match for Wesleyan in home opener
Amaya Register flies over Pace's Ellie Luetters
Wesleyan played its first home game of the young season Saturday night posting a 62-28 win over former region rival Pace Academy. The schools, both members of Region 6-AA for the past two years, are now in separate classifications with Pace choosing to play up in Class 3A while Wesleyan was reclassified to Class 1A. The result was a familiar one as the Lady Wolves dictated the tempo. Wesleyan led 18-0 at the end of the first quarter. The lead grew to 35-8 at the half and 56-23 at the end of three. The fourth quarter was shortened to six minutes. All players saw playing time in this one. Jameson Kavel was Wesleyan's leading scorer with 13 points on 3-for-8 shooting from behind the arc. She also had three assists, two rebounds, a steal and a blocked shot. Mikayla Coombs put up 12 points, six rebounds, five steals and two blocks while Amaya Register had nine points, five steals, four assists, two boards and a blocked shot for Wesleyan which improves to 5-0 on the season with the win. Pace falls to 4-2. Wesleyan will play its first region opponent of the season when WD Mohammed visits Yancey Gymnasium on Tuesday. Tipoff is 5:30 PM.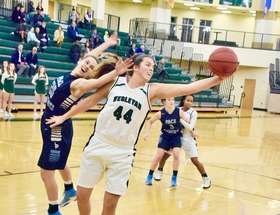 Natalie Armstrong outstretches Pace's Julia Ross


Saturday, December 3


Wesleyan posts three players on Atlanta Tipoff Club presason All Metro team


Wesleyan seniors Mikayla Coombs and Natalie Armstrong, who have committed to Connecticut and Samford respectively, and junior Amaya Register, have been named to the Atlanta Tipoff Club preseason All Metro Team. Below is the entire presason Metro Team.


Saturday, December 3


Lady Wolves upend Mill Creek 73-55 powered by freshman Carter's 18 points




Freshman A.C. Carter led Wesleyan with 18 points as the Lady Wolves powered past Class 7A Mill Creek Thursday night at Mill Creek. Mikayla Coombs and Natalie Armstrong each had double doubles. Coombs had 17 points and 11 rebounds while Armstrong put up 16 points and 12 boards. Amaya Register added eight points and a team high seven assists for Wesleyan who upped its record to 4-0. The Lady Wolves next face Pace Academy tonight in their home openier. Tipoff is 5:30 PM.



Sunday, November 20


Coombs' 25 points lead Wesleyan past Tattnall County in Effingham Thantksgiving Classic



Amaya Register hit five threes in win over Tattnall County
Wesleyan took on Tattnall County its second contest in the Effingham Thanksgiving Classic Saturday afternoon at Effingham County High School located outside of Savannah. The result was similar to its first game as the Lady Wolves overwhelmed Tattnall County 90-38 to go 2-0 in the tournament. Tattnall County, a Class AAA school from Reidsville, did not get going until late in the first quarter but the damage was already done. Wesleyan held leads of 29-7 at the end of the first quarter and 52-17 at the half. Mikaya Coombs lead all scorers with 25 points and was 3-for-f5 from the three point line. She also had eight rebounds, six steals and four assists. Coombs was one of four Wesleyan players to score in double figures. Amaya Register lit it up from long range shooting 84% from the three on 5-for-6 shooting. Register put up 19 points, six asssits, two rebounds and two steals. Sutton West added 13 points, seven boards, five assists and four steals for the Lady Wolves while AC Carter had 11 points and two boards. As a team Wesleyan shot 44% from behind the arc on 13-for-30 shooting. Wesleyan improves to 3-0 on the season with the win. The team will have the week off to celebrate Thanksgiving and will not hit the court again until Friday, December 2 when they face Class AAAAAAA Mill Creek on the road.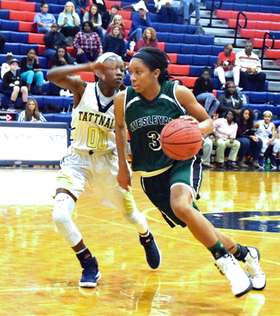 Mikayla Coombs drives past Tattnall County defender
Sunday, November 20
Lady Wolves head East but West leads them past Effingham County
Katie Stipe drives guarded by Effingham's Emma Hartzog
The Lady Wolves took a quick trip to Savannah this weekend to participate in the Effingham Thanksgiving Classic. In Friday's game, Wesleyan took on the host Effingham County Rebels, a Class AAAAAA school located just outside of Savannah. Wesleyan got off to a quick start posting an 18-0 lead before Effingham got on the scoreboard. The Lady Wolves led 22-4 at the end of the first quarter. Effingham struggled with Wesleyan's defensive pressure which caused numerous turnovers. The lead grew to 54-9 at halftime. Wesleyan played half court defense the entire second half which allowed for a little more Rebel offense but the Wesleyan bench proved too deep as the Lady Wolves posted a 93-28 win. All told 14 Wesleyan players hit the scoring column in this one led by Sutton West's game high 12 points. She barely missed a double double as she recorded nine rebounds. West had a solid all around game adding four assists, three steals and three blocks to her stats. Mikayla Coombs was the only other Wesleyan player to score in double figures as she put up 11 points. She also narrowly missed a double double grabbing nine boards. Coombs added five assists and five steals. Amaya Register scored nine points and had three rebounds, two steals and two assists while Izzy Larson had nine points, four steals, three rebounds and one assist. AC Carter added eight points, a game high 12 rebounds, and two assists for Wesleyan while Natalie Armstrong had eight points, eight boards and two steals. Jameson Kavel chipped in eight points, two steals and two rebounds while Callie Weaver scored eight points and grabbed four rebounds. Bailey Edwards, Sarah Adams and Caroline Burke each put up four points while Sydney Milliken and Lauren Hill scored three points apiece. Maya Timberlake rounded off the Wesleyan scoring effort with two points and also pulled down four boards. Wesleyan improved to 2-0 with the win.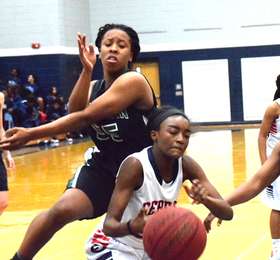 Freshman AC Carter gets tangled with Effingham's Ta'Shauna Johnson
Saturday, November 12
Lady Wolves open season with 66-53 win over Hillgrove
Mikayla Coombs goes baseline past Hillgrove defender
Wesleyan kicked off the 2016-2017 season with a 66-53 win over Class 7A Hillgrove in a game played at Norcross High School on Saturday afternoon. The Lady Wolves' rust was evident as they struggled a bit in the first half to find any sort of rhythm. Wesleyan held an 11-9 lead at the end of the first quarter. The Lady Wolves created some breathing room for themselves in the second quarter building a 28-17 lead at halftime. The full court press had a positive effect in the third quarter causing Hillgrove to committ numerous turnovers. Wesleyan outscored Hillgrove 25-14 in the period pushing the lead to 53-31 entering the fourth quarter. The game was somewhat sloppy but season openers usually are. Mikayla Coombs led the Wesleyan scoring effort with 19 points to go with five rebounds, four assists and three steals. Amaya Register was the only other Wesleyan player to score in double figures as she put up 11 points. She also had four assists and three steals in limited playing time as she was plagued by foul trouble for much of the game. Jameson Kavel added eight points, a team high five assists, six rebounds and four steals for Wesleyan while freshman AC Carter scored eight points to go with six boards. Natalie Armstrong grabbed a team high 10 rebounds to go with six points. The Lady Wolves at 1-0 on the young season and will not play again until Friday when the team travels to Savannah to take on Effingham County on Friday and Tatnall County on Saturday.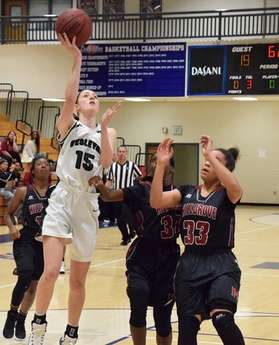 Sutton West lays on up over Hillgrove
Thursday, December 8
2016-2017 Wesleyan Girls Basketball Program
---