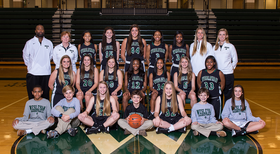 2015-2016 Wesleyan Lady Wolves
"Do nothing out of selfish ambition or vain conceit. Rather, in humility value others above yourselves."
- Philippians 2:3
Monday, November 23
Kavel ties school record with seven three-pointers in 73-39 romp over Central Gwinnett
Jameson Kavel unloads one of her seven bombs vs. Central Gwinnett
Wesleyan junior Jameson Kavel tied a school record unloading seven three-pointers as Wesleyan routed Class AAAAAA Central Gwinnett 73-39 Monday night in the semifinals of the Wesleyan Turkey Tipoff at Yancey Gymnasium on the Wesleyan campus. Central Gwinnett kept things close in the first quarter. Wesleyan jumped out to an 8-2 lead but Central closed it to 8-7. Wesleyan then increased its lead to eight before Central cut it to four with Wesleyan leading 21-17 at the end of the first quarter. Wesleyan's full court press was on full display in the second quarter and a four-point lead ballooned to 32-17 lead just two minutes into the secord quarter prompting a Central Gwinnett time out. The damage was done however. The Lady Wolves took a 43-24 lead into halftime and led 66-26 heading into shortened six-minute fourth. Cairo Booker led all scorers torching the Black Knights with 24 points to go with five steals, five assists and three rebounds. Kavel finished with 23 points, a team high seven steals and three rebounds. She tied a school record with seven three-pointers in the game. Jenny Hall, (class of 2002) hit seven threes against Lovett on February 2, 2000 and Nikki Luckhurst (class of 2004) hit the seven three-pointer mark three times, March 4, 2002 against Taylor County, November 23, 2003 vs. Central Gwinnett, which coincidentally, is the last time Wesleyan and Central Gwinnett had met on the basketball court, and March 4, 2004 vs. Randolph-Clay. This was the first time in 11 years a Wesleyan player had connected on seven threes in one game. Natalie Armstrong finished the game with seven points and nine rebounds while Amaya Register put up six points, five boards and three rebounds. Mikayla Coombs added five points, six steals, four assists and three boards. The Lady Wolves improve to 2-0 on the season and will face Morgan County, who won its semifinal over Hillgrove, in the finals. Tipoff is 5:30 PM tomorrow.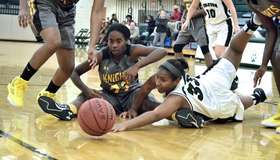 Capri Frazier goes after a loose ball during second half vs. Central
Saturday, November 21
2015-2016 Lady Wolves debut with big win over Druid Hills in first round of Wesleyan Turkey Tipoff
Sutton West lays one up over Druid Hills defender
Wesleyan began its defense of its AA state title with a lopsided 76-4 win over Druid Hills in its season opener. Wesleyan, host of the Wesleyan Turkey Tipoff, led Druid Hills 50-0 at halftime as the Red Devils were simply outmatched. Senior and recent Wofford signee Cairo Booker led Wesleyan with 11 points, five steals and three rebounds. Natalie Armstrong barley missed a double-double scoring eight points will pulling down 11 rebounds. Amaya Register added nine points to go with her team highs in steals (6) and assists (5). Bailey Edwards added eight points and five rebounds for the Lady Wolves while Capri Frazier and Sydney Milliken put up seven points apiece. Mikayla Coombs, playing in her first game since suffering a season ending ACL tear in the first game of last season, had seven points, three steals and two rebounds and most importantly, mad it through the first game of the season unscathed! The scoring effort for Wesleyan was evenly spread as Katie Stipe had six points from a pair of three pointers while Jameson Kavel had five. Caroline Burke, Sutton West and Callie Weaver rounded out the Wesleyan scoring effort four points and two points each respectively. Wesleyan is now 1-0 on the season and will face Central Gwinnett, a 43-41 winner over Riverwood in its first round game,in the semifinals on Monday. Tipoff is 5:30 PM in Yancey Gymnasium.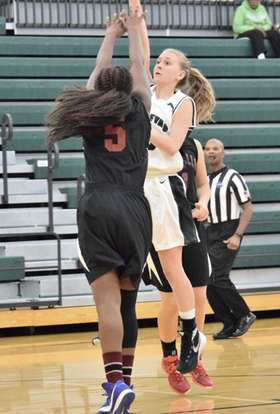 Caroline Burke shoots over a Lady Red Devil
Monday, November 2
Wesleyan Turkey Tipoff Brackets
Friday, November 13
Booker makes it official, signs letter of intent with Wofford
Booker with Coach Azar at signing ceremony
Wesleyan's lone senior Cario Booker signed her official letter of intent today to continue her academic and basketball career at Wofford College in Spartanburg, South Carolina. The school held a singing ceremony in her honor in Yancey Gymnasium on the Wesleyan campus which was attended by fellow students, teammates, coaches and faculty. Congratulations Cairo!

Wednesday, November 11


Wesleyan bests West Forsyth in pre-season scrimmage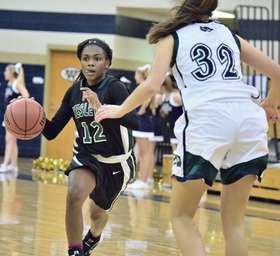 Cairo Booker in action last night