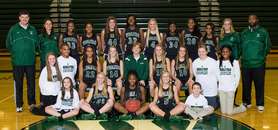 2013-2014 Wesleyan Lady Wolves
.



"Enter His gates with Thanksgiving, and His COURTS with praise"

- Psalm 100:4




Wednesday, December 11

Carolina Invitiational Brackets
Saturday, December 7
Balanced scoring, porous defense highlight dominant win over Darlington
Cairo Booker scored 10 points in 78-55 win over Darlington
Wesleyan dominated Darlington from start to finish Friday night posting a 78-55 road win in Rome. Though Wesleyan took a double digit lead early the second quarter, a lead that would never go back to single digits, the impressive defense displayed in the 59-26 win over Class AAAAA No. 3 ranked Forest Park earlier in the week was less evident tonight. Wesleyan led 17-8 at the end of the first quarter. In the second, the lead grew to double digits. It seemed each time Darlington would convert on the offensive end, sometimes after breaking Wesleyan's press, a Wesleyan player would counter with a three on the other end. The Lady Wolves outscored the host Tigers 23-9 in the period taking a 40-17 lead into halftime. Wesleyan's defensive woes continued in the second half as defenders often arrived at the scene late and whistles often blew for reaching fouls or blocking calls. Wesleyan outscored Darlington 25-19 in the third taking a 65-36 lead into the fourth. A telling stat on the night was free throws. Darlington, ranked No. 9 in Class A, made 27 on the evening which accounted for 49% of its point total. Wesleyan converted 18 free throws which accounted for 23% of its points on the night. Positives for the game include the number of contibutors Wesleyan had on the offensive end as 11 different players got in the scoring column. Wesleyan also hit 10 three-pointers on the night. Freshman Riley Casey had the best game her young varsity career as she had a team high 13 points, four rebounds, two assists, two steals and a blocked shot. She was also a perfect 3-for-3 from behind the arc. Senior Landyn Duley also had her best game of the season scoring 12 points while swiping a team high five steals to go with a pair of assists. She also canned a pair of threes. Sophomore Cairo Booker had 10 points, four steals and four assists for the Lady Wolves while freshman Devyn Lowe scored nine points and had a team high five assists to go with three boards and two steals. She was 3-for-6 from the three-point line. Freshman Mikayla Coombs chipped in eight points, six rebounds and two blocked shots while sophomore Taylor Casey added seven points including a pair of threes. Junior Lauren Frerking and senior Keevana Edwards each chipped in six points for Wesleyan. Edwards also had five boards and a blocked shot. Wesleyan improves to 6-0 on the season with the victory. Despite the margin of victory, the Lady Wolves have some things to shore up defensively which no doubt will get corrected. Wesleyan does not play again until next Friday when they'll travel to Holy Innocents to take on the Class A No. 2 ranked Lady Bears. Tipoff is 6:00 PM.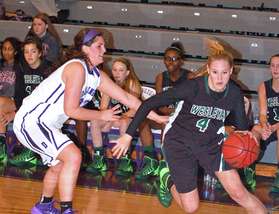 Laruen Frerking goes baseline past Darlington defender
Wednesday, December 4
Defensive minded Lady Wolves slam door on Forest Park with 59-26 blow out
Landyn Duley pushes past Forest Park defender
Forest Park finished 24-8 last season and fell two points shy of making it to the Class AAAAA state championship game. Their pedigree and superior size mattered little tonight as the Lady Wolves dominated the visitors from the south side of Atlanta in a 59-26 win at Wesleyan. In Wesleyan's first home game of the season and the first ever meeting between the schools, the Lady Wolves ran out to a 12-0 lead before Forest Park was able to put points on the board. The Wesleyan lead was 16-4 at the end of one. The Lady Panthers had difficulty with Wesleyan's pressure as the Lady Wolves forced turnovers which resulted in buckets on the offensive end. Wesleyan outscored Forest Park 16-4 in the second quarter to take a 30-8 lead into halftime. The third quarter resembled the first two, again with Wesleyan scoring in transition often from turnovers caused by its suffocating defense. The score grew to 48-14 heading into the fourth quarter which was shortend to six minutes per the 30-point lead rule. The tempo that Wesleyan dictated and superior guard play in particular, conitnually denied Forest Park's bigs the ball which was a key element in tonight's win. This was by far the most complete perfomance of the season thus far for the young Lady Wolves as they are beginning to figure things out. Sophomore Cario Booker continued her emergence as a player to be reckoned with as she solidified her All Tournament Team recognition from last week's Parkview Thanksgiving tournament. She led Wesleyan in scoring, steals and assists with 14 points, five steals and four assists respectively. She was also tied for second on the team in rebounds pulling down six. This was an outstanding all around effort from Booker who just keeps getting better and better. Mikayla Coombs scored 11 points and had a game high seven boards while Taylor Casey added nine points for Wesleyan. Nikki McDonald added eight points, five rebounds and two assists while Devyn Lowe chipped in six points, and five rebounds. Six Wesleyan players connected from behind the arc tonight as the team continued to be sharp from long distance going 7-for-18. With the win Wesleyan improves to 5-0 on the year with four wins against Class 6A schools and now one versus a Class 5A team. Forest Park drops to 4-2. Wesleyan will next travel to Rome to face Darlington on Friday. Tipoff is 7:00 PM.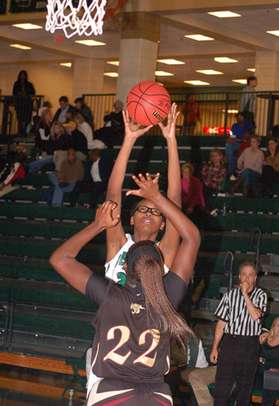 Noni Thompkins shoots over Forest Park's Breasia McElrath
Tuesday, November 26
Lady Wolves take white bracket championship of Parkview tourney with 57-49 win over Westlake
Devyn Lowe tries to get past Westlake defender
Wesleyan took the championship of the white bracket of the Parkview Tipoff Classic with a 57-49 win over Westlake Tuesday night at Parkview. It was Wesleyan's fourth straight win over a Class AAAAAA school but it wasn't the prettiest of victories. The Lady Wolves started strongly building an lead as large as 11 at one point in the first quarter. Cairo Booker scored six points in the period. Nikki McDonald and Devyn Lowe both connected from long range as Wesleyan took a 20-12 lead at the end of the first quarter. The dynamics of the game changed in the second quarter however as Wesleyan's fouls increased and had to back off the press. Westlake outscored Wesleyan 9-8 in the period. Wesleyan led 28-21 at the half. The teams traded baskets for most of the third quarter. Mikayla Coombs scored eight points for Wesleyan while Anriel Howard scored eight for Weslake in the period using her size advantage to grab rebounds and put backs. Wesleyan led 44-35 heading into the fourth quarter. The Lady Wolves upped the lead to 47-35 with 7:08 to play in the fourth before Westlake went on a 6-0 run decreasing Wesleyan's lead to 47-41 with 6:02 to play. The teams continued to trade baskets but Wesleyan was able to eat clock on each offensive possession. The lead was down to four as Wesleyan led 53-49 with 56 seconds remaining. At this point however, Westlake was reduced to having to foul to stop the clock. Wesleyan went 6-for-9 from the freethrow line down to stretch to preserve a 57-49 win. Coombs scored 13 points for the Lady Wolves while grabbing seven rebounds. Booker also put up 13 points, four rebounds and two assists while McDonald scored nine points and had three steals, three boards and two blocked shots. Lowe also scored nine points while dishing two assists and pulling down a pair of rebounds. Keevana Edwards led the team in rebounds and blocked shots with eight apiece. She also had seven points and two assists. McDonald was named the tournament's Most Valuable Player while Booker was named to the All Tournament team. Wesleyan improves to 4-0 on the season while handing Westlake its first loss. It wasn't a pretty win for Wesleyan which is still trying to blend its upper and lower classmen into a cohesive unit. Still, posting a 4-0 record against four teams from the state's largest classification while not yet approaching how good you'll become, is a nice start to the season. The Wesleyan players and coaches will take a few days off to enjoy the Thanksgiving holidays and will hit the court again next Tuesday against Forest Park in their home opener. Tipoff is 5:30 PM at Wesleyan.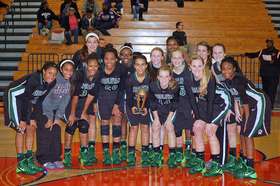 Parkview Tipoff Classic White Bracket Champs
Monday, November 18
Parkview Tipoff Classic Brackets
Monday, November 25
McDonald leads Wesleyan to 59-58 overtime thriller over Mountain View in Tipoff Classic semis
Mikayla Coombs tries to get past two Mountain View defenders
In a tight back and forth game, Wesleyan posted and improbable 59-58 overtime win over Class AAAAAA Mountain View Monday night in the semi-finals of the white bracket of the Parkview Tipoff Classic at Parkview. Neither team led by more than five points the entire game. Wesleyan took a 16-12 lead at the end of the first quarter only to be outscored by the Lady Bears 17-10 in the second. Mountain View led 29-26 at the half. Wesleyan won the third quarter 11-10 and trailed 39-37 heading into the fourth quarter. The back and forth nature of the fourth quarter reflected the rest of the game as a whole. Wesleyan scored the first four points of the fourth taking a one point lead. Mountain View countered. Wesleyan scored the next four taking a three point lead. Mountain View then scored the next six and the see saw battle continued. After successive defensive stops by Mountain View, things looked bleak for the Lady Wolves. Mountain View held a 54-49 lead with under a minute to play. Wesleyan scored on a quick hitter in the lane. Then Wesleyan's pressure on the subsequent inbounds play yielded a turnover. The ball made it into the hands of Nikki McDonald who calmly sank a three with about 10 seconds left knotting the score at 54-54. Wesleyan's defensive trap on the other end caused a travel violation by the Lady Bears. Wesleyan had the ball under Mountain View's basket with 3.2 seconds remaining in regulation. Wesleyan was not able to get a clean shot off after inbounding the ball and the game headed into overtime. Mountain View won the tipoff in the overtime period but wasn't able to capitalize on having the first possession. Wesleyan scored to go up 56-54. After another defensive stop, McDonald sank two free throws to give Wesleyan 58-54 lead with about 1:30 to play in overtime. Mountain View would not go quietly however and cut the lead to 58-56 on a pair of free throws with about 30 seconds remaining. With 10 seconds to go, Wesleyan turned the ball over giving Mountain View a chance to tie the game which they did with 5.1 seconds remaining. Wesleyan called time out and set up a play. Senior Landyn Duley inbounded the ball to freshman Riley Casey who passed it to freshman Devyn Lowe who passed it to sophomore Cairo Booker who went in for a layup but was sent to the floor by a Mountain View defender. A foul was called with 0.2 seconds on the clock. With a calmness that belied her 15 years, Booker sank the first free throw. The second one rimmed out but the clock expired as soon as it touched a rebounders hands. Game over. That first made free throw sealed the improbable comeback win for the Lady Wolves. McDonald continued her consistent and solid play of the young season scoring a career high 24 points. Her late three-pointer which tied the game late in regulation, and clutch free throw shooting down the stretch were big factors in Wesleyan's win. Equally important were her team high 15 rebounds. Outstanding all around game by McDonald. Mikayla Coombs put up 11 points, seven rebounds, two steals and two blocked shots while Lowe also scored 11 points to go with three steals and two assists. Keevana Edwards added six points, nine boards, and two blocked shots while Booker scored three points and had five rebounds, four assists and three steals. With the win, Wesleyan improves to 3-0 and advances to the white bracket championship game where they will face Westlake, the Lady Wolves' fourth straight Class AAAAAA opponent. Tipoff is tomorrow night at 6:00 PM.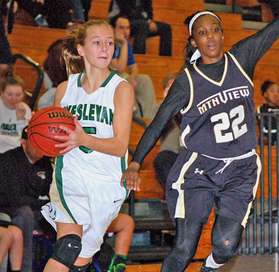 Riley Casey looks to pass as Mountain View defender tries to keep pace
Saturday, November 23
T. Casey unloads 19 points, drains five threes as Lady Wolves roll over Alpharetta 72-27
Taylor Casey scored 19 points in 72-27 win over Alpharetta
The young Wesleyan team played beyond their years Saturday afternoon as they thrashed Class AAAAAA Alpharetta 72-27 in their first round game of the Parkview Tipoff Classic at Parkview. The Lady Wolves built a 20-0 lead late in the first quarter before Alpharetta got on the scoreboard. Junior Nikki McDonald twice connected from behind the three-point line during the first quarter as Wesleyan built a 23-5 lead at the end of one. In the second quarter, Taylor Casey got hot from long range as she unloaded four threes in the period. Wesleyan outscored Alpharetta 24-5 to take a 47-10 lead into halftime. Alpharetta, 28-5 last season and a quarterfinalist in the Class AAAAAA tournament, had its most productive output in the third quarter scoring 14 points to the Lady Wolves' 21. The lead grew to 68-24 entering the fourth quarter which was shortened to six minutes per the 30-point lead rule. Taylor Casey, a sophomore, led all scorers with 19 points, a career high. She connected on five three-pointers on the night shooting 45% from behind the arc on 5-for-11 shooting. She also had two rebounds to go with two steals. McDonald added 16 points including three three-pointers, to go with her team-high seven rebounds, five steals, three assists and two blocked shots in a solid all around game. Freshman Devyn Lowe scored 10 points and dished a team-high five assists while also recording three steals. Freshman Mikayla Coombs chipped in eight points, three assists and two boards, while senior Keevana Edwards scored six points, pulled down six boards and had two steals. Junior Lauren Frerking had five points, four assists, four steals and two rebounds for the Lady Wolves while sophomore Cairo Booker added four points, five steals and four assists. Freshman Noni Thompkins scored four and pulled down three boards. As a team, Wesleyan shot 41% from behind the three-point line on 12-for-29 shooting from behind the arc. Showing grit and selflessness, Wesleyan had 25 team steals and 21 team assists. With the win, Wesleyan improves to 2-0 on the young season. They will face Mountain View, a 74-24 winner over Heritage, Conyers, in the semi-finals of the white bracket of the Parkview Tipoff Classic. Game time is 3:00 PM Monday.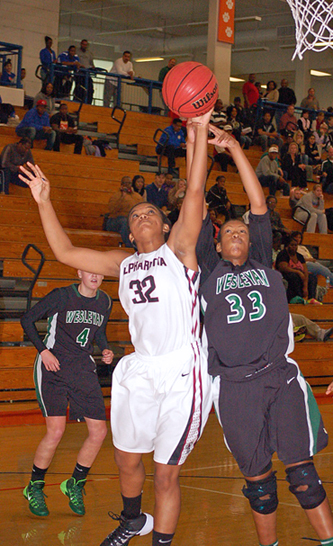 Keevana Edwards battles for rebound
Tuesday, November 19
Wesleyan starts season strong with 74-32 rout of Milton
Nikki McDonald scored 16 points in win over Milton
Wesleyan began defense of its six straight state titles with a resounding 74-32 pasting of Class AAAAAA Milton in the Hilton Tipoff Classic at Norcross High School Tuesday night. The Lady Wolves made the most of their one game in the four-day event as they led from start to finish. Wesleyan took a 17-9 lead at the end of the first quarter as substitutions were frequent, players going five in five out. Sophomore Taylor Casey connected on back to back three-pointers in the second quarter helping Wesleyan increase its lead to 38-20 at halftime after outscoring Milton 21-11 in the period. Things didn't improve for Milton in the third quarter as Wesleyan capitalized on its forced turnovers scoring many of its points on layups. The Lady Wolves won the third quarter 27-8 taking a 65-28 lead into the fourth quarter which was shortened to six minutes per the 30-point lead rule. This was the varsity debut of a talented group of freshmen that many of us have been watching since they were in Wesleyan's middle school. Freshman Mikayla Coombs impressed as she led all scorers with 17 points to go with her seven rebounds and five steals. Junior Nikki McDonald scored 16 points and was 2-for-3 from behind the arc. She also had four boards and four steals. Taylor Casey went 3-for-6 from the three-point line scoring 11 points while recording four steals. Sophomore Cairo Booker added eight points, five steals, three assists and three rebounds for Wesleyan, while senior Keevana Edwards, a Stetson signee, added five points, four rebounds and two assists in limited playing time. Freshman Devyn Lowe chipped in five points while fellow freshman Natalie Armstrong added four points. All told, 11 Wesleyan players hit the scoring column in this one. In their first meeting since 2009, Wesleyan improved its all time record against Milton to 3-0. As a team, the Lady Wolves shot 62% from the field for the game as they are now 1-0 on the young season. Wesleyan will next face Class AAAAAA Alpharetta on Saturday in the first round of the Parkview Tipoff Classic at Parkview High School. Tipoff is 12:00 PM.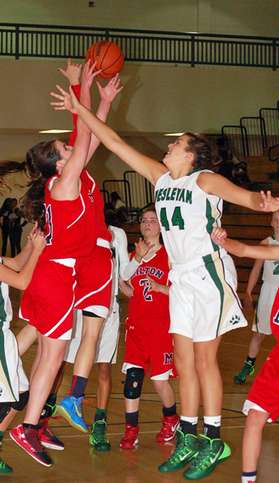 Natalie Armstrong goes for rebound during second half


Thursday, August 29


Edwards to continue basketball career at Stetson


Wesleyan senior Keevana Edwards recently made a verbal commitment to Stetson University where she will continue her academic and athletic careers.  Edwards earned All Region 6-AA honors as a junior last season averaging 4.4 points, 5.0 rebounds, 1.2 steals and 0.4 blocked shots per game, while helping Wesleyan to its sixth straight state title.  Stetson, located in DeLand, Florida, is and NCAA Division I school participating in the Atlantic Sun Conference along side East Tennessee State, Florida Gulf Coast, Jacksonville, Kennesaw State, Lipscomb, Mercer, Northern Kentucky, North Florida, and South Carolina Upstate. Edwards chose Stetson over offeres from North Carolina-Asheville, High Point and Penn.  Congratulations to Keevana on her decision!



"Talent is God-given. Be humble. Fame is man-given. Be grateful. Conceit is self-given. Be careful."

- John Wooden