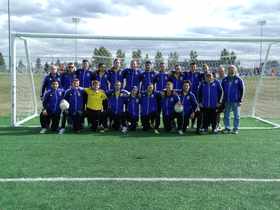 2012 Winnipeg Dynamo Kyiv Soccer Club
Wednesday, May 1
Winnipeg Dynamo Kyiv Soccer Club 1994 - 2013 WDKSC - 20th ANNIVERSARY IN SUMMER OF 2013
2013 OUTDOOR SCHEDULE
Sunday, April 28th WDKSC vs NKMB Saints at 8:00 pm Winnipeg Soccer Complex
Thursday, May 2nd WDKSC vs Hanover Kickers at 8:00 pm Winnipeg Soccer Complex
Wednesday, May 8th WDKSC vs Scotia United at 10:00 pm Winnipeg Soccer Complex
Thursday, May 16th Winnipeg Phoenix FC vs WDKSC at 10:00 pm Winnipeg Soccer Complex
Wednesday, May 22nd Britannia Rovers vs WDKSC at 10:00 pm Winnipeg Soccer Complex
Wednesday, May 29th Pescara vs WDKSC at 7:30 pm Vince Leah CC
Sunday, June 2nd Winkler Storm vs WDKSC at 7:00 pm Winkler, Manitoba
Friday, June 14th WDKSC vs Brandon Inspire FC at 8:00 pm Winnipeg Soccer Complex
Friday, June 21st WDKSC vs Lions FC at 8:00 pm Winnipeg Soccer Complex
Wednesday, June 26th NKMB Saints vs WDKSC at Winnipeg Soccer Complex
Wednesday, July 3rd Hanover Kickers vs WDKSC at 7:30 pm Steinbach, Manitoba
Wednesday, July 10th Scotia United vs WDKSC at 10:00 pm Winnipeg Soccer Complex
Wednesday, July 17th WDKSC vs Winnipeg Phoenix FC at 10:00 pm Winnipeg Soccer Complex
Friday, July 26th WDKSC vs Britannia Rovers at 8:00 pm Winnipeg Soccer Complex
Wednesday, August 7th WDKSC vs Pescara at 10:00 pm Winnipeg Soccer Complex
Friday, August 16th WDKSC vs Winkler Storm at 8:00 pm Winnipeg Soccer Complex
Sunday, August 25th Brandon Inspire FC vs WDKSC at 3:00 pm Brandon, Manitoba
Sunday, September 8th Lions FC vs WDKSC at 2:00 pm Winnipeg Soccer Complex
_______________________________________________________________
_______________________________________________________________
WINNIPEG DYNAMO KYIV SOCCER CLUB (WDKSC)
See WDKSC Facebook website. Please become a Friend and comment about our Club.
We invite you to click LIKE or email a note about Winnipeg Dynamo Kyiv Soccer Club.
THANK YOU-DYAKUYU
http://www.facebook.com/pages/Winnipeg-Dynamo-Kyiv-Soccer-Club/253302178014457
________________________________________________________________
WINNIPEG DYNAMO KYIV SOCCER CLUB
invites you to
BECOME A FRIEND OF OUR YOUTH TOURNAMENT
go to
www.facebook.com/UkraineYouthCupCoEdIndoorSoccerTournament
make a comment please and press LIKE
THANK YOU FOR YOUR SUPPORT
_______________________________________________________________________________________
Please take the time to acknowledge the Ukraine Youth Tournament donors, supporters and advertisers who made it possible.
Thank you to:
CORPORATE PROGRAM ADVERTISERS
-Carpathia Credit Union-three Winnipeg locations- www.carpathiacu.mb.ca
-Birchwood KIA on Regent; Shayne Rankin, General Manager, www.birchwoodkia.ca
-Maurice and Victoria Lakusta and Shirley Lakusta-Coffey
-Central Products & Foods Ltd. Jerry Derzko, GM, 630 Nairn Avenue, Wpg.; 667-2981
-Ukrainian Canadian Congress-Manitoba Provincial Council
PREMIER PROGRAM ADVERTISERS 2012
-Jeff Browaty, City Councillor for North Kildonan, jbrowaty@winnipeg.ca
-Ross Eadie, Councillor for Mynarski Ward, eadie@winnipeg.ca
EMERALD PROGRAM ADVERTISER 2012
-Dr.Jerry Baluta, General Dentistry, 9-1575 Regent Ave. W. www.odysseydental.ca
-Dr. Joe Mezibroski, General Dentistry, 1300-1399 Portage Ave, 339-1738
DIAMOND PROGRAM ADVERTISER 2012
-Shurwood Forest Professional Tree Service, Doug Panchuk, dougpanchuk@shaw.ca
MAJOR PROGRAM ADVERTISERS 2012
-Belgian-Alliance Credit Union, Darrell Penner, CEO
1177 Portage Ave, Wpg, www.belgianalliancecu.mb.ca
-Boogies Diner & Sports Lounge, Derek Campbell, 1155 Main Street. Wpg.;586-6599
-St.Nicholas Men's Club, 737 Bannerman Ave. Wpg.
-Ronald Storozuk, Chartered Accountant, ronstorozuk@mts.net
GOLD ADVERTISER 2012
-Ukrainian Fraternal Society of Canada, 235 McGregor Street, Wpg.; 586-4482
BRONZE PROGRAM ADVERTISERS 2012
-Gregg`s Insurance Agency Ltd. 865 McGregor St. or 919 Notre Dame Ave. 334-4000 and 774-4000
NICKEL PROGRAM ADVERTISERS 2012
-Joanne Lewandosky, Winnipeg
-Paula Havixbeck, Acting Deputy Mayor and Councillor for Charleswood and Tuxedo Ward, paula@winnipeg.ca
PARTICIPATION PROGRAM ADVERTISERS 2012
-Fred Mazepa, Chartered Accountant, 1240 Henderson Hwy. fredmazepa@shaw.ca
-Ukrainian Catholic Brotherhood of Canada, Archeparchial Exe. 233 Scotia Street
-Candice and Joel Semeniuk, East St.Paul, MB
ADVERTISEMENT FOR THE PROGRAM 2012
-Bonnie Mithelson,MLA River East Constituency, McIvor Mall,
1795 Henderson Hwy. www.bonniemitchelson.com
-Erna Braun,MLA Rossmere, Unit 3-935 McLeod Ave.; Erna.Braun@leg.gov.mb.ca
-Ron Schuler, MLA Springfield and East St.Paul,
777 Cedar Ave, Box 150, Oak Bank, MB.; www.ronschuler.com
-MLA's Gord MacIntosh, Dave Chomiak and Matt Wiebe.
GIFT IN KIND PROGRAM ADVERTISERS 2012
-Seven Oaks Sports Shop, Martino Vergata, 725 Kingsbury Avenue, Wpg.;940-6119
provided soccer balls for MVPs
-Mayor Sam Katz, City of Winnipeg, 510 Main Street.
provided city certificates and city pins
-Red Card Soccer, John Albi, 211 Chancellor Matheson Road, Wpg.;478-1079
Leo Paquette won the soccer gift basket donated by Red Card Soccer Sport Shop
-Stephen Walter Mical, Winnipeg
provided plush hanging soccer balls
-Hilmar Venture, Trophies & Engraving, 833 Cavalier Dr. Wpg. 837-6660
tournament trophy outlet
-Sweat Shack, Christine O'Connor, 3 St.Anne's Rd. Wpg.; 254-2255
provided gift certificates for team keepers
-The Soccer Patch, Steve Schneider, 451 Collegiate St. Wpg. 283-5940
provided wrist bands
-River East Chiropractic, Dr.Gerard Scott-Herridge, 3-1110 Henderson Hwy;334-3334
donated the annual banner in 2003
-Boston Pissa, Karli Struss, Community Relations Coordinator; 951-2100
provided certificates and pizza vouchers for best sportsperson of each game
THANK YOU TO ALL 2012 SUPPORTERS
_________________________________________________________________
UKRAINE YOUTH CUP CO-ED INDOOR TOURNAMENT RESULTS FROM 2003 TO 2012
UKRAINE YOUTH CUP-Annual Tournament Co-ed Champions
2003 - Team Poltava
2004 - Team Poltava
2005 - Team Lviv
2006 - Team Poltava
2007 - Team Lviv
2008 - Team Kyiv
2009- Team Odesa
2010- Team Poltava
2011- Team Odesa
2012- Team Odesa
____________________________________
10th Annual Ukraine Youth Cup Co-ed Indoor Soccer Tournament 2012


Thursday, January 17


WINNIPEG DYNAMO KYIV SOCCER CLUB-Our Proud 20 Year History 1994 to 2013




WINNIPEG DYNAMO KYIV SOCCER CLUB

Our Proud 20 Year History 1994 to 2013

Historically, Winnipeg Dynamo Kyiv Soccer Club - WDKSC started in March of 1994, when four soccer enthusiasts Taras Maluzynsky, Ray Honeybun, Jerry Pniowsky and Peter J. Manastyrsky, who were involved at that time with IPAC (Institute Prosvita Athletic Club) purchased a team in the 3rd division then called the Manitoba Central Soccer League-MCSL. During that year, Winnipeg Dynamo Kyiv Soccer Club played interlocking games and achieved 1st place at the end of the outdoor season.

In the 1995 and 1996 season, Winnipeg Dynamo Kyiv Soccer Club played within the 2nd division and at the end of that 1996 season, the team placed 1st, promoted to the 1st division of the MCSL. Winnipeg Dynamo Kyiv Soccer Club in 1997 placed 2nd in the 1st division and promoted to the Premier division, coached by Peter J. Manastyrsky.

From 1998 to 2001, Winnipeg Dynamo Kyiv Soccer Club had portrayed a significant role at the Premier level focusing and setting goals to achieve excellence in men's soccer. During that four year period many players were involved in high caliber matches. At the end of the 2001 season, WDKSC achieved a 2nd place standing out of 13 Premier teams.

At the end of the 2002 season, WDKSC continued to sustain its position in the Premier division of the Manitoba Major Soccer League (formally Manitoba Central Soccer League). In 2003 the team completed the outdoor schedule and participated in the Manitoba Soccer Association Cup National Tournament and in the Thunder Bay Ontario Tournament.

Also in 2003, Winnipeg Dynamo Kyiv Soccer Club hosted their inaugural Ukraine Youth Cup Indoor Co-ed Soccer Tournament in March of that year. The tournament has been a success for over 10 years, accommodating 90 youth members of Ukrainian Canadian background between the ages of 11 to 17. To date, this tournament has become a landmark for youth soccer in Manitoba with the support of the Ukrainian and non-Ukrainian community.

From 2003 to 2012, Winnipeg Dynamo Kyiv Soccer Club has promoted men's soccer in Manitoba at the Premier level throughout that period. This involvement has given WDKSC a very positive profile. The Club is always providing, fostering and developing the game of soccer in Manitoba and within the Ukrainian community. For this coming season 2013, Winnipeg Dynamo Kyiv Soccer Club will be celebrating a 20 YEAR ANNIVERSARY.

Soccer is a sport but it is also a vehicle to promote friendship and diplomacy to enhance culture and to strengthen the heritage of any ethnic group. Therefore, Winnipeg Dynamo Kyiv Soccer Club has rallied for almost 20 years to preserve that image within the Ukrainian community of Manitoba, trying to keep the intererst of many young and old in a game that is played throughout the world.

Peter J. Manastyrsky, President





CLUB FINAL STANDING ACHIEVEMENTS FROM 1994-2012


1994-1st place in the 3rd Division of Manitoba Central Soccer League

1995-6th place in the 2nd Division of Manitoba Central Soccer League

1996-1st place in the 2nd Division of Manitoba Central Soccer League

1997-2nd place in the 1st Division of Manitoba Central Soccer League

1998-6th place in the Premier Division of Man. Central Soccer League

1999-4th place in the Premier Division of Man. Central Soccer League

2000-3rd place in the Premier Division of Man. Central Soccer League

2001-2nd place in the Premier Division of Man. Central Soccer League

2002-12th place in the Premier Division of Manitoba Major Soccer League (Manitoba Central Soccer League Premier Division and Manitoba Super Soccer Alliance-18 teams amalgamated into one Premier Division)

2003-10th place in the Premier Division of Man. Major Soccer League out of 12 teams

2004-6th place in the Premier Division of Man.Major Soccer League

2005-10th place in the Premier Division of Man. Major Soccer League

2006-5th place in the 1st Division of Man. Major Soccer League

2007-3rd place in the 1st Division of Man. Major Soccer League

2008-5th place in the 1st Division of Man. Major Soccer League

2009-1st place in the 1st Division of Man. Major Soccer League

2010-9th place in the Premier 1 Division of Man. Major Soccer League

2011-3rd place in the Premier 2 Division of Man. Major Soccer League

2012-4th place in the Premier 2 Division of Man. Major Soccer League





CLUB YEAR END INDIVIDUAL PLAYER AWARD 1994-2008, 2009-2012 NO AWARDS


Most Sportmanlike Player
1994 Stan Prokop
1995 Danny Ursiuoli
1996 Narad Persad
1997 Brian Unrau
1998 Paulo Delgado
1999 Sean Meldrum
2000 Tim Hayward
2001 Tim Hayward
2002 Irek Iskat and James Monkman
2003 Mario Posillipo and Mauricio De Paz
2004 Russell Willms
2005 Errol Pinnock
2006 Biruk Kifle
2007 Branko Dukic
2008 Carlos Mesquita
2009-2012 no awards

Most Dedicated Player
1994 Taras Maluzynsky
1995 David Jacyk
1996 Stan Prokop
1997 Michael Froese
1998 Jon Koensgen
1999 Mike Bilous
2000 Mike McIvor
2001 Darryl Thorvaldson
2002 Remi Vano and Mark Hill
2003 Richard Gray and Brendan Ball
2004 Mario Posillipo
2005 Jacques Peloquin
2006 Mauricio De Paz
2007 Paul Sheridan
2008 Brad Bradforth
2009-2012 no awards

Jerry Pniowsky Memorial Award-Most Valuable Player
1994 Paul Honeybun
1995 Mario Bullaro
1996 Korey Dyck and Menko Mustedanagic
1997 Peter Jordan
1998 Stan Prokop
1999 Sean Meldrum
2000 Mike McIvor
2001 Michael Rousseaux
2002 John Furtado and Andi Bogdanovic
2003 Jason Kuchirka
2004 Daniel Reyes
2005 Justin Hart
2006 Jason Moniz
2007 Andrew Roberton
2008 Papa A. Ndiaye
2009-2012 no awards

Top Scorer/s
1994 Paul Honeybun
1995 Paul Honeybun
1996 Paul Honeybun
1997 Paul Honeybun
1998 Paul Honeybun
1999 Paul Honeybun
2000 Justin Hart
2001 Mike Kwiatkowski
Nick Scott
Vern Strutinsky
2002 Andi Bogdanovic
2003 Jason Kuchirka
2004 Daniel Reyes
2005 Justin Hart
2006 Alex Elhons
2007 Papa Ndiaye
2008 Papa Ndiaye and Papi B.Hane
2009-2012 no awards

Team Leadership
2004 Mario Posillipo and Mario Castro
2005 Mario Posillipo
2006 Mario Posillipo
2007 Jason Moniz
2008 Sean Brown
2009-2012 no awards

Most Consistent Player
2004 Anatoliy Rependa
2005-2012 no awards

Most Committed Player
2007 Jeremy Rodriguez
2008 Ben Arenson
2009-2012 no awards

Most Valuable Defensive Player
2004 Mark Chernichko
2006 Carlos Mezquita
2008 Diego Ibabba Aquilab
2009-2012 no awards

Most Improved Player From Last Year
2004 Mauricio De Paz
2005 Jason Kuchirka
2006 Darren Achorn
2007-2012 no awards

Rookie of the Year
2004 Joshua Frankel
2005 Francisco Aquirre
2006 Andrew Roberton
2007 Orlando Molina and Luke Vanderhooft
2008 Michael Lisanti Jr. and Erick Urquilla
2009-2012 no awards

Coaches from 1994-2012
1994- Jerry Pniowsky
1995- Taras Maluzynsky
1996- Peter J. Manastyrsky
1997- Peter J. Manastyrsky
1998- Roman Pniowsky
1999- Paul Clarke
2000- Paul Clarke
2001- Paul Clarke
2002- Keith Gibson
2003- Kieran Hunter
2004- Kieran Hunter
2005- Justin Hart
2006- Rob Ward
2007- Rob Ward
2008- Cristian Molina
2009- Linton Sellen
2010- Linton Sellen
2011- Linton Sellen
2012- Linton Sellen

Managers from 1994-2012
1994- Ray Honeybun
1995- Ray Honeybun
1996- Ray Honeybun
1997- Ray Honeybun
1998- no manager
1999- Roman Pniowsky
2000- Roman Pniowsky
2001- Roman Pniowsky
2002- Taras Maluzynsky
2003- Taras Maluzynksy (Club)
- Garry Kuchirka (Team)
2004- Taras Maluzynsky (Club)
- Garry Kuchirka (Team)
2005- Taras Maluzynsky (Club)
- Garry Kuchirka (Team)
2006- Garry Kuchirka (Club & Team)
2007- Garry Kuchirka (Club & Team)
2008- Garry Kuchirka (Club & Team)
2009- Garry Kuchirka (Club & Team)
2010- Garry Kuchirka (Club & Team)
2011- Garry Kuchirka (Club & Team)
2012- Garry Kuchirka (Club & Team)