HOME OF THE WATERTOWN RED AND BLACK: R&B AFA Hall of Fame
AFA Hall of Fame
American Football Association
Hall of Fame Inductees
1996
LEGENDS AWARD CATEGORY- Watetown Red and Black, Celebrating 100th Year. (AFA Historians**)
2002
COACHES CATEGORY: George Ashcraft - (Alvin Lollie**)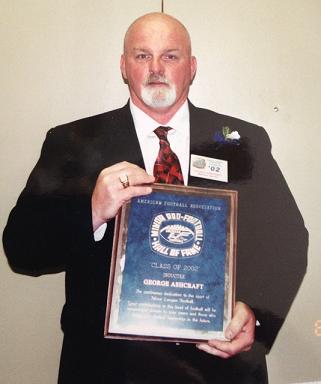 PIONEER CATEGORY: J.B. Wise* - (AFA Historians**)
AFA All-Americans
3rd Team
RB Al Countryman
DB Trent Clark
2003
PLAYERS CATEGORY: Mike Britton- (George Ashcraft**)
AFA All-Americans
Second Team
PK Scott Ford
DT Rubin Hano Hano
Third Team
PT Al Countryman
2004
PIONEER CATEGORY: *Alex Duffy - (Mike Britton**)
TRAINER CATEGORY: Dr. David Van Eenenaam - (George Ashcraft**)
AFA "General Manager of the Year" George Ashcraft
2005
PLAYERS CATEGORY: Pat Nulty (George Ashcraft**)
2007
MEDIA CATEGORY: Mel Busler – (George Ashcraft**)
Golden football Award - For promoting Semi Pro Football
(George Ashcraft)
2008
Player/Coach: Steve Fisher – (George Ashcraft**)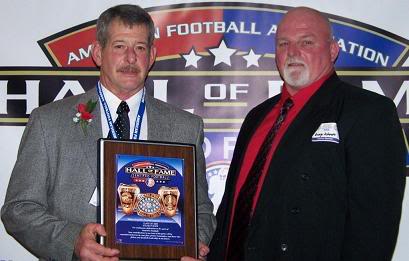 2011 Player: Lynn Patrick – (George Ashcraft**)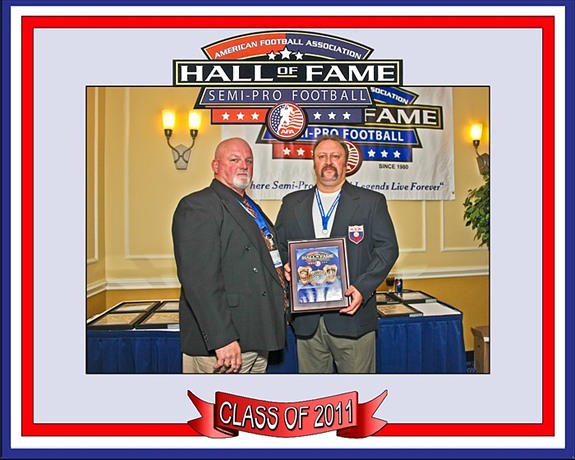 2012 Player: Al Countryman – (George Ashcraft**)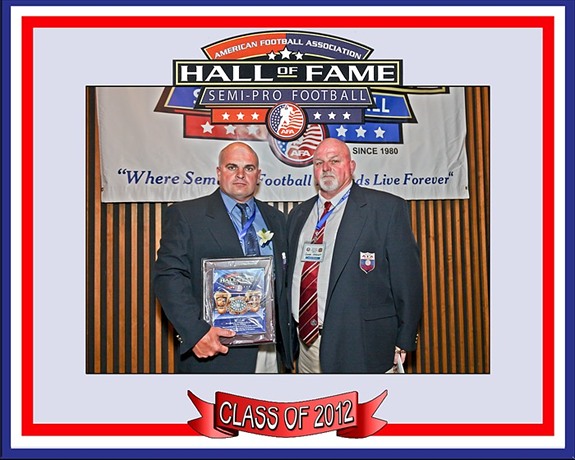 The Watertown Red and Black Organiztion would like to congratulate Al
Countryman on his induction into the American Football Associaion Hall
of Fame Class of 2012. The list of accolades below are the reason #22 Al
Countryman has earned this honor. In Al's 13 years with the team he helped
the Red and Black earn 95 wins and bring us back to the top in the
Empire Football League. Al was a true IRON MAN to football. When starting
with the team in 1993 Al started out on the defense. By his second season
he proved to be he most feared defensive player earning EFL honors as a Iron
Man, defensive player of the year and a first team allstar. In 1998 when the
team needed an extra boost on offense Al went to Coach Ashcraft and said he
wanted to run the ball. In just four short season's he rushed for over 4,400
yards and became the number one rusher in Red and Black history. In 2006 Al
had become only he 2nd player in Red and Black history to have his jersey
retired. With his short stocky frame, quiet presence, and his ability
to change the game at any time, #22 will never be forgotten. On behalf of
The Watertown Red and Black, Coach Ashcraft, Coaches, players and fans at
this time we would like to thank you for your services to the organization.
Long live #22.
1993 Empire Football League 8-5
1st Team DB
1994 Empire Football League Awards 5-7
1st Team DB
Defensive Player of the Year
Iron Man of the Year
1995 Empire Football League Awards 7-3
2nd Team DB
1996 Empire Football League Awards 7-3
1st Team DB
Defensive player of the year
Co Ironman
All-Minor League AFA
1997 Empire Football League Awards 8-2
1st Team DB
1998 New York American Football League 9-1 Championship Game
1st Team RB

1999 New York American Football League 8-2
1st Team RB
2000 Empire Football League Awards 7-2
1st Team RB
2001 Empire Football League Awards 8-2
1st Team RB
AFA All American 3rd Team RB

2002 Empire Football League Awards 4-5-1
EFL- 1st Team RB
AFA All American 3rd Team RB

2003 Empire Football League Awards 8-1 Championship Game
EFL Iron Man of the Year
PNT 1tm
RB 2nd
DB 2nd

2004 Injured Made come back beat Lake City at Home 10-0 8-2
2005 No accolades 8-2 Retired Your Jersey at the start of 2006
95 wins 34 losses 1 tie this does not include pre season w/l
2013 Player: Earnest Wash– (George Ashcraft**)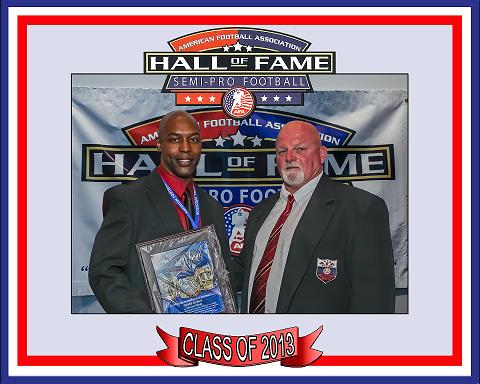 It's no secret that anyone who has followed the Watertown Red and Black since 1988 recognized the same person wearing the # 84. The name is Earnest Wash. Earnie has been stationed in Watertown since 88 and been a part of our long standing tradition. Number 84 caught passes from many different Red and Black Qb's becoming one of the most feared receivers in Semi pro football. With his military obligation and several deployments Earnie never forgot where his home was. Stationed on Ft. Drum for over 20 years and recently retired from the US Army Earnie has earned his way into this years 2013 American Football Association Hall of Fame. This is one of the biggest honors you can receive in Semi Pro Football where you truly play for the love of the game. In his 16 seasons played with the Red and Black and some shortened season do to military call Earnie has become the all time leading receiver in the history of the Red and Black. He has more receiving yards, catches, and Tds than any other receiver in the teams history. You cannot ask for a better person to be around. With his great personality, wonderful smile, true love and passion for football and family I am proud to announce and welcome Ernest Catch 84 Wash into this years 2013 AFA Hall of Fame.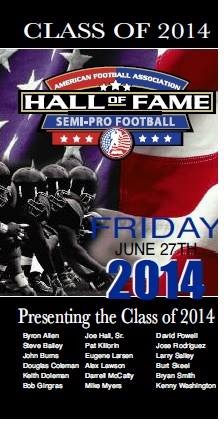 2014 Player: Patrick Killorin – (George Ashcraft**)
Semi Pro Football: 1968 - 1973 - Helped re organize the Watertown Red and Black
1969- 1971 - Red and Black head coach and played D Tackle, Coached till 1971 before retiring. The team was 18-7 in the three years. Played D Tackle in 72 and 73.
1976 - Played and coached for the Syracuse Aces under team coach Rock Pirro
1995 - Inducted into the Red and Black Hall of Fame
College - 1962 - 1966 Played for Syracuse University, First team All American, All East Center, 64,65, Bill Horr MVP player 65, Played in the 65 Sugar Bowl, Played Hula Bowl east west All Star game and college all star game vs Green Bat Packers.
Selected as Letter Winner of Distinction in 1993. Received S.U. Zinc Award in 2013, Elected VP class of 66
Pro - 1966-1967 - Drafted 3rd round by the Pittsburgh Steelers, received serious knee injuries in 66,67 that ended pro career.
*Deceased
**Nominated By