Waterford Wolverine Youth Football: Welcome
INJURY/ CONCUSSION AWARNESS PREVENTION NIGHT
LOCATION: DOC'S ON THE FOX
-DANA ( WYF TRAINER)
2019 SEYFA BALL CARRIED WEIGHT RESEARCH IS AVAILABLE UNDER HANDOUTS 
 FIRST REGISTRATION/ FITTING DATE: APRIL 6TH, 2019 (8-11:30A) AT THE WATERFORD HIGH SCHOOL OLD GYM 
 SECOND REGISTRATION/ FITTING DATE: MAY 4TH, 2019 (8-11:30A) AT THE WATERFORD HIGH SCHOOL OLD GYM
If interested please email us & fill out Form below.
Questions about our program? - Contact us at waterfordyouthfootball@gmail.com
Click on the Events tab to the left for the monthly calendar.
Remember to stay hydrated, have fun and play hard
Let's work hard for a great 2019 season.
Check out the Locations section for links to the playing fields.
---
2019 Waterford Youth Football Liasons established for issue escalations:
1st & 2nd grade: Shawn Schneiker 262-332-3369 shawnschneiker65@gmail.com
3rd & 4th grade:
5th & 6th grade: Chad Lidwin 414-940-0677 clidwin50@gmail.com
7th & 8th grade: TJ Jacobs 262-210-5343 tjacobs2363@gmail.com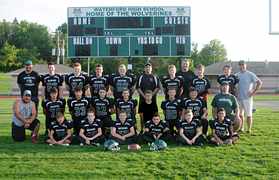 2018 8th Grade Black