Washington Warriors: Welcome
2017 - WARRIORS 10TH ANNINVESARY SEASON
REGISTRATION FOR THE 2017 SRING & SUMMER SEASONS NOW!!
We are looking for ALL player positions, special incentives for offensive & defensive linemen!
Click on link now! https://form.jotform.com/60665744515157
FOR MORE DETAILS GO TO "CONTACT US" PAGE ON THIS WEBSITE, FACEBOOK, TWITTER OR EMAIL @ WASHINGTON.WARRIORS01@YAHOO.COM
OR
TEXT or CALL: 202-409-7953
Monday, March 7
WARRIORS SNEEK PEEK
Bring'em Out by T.I.
Tuesday, March 24
About Us
Washington Warriors Inc.
Washington Warriors is an IRS recognized Section 501(c)(3) tax-exempt nonstock (non-profit) charitable corporation formed to promote recreational sports, sportsmanship and personal/spirital growth, using football as an educational tool through highly- competive league play and other competitions along with post secondary classes, workshops, and seminars.
Our Mission Statement: Our Mission is to assist youth and young adults in their growth and development naturally, mentally, and spiritually by helping them build their character, conduct and committment through a more excellent way.
Our Vision: To be one of the most well respected organiztions in the world.
Our Goal: To realize our vision within 10 years.
Our programs:
Men's Semi-professional Football
Cheerleading/Dance Team
Youth Cheerleading Instruction
Community Service projects
Men's Basketball
Youth Football
Fitness and Conditioning programs
Academic Tutoring & mentoring programs
Assistance with Career Development
Job preparedness
Saturday, January 31
NEW TEAM STORE - Get your official Warriors Team Gear and Apparel
VISIT OUR TEAM STORE
http://www.prepsportswear.com/team/us/MD/Fort_Washington/Washington-Warriors-Football.aspx?schoolid=2987753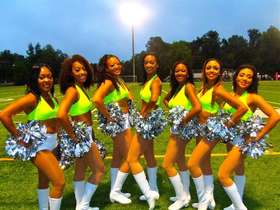 THE 1ST LADIES OF SEMI PRO FOOTBALL
2011 LADY WARRIORS
Roster:
Jennifer R. - Captain,
Kendra S. - Admin Captain
Danella A.,
Jenifer C. ,
Kelley N. ,
Kyra K. ,
Lori G. ,
Marissa G. ,
Mavia H.,
Robin D.
Director: Vanessa Dennis

Lady Warrior's Top Ranked Cheerleaders by the fans
Monday, February 4
2012 AWARDS NIGHT'