Warriors Fastpitch: Welcome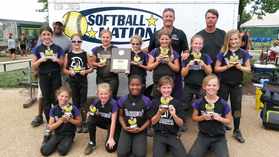 7/14/13 SBN Silver Champs
Sunday, July 13
Home of Hampton Roads Warriors Fastpitch & Baseball
16U SBN Champions 4/13 Richmond
For information about individual teams, please see below information or click on the team's link.
TRYOUT UPDATES!!!!!!! MONDAY AND TUESDAY WILL BE HELD IN OUR INDOOR FACILITY LOCATED AT 809 BEDFORD ST, CHESAPEAKE, VA (HICKORY / NEAR FENTRESS AIRFIELD AND MT. PLEASANT ROAD). WEDNESDAY AND THURSDAY AS SCHEDULED BELOW PENDING FURTHER RAIN.
Tryouts!!!
10U, 12U black and 12U purple 8/4th, 6th (6-8) & 9th 1230-230 at Deep Creek High (2900 Margeret Booker Road, Chesapeake or 2nd entrance 2809 Forehand Dr)
10U basebeall July 30th and 31st 5-7 pm Mt. Pleasant Christian School (next to Butts Road Intermediate)
14/16U softball 5th and 7th 6-8 pm and 9th and 10th 10-12 Deep Creek High

18U/HS league/Showcase softball 5th and 7th 630-830 & 9th 10-12 Deep Creek High
SEEKING ADDITIONAL 14U Coach (contact Kevin at 757-237-7507)

********Recent Finishes********
Congrats to 10U! Silver Champs at SBN July 12th-13th. 5-1 weekend record
Congrats 16U Warriors 3rd Place finish ASA Atlantic Coast Elite Showcase July 12th-13th.
GO WARRIORS!!!!

A WARRIOR is defined as:
"A person who shows great vigor, courage, and agressiveness, as in athletics"
---
The Warriors practice on four different fields located in Chesapeake and Virginia Beach. Our 5,000 sq ft indoor practice facility is located in Hickory section of Chesapeake.
---
For High School Age College Showcase Fastpitch team information, please contact: Kevin Hand (757) 237-7507 khand1123@yahoo.com
For 14U Fastpitch information, please contact Mike Johnson (757) 482-7108
For 12U Fastpitch team information, please contact: Herman Schojan (757) 434-1994 kischojans@cox.net
For 10U Fastpitch team information, please contact: Kevin Pierce (757) 383-3971 kpierce@ecrandf.com
For 10U Baseball team information, please contact: Dale Holden (757) 639-9913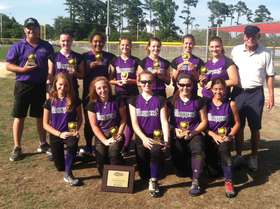 14u Carolina Summer Blast Gold Division Runner-Ups