Warriors Fastpitch: Welcome
10U NSA Chesterfield Classic 4/13/14 2nd Place
Saturday, April 19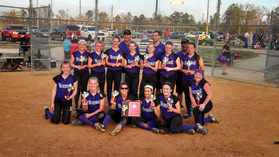 16U SBN Champions 4/13 Richmond
For information about individual teams, please see below information or click on the team's link.

14u Seeking a few experienced players only. Contact Coach Mike at coachmike750@yahoo.com or 757-482-7108

**************************************
Warriors 10U is still looking for 2-3 additional players.
For private tryouts,
GO WARRIORS!!!!

A WARRIOR is defined as:
"A person who shows great vigor, courage, and agressiveness, as in athletics"
---
The Warriors practice on four different fields located in Chesapeake and Virginia Beach. Our 5,000 sq ft indoor practice facility is located in Hickory section of Chesapeake.
---
For 16U Fastpitch team information, please contact: Kevin Hand (757) 237-7507 khand1123@yahoo.com
For 14U Fastpitch information, please contact Mike Johnson (757) 482-7108
For 12U Fastpitch team information, please contact: Jim Ethridge (757) 237-5780 ethridgetrucking@hotmail.com
For 10U Fastpitch team information, please contact: Kevin Pierce (757) 383-3971 kpierce@ecrandf.com
For 9U Baseball team information, please contact: Doug Stock (757) 435-4789