Warriors Fastpitch: Welcome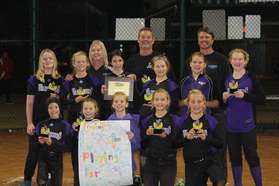 11U SBN End Of Season ShowStopper Gold Bracket Runner Ups 08-Nov-2014
Home of Hampton Roads Warriors Fastpitch & Baseball
16U SBN Halloween Cup Silver Bracket Champs
News:
18U Warriors seeking middle infielder & third baseman
Participate in showcase tournaments
Exprerience required

Serious inquiries only

Congratulations to Alexis H. of 18U for committing to a position at the University of Mary Washington!
11-/15-16: 18U Warriors go 4-2 at WFC early signing showcase in Myrtle Beach! 4-0 on Saturday and two very close contests on Sunday. Way to go playing up to 18U level this season.
Congrats to Warrior teams go 7-1 at Fall Nationals 11/01 Va Beach
18U 3-0, 16U 2-0, & 11U 2-1
Congrats to 18U Maci K. and Kyla B. for "ALL TOURNAMENT TEAM" at USSSA Showcase Cary, NC (10/11-12)

GO WARRIORS!!!!

A WARRIOR is defined as:
"A person who shows great vigor, courage, and agressiveness, as in athletics"
---
The Warriors practice on four different fields located in Chesapeake and Virginia Beach. Our 5,000 sq ft indoor practice facility is located in Hickory section of Chesapeake.
---
For High School Age College Showcase Fastpitch team information, please contact: Kevin Hand (757) 237-7507 khand1123@yahoo.com
For 14U/16U Fastpitch information, please contact Mike Johnson (757) 482-7108
For 12U Fastpitch team information, please contact: Kevin Pierce (757)383-3971 kpierce@ecrandf.com
For 10U Baseball team information, please contact: Dale Holden (757) 639-9913