Warriors Fastpitch: Welcome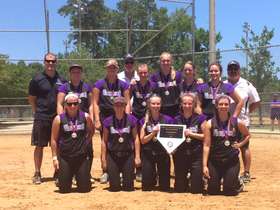 Warriors 18U Virginia Beach USSSA States 1st Place - 06/21/2015
Home of Hampton Roads Warriors Fastpitch & Baseball
Fall '15 12U Fastpitch Fall Tryouts!
Sunday August 2nd at 1 PM, Tuesday August 4th at 6 pm, & Thursday August 6th at 6. All tryouts will be held at Deep Creek High School (2809 Forehand Drive, Chesapeake, VA 23323) . For information email us at HRWarriors03@gmail.com.
The Hampton Roads Warriors are a private non-profit organization dedicated to girls fastpitch softball and boys baseball. We are small non-bingo organization looking to remain exclusive to our coaches and players. With more resources than most larger organizations, we have the ability to dedicate more time to our teams and their players. With several fields and a 5,000 square foot turf indoor facility we are able to provide our teams with much more flexibility and resources compared to other monopoly organizations at the fraction of cost and time. Coaches, teams and players have more access to inhouse, private and college level instruction.
ATTENITON COACHES: At this time, we are open to expanding to one more team, girls or boys, at any age group. If you are interested in having more flexibility, more resources, and freedom to manage your own team , please feel free to contact us at 757-237-7507.
* As an organization policy, our coaches do not engage in player recruitment on the field or by phone*
14u/16u/HS LOOKING FOR A COUPLE MORE EXPERIENCED PLAYERS ONLY (PITCHER, 1 OUTFIELDER AND UTILITY PLAYER) IF INTERESTED CONTACT COACH MIKE 757-482-7108
18U Warriors seeking middle infielder & third baseman
Participate in showcase tournaments

Serious inquiries only

11-/15-16: 18U Warriors go 4-2 at WFC early signing showcase in Myrtle Beach! 4-0 on Saturday and two very close contests on Sunday. Way to go playing up to 18U level this season.
Congrats to Warrior teams go 7-1 at Fall Nationals 11/01 Va Beach
18U 3-0, 16U 2-0, & 11U 2-1
Congrats to 18U Maci K. and Kyla B. for "ALL TOURNAMENT TEAM" at USSSA Showcase Cary, NC (10/11-12)

GO WARRIORS!!!!

A WARRIOR is defined as:
"A person who shows great vigor, courage, and agressiveness, as in athletics"
---
The Warriors practice on four different fields located in Chesapeake and Virginia Beach. Our 5,000 sq ft indoor practice facility is located in Hickory section of Chesapeake.
---
For High School Age College Showcase Fastpitch team information, please contact: Kevin Hand (757) 237-7507 khand1123@yahoo.com
For 14U/16U Fastpitch information, please contact Mike Johnson (757) 482-7108
For 10U Baseball team information, please contact: Dale Holden (757) 639-9913