Warriors: Welcome
Quality Repetition, Dedication and Sportsmanship = Winning
Warriors Girls Softball 14u and 16u team tryouts for the Fall 2015 and Summer 2016 Seasons.
Warriors Welcome Westchester & Lower Fairfield Players

Tryout dates in August :
Saturday August 15th at 9am,
Tuesday August 18th at 6pm and
Tuesday August 25th at 6pm CANCELED
Tryouts are not completed.
Thank you to those who have tried out
WarriorsGirlsSoftball@gmail.com
Thursday, May 21
14U Warriors Take 2nd Place in New Windsor and Earn World Services Berth
14U Warriors with a Great showing this weekend. Take 2nd place in New Windsor Tourney. Keep the bats swinging!!
Sunday, April 26
Warriors place 2nd in Scaresdale Tourney. Way to start the 2015 Season!!!
Terrific Pitching by Cat and Aiden
Swinging a steady bat was Rosali and Sammy
Friday, July 18
Congrats 12u for another 2nd place Tournament Win! - ** Thats 4 in a row **
Monday, October 13
Warriors 14u Take FIRST Place in Danbury Crushes Cancer Tournament
Warriors 01 first season as 14u team comes out with FIRST place win at Danbury Crushes Cancer Tourney!!!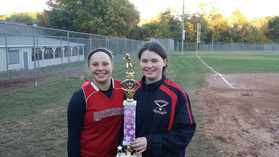 MVP Cat and All-Star catcher Maddie
Saturday, October 18