Snow Canyon Warriors: Welcome
STATE CHAMPIONS 2002, 2007, 2012 and 2013
KJ6-B4B
If your company would like to hang a sign on the outfield fence for the entire year please contact Coach Secrist on his email reed.secrist@washk12.org for details.
Congratulations to Breck Eichelberger and Austin Deming signing to play D1 baseball next year. Breck will attend the University of San Francisco and Austin will attend Brigham Young Uniiversity. In the spring of 2019 they'll be competing against each other, both being in West Coast Confernece but first they'll be looking to lead the Warriors to their 5th state championship in school history this spring and third since 2012.
If you plan on playing on the 2018 Snow Canyon High School Baseball Team (All Levels 9th - 12th) you will need to be here during spring break - March 9th - 19th. Games and practices will take place.
Open Field begins - Jan 8th - All 9th - 12th graders that are planning to tryout that aren't playing a Winter Sport
Tryouts begin - Feb. 26th - make sure to register @ registermyathlete.com before trying out. You will need a physical in this school year. August 2017 - Feb. 2018. Coach Secrist will have more information after the 1st of the year.
Green & White game - Saturday March 3rd.
First Game - JV & Soph/Fresh - Tuesday March 6th
First Game - Varsity - Thursday March 8th
Scholarship opportunity for senior athletes - Deadline is Jan. 31st.
uiaaa.org/awards/student-athlete-scholarships/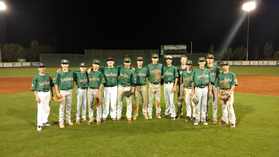 2017 FALL BALL CHAMPS - Green Team defeated Gold by a score of 4 - 1.