Boston Warrior AAU Boy's Basketball: BW College Alumni News: Impact of the National AAU High School Sullivan Award for BW Dan Giovacchini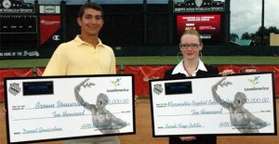 Inaugural National AAU High School Sullivan Award Winners
Impact of the National AAU High School Sullivan Award for BW Dan Giovacchini
Lake Buena Vista– This past summer, the Boston Warriors Daniel Giovacchini was the male recipient of the inaugural National AAU High School Sullivan Award. After receiving the award, Daniel wrote a letter about the great impact AAU has had on his life and how much the High School Sullivan Award has meant to him and his future.Below is his letter.
Receiving the AAU High School Sullivan Award has been one of the best achievements and experiences of my life. I am grateful for having the opportunity to meet and spend time with all the members of the Sullivan Committee at Disney's Wide World of Sports in Orlando. Further, I have deep gratitude for the scholarship that has helped me pay for my college education.
The award has not only meant a great deal to my family and me by celebrating my accomplishments, but also by inspiring me in my future endeavors. Pushing myself to be the best I can be everyday sometimes seems like a tireless and unrewarding undertaking. It is easy to work when everyone is watching, when feedback is imminent. Yet when no one is there to say, "Great job," or, "that's not good enough," I become the arbiter in motivating and evaluating my everyday efforts. It becomes even more difficult when my aspirations become subjective, numerous, and increasingly immeasurable. I want to succeed in sports, and in academics, yet I want to be genuine, truthful, and influential to those around me. Realizing these goals requires a steadfast perspective and drive from within.
The AAU High School Sullivan Award was so special for me because it didn't recognize my achievement in sport, but rather, my achievement as a teenager in athletics, academics, and my community.
At first, winning the award served as a reassurance of my work, but it has become something more. Having the experience of receiving the award at Disney's Wide World of Sports with my family, with the female recipient, Sarah Biddle, and with the amazing leaders on the Sullivan Committee, I now understand with a clear and resolute vision that there is a charge on me. A charge to chase my dreams, and to become a person that embodies the qualities of perseverance, teamwork, and passion that AAU sports helps build in so many young people.
Thank you AAU for everything that you do for young athletes like me!
-Daniel Giovacchini