Boston Warrior AAU Boy's Basketball: NS Thanksgiving Youth Tnt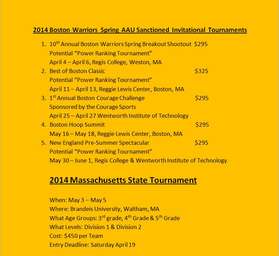 12th Annual North Shore Thanksgiving Tournament
FRIDAY NOVEMBER 29-SUNDAY DECEMBER 1

The Salem Fieldhouse in Malden
Danvers High School
OPEN TO BOYS AND GIRLS TRAVEL TEAMS
Division for GRADES 4, 5, 6, 7 & 8
Tournament Rules:
14 Minute Stop Clock/ One and One on Tenth Foul

Time outs
, 3 full

High School Federation Rules


ALL TEAMS ARE GUARANTEED THREE GAMES

Tournament Highlights:
Excellent Location: Main location is10 Minutes from Boston
Experience IABBO Licensed Officials
Full Concession Stand with Refreshments
Outstanding Competition...
The best programs in the Massachusetts from both North Shore Suburban League, South Shore League, Merrimack Valley League, Metrowest League, Eastern Travel League, River Valley Girls League, Cape Ann Youth Travel League
SPACE LIMITED
... MARK YOUR CALENDARS NOW.
Cutoff date for enrollment is November 15

or when the tournament is filled up. Whichever is first

.
COST:
$250 PER TEAM
Registration form
:
Below

Don't be left out!!! Always sold out.....SPACE LIMITED TO 72 TEAMS total. Teams will be taken on a first come, serve basis.
MAKE CHECKS PAYABLE TO: NSTBT
Send roster with payment to:
North Shore Thanksgiving Youth Basketball Tournament
101 Richmond Rd
Belmont MA 02478
Handout:
2013 North Shore Thanksgiving Travel Shootout
Monday, February 3
Tuesday, February 4