Boston Warrior AAU Boy's Basketball: Pre-Season Youth Travel Tnt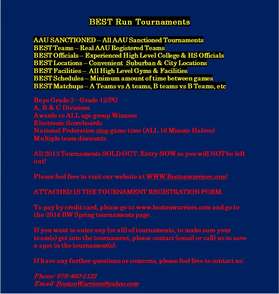 2013 BW Fall Pre-Season Youth Travel Shootout
Location:
Mass Premier Courts, Mansfield, MA
Date:
Saturday November 9 & Sunday November 10
Boys:

4th, 5th, 6th, 7th, 8th & 9th Grade
Girls:
4th, 5th, 6th, 7th, 8th & 9th Grade
Format:
ALL TEAMS ARE GUARANTEED 3+ GAMES.

Entry Fees:
$275


Number of teams:
SPACE LIMITED TO 64 TEAMS. Teams will be selected on a first come, first serve basis.
TOURNAMENT HIGHLIGHTS


Ä Outstanding Competition…this tournament will attract the best programs in the

Massachusetts and the surrounding New England states
Ä Outstanding Facility with 6 Regulation courts with Electronic Scoreboards
Ä Veteran and well respected college & high school I.A.A.B.O. Board Officials
Ä

Concession stands

with refreshments
Ä LOW ADMISSION
Ä Championship Trophy to the winning team
Ä SPACE LIMITED, MARK YOUR CALENDARS NOW.
How to register:

Registration form is below
MAKE CHECKS PAYABLE TO:
FPHTS


Send Registration form and payment to:
FPHSS, 101 Richmond Rd,

Belmont, MA 02478
Handout:
2013 Fall Pre-season Youth Travel Tnt