Boston Warrior AAU Boy's Basketball: Welcome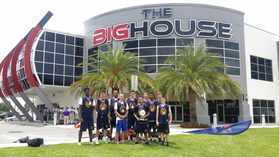 2014 National AAU 10th Grade Super Showcase Finalists

2014 FALL AAU TRYOUTS
The Boston Warriors AAU Boys Basketball organization would like to announce the 2014 Fall AAU Boys Basketball Tryouts.
The Boston Warriors AAU Boys Basketball Program is one of the strongest programs in New England.
This past spring we had 13 teams qualify for the AAU National Championships with 4 teams attending AAU National Championship Tournaments.


The 10th Grade team was a finalist in the National AAU Silver Showcase in Tavaras, Fl

Our 2014 graduating class had (5) full scholarship basketball players and (1) full scholarship football player

Presently we have over 50 former players playing college basketball. That is by far highest number of any organizaton in New England
5.

Six

(7)

past Boston Warriors are presently professionally
-Kadeem Batts, Orlando Magic Summer League
-Rod Odom - Golden State Warriors Summer League
-Viondre Mersima - Tennesesee Titans Training Camp

-Akeem Williams, France, (Charleville)
-Andre Tongo , France (St Orens Club)
-Peter Lynch, Ireland (DCU Saints)
-Jasper Grassa, Canada
While going to AAU National Championship Tournaments and playing at the collegiate level is enjoyable and rewarding, we offer players of all talent level the possible opportunity to play competitive spring basketball. We will provide very good coaching including weekly skill work with real practices.
Our mission statement is to teach players how to play basketball the right way. The right way is to stress the fundamentals, team play, play hard at 100% all of the time and never get out worked!
For the fall season, in general, all teams will:
Practice at least once a week

Play in a Fall AAU league on later in the day on Sundays

Play in 2 weekend tournaments
New this spring, for the Elite teams in grades 8th -12th, these teams may play in 5 weekend tournaments. This is totally dependent on the grade level and coach.
Here is the 2014 spring tryout information:
ALL TRYOUTS WILL TAKE PLACE AT WALTHAM HIGH SCHOOL
ALL tryouts take place on Sunday August 31 and Sunday September 7.
Here are the times:
4:00 PM - 2nd & 3rd Grade
4:00 PM - 4th Grade
5:15 PM - 5th Grade
6:30 PM - 6th Grade
5:15 PM - 7th Grade
6:30 PM - 8th Grade
7:30 PM - 9th Grade
7:30 PM - 10th Grade
7:30 PM - 11th & 12th Grade
The 2014 Fall registration link is below. If possible, all players should should attend both tryouts and pre-register TODAY.
All players should be at both tryouts. If you can not make either one (or both) of the tryouts, please contact us ASAP.
PRE-REGISTRATION PAYMENT BY 2 WAYS

1. Check or Money Order: Download the below registration and send the completed form and payment to Boston Warriors, 101 Richmond Rd, Belmont, MA 02478
2. Credit Card:
A. Please email bostonwarriors@yahoo.com with your son name and grade and make sure to note you will be paying via credit card
B. Email (scan and email) or mail the signed registration form to: Boston Warriors, 101 Richmond Rd, Belmont, MA 02478
C. Make Credit Payment Below. Make sure to put the note on the payment your son's name and grade
Handout: 2014 BW Fall Tryout Registration Form
Batts Scores goes for 13 Points and 3 Rebounds in NBA Summer League Debut

By John Denton
July 5, 2014
ORLANDO -- More experienced from a full season of NBA action and 20 pounds lighter from an offseason of work, Victor Oladipo was easily the best player on the floor in the Orlando Magic's Summer League opener on Saturday.
Oladipo's improvement showed in his 18 points, six rebounds and three assists in Orlando's 83-77 defeat of the Philadelphia 76ers in first-day action of the Orlando Pro Summer League.
Another player from the 2013 NBA Draft, Nerlens Noel, played exceptionally well to steal the spotlight away from 2014 lottery picks Aaron Gordon and Elfrid Payton. Playing in his first game action in 17 months, Noel opened the game with a thunderous dunk and finished with 19 points and four steals.
Devyn Marble, a second-round pick fighting to make the Magic, had 13 points and two 3-pointers. Seth Curry, brother of Golden State star Steph Curry, hit two threes and scored nine.
Kadeem Batts
added 13 points for Orlando (1-0).
Boston Warriors West Division
The Boston Warriors are excited to announce a major power shift on the AAU front west of Boston. The Boston Warriors have officially expanded west to Sudbury and the surrounding area.
If you are in any of these areas the doors have been opened for you to join one of the strongest and longtime established AAU programs in New England.
Our mission statement is to teach players lifelong lessons through basketball. Show up EARLY, stress a high level of fundamentals, team play, playing hard at 100% of the time and never get out worked!
The West Division of The Boston Warriors will be run by Brewster Cupid. He serves as the Basketball and Football Director at the Fieldhouse Sudbury. Prior to this announcement, he served as the Director of the Fieldhouse Sting Boys Basketball Program. He remains as the Director of the Sting Elite AAU Girls Basketball Club.

We look forward to working with Brewster and building the brand west of Boston!
Any questions concerning Boston Warriors West can be directed to Brewster Cupid at bcupid@fieldhousesudbury.com
Boston Warrior AAU Boys Basketball Program is one of the strongest programs in New England
Over the past 7 years, the Boston Warriors have won the Division 1 Massachusetts State Tournament and/or the New England Champoinships in every age group from 3rd grade to 11th grade. This spring (2013) we finished the cycle by winning the 9th Grade Division 1 State Title. In addition, in spring 2013 we had 13 teams qualify for the AAU National Championships. But it is not all about going to the national Championships. We offer players of all talent level the possible opportunity to play competitive spring basketball. The size of each roster are kept manageable and try to keep the price to play affordable. Most of all, we have provided very good coaching including a lot of skill work with real practices. Our mission is to provide local athletes intent on improving their games with an opportunity to compete against the best in NE.
It about developing players of all age levels and helping them to get to the next level. Below is a summary of past few years players:
Boston Warriors presently playing at the college level:
- 8 players currently on Division 1 College Basketball Rosters
- 9 players currently on Division 2 College Basketball Rosters
- 50+ players currently on Division 3 College Basketball rosters (including 9 in the NESCAC)
- 8 players currently on Division 1 College Football rosters
- 5+ players currently on Division 2 College Football rosters
- 10+ players currently on Division 3 College Football rosters
- 5+ players on other College Sports Rosters
In addition, Boston Warriors alumnus Dan Giovacchini was named the national winner of the Inagural 2011 High School Sullivan Award for the outstanding amateur athlete in the United States.
For more information on Boston Warriors playing in college, please click on the "Boston Warriors Alumni News" button. For information on Boston Warriors present high school news, please click on the "Boston Warriors High School News" button. Please check out the website from day to day for updates.
Akeem Williams lives the Boston Celtics dream for at least one day
WALTHAM – It was just a normal Monday. Brockton native Akeem Williams was playing NBA 2k14 with his friends when the phone rang. He answered it, heard his agent, Jim Buckley, and figured the call would bring news about his passport. Instead, Buckley offered something unexpected: the Boston Celtics had invited Williams for a workout. The 5-foot-10 guard checked his caller ID, just in case, to make sure he wasn't getting pranked by an unknown number. His favorite team, the Celtics, wanted him in to their practice facility during the pre-draft process? Yes, it was the right number. Wow, he thought. This is crazy. Buckley asked Williams if he could make it to the Celtics gym Wednesday, in two days. "Yeah," he responded, containing his excitement. "I think I can do that."
Basketball has allowed Williams to experience a number of breathtaking moments, but some of the most memorable came during losses. As a junior at Avon High School (Mass.), he scored 50 points in the South sectional final while leading his team to the 2008 Division 4 state championship game at the TD Garden. He dreamed of dominating the parquet floor, like his favorite player Paul Pierce had done so many times. "He's just so lackadaisical with it," Williams said, explaining why he was drawn to Pierce, "but at the end of the day he's coming out to kill you." The guard, sadly, could not summon his hero's nonchalant brilliance. "I was awful," he remembered about the 77-54 loss to North Cambridge Catholic. "They ran a three-man defense at me, it was really bad."
He transferred to prep power Winchendon, where he received a scholarship offer from Division 2 UMass-Lowell and decided to attend the school. He heard whispers throughout his tenure that the program might move to Division 1 – the school size, the hockey team's success, and the big Tsongas Center gym prompted speculation – but as his college eligibility began to run dry, he surrendered hope. "As every year went by we were like: 'Damn, this is never going to happen,'" he said. "Growing up, I always wanted to play Division 1, and I got a scholarship to a Division 2 school, so from that point I was kinda playing with a chip on my shoulder," he said. "I just wanted to prove to everyone that I belonged at Division 1."
After he scored more than 1,5000 points over his first three seasons, UMass-Lowell made the jump to D1 prior to his senior season. The first game came at Michigan – or, to Williams, MICHIGAN! The opponents honored Trey Burke – TREY BURKE! – before tip-off, and Williams felt butterflies flapping in his stomach. Such a big gym, such a big-name opponent, for his first D-1 game ever.
After shaking off the nerves, he scored 10 points in the first half and 16 for the game. The Riverhawks lost badly, 69-42, but entered halftime with a tie score and let Michigan know they were not a pushover. UMass-Lowell finished the year by surpassing expectations with an 8-8 conference record in the America East, fifth in the nine-team league.
By season's end, Williams Lead the league by averageing 15.8 points point per game. Adding to the scoring title, had averaged 4.1 rebounds and 3.8 assists, passing the 2,000-point mark for his career.
Yes, he taught everybody, he could play Division 1.
But this? A workout for the Celtics? Williams hadn't been expecting to participate in any NBA workouts, so he hadn't stayed in great basketball shape. He had still been working out, getting up shots, lifting, all of it, but he felt winded compared to a number of prospects who have been preparing for the draft for months. When Williams' agent first called, he left his house immediately to head to the gym. Williams arrived at the practice facility two days later to see Adreian Payne (Michigan State) and Clint Capela (France), two near-seven-footers and first-round talents, the likes of which the guard never witnessed at UMass-Lowell. "Our centers are probably 6-7," Williams said. He felt no butterflies – he had proven to himself that he could compete with anybody – but the level of competition was drastically different than he had normally experienced. "Adreian Payne is of course a monster down low," he said. "I haven't seen anything like that all year. Any pass I threw, they finished it and made me look good." The six players in the workout, which also included Memphis guard Michael Dixon, plus big men Eric Moreland (Oregon State) and Victor Rudd (South Florida), went through a series of skill work and 3-on-3 situational drills. At one point, Celtics head coach Brad Stevens – running the workout, as he has done throughout the pre-draft process – drew up plays for the group to run 5-on-0. "I think he wanted to test our mental," Williams explained. "He was great, honestly. He was real positive. He kept everybody in it. He was great with me. He was just telling me where to get the ball screen, not too high, not too low. Kind of just staying on top of everybody. He wasn't being a dictator, just really coaching. He was letting me know to start some plays from deep, use my speed as much as I can." Payne stood out as the most polished player, but Capela, a 20-year-old who spent the past season in France, wowed with his athleticism. "He's really raw. He's good though, he's a freak athlete," said Williams. "He's really freakish. Coach drew a lob play from out bounds, and he had to go up and around the basket to catch it. He started on one block, did a half-360 to catch the oop. I don't know how he did it. I really have no clue."
Not everybody in the pre-draft process holds high hopes of playing in the NBA. Of course Williams would come running again if the Celtics called, and he would shuttle around the country if any other clubs wanted to check him out. But even if nothing comes from his workout, he will have a memory to discuss forever, a story that will never get old. The day felt wild to the kid from Brockton, who grew up worshiping the Celtics, arguing with his father, Orson – a Lakers fan – about which team was better. Williams' mother, Shirley, wanted him to grab some Celtics gear, and his phone kept ringing with friends sending their congratulations. "I feel like I held my own. I kind of came in with little expectations. I feel like I played good defense on Michael Dixon. He only had one bucket on me. I can hang my hat on that," he said. "I'm getting a lot of feedback from back home. I was honestly just happy to have the opportunity, to be able to work out for the Celtics. It's crazy. It really is."
Andrew Musler receives Clark University Russ Granger Award
Men's basketball's Andrew Musler (Belmont, Mass.) collected the Russ Granger Award, given to the male student-athlete who combines both academics with on-field excellence. Musler emerged as one of the best players in the conference after averaging 13.8 points and 8.6 rebounds while shooting 45 percent from the field, including 40 percent from three-point land. An economics major that already has been accepted into the University's fifth-year master's program, Musler will pursue his MBA while playing his final season in 2014-15.
Impact of the National AAU High School Sullivan Award for BW Dan Giovacchini
Lake Buena Vista– Boston Warriors Daniel Giovacchini was the male recipient of the inaugural National AAU High School Sullivan Award. After receiving the award, Daniel wrote a letter about the great impact AAU has had on his life and how much the High School Sullivan Award has meant to him and his future. Here is the link to Dan's letter: Impact of the AAU High School Sullivan Award for Boston Warriors Daniel Giovacchini
Boston Warriors are proud to announce 3 college commitments
1. Kyle Howes - Merrimack College (4 Year Basketball Scholarship)
2. Asante Sandiford - Franklin Pierce (4 year Basketball Scholarship)
3. Lubern Figaro - Wisconsin (4 year Football Scholarship)
These are the first 3 commitments of the very talented Bostons Warriors' junior class which also includes Nick Tarantino
(BB&N), Duby Maduegbunem (KUA). Joe Carty (St. Andrews), Shane Farley &

Christian Mornewick (Burlington), Shaquan Murray, Kordell Harris
& Fred Rivers (New Mission), Kameron Nobles (Governors Academy), Brian Mukasa (Sharon), Blaine Taylor (Concord-Carisle), Jack Winston (Needham) , Rocky Andrade (Mansfield), Jamal Smith and Malique McLaren (Winchendon).
We are looking forward to successful spring with our outstanding junior class.
Adding this to the reigning 9th grade state champions (Now 10th Grade team) and very good 9th grade class, next spring we should have another great crew of prospects and should be very exciting.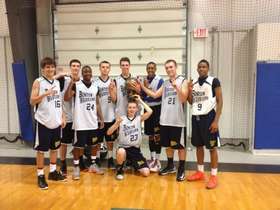 2013 Massachusetts 9th Grade State Champions
Boys basketball all-scholastics