The Warren Youth Soccer Association: Welcome

Welcome to the Warren Youth Soccer Association!!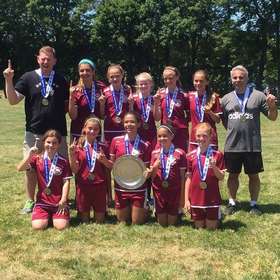 Congratulations to the Warren U12 girls, Spring 2016 Superliga Champions!!
---
Online co-ed summer recreational registration is now closed!! We will be accepting late regisrations at the field on opening night, begining at 5:30.
Schedules and team rosters are posted at the bottom of the page, just click on "handouts".
Currently we offer recreational programs for:
boys and girls u4-u16
We ALWAYS need volunteers; this year we are still offering a $20 discount off one child's player fee for parents who volunteer to coach a team. (please contact us if you are interested, you can coach your child's team, no experience necessary)
---
Fall tryout information:
competitive u12 and u14 tryouts will be held June 28 & 30, 2016
U12 (birth year 2005/2006): 5:30-6:45
U14 (birth year 2003/2004): 6:45-8:00
Tryouts are for both boys and girls
---
Signups & tryouts for fall U8-U10 boys and girls will be held
July 19 & 21, 2016
U8 (birth year 2009/2010): 5:30 (signups)
U10 (birth year 2007/2008): 6:45 (tryouts)
We are always looking for coaches/volunteers! Please let us know if you are interested in joining.
---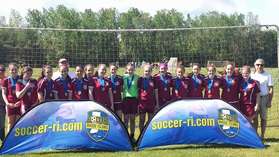 Congrats to the Warren U16 girls, Spring 2016 RI Cup Champions!
Handout:
Summer Rec 2016