JTC Jersey Wanderers: News
Saturday, April 27
JTC Jersey Wanderers F.C. Board Meeting
The first meeting of the new Board of JTC Jersey Wanderers FC, introducing our new corporate structure was held at the offices of JTC last Thursday 25th April. The minutes of the meeting will be made available once they are produced but it was felt useful at this early stage to give as many of the Wanderers community as possible an understanding of the ambition we have for the Club in the next 3 years and beyond.
Notes from the meeting are attached for information.
Handout:
Board Meeting 1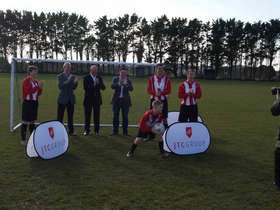 JTC Group Sponsorship
Wednesday, March 20
JTC GROUP ANNOUNCE 3 YEAR SPONSORSHIP PARTNERSHIP WITH JWFC
JWFC is delighted to announce a new 3 year sponsorship partnership with local company JTC Group. JTC Group have agreed to sponsor the club for a three year period and we look forward to working with them to develop and drive the club forward.
A copy of the Press Release is attached for information and over the next few weeks and months, further information will be provided on what this significant investment in JWFC means for the club.
In summary, the financial position within the club had reached a stage where it was unlikely that we could have continued to survive beyond the current season and we are extremely grateful to JTC Group for stepping in to support us at this most difficult time.
This now marks the start of a new direction and a journey for the club and with hard work from everyone, new and old, associated with JWFC, we can now look forward to the future where we can progress plans to continue the development of the club.
Anyone who wishes further information on this announcement can call Bob Lawrence on 07797711007.
Handout:
Press Releases
Sunday, March 31
F.A. Charter Standard Community Club Status Renewed
Sunday, May 6
Under 18s Make History
Our Under 18 boys made Channel Islands history by winning a 4th consequtive Portsmouth trophy, beating Guernsey North 2-1 in the annual match between the league winners from Jersey & Guernsey. Having gone behind midway through the first half, we equalised through a penalty and then scored a second with the last kick of the first half.
Photos from the match can be found in the Portsmouth Trophy album on this site. You can request the full size photo by emailing jerseywanderers@gmail.com and requesting the number photo you would like.