JTC Jersey Wanderers: Welcome
JTC JERSEY WANDERERS F.C.
Welcome to the JTC Jersey Wanderers F.C. web site. Formed in 1895, we are based in the Island of Jersey in the Channel Islands. We have been recognised by the English and Jersey Football Associations as a Charter Standard Community Club.
Sponsored by the JTC Group, we have 13 teams. Our mens' 1st Team play in the Jersey Football Combination Premier League. We also have mens' Reserve, C and Over 40's teams, and a Ladies team. Our Junior Section has boys' teams playing at Under 11, Under 12, Under 13, Under 16 and Under 18 levels. In addition, we run a mini soccer academy for boys aged 5 to 10 years old.
More Information about the club can be found through the links at the top of this page.
If you are interested in joining our club or want to make contact with us, e-mail us at jerseywanderers@gmail.com or contact the Club Secretary, Peter Lucas
For JTC Jersey Wanderers fixtures, results and league tables follow this link to the Jersey Football Association
'Full Time'
website and select the Division for the team you want to get information.
NEWS
Wednesday, March 27
JTC Jersey Wanderers Annual Subscriptions 2012/13 Season.
You can now make your subscription payments on-line through your PayPal account or by using your credit card.
Please choose the type of subscription you are paying for from the drop down box below and 'Add to cart'. If you are making multiple payments (i.e. Junior Player & Second Child), add the first choice to your cart and then select 'continue shopping' from the 'shopping cart' page. This will return you to this page where you can choose the second payment from the drop down box and 'Add to Cart'. Once you have selected all payments, check out from the PayPal page with either your PayPal account or by using your Credit/Debit Card. Please note that the PayPal Check Out screen will start in a new window.
If you have any queries, please call 07797711007.
Saturday, April 27
JTC Jersey Wanderers F.C. Board Meeting
The first meeting of the new Board of JTC Jersey Wanderers FC, introducing our new corporate structure was held at the offices of JTC last Thursday 25th April. The minutes of the meeting will be made available once they are produced but it was felt useful at this early stage to give as many of the Wanderers community as possible an understanding of the ambition we have for the Club in the next 3 years and beyond.
Notes from the meeting are attached for information.
Handout:
Board Meeting 1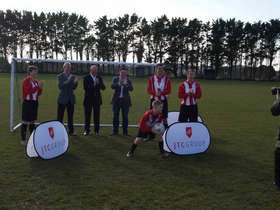 JTC Group Sponsorship
Wednesday, March 20
JTC GROUP ANNOUNCE 3 YEAR SPONSORSHIP PARTNERSHIP WITH JWFC
JWFC is delighted to announce a new 3 year sponsorship partnership with local company JTC Group. JTC Group have agreed to sponsor the club for a three year period and we look forward to working with them to develop and drive the club forward.
A copy of the Press Release is attached for information and over the next few weeks and months, further information will be provided on what this significant investment in JWFC means for the club.
In summary, the financial position within the club had reached a stage where it was unlikely that we could have continued to survive beyond the current season and we are extremely grateful to JTC Group for stepping in to support us at this most difficult time.
This now marks the start of a new direction and a journey for the club and with hard work from everyone, new and old, associated with JWFC, we can now look forward to the future where we can progress plans to continue the development of the club.
Anyone who wishes further information on this announcement can call Bob Lawrence on 07797711007.
Handout:
Press Releases
Sunday, March 31
F.A. Charter Standard Community Club Status Renewed