VSA Heat Gold 98 Girls: Welcome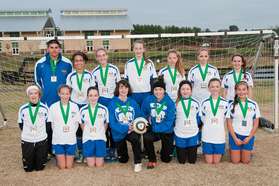 Hunt Country Classic 2012 - 2nd Place
The VSA Heat Gold is a U-14 travel soccer team, representing the Virginia Soccer Association based out of Haymarket, Virginia. The team plays in the Washington Area Girls Soccer (WAGS) League, Division 2 . The team will also compete in several area tournaments during the 2012/2013 season.
The team is professionally trained and coached by Kareem Sheta and assistant coach AJ Sheta.
Upcoming Tryouts for 2013 - 2014 season
The Heat are inviting interested players born on or after 8/1/1998 to join us for open tryouts for potential roster spots for the 2013/2014 season. Tryouts will be held on the following dates at Long Park in Haymarket.
Monday, June 3rd 5:00 - 6:30 PM
Tuesday, June 4th 6:30 - 8:00 PM
Friday, June 7th 5:00 - 6:30 PM (if needed)
For any further questions please email our coach Kareem Sheta at jrroyals@aol.com.
Hunt Country Classic 2012
The Heat Girls participated in the Hunt Country Classic over the Nov. 17th-18th weekend to end the Fall season. After a long weekend of soccer, the girls showed what they were made of by finishing in 2nd place playing up an age group in the U15 girls division. Nice job girls!
Go Heat!!!
2012 Battlefield Classic
The VSA Heat 98 Gold were Semi Finalists in the Battlefield Classic held over Columbus Day weekend Oct. 6-7th.
VIRGINIA BEACH SPRING CLASSIC CHAMPIONS
VSA Heat 98G Gold win the U13 White Division at the Virginia Beach Spring Classic Soccer Tournament in Virginia Beach, March 17-18, 2012!
FINALIST SAC UNITED COLUMBUS DAY TOURNAMENT
VSA Heat Gold was a FINALIST in the Girls U13 Elite Division of the SAC United Columbus Day tournament October 8-9, 2011. The team had an impressive 14-3 goal differential during the tournament and had three shut outs.
SEMI-FINALIST IN 2011 OBGC TOURNAMENT
VSA Heat Gold was a SEMI-FINALIST in the Elite Division of the 2011 OBGC Tournament held Labor Day Weekend.
FINALIST VIRGINIAN TOURNAMENT
VSA Heat Gold were finalists in the U12 Premier Silver (8x8) 2011 Virginian Tournament!
VSA Heat Gold Wins Futsal League at Dulles Sportsplex
VSA Heat Gold wins Winter Session II Futsal league at Dulles Sportsplex. The team was undefeated with a goal differential of 40 goals. Congratulations!