Vestal Little League: Welcome
Thursday, April 17
April 26 Opening Day Parade and Pictures
Opening Day is Saturday, April 26th, starting at 9am. Please have all Majors, Minors, and AAA players arrive in uniform, behind the Town Hall on Front Street at 8:45am, to parade down Front Street to the field. Opening ceremonies will take place at Angelo, starting about 9:30am. Parents, family and friends can line Front Street to watch the parade of players. The concession stand at Angelo Field will open at 9am.
Team and individual pictures for Majors and Minors teams will also be taken on Saturday, April 26th, at Angelo Field - see the schedule below. Even if you are not purchasing individual photos, please come for the team picture. In case of rain, pictures will be at the Vestal High School lobby (no cleats allowed inside) at the same times. Your team parent has photo order forms. If you prefer to order photos online, and avoid filling out the paper form, here is the link http://opr.sportography.com/OPR/?a=20004&e=12295 Info on AAA picture day is coming soon.
We look forward to seeing everyone at the Parade and the players with their new uniforms for pictures!
---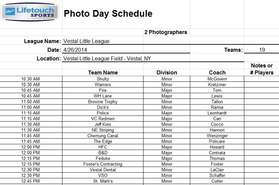 2014 Majors and Minors Schedules,
Game Results, and Standings
The 2014 regular season schedules, game results, and standings for Majors and Minors are available by clicking the "Schedule & Game Results" link on the top left side of this web page.
Be sure to click "Refresh" on your web browser when viewing the schedule and results to be sure you see the latest updates.
---
Umpires Coordination Meeting
As we've been doing for many years, Vestal Little League will utilize teenage umpires this season. Anyone interested in umpiring in VLL should contact Stace Kintner at skintner@stny.rr.com and include the name of the teenager interested in umping, email address, mobile phone #, and years experience. New umpires are welcome in addition to returning umps.
An orientation meeting will be held on a date and time TBD at Angelo Field for new and returning umpires. The meeting should last somewhere between 60 - 90 minutes.
---
2014 Registration - Still Open for AAA
March 13 was the deadline for registration in the Majors division. March 20 was the deadline for the Minors division, and April 1 (no joke!) for the AAA division.
Click here or on one of the registration links above and you'll see our new and improved online registration process. Questions can be directed to vestallittleleague@gmail.com.
Note that this year we have upgraded to League One for online registration, which is the official registration system for Little League. You will need to create an account which enables you to then register using this new, streamlined system - a significant improvement in ease of use.
Little League Baseball celebrates its 75 year anniversary in 2014, so sign up and get ready to play ball!
---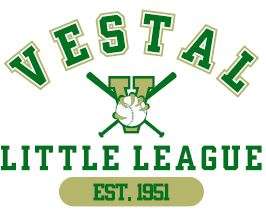 Vestal Little League Spirit Wear Now on Sale!
Now you can purchase hats, shirts, and sweatshirts featuring our new logo! Simply follow this link to place your order. All sales are handled directly by Zappias and not through VLL. Please contact Zappias with any questions you may have.
---
2014 Majors Team Rosters and Colors
| | | | |
| --- | --- | --- | --- |
| B & D | Feduke | Fire | HFC |
| Coach Contrata | Coach Thomas | Coach Tom | Coach Howard |
| | | | |
| D. Avery | P. Abashian | A. Albright | W. Cropp |
| Z. Bezouka | M. Barton | C. Cooke | K. Kothari |
| R. Contrata | I. Green | A. Espino | A. LaClair |
| T. Contrata | O. Mieczkowski | N. Rezmerski | J. Mabee |
| D. Cook | E. Mikeska | K. Rosa | M. Mabee |
| C. Frisbee | J. Sager | E. Sarkisian | J. Neifer |
| S. Gates | C. Smith | R. Symons | J. O'Donnell |
| M. Kopl | L. Stewart | G. Talbut | O. Shiner |
| S. Nippani | J. Stormann | C. Tom | C. Wager |
| J. Poff | C. Thomas | B. Vandervort | A. Weaver |
| | | | |
| Police | Redmen | WH Lane | |
| Coach Leonhardt | Coach Carr | Coach Lewis | |
| | | | |
| A. Baker | A. Carr | J. Eaton | |
| J. Callaghan | W. Cohen | A. King | |
| I. Collins | Z. Keesler | J. Kretzmer | |
| D. Harding | C. Kintner | A. Lewis | |
| D. Knipsher | C. Osman | S. Lewis | |
| N. Knipsher | A. Rizzi | K. McGovern | |
| B. Leonhardt | S. Seraydarian | J. Milkovich | |
| P. Morrow | R. Strahley | D. Phillips | |
| K. Schmerder | M. Strojny | M. Sprague | |
| D. Wenner | B. White | B. Tallon | |
---
Important Dates for the 2014 Season
Online Registration: Now! Online registration is the preferred method and is improved for 2014.
Walk-Up Registration: Saturday, February 22 from 10am-1pm at Dick's Sporting Goods in Vestal
Major League Tryouts: Sunday, March 16
VLL Shop Day at Dick's Sporting Goods, Vestal (20% Discount): Saturday, March 22
Minor League Tryouts: Sunday, March 23
Opening Day: Saturday, April 26 (Note: Individual and Team Pictures will be taken on Opening Day)
Mother's Day: No Games on Sunday, May 11
Memorial Day Break: No Games Friday, May 23 thru Monday, May 26
Post Season Playoffs: Saturday, June 7 through Tuesday, June 17
Note that all dates are subject to change if needed due to weather or other unforeseen circumstances.
---
Dick's Sporting Goods Coupons - Click the Banner Below
---
Auxiliary Needs Volunteers
The Vestal Little League Auxiliary is in dire need of new members! The Auxiliary operates the Concession Stand, organizes Picture Day and Team Parents.
If you are able to volunteer 2 hours a week, and help run the Concession Stand this season, please contact Andrya Barton at mystyc74@gmail.com.
---
Baseball Bat Resource Page
Little League International has assembled an online resource page dedicated to baseball bat information. Learn More about the latest bat information, including the current Little League Baseball rules and regulations governing bats, definition of terms, the moratorium on the use of composite bats, and a series of frequently asked questions, with answers and licensed bat lists.
---
Follow Vestal Little League on Twitter!
Vestal Little League is on Twitter. Stay on top of the latest VLL news, rainout notifications, and news from Little League International. Just click here or on the "Follow" link below.
Follow @VestalNYLL
---
Vestal Little League is a non-profit organization whose mission is to "promote, develop, supervise, and voluntarily assist in all lawful ways, the interest of those who will participate in Little League Baseball."
Through proper guidance and exemplary leadership, the Little League program assists children in developing the qualities of citizenship, discipline, teamwork and physical well-being. By espousing the virtues of character, courage and loyalty, the Vestal Little League Baseball program is designed to develop superior citizens rather than superior athletes.
---
Follow us on Twitter for the latest VLL news, rainout notifications, and news from Little League International.
Follow @VestalNYLL
---
Questions can be directed to vestallittleleague@gmail.com.