Vestal Little League: Welcome
2017 Playoff results and Brent W. Bowers Sportsmanship Award and
Most Improved PLayer Award
Congratulations to Redman on winning the Major's Playoffs Championship and to Fosters on winning the Minor's Playoff Championship. Congrats also to Jeff Kies for finishing second in the Major's Playoffs and to Dick's Sporting Goods on a second place finish in the Minor's playoffs! It was a great season of baseball and we wish all of our summer ball teams well as they begin tournament play this weekend!!
Congratulations to Braden Strahley on receiving the Brent W. Bowers Sportsmanship Award based on a vote by the Board and Majors Managers. This award goes to the 12 yr old player who best exhibits a positive attitude at all times, the highest level of personal conduct, gives 100% effort to play to his/her ability, is the consumate team player, continously strives to improve, and a team leader who always sets a good example and shows self respect and respect for all others.
Congratulations to Elijah Ramia on receiving this year's Most Improved Player Award. This award goes to the player in the Majors who has shown the most improvement in baseball skill and ability as voted on by the Board and Majors Managers. Great job Elijah!
These awards were presented during pre-game ceremonies of the Majors Championship Game on June 14th, 2017.
---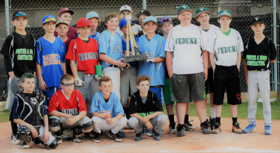 5th Annual Homerun Derby Results!
Congrats to Braden Strahley on winning the 6th Annual Homerun Derby!! Coming in 2nd was Lee Mazzeo; 3rd was Cameron Kretzmer; and 4th was Cole Burdick!
-----------------------------------------------------------------------------------------------------------------------------------
2017 Home Run Derby Champion- Braden Strahley
2016 Home Run Derby Champion- Braden Strahley
2015 Home Run Derby Champion - Ronnie Contrata
2014 Home Run Derby Champion - Chris Thomas
2013 Home Run Derby Champion - Shawn Chermak
2012 Home Run Derby Champion - Dom DiRado
Vestal Little League is a non-profit organization whose mission is to "promote, develop, supervise, and voluntarily assist in all lawful ways, the interest of those who will participate in Little League Baseball."
Through proper guidance and exemplary leadership, the Little League program assists children in developing the qualities of citizenship, discipline, teamwork and physical well-being. By espousing the virtues of character, courage and loyalty, the Vestal Little League Baseball program is designed to develop superior citizens rather than superior athletes.
---
Follow us on Twitter for the latest VLL news, rainout notifications, and news from Little League International.
Follow @VestalNYLL
---
Questions can be directed to vestallittleleague@gmail.com.