Virginia Outlaws: Welcome
Saturday, June 6
Virginia Outlaws 18u Softball
USSSA Cheshire Cat - 6/27 - 6/28
Game 1: Field 3: 11AM: Manassas Blaze
Game 2: Field 3: 5PM: Fielders Choice Premier
Game 3: Field 3: 8PM: VA Rowdies Elite
---
Spring/Summer 2015 Tournament schedule
Check out the link below.
---
#21 Ashley Signs with GWU!!!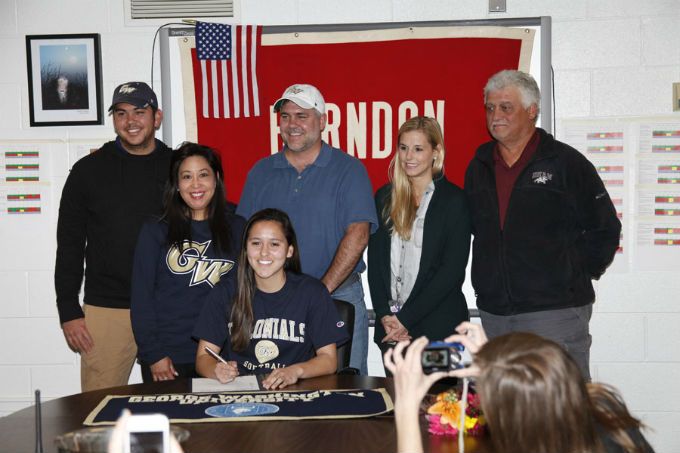 ---
---
2015 Spring Tournament Schedule Posted (subject to change)
"Thank you" to all of our sponsor's for this past Spring/Summer Season of 2014.
Please contact Coach Dutton via email ddutton4@aol.com or feel free to call 703-338-1278 with any questions, comments or concerns.
Virginia Outlaws is a 18u Girls Fast Pitch Softball Tournament / Travel Team. Head Coach Donnie Dutton has been coaching Travel Softball for over 20+ years, along with his assistants. He also coaches at the local high school and is dedicated to his player's college aspirations.
These young ladies will play several showcase tournaments, September through November, this upcoming season. The schedule is posted!
Check out some of our Alumni Players -
6 Seniors, Class of 2014 Continue onto College to play softball
Welcome 16U Outlaws to the Outlaw Family!
Congrads to the young ladies who have made the 16u Team!
Check out the Player Roster and Tournaments dates/locations on the NAV bar
Friday, January 23
Class of 2015 - Look who has committed...
Congratulations to #3 Brittani who has committed to Lynchburg College
Congratulations to #00 Carrie who has committed to Shenandoah University
Congratulations to #17 Sam has committed to Barton College, NC
Congratulation to #1 Sarah has committed to Roanoke college
Congratulations to #21 Ashley who has Signed with GWU!!!
Congratulations to #22 Emeline has committed to Virginia Tech
Thursday, February 19
16u Player Roster