Virginia Outlaws: Welcome
Saturday, July 25
Virginia Outlaws 18u Softball
2015 TRYOUTS SCHEDULE
VA Outlaws, 18u Girls Fast Pitch Softball Travel Team located in Centreville, VA is looking for young women who have the drive, the hunger, the passion, the competitiveness and planning to play college softball. If you think you have what it takes and not afraid to work hard – this team is looking for you. Coaches have over 25+ years travel experience, coach high school softball and hitting coach. Tryouts are at Centreville HS, Centreville Va. Aug 9 (1-4pm), Aug 12 (6-8pm) Aug 15 (10am -1pm) Aug 19 (6-8pm). Looking for all positions especially Pitchers/Catchers that can play other positons. Questions? Contact Coach Dutton @ ddutton4@aol.com .
ALL WILL BE AT CENTREVILLE HIGH SCHOOL
2015 Fall TryOut Information Form is towards the bottom (it will not be seen by others) of this page. Please fill out a head of time if you are interested in tryingout and/or have questions.
August 9 1-4pm
August 12 6-8pm
August 15 10am -1pm
Auguts 19 6-8pm
16U Tryout Information Below
We will be having our tryouts on Saturday August 8th and 9th at South Lakes Drive Park, 11951 South Lakes Dr. Reston, VA 20191 from 1:30 - 4:30pm. Pitchers and catchers need to be there at 1pm. Please be there 30 minutes early to register.
If they have any questions they can contact: Sharon Dudley 571-277-8204 or dudleysr0963@gmail.com or Ann Marie Boyd 703-863-9997 or ann_marie_b@msn.com
---
Spring/Summer 2015 Tournament schedule
Check out the link below.
---
#21 Ashley Signs with GWU!!!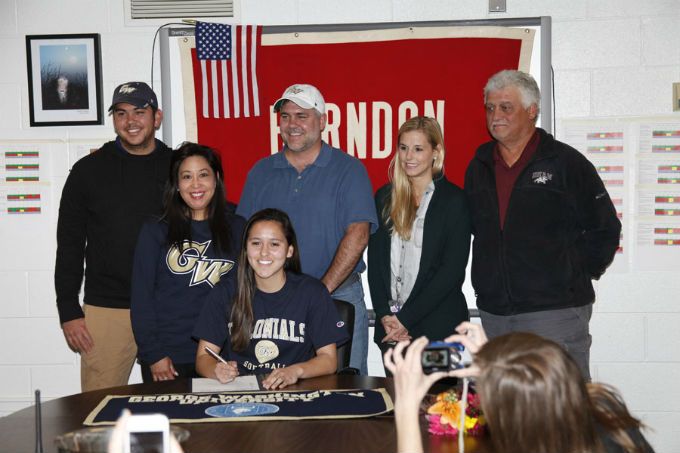 ---
---
2015 Spring Tournament Schedule Posted (subject to change)
"Thank you" to all of our sponsor's for this past Spring/Summer Season of 2014.
Please contact Coach Dutton via email ddutton4@aol.com or feel free to call 703-338-1278 with any questions, comments or concerns.
Virginia Outlaws is a 18u Girls Fast Pitch Softball Tournament / Travel Team. Head Coach Donnie Dutton has been coaching Travel Softball for over 20+ years, along with his assistants. He also coaches at the local high school and is dedicated to his player's college aspirations.
These young ladies will play several showcase tournaments, September through November, this upcoming season. The schedule is posted!
Check out some of our Alumni Players -
6 Seniors, Class of 2014 Continue onto College to play softball
Welcome 16U Outlaws to the Outlaw Family!
Congrads to the young ladies who have made the 16u Team!
Check out the Player Roster and Tournaments dates/locations on the NAV bar
Friday, January 23
Class of 2015 - Look who has committed...
Congratulations to #3 Brittani who has committed to Lynchburg College
Congratulations to #00 Carrie who has committed to Shenandoah University
Congratulations to #17 Sam has committed to Barton College, NC
Congratulation to #1 Sarah has committed to Roanoke college
Congratulations to #21 Ashley who has Signed with GWU!!!
Congratulations to #22 Emeline has committed to Virginia Tech
Thursday, February 19
16u Player Roster
Saturday, July 25
Fall 2015 Tournament Schedule
Fall 2015 Tournament Schedule
HOF Sterling Va. Sept. 12 & 13
Heartland Roanoke Va. Sept. 14 & 15
Va. Scrappers Roanoke Va. Oct. 10 & 11
College Exposure Richmond Va. Oct. 24 & 15
Baseliners Showcase Sterling Va. Oct. 30 & 31
Earling Signing Myrtle Beach, SC Nov. 13-15