Bishop McGuinness Villains: Villains History and Record Books
History of Bishop McGuinness Catholic High School
A substantial gift from Mrs. Mary Ann Robertson of New York City to Raleigh's Bishop Waters made possible the establishment of a girls' college preparatory school, the Villa Marie Anna Academy, in 1954 on which is now Country Club Road in west Winston-Salem. The Villa's initial enrollment was a total of five students; however, the school began to experience substantial growth with the admission of boys in 1956. The Sisters of St. Joseph of Chestnut Hill (five in number, led by Principal Sister Eileen Patrice) were responsible for the entire high school program, and under the care, two classes graduated from the Villa before its closure in 1959 to make way for the new inter-parochial high school, named for Raleigh's Bishop Eugene J. McGuinness. It opened its doors on September 8, 1959. The faith and determination of the Sisters came to fruition with the building of this new school, the Villa's successor, which enrolled 96 students to start.
"Phase I" gave way to "Phase II" in 1959. In August of 2001, "Phase III" of the school's history began at its new central Triad 42-acre site, with a plant designed to eventually house more than 800 students in a state-of-the-art facility. Faithful to its education in the central Triad, Bishop McGuinness will continue to offer the very best in Catholic High School opportunity for generations to come.
Why are we called the "Villains"?
Our school mascot, "The Villain", comes from our early roots at the Villa Marie Anna Academy. The school motto, "Praesis ut Prosis" is taken from the seal of the late Bishop McGuinness and serves as a challenge for all who would desire "to excel that they might better serve".
Villain Records
The stats below are for our history recorded through 2016.  The top ten in each category are listed.  The bold print is for players under Coach Thompson.
Go Villains!!!
Highest Scoring Average- Season
Aaron averaged 28.3 ppg as a senior
1. David Burns (93-94) --- 29.7
2. Aaron Toomey (09-10) --- 28.3
3. Tim McFadden (82-83) --- 27.4
4. David Burns (94-95) --- 26.8
5. Gene Thomas (86-87) --- 25.8
6. Jim Corrigan (76-77) --- 25.6
7. Ilian Evtimov (00-01) --- 21.8
8. Carl Brickman (82-83) --- 21.5
9. Herbie Burns (91-92) --- 21.4
10. Aaron Toomey (08-09) --- 20.9

Most Points- Season
1. David Burns (93-94)--- 920
2. David Burns (94-95) --- 910
3. Herbie Burns (91-92) --- 857
4. Aaron Toomey (09-10) --- 849
5. Montez Downey (04-05) --- 828
6. Gene Thomas (86-87) --- 801
7. Tim McFadden (86-87) --- 796
8. Bryan Sheridan (92-93) --- 679
9. Jim Corrigan (75-76) --- 665
10. Aaron Toomey (08-09) --- 648
Most Three Pointers- Season*
*Started keeping statistic in 2005

1. CJ Cappuccio (15-16) --- 77
2. Steve Nealen (07-08) --- 75
3. Spencer Wilson (13-14) --- 73
4. Steve Nealen (08-09) --- 66
5. Trey Tatum (10-11) --- 56
6. Ross Diachenko (06-07) --- 55
7. Trey Tatum (11-12) --- 55
8. Aaron Toomey (09-10) --- 52
9. Kevin Weckworth (10-11) --- 45
10. Nick Efird (13-14) --- 39
10. Ross Diachenko (07-08) --- 39
10. TJ McClurg (06-07) --- 39


Most Free Throws Made- Season
1. Aaron Toomey (09-10) --- 311
2. Aaron Toomey (08-09) --- 224
3. Gene Thomas (85-86) --- 205
4. David Burns (94-95) --- 189
5. David Burns (93-94) --- 186
6. Tim McFadden (82-83) --- 176
7. Aaron Toomey (07-08) --- 173
8. Kevin Spainhour (92-93) --- 172
9. Ilian Evtimov (00-01) --- 160
10. Ross Diachenko (08-09) --- 154

Most Assists- Season
1. Kevin Spainhour (92-93) --- 292
2. Aaron Toomey (08-09) --- 244

3. George Hoyle (85-86) --- 215
4. Zach Sharpe (91-92) --- 211
5. Kevin Spainhour (91-92) --- 208
6. Brian Taylor (90-91) --- 188
7. Jimmy Gardner (93-94) --- 186
8. Joe Ruggieri (95-96) --- 180
9. Joe Ruggieri (94-95) --- 172
10. Aaron Toomey (07-08) --- 168

Most Charges Taken- Season*
Kevin is the all time charge leader
*Started keeping statistic in 2005

1. Kevin Weckworth (10-11) --- 38
2. Kevin Weckworth (11-12) --- 29
3. Kevin Weckworth (12-13) --- 19
4. Daniel McClurg (09-10) --- 9
5. Jack Arnold (15-16) --- 8
6. Ryan Moon (15-16) ---7
6. Adam Kemp (06-07) --- 7
7. Seantay Ford (05-06) --- 6
7. Aaron Toomey (08-09) --- 6
7. Aaron Toomey (09-10) --- 6
8. Kevin Weckworth (09-10) --- 5
8. Ryan Moon (14-15) --- 5
Free Throw Percentage- Season
1. Mike Dedo (99-00) --- 88.0
2. Cheyne Lowery (01-02) --- 87.0
3. Steve Nealen (07-08) --- 86.2
3. Bill Cobb (80-81) --- 86.2
4. Aaron Toomey (09-10) --- 85.9
5. Bob Kalbaugh (00-01) --- 85.0
6. Allan Heye (84-85) --- 84.2
7. Chad Kupreanik (90-91) --- 84.0
8. Spencer Wilson (14-15) --- 83.1
9. Dan Kalbaugh (98-99) --- 81.1
10. Aaron Toomey (08-09) --- 80.6
11. Kevin Weckworth (12-13) --- 78.8
Career Scoring Leaders
Toomey and Burns are the only 2 Bishop players ever to score 2000 points

view full size
1. David Burns (92-95) --- 2245
2. Aaron Toomey (07-10) --- 2003
3. Mike Bosch (78-82) --- 1841
4. Reggie Glenn (75-79) --- 1830
5. Ime Archibong (96-99) --- 1722
6. Herbie Burns (89-92) --- 1697
7. Tim McFadden (80-83) --- 1585
8. Ross Diachenko (06-09) --- 1485
9. Carlos Butler (86-89) --- 1297
10. Joe Ruggieri (94-97) --- 1266
Career Three Point Leaders
Ross made 120 three-pointers in his career for the Villains

view full size
1. David Burns (92-95) --- 179
2. Steve Nealen (07-09) --- 141
3. Trey Tatum (10-12) --- 133
4. Bob Kalbaugh (00-03) --- 124
5. Zach Shapre (90-92) --- 122
6. Aaron Toomey (07-10) --- 121
7. Ross Diachenko (06-09) --- 120
7. Kevin Weckworth (10-13) --- 120
8. Chad Kupreanik (90-92) --- 112
9. Spencer Wilson (13-15) --- 109
10. Dan Kalbaugh (98-00) --- 84

Career Scoring Average
1. David Burns (92-95)- 23.89
2. Aaron Toomey (07-10) - 22.70
3. Ime Archibong (96-99)- 19.70
4. Herbie Burns (89-92)- 18.25
5. Gene Thomas (85-87)- 18.10
6. Tim McFadden (80-83)- 17.81
7. Carlos Butler (86-89)- 17.29
8. Spencer Wilson (13-15)- 16.61

9. Reggie Glenn (75-79)- 16.34
10. Mike Bosch (78-82)- 15.09
Career Rebounding Leaders (Avg.)
JL Sadler ('07) averaged 6.8 rebounds over his career
1. DeWayne Tinnin (89-91) --- 10.6
2. Ime Archibong (96-99) --- 9.7
3. Lasanio Small (00-03) --- 9.1
4. Mike Bosch (78-82) --- 9.0
5. Herbie Burns (89-92) --- 8.8
6. Carlos Butler (86-89) --- 8.1
7. Jon Wright (78-80) --- 7.8
8. David Burns (92-95) --- 7.4
9. J.L. Sadler (05-07) --- 6.8
9. Zeb Sharpe (92-94) --- 6.8

Career Assist Leaders (Avg.)
1. Aaron Toomey (07-10) --- 6.9
2. Kevin Spainhour (91-93) --- 6.7
3. Joe Ruggieri (94-97) --- 5.5
4. Spencer Wilson (13-15) --- 5.1
5. George Hoyle (83-86) --- 5.0
5. Brian Taylor (89-91) --- 5.0
6. Reilly Callaghan (10-12) --- 4.9
7. Zach Sharpe (90-92) --- 4.8
8. Jimmy Gardner (92-94) --- 4.0
9. Brian Spainhour (86-89) --- 3.5
10. Adam Kemp (05-07) --- 3.3
Career Free Throw Percentage
1. Aaron Toomey (07-10) --- 86.6
2. Bill Cobb (79-82) --- 80.7
3. Steve Nealen (07-09) --- 80.6
4. Spencer Wilson (13-15) --- 80.5
5. Chad Kupreanik (90-92) --- 80.4
6. Bob Kalbaugh (00-03) --- 80.0
7. Mike Dedo (98-00) --- 78.7
8. Dan Kalbaugh (98-00) --- 78.4
9. Cheyne Lowery (00-03) --- 78.1
10. David Burns (92-95) --- 77.2

Career Free Throws Made
1. Aaron Toomey (07-10) --- 712
2. David Burns (92-95) --- 454
3. Kevin Weckworth (10-13) --- 375
4. Ross Diachenko (06-09) --- 370
5. Tim McFadden (80-83) --- 341
6. Allen Heye (82-86) --- 333
7. Mike Bosch (78-82) --- 330
8. Gene Thomas (85-87) --- 308
9. Reggie Glenn (92-95) --- 271
10. DeWayne Tinnin (89-91) --- 257
Career Assist Leaders
Adam dished out 174 assists in 2 years
1. Aaron Toomey (07-10) --- 571
2. Joe Ruggieri (94-97) --- 503
3. Kevin Spainhour (91-93) --- 500
4. George Hoyle (83-86) --- 473
5. Zach Sharpe (90-92) --- 356
6. Brian Spainhour (86-89) --- 298
7. Bob Kalbaugh (00-03) --- 286
8. Brian Taylor (89-91) --- 277
9. Jimmy Gardner (92-94) --- 261
10. Reilly Callaghan (10-12) --- 248
11. Spencer Wilson (13-15) --- 243
11. Kevin Weckworth (10-13) --- 233
12. Adam Kemp (05-07) --- 174
Career Charge Leaders
1. Kevin Weckworth (10-13) --- 91
2. Zach Sharpe (90-92) --- 54
3. Brian Spainhour (86-89) --- 42
4. Johnny Knotos (93-94) --- 41
5. Joey Nitz (99-01) --- 40
6. DeWayne Tinnin (89-91) --- 35
7. Brian Taylor (89-91) --- 33
8. David Burns (92-95) --- 29
9. Rick Rossitch (86-89) --- 29
10. Kevin Spainhour (91-93) --- 28


Team Grade Point Averages by Year
Trey Tatum '12 and Kevin Weckworth '13 with Coach Thompson
2004-2005- 2.8

2005-2006- 3.1

2006-2007- 3.2

2007-2008- 3.6

2008-2009- 3.7

2009-2010- 3.6

2010-2011- 3.5

2011-2012- 3.4
2012-2013- 3.5
2013-2014- 3.6
2014-2015- 3.7
2015-2016- 3.8
All-State/All-Conference/Award Winning Players Under Coach Thompson
JL, Ross, and Brad made the Northwest 1A All Conference team in 06-07

view full size
All-Conference Players
2004-05
Montez Downey- 1st team PACIS
Ben Baden- 2nd team PACIS

2005-06
J.L. Sadler- All Conference Northwest 1A
Brad Kenney- Honorable Mention All Conference Northwest 1A
Emeka Okafor- Honorable Mention All Conference Northwest 1A

2006-07
Brad Kenney- All Conference Northwest 1A (Player of the Year Runner-Up)
J.L. Sadler- All Conference Northwest 1A
Ross Diachenko- All Conference Northwest 1A
Emeka Okafor- Honorable Mention All Conference Northwest 1A
T.J. McClurg- Honorable Mention All Conference Northwest 1A
2007-08
Aaron Toomey- All Conference Northwest 1A (Player of the Year Runner-Up)
Ross Diachenko- All Conference Northwest 1A
Steve Nealen- Honorable Mention All Conference Northwest 1A
2008-09
Aaron Toomey- All Conference Northwest 1A (Player of the Year)
Ross Diachenko- All Conference Northwest 1A (Player of the Year Runner-Up)
Jake McSwain- Honorable Mention All Conference Northwest 1A
Zach Toomey- Honorable Mention All Conference Northwest 1A

2009-10
Aaron Toomey- All Conference Northwest 1A/2A (Player of the Year)
Josh Rathburn- Honorable Mention All Conference Northwest 1A/2A
Michael Banks- Honorable Mention All Conference Northwest 1A/2A
2010-11
Trey Tatum- All Conference Northwest 1A/2A
Kevin Weckworth- Honorable Mention All Conference Northwest 1A/2A
Peter Fields- Honorable Mention All Conference Northwest 1A/2A
2011-12
Kevin Weckworth- All Conference Northwest 1A/2A
Trey Tatum- Honorable Mention All Conference Northwest 1A/2A
Reilly Callaghan- Honorable Mention All Conference Northwest 1A/2A
2012-13
Kevin Weckworth- All Conference Northwest 1A/2A
Tucker Crews- Honorable Mention All Conference Northwest 1A/2A
Nick Efird- Honorable Mention All Conference Northwest 1A/2A
2013-14
Nick Efird- All Conference Northwest 1A
Spencer Wilson- All Conference Northwest 1A
Logan Weathers- All Conference Northwest 1A
Tommy Koesters- Honorable Mention All Conference Northwest 1A
Will Gardner- Honorable Mention All Conference Northwest 1A
2014-15
Spencer Wilson- All Conference Northwest 1A
Carlos Simmons- All Conference Northwest 1A
Devon Woods- Honorable Mention All Conference Northwest 1A
Ryan Moon- Honorable Mention All Conference Northwest 1A
2015-16
CJ Cappuccio- All Confernece Northwest 1A
Ryan Moon- All Conference Northwest 1A
Devon Woods- All Conference Northwest 1A
North Carolina Basketball Coaches Association All-District Team
Spencer Wilson- 2014
Greensboro News and Record All Area Team
* denotes Honorable Mention Selection
Montez Downey- 2005
*Brad Kenney- 2007
*J.L. Sadler- 2007
*Ross Diachenko- 2007
*Aaron Toomey- 2008
Aaron Toomey- 2009
*Ross Diachenko- 2009
Aaron Toomey- 2010
*Trey Tatum- 2011
*Kevin Weckworth- 2011
*Kevin Weckworth- 2012
*Spencer Wilson- 2015
*CJ Cappuccio- 2016
*Devon Woods- 2016
*Ryan Moon- 2016
Winston Salem Journal All Northwest Team
* denotes Honorable Mention Selection
Montez Downey- 2005
*Aaron Toomey- 2008
Aaron Toomey- 2009
Ross Diachenko- 2009
Aaron Toomey- 2010- Player of the Year
Spencer Wilson- 2014

High Point Enterprise All Area Team
* denotes Honorable Mention Selection
Montez Downey- 2005
Aaron Toomey- 2008
Aaron Toomey- 2009
Ross Diachenko- 2009
Triad Sports Weekly All Forsyth County Team
Aaron Toomey- 2009
Ross Diachenko- 2009
Aaron Toomey- 2010- Player of the Year
Season Tournament Award Winners

Torrey Pines Holiday Shootout (San Diego, CA) All Tournament Team
Montez Downey- 2005

Capital Bank Classic (Burlington, NC) All Tournament Team
Brad Kenney- 2007
Ross Diachenko- 2007
Bull City Classic (Durham, NC) Tournament Most Valuable Players
Montez Downey- 2005
Aaron Toomey- 2009

Reidsville Review Holiday Classic (Reidsville, NC) All Tournament Team
Aaron Toomey- 2008, 2009, 2010
Jake McSwain- 2009
Ross Diachenko- 2008, 2009
Zach Toomey- 2008
Atticus Lum- 2010
Steve Marrujo- 2010

Reidsville Review Holiday Classic (Reidsville, NC) Tournament Most Valuable Players
Aaron Toomey- 2008, 2010
Ross Diachenko- 2009
MLK Holiday Hoops Classic (Forest City, NC) Tournament Most Valuable Players
Aaron Toomey- 2010
South Granville (Creedmoor, NC) Holiday Shootout All Tournament Team
Kevin Weckworth- 2011
South Granville (Creedmoor, NC) Holiday Shootout All Tournament Team
Trey Tatum- 2012
Westminster Holiday Classic (Atlanta, GA) All Tournament Team
Nick Efird- 2012
Wells Fargo Holiday Classic (Asheville, NC) All Tournament Team
Logan Weathers- 2013
Will Gardner- 2013
Spencer Wilson- 2014
Devon Woods- 2014
Conference Players of the Year
Aaron Toomey Northwest 1A 2009
Aaron Toomey Northwest 1A/2A 2010
Conference Players of the Year Runner-Up
Brad Kenney- Northwest 1A 2007
Aaron Toomey- Northwest 1A 2008
Ross Diachenko- Northwest 1A 2009
All-Conference Tournament Team
J.L. Sadler- Northwest 1A 2007
Aaron Toomey- Northwest 1A 2009
Ross Diachenko- Northwest 1A 2009
Steve Nealen- Northwest 1A 2009
Zach Toomey- Northwest 1A 2009
Aaron Toomey- Northwest 1A/2A 2010
Atticus Lum- Northwest 1A/2A 2010
Kevin Weckworth- Northwest 1A/2A 2013
Spencer Wilson- Northwest 1A 2014
Devon Woods- Northwest 1A 2016
All-Region Team
Aaron Toomey- NCHSAA 1A Western Region 2009
Jake McSwain- NCHSAA 1A Western Region 2009
Ross Diachenko- NCHSAA 1A Western Region 2009
Regional Tournament Most Valuable Players
Aaron Toomey- NCHSAA 1A Western Region 2009
Regional Tournament Record Setters
Aaron Toomey- NCHSAA 1A Western Region 2009
- 6th Most All-Time Points Scored in Regional Tournament, any classification (63)

State Championship Most Valuable Players (Team)
Aaron Toomey- NCHSAA 1A Championship 2009
State Championship Most Outstanding Players (Game)
Ross Diachenko- NCHSAA 1A Championship 2009
State Championship Game Record Setters
Aaron Toomey- NCHSAA 1A State Championship Game
- Most Free Throw Attempts/Makes in State Championship Game, any classification (19-21)
- 5th Most All-Time Points Scored in State Championship Game, any classification (35)

Associated Press All State Team Selections
Aaron Toomey, NCHSAA 2009
Aaron Toomey, NCHSAA 2010
NCPreps.com All State Team Selections
Aaron Toomey- 2009
Aaron Toomey- 2010
Post-Season All-Star Game Appearances
Ross Diachenko- Charlotte All-Star Classic 2009
Aaron Toomey- Charlotte All-Star Classic- 2010
Aaron Toomey- NC East-West All-Star Game 2010
Trey Tatum- Forsyth County East-West All-Star Game 2012
Kevin Weckworth- Triad All-Star Game 2013
Logan Weathers- Triad All-Star Game 2014
Nick Efird- Triad All-Star Game 2014
Spencer Wilson- Triad All-Star Game 2015
McDonald's All American Team Nominees
Aaron Toomey- 2010
Spencer Wilson- 2015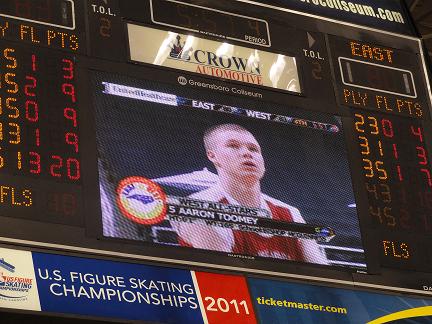 Toomey in the East-West All Star Game in 2010