Bishop McGuinness Villains: 2009 State Championship
Villains Earn National Ranking For Second Time in Five Years!!!
The 2008-2009 North Carolina State Champion Bishop McGuinness Boys Team earned the school's second National Ranking in the final polls. Hoops USA annually ranks the nation's top boys teams (Nike Who's Who of High School Basketball) at the end of the season, and this year's Villains finished with a final national rank of 69. In 2005, Coach Thompson's Varsity Villains finished the season at 22-14 and ranked 42 in the nation. Click the link above to see the complete poll.
Other area teams which made the poll include-
37- Winston Salem Mount Tabor
69- Kernersville Bishop McGuinness
105- Greensboro Northern Guilford
133- Greensboro Dudley
Congratulations to the Bishop boys on this nice recognition!

Photo Courtesy of SS Photos
Villains Win State Championship!!!
Photo Courtesy of the High Point Enterprise
The Bishop Boys won the school's first ever NCHSAA State Championship on Saturday March 14 with a 74-56 vctory over the Weldon Chargers (27-2). The game was played on the campus of NC State University at Reynolds Coliseum.
The Villains held a 35-34 lead at the half but held Weldon to no field goals for the first 10:40 of the second half to pull away and bring home the title.
Aaron Toomey led the charge with 35 points, while Ross Diachenko had 14. Sharpshooter Steve Nealen knocked down three 3-pointers to finish with nine points. Big baskets and clutch plays down the stretch by Zach Toomey, Jake McSwain, Robbie Fitzgerald, Atticus Lum, and Matthew Paspy paved the way for the Villains victory. Every player (except for the injured Max Scalf) got to take the court in the final game including Brian Patti, Michael Herschel, Michael Paspy, Sean Wilson, Josh Rathburn, and Daniel McClurg.
Senior Ross Diachenko was named the Most Outstanding Player in the game and the State Championship Most Valuable Player Award went to Junior point guard Aaron Toomey.
The Bishop Boys finish the season as the winningest team in Bishop History with a final record of 31-2.
-Congratulations to our six seniors who finish their careers with a state title-
Ross Diachenko, Steve Nealen, Zach Toomey, Robbie Fitzgerald, Brian Patti, Michael Herschel
More from the State Championship!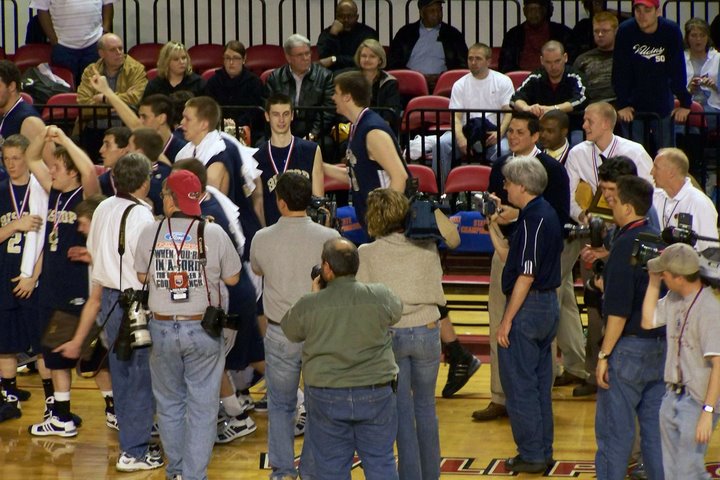 Media after the game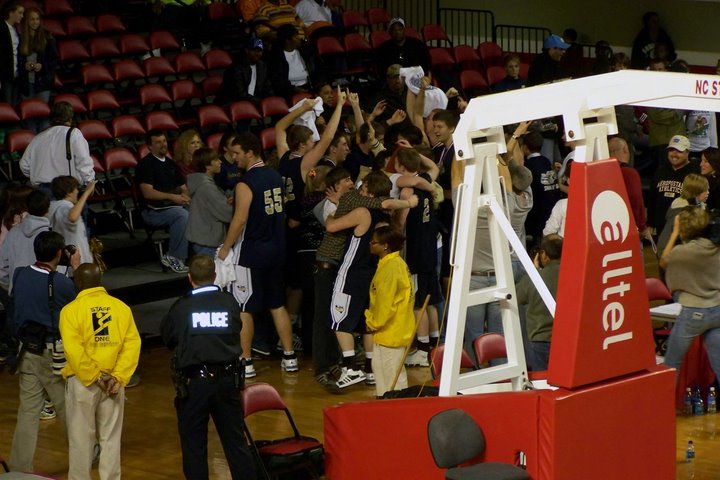 Celebrating with our 6th Man- the BMHS Pit Crew