Bishop McGuinness High School Boys Basketball
Welcome to the web page of the Varsity and Junior Varsity Bishop McGuinness High School Villains Basketball Program. This site will provide you with our season, game, and practice schedule as well as other important information on the Villains. Come back and check the site out for up-to-date practice and game information. Go Villains!
2008-09 North Carolina High School Athletic Association 1A STATE CHAMPIONS
2015-2016 Schedule Is Complete!!!
The schedule for the 2015-2016 Varsity and JV Villains Basketball Teams is complete!
Bishop is a member of the ultra-competitive 7 team Northwest 1A Conference, which hails 5 of the last 8 NCHSAA 1A State Champions in boys basketball.

Monday November 23- Vandalia Christian (JV 530, Varsity 700)
Tuesday November 24- Salem Baptist (JV 600, Varsity 730)
Wednesday December 2- @ North Surry
Thursday December 3- @ Oak Level (JV 600, Varsity 730)
Monday December 7- Southwest Guilford
Wednesday December 9- @ North Wilkes
Friday Decmeber 11- Atkins*
Tuesday December 15- Winston Salem Prep*
Friday December 18- @ North Stokes*
Monday December 21- @ Fellowship Academy (Durham)- JV 530, Varsity 700
Saturday December 26- Tuesday December 29- Bank of Carolinas JV Holiday Classic- Asheboro, NC (JV Only)
Monday December 28- Wednesday December 30- St. Pius X Christmas Classic- Atlanta, GA (Varsity Only)
Friday January 1- Chance Harman Classic (VA)- vs Faith Christian (VA)- 430 PM (Varsity Only)
Tuesday January 5- @ East Surry*
Thursday January 7- Horizons Crocs (Australia)
Friday January 15- @ Walkertown*
Tuesday January 19- Mt. Airy*
Friday January 22- @ Atkins*
Tuesday January 26- @ Winston Salem Prep*
Friday January 29- East Surry*
Friday February 5- North Stokes*
Tuesday February 9- Walkertown*
Friday February 12- @ Mt. Airy*
February 15- February 20- Northwest 1A Conference Tournament
February 22- March 12- NCHSAA Tournament

*denotes Northwest 1A Conference Game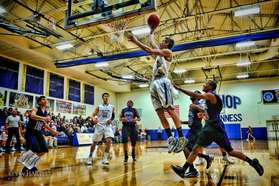 Bishop Basketball Photos Now Available!!!




Photos of the Bishop McGuinness Varsity and Junior Varsity Boys Basketball teams are now available online for purchase. Local photographer Kevin Hartley attends many of the Villains home games and photographs live game action. Capture your sons moment in time as a Bishop Basketball Player with Kevins photos. Many of the photos on this website (including the above and below) are thanks to Kevin! Visit www.kevinhartleyphotography.com or click on the link above to go directly to his site to view his photos!




Listen Live To Villains Basketball With Carolina Sports Live!!!






Carolina Sports Live (CSL) braodcasts more than 100 live athletic events during the school year for the Villains. The broadcasts are available exclusively over the web from the schools all-new athletics website: BMHSAthletics.com – "The Radio Home of the Villains!"

During the fall, CSL provides complete coverage of all Villains football games as well as select boys soccer and volleyball matches. In the winter, there is wall to wall coverage of Bishop's highly decorated basketball teams and the Northwest Conference Basketball Tournament, and then the spring season features a wide variety of sports including girls soccer, lacrosse, baseball, and softball!

In addition to live and archived broadcasts of Villains events, BMHSAthletics.com is also your source for up to date schedules of all Villains athletic teams.

www.BMHSathletics.com The Radio home of the Villains!!





Former Villains in College and Pros!!!



Ilian Evtimov ('01) went on to play at NC State!
Check out the updated Villains website! The link on the left labeled "Former Villains in College and Pros" will keep you posted on Bishop Basketball alumni who have continued their basketball careers in college and in professional leagues. Since 1998, Bishop has had over twenty players go on to continue their basketball careers at various levels in the collegiate ranks, as well as on to the FIBA and NBA.