Bishop McGuinness High School Boys Basketball
Welcome to the web page of the Varsity and Junior Varsity Bishop McGuinness High School Villains Basketball Program. This site will provide you with our season, game, and practice schedule as well as other important information on the Villains. Come back and check the site out for up-to-date practice and game information. Go Villains!
2008-09 North Carolina High School Athletic Association 1A STATE CHAMPIONS
Bishop Summer Basketball Season!!!
Our head JV coach, Josh Bowden, is coordinating our summer season and registration this year- however, our summer season is for both our prospective JV and Varsity teams. Coach Bowden's contact info is jo@bmhs.us and Coach Thompson's is jt@bmhs.us, or you can use joshthompson33@gmail.com
Our summer season is open to any current or rising Bishop student who is interested in playing basketball next season. Summer season is not required, but it's a great way to get a head start on next season.
We are having a "Bishop Basketball

Boot

Camp

" that will run from June 13-26, with the exception of Sundays. "

Boot

camp

" is for our current players and rising 9th graders. At "Bishop Basketball

Boot

Camp

" our guys will work on fundamentals of the game as well as our offensive and defensive schemes in preparation for team

camp

and next season.
JV and Varsity will scrimmage at Calvary Baptist in Winston Salem on Saturday June 27.
We also will attend team

camp

at Catawba College from June 30- July 2 and stay overnight for 2 nights. Team

Camp

would be a culmination of the work we have put in during

Boot

Camp

- we will get actual game play vs other high school programs. We would like for as many guys as possible to go. We will have teams of 8-10 players per team, and teams will be put together to maximize playing time and experience for each player.
We would stay in the dorms on campus, and the registration fee includes your son's housing and meals for the time we are there.
The costs are listed below:
Boot Camp only : $100
Team Camp & Boot Camp : $275
***Please make checks payable to Bishop Boys Basketball***
(Deadline to have money in will be Friday, May 29th since we have to cut a check by June 1st)
Please include your son's name on the check.
To register for team camp/boot camp write your son's name, grade, and your contact information on a sheet of paper, include your check and place in an envelope (Mark: Attention Josh Thompson/Josh Bowden- Boys Basketball). Envelopes can be dropped off at the main office at Bishop or be mailed to the school at: Bishop McGuinness High School, 1725 NC Hwy 66 South, Kernersville, NC 27284- Attn: Boys Basketball, Coach Thompson/Coach Bowden
Please contact Coach Bowden (jo@bmhs.us) or myself with any questions (Josh's cell # 336-317-3241- much easier to email him- please include your son's name in email).
BOOT CAMP
Saturday June 13- 1000 AM- 1200 PM
Monday June 15- 800 PM- 1000 PM
Tuesday June 16- 800 PM- 1000 PM
Wednesday June 17- 800 PM- 1000 PM
Thursday June 18- 800 PM- 1000 PM
Friday June 19- 800 PM- 1000 PM (JV @ Northwest Guilford Summer Jam- Games @ 955, 1145, 135, 420, 610)
Saturday June 20- 1000 AM- 1200 PM
Monday June 22- 700 PM- 900 PM
Tuesday June 23- 700 PM- 900 PM
Wednesday June 24- 300 PM- 500 PM
Thursday June 25- 200 PM- 400 PM
Friday June 26- 300 PM- 500 PM
SCRIMMAGE
Saturday June 27- @ Calvary Baptist Day School (Winston Salem)- Times TBA
Monday June 29- No practice- NCHSAA Dead Period
TEAM CAMP
Tuesday June 30 - Thursday July 2- @ Catawba College (Parents drop off/pick up @ Catawba- Salisbury, NC)
12th Annual Bishop Summer Basketball Camp Registration Now Open!!!
Each summer Coach Josh Thompson and the Bishop Basketball Program host their annual basketball camps. Since 2004, the Villain basketball camps have provided area youths the opportunity for instruction in the fundamental skills of basketball. In addition to small group instruction, campers at Bishop basketball camps are allowed the opportunity for individual instruction and skill work, coaches challenge games, camper competitions, and daily camp games. Camp is run by Coach Thompson, the Varsity boys head coach, along with current and former Bishop McGuinness players and coaches. Each year Bishop Basketball alumni love to come back to be coaches or guest speakers at camp. Each camper who attends does not simply come and play games- Villain basketball camps stress individual and small group fundamental skill instruction.
We have been at capacity (60 per session) the last several years, so register today to guarantee your son's spot at camp.
We will have 2 sessions again this summer running from 9 AM- 2 PM daily.
Session 1- June 22- June 26
Session 2- July 13- July 17
For more information, click the link on the left entitled "Bishop Basketball Camp"!
REGISTERED FOR SESSION 1- Updated 5/21/15
Jack Eggleston
Landon Efird
Merritt Saffer
Trey Tisdale
Noah Quarless
Michael D'Ambrosio
Hayden Danhauer
Evan Danhauer
Aaron Wilson
Tyler Pesavento
Evan Eads
JT Hanson
Ethan Hodges
Warren Glover
Xander Loncar
Thomas Meyer
Jack Foley
Cos Pagano
Sam Haggas
Emery Meyer
Kieren Smith
Chrisitan Holt
Lane Pine
Sam Allen
Trey Rhodes
Will Rhodes
Garrett Applegate
Wilson Miley
Ethan Connor
Kobe Bowman
Drew Whitlock
Connor Allen

REGISTERED FOR SESSION 2- Updated 5/21/15
Davis Hunter
Daniel James
Liam Brennan
Michael D'Ambrosio
Rusty Saia
Sean Doyle
Landon Raines
Aaron Wilson
Evan Eads
Timothy Hackman
Joey Peterson
Shane Peterson
Evan Stoller
Kieren Smith
Stephen Andress
Luke Andress
JoJo Lamuraglia
Joseph Specht
Trey Rhodes
Will Rhodes
For a registration form, click the link below!!!
Handout:
Summer Basketball Camp Registration
2015-2016 Schedule Coming Together!!!
The schedule for the 2015-2016 Varsity and JV Villains Basketball Teams is beginning to take shape. Check back for updates!
Bishop is a member of the ultra-competitive 7 team Northwest 1A Conference, which hails 5 of the last 8 NCHSAA 1A State Champions in boys basketball.

Monday November 23- Vandalia Christian (JV 530, Varsity 700)
Tuesday November 24- Salem Baptist (JV 600, Varsity 730)
Wednesday December 2- @ North Surry
Thursday December 3- @ Oak Level (JV 600, Varsity 730)
Monday December 7- Southwest Guilford
Wednesday December 9- @ North Wilkes
Friday Decmeber 11- Atkins*
Tuesday December 15- Winston Salem Prep*
Friday December 18- @ North Stokes*
Monday December 21- @ Fellowship Academy (Durham)- JV 530, Varsity 700
Monday December 28- Wednesday December 30- St. Pius X Christmas Classic- Atlanta, GA (Varsity Only)
Friday January 1- Chance Harman Classic (VA)- vs Faith Christian (VA)- 430 PM (Varsity Only)
Tuesday January 5- @ East Surry*
Thursday January 7- Horizons Crocs (Australia)
Friday January 15- @ Walkertown*
Tuesday January 19- Mt. Airy*
Friday January 22- @ Atkins*
Tuesday January 26- @ Winston Salem Prep*
Friday January 29- East Surry*
Friday February 5- North Stokes*
Tuesday February 9- Walkertown*
Friday February 12- @ Mt. Airy*
February 15- February 20- Northwest 1A Conference Tournament
February 22- March 12- NCHSAA Tournament

*denotes Northwest 1A Conference Game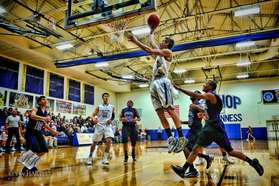 Bishop Basketball Photos Now Available!!!




Photos of the Bishop McGuinness Varsity and Junior Varsity Boys Basketball teams are now available online for purchase. Local photographer Kevin Hartley attends many of the Villains home games and photographs live game action. Capture your sons moment in time as a Bishop Basketball Player with Kevins photos. Many of the photos on this website (including the above and below) are thanks to Kevin! Visit www.kevinhartleyphotography.com or click on the link above to go directly to his site to view his photos!




Listen Live To Villains Basketball With Carolina Sports Live!!!






Carolina Sports Live (CSL) braodcasts more than 100 live athletic events during the school year for the Villains. The broadcasts are available exclusively over the web from the schools all-new athletics website: BMHSAthletics.com – "The Radio Home of the Villains!"

During the fall, CSL provides complete coverage of all Villains football games as well as select boys soccer and volleyball matches. In the winter, there is wall to wall coverage of Bishop's highly decorated basketball teams and the Northwest Conference Basketball Tournament, and then the spring season features a wide variety of sports including girls soccer, lacrosse, baseball, and softball!

In addition to live and archived broadcasts of Villains events, BMHSAthletics.com is also your source for up to date schedules of all Villains athletic teams.

www.BMHSathletics.com The Radio home of the Villains!!





Former Villains in College and Pros!!!



Ilian Evtimov ('01) went on to play at NC State!
Check out the updated Villains website! The link on the left labeled "Former Villains in College and Pros" will keep you posted on Bishop Basketball alumni who have continued their basketball careers in college and in professional leagues. Since 1998, Bishop has had seventeen players go on to continue their basketball careers at various levels in the collegiate ranks, as well as on to the FIBA and NBA.