Bishop McGuinness High School Boys Basketball
Welcome to the web page of the Varsity and Junior Varsity Bishop McGuinness High School Villains Basketball Program. This site will provide you with our season, game, and practice schedule as well as other important information on the Villains. Come back and check the site out for up-to-date practice and game information. Go Villains!
2008-09 North Carolina High School Athletic Association 1A STATE CHAMPIONS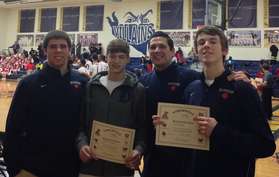 Tommy Koesters, Spencer Wilson, Coach Thompson, Nick Efird
Villains Take Home Post-Season Honors!
All five starters for the 2013-14 Bishop Basketball team took hom post season honors for their efforts this season. Nick Efird, Spencer Wilson, and Logan Weathers were named to the Northwest 1A All-Conference Team. Tommy Koesters and Will Gardner were named Honorable Mention All-Conference. Efird, Weathers, and Koesters were seniors while Wilson and Gardner were juniors in 2013-14. Congratulations to these teammates on their honors!
The Varsity Villains finished the season at 21-7 overall.

Logan Weathers




Bishop Basketball Photos Now Available!!!




Photos of the Bishop McGuinness Varsity and Junior Varsity Boys Basketball teams are now available online for purchase. Local photographer Kevin Hartley attends many of the Villains home games and photographs live game action. Capture your sons moment in time as a Bishop Basketball Player with Kevins photos. Many of the photos on this website (including the above and below) are thanks to Kevin! Visit www.kevinhartleyphotography.com or click on the link above to go directly to his site to view his photos!




Listen Live To Villains Basketball With Carolina Sports Live!!!






Carolina Sports Live (CSL) braodcasts more than 100 live athletic events during the school year for the Villains. The broadcasts are available exclusively over the web from the schools all-new athletics website: BMHSAthletics.com – "The Radio Home of the Villains!"

During the fall, CSL provides complete coverage of all Villains football games as well as select boys soccer and volleyball matches. In the winter, there is wall to wall coverage of Bishop's highly decorated basketball teams and the Northwest Conference Basketball Tournament, and then the spring season features a wide variety of sports including girls soccer, lacrosse, baseball, and softball!

In addition to live and archived broadcasts of Villains events, BMHSAthletics.com is also your source for up to date schedules of all Villains athletic teams.

www.BMHSathletics.com The Radio home of the Villains!!





Former Villains in College and Pros!!!



Ilian Evtimov ('01) went on to play at NC State!
Check out the updated Villains website! The link on the left labeled "Former Villains in College and Pros" will keep you posted on Bishop Basketball alumni who have continued their basketball careers in college and in professional leagues. Since 1998, Bishop has had seventeen players go on to continue their basketball careers at various levels in the collegiate ranks, as well as on to the FIBA and NBA.



Thanks to all of our Catholic Feeder Schools


The 04-13 Bishop rosters have been dominated by student-athletes who attended one of our Catholic feeder schools. Our six (6) primary Catholic Feeder Schools are: St. Pius X of Greensboro, St. Leos of Winston-Salem, Immaculate Heart of Mary of High Point, Blessed Sacrament of Burlington, Our Lady of Grace of Greensboro, and Our Lady of Mercy in Winston-Salem. Thanks to all of the varsity and junior varsity coaches & school teachers at the feeder schools. Our success comes from you starting these players on the right track!!! Below is the roster for the Villains of each player who attended one of our Catholic feeder schools.

Aaron Toomey- St. Pius X in Greensboro
Adam Kemp- St. Pius X in Greensboro
Brad Kenney- Our Lady of Mercy in Winston Salem
Brandon Mason- Our Lady of Mercy in Winston Salem
Brian Patti- St. Leos in Winston Salem
Cameron Bradford- Our Lady of Grace in Greensboro
Camp McCurry- St. Leos in Winston Salem
Carlos Simmons- St. Pius X in Greensboro
Casey Bially- Blessed Sacrament in Burlington
Chris Dolge- Our Lady of Mercy in Winston Salem
Chris Kane- Blessed Sacrament in Burlington
Chris Mahood- Our Lady of Grace in Greensboro
Chris Terreault- Immaculate Heart of Mary in High Point
Christian Sexton- Our Lady of Grace in Greensboro
CJ Martin- Our Lady of Mercy in Winston Salem
Connor Brannan- Our Lady of Mercy in Winston Salem
Connor Wilson- St. Leos in Winston Salem
Daniel Manna- St. Leos in Winston Salem
Daniel McClurg- Our Lady of Mercy in Winston Salem
David Enos- St. Leos in Winston Salem
David Markun- Our Lady of Grace in Greensboro
David Mason- Our Lady of Mercy in Winston Salem
David Zimmerman- Our Lady of Grace in Greensboro
Devin Moragne- St. Pius X in Greensboro
Emeka Okafor- St. Pius X in Greensboro
Greg Salomon- Immaculate Heart of Mary in High Point
Harrison Plemmons- St. Pius X in Greensboro
Isaiah Mateen- Our Lady of Grace in Greensboro
Jack O'Halleron- St. Pius X in Greensboro
Jake Henderson- St. Pius X in Greensboro
Jason Standen- Our Lady of Grace in Greensboro
JL Sadler- Our Lady of Mercy in Winston Salem
Joe Mcnamara- Our Lady of Mercy in Winston Salem
John Boyle- St. Pius X in Greensboro
John Edmonds- St. Pius X in Greensboro
Joseph Riazzi- Our Lady of Mercy in Winston Salem
John Edmonds- St. Pius X in Greensboro
Josh Markwell- St. Pius X in Greensboro
Josh Merrill- Our Lady of Grace in Greensboro
Josh Rathburn- Immaculate Heart of Mary in High Point
Kevin Weckworth- St. Pius X in Greensboro
Leland Lancaster- Our Lady of Grace in Greensboro
Logan Fowler- St. Leos in Winston Salem
Marty DeFrancesco- St. Pius X in Greensboro
Matthew Paspy- Our Lady of Mercy in Winston Salem
Max Scalf- Immaculate Heart of Mary in High Point
Michael Banks- Our Lady of Grace in Greensboro
Michael Beck- Our Lady of Mercy in Winston Salem
Michael Herschel- Immaculate Heart of Mary in High Point
Michael Kennedy- Our Lady of Grace in Greensboro
Michael Madigan- St. Leos in Winston Salem
Michael Paspy- Our Lady of Mercy in Winston Salem
Myles Phillips- Our Lady of Mercy in Winston Salem
Patrick Ronan- Our Lady of Mercy in Winston Salem
Patrick Willard- Our Lady of Grace in Greensboro
Peter Fields- Our Lady of Mercy in Winston Salem
Reilly Callaghan- Our Lady of Grace in Greensboro
Rhys Murdock- Our Lady of Grace in Greensboro
Riley Furr- Our Lady of Grace in Greensboro
Robbie Fitzgerald- Immaculate Catholic School (Connecticut)
Ross Diachenko- Our Lady of Grace in Greensboro
Ryan Elder- Our Lady of Grace in Greensboro
Sean Brannan- Our Lady of Mercy in Winston Salem
Sean Wilson- St. Leos in Winston Salem
Seth Conlon- St. Pius X in Greensboro
Stephen Marrujo- Our Lady of Grace in Greensboro
TJ McClurg- Our Lady of Mercy in Winston Salem
TT Kim- St. Pius X in Greensboro
Trey Tatum- St. Pius X in Greensboro
Tommy Koesters- Our Lady of Mercy in Winston Salem
Tucker Crews- Our Lady of Mercy in Winston Salem
Will Webster- St. Pius X in Greensboro
Zach Toomey- Our Lady of Grace in Greensboro