Van Cortlandt Titans: Welcome
Welcome to the Van Cortlandt Titans Youth Football Program!
2017 Van Cortlandt Titans
Van Cortlandt Titans
Tackle Football for ages 13 - 17 Unlimited weight class
We practice and play at Van Cortlandt Stadium in Van Cortlandt Park, Bronx, NY
Directions:
Subway: #1 train to Van Cortlandt Park - 242 St.
Bus: Bx9, BxM3, Bee-Line 1, 2 or 3 to Broadway and W 242 St.
Stadium is on Broadway, between W 240 and W 242 St.
The Van Cortlandt Titans Youth Football Program is a non-profit organization (EIN 32-0420611) registered with the New York State Charities Bureau (45-24-19). To make a contribution, please contact Coach McElroy.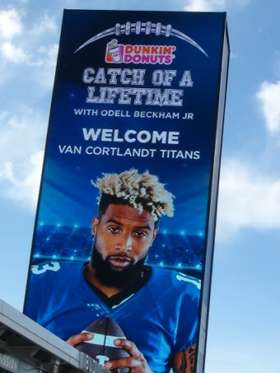 Dunkin' Donuts Catch of a Lifetime Grand Prize Winners
500 Dollar President's Scholarship
Congratulations to Freddy Familia, the winner of the 2017 President's Scholarship!
Freddy is attending SUNY Cortland and will major in Sports Management.
The Van Cortlandt Titans Board of Directors awards a $500 scholarship to a Titan senior who will be going to college for the fall semester after our season.
High school seniors who wish to compete for this scholarship will need to apply by August 1 after they graduate and have selected a college. Click the link below to download the application.
--Mr. Gersh
Handout:
President's Scholarship